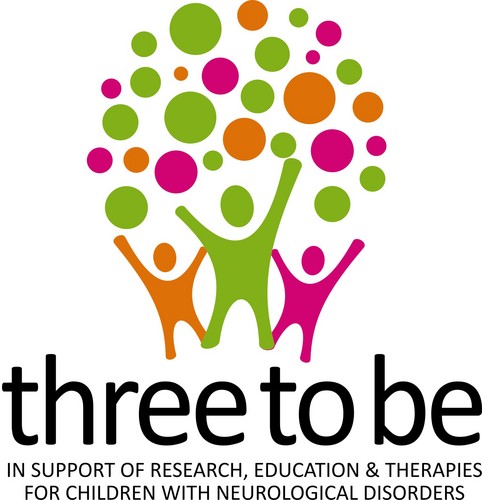 For most parents, the birth of a child is an exciting time of life, filled with visions of a happy and healthy future for their child.
Imagine that excitement and joy crumbling down around you when, instead of a normal pregnancy, your child is born 15 weeks prematurely. Then imagine being the proud parents of triplets born 15 weeks prematurely…AND diagnosed with Cerebral Palsy, " a class of brain injury from birth that has no known cure."
This was the reality for Dana Florence when Dana gave birth to triplets, Taylor, Cole and Brody. From the minute the triplets were born, the Florence family faced a future full of hospital visits, tests, and a whole lot of uncertainty. Many people faced with a future of caring for triplets, all of whom have Cerebral Palsy, would fall to pieces. Simply being parents of triplets can be overwhelming, let alone having all three children diagnosed with such a severe disability!
Parents with children born with a severe disability are usually pretty amazing people. I know this from first-hand experience. My parents were a pillar of strength for me as I grew up facing an uncertain future after being born with the most severe form of Spina Bifida (like Cerebral Palsy, Spina Bifida is a neurological disorder). My first years of life were pretty rough for my parents who spent a great deal of time with me at hospital while I faced operations, and fought off many severe bladder infections. I owe my life to my parents who did everything they could for me to get me to where I am today – leading a (relatively) healthy life.
Dana is obviously an amazing parent as well.  Rising up to the challenge of being the mother of triplets born with Cerebral Palsy,  Dana decided to put her effort into doing something extraordinary. Not only is Dana doing everything possible to make the lives of her children, Taylor, Cole and Brody, better in every way she can, Dana created THREE TO BE, an organization whose mission is to "advocate and raise funds to support and advance the development of innovative research, education and therapies for children with neurological disorders."
Taking THREE TO BE one step further, in 2011, Dana started the annual RUN, WALK, WHEEL, ROLL fundraising event in celebration of the most incredible people she knows – children with neurological disorders and their families.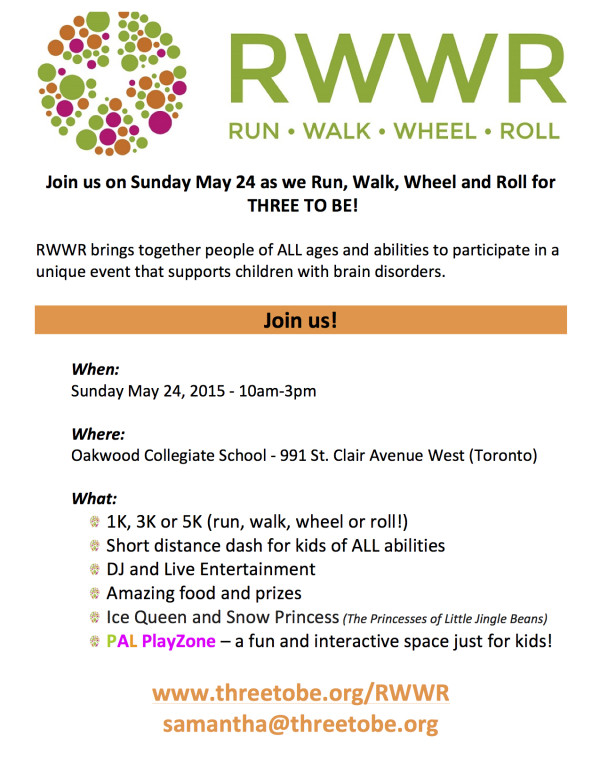 This year's RUN, WALK, WHEEL, ROLL event is taking place on Sunday May 24th at Oakwood Collegiate Institute in Toronto.  As you can see from their poster, this event will be great fun for the whole family!
Those that register for any of the four races will have their name entered into a draw to attend the Finale of Big Brother Canada, and receive an exclusive tour of the house – where you might see the Final 3 house guests! How exciting would that be? Just ask my friend Ann. She got to spend time in the replica Big Brother Canada #HOH room recently…and loved it!
It only costs $15 to register for the race!  When you register you can also set up a page to share with your family and friends to encourage them to make a donation to this wonderful cause.
This is my favourite part: the top fundraiser will also have a chance to win a trip for two to St. Lucia (airfare not included) in the luxurious Windjammer resort! Now that is a sweet prize!!
Sponsorship Opportunities for RUN, WALK, WHEEL, ROLL are also available! Click here to download their sponsorship package.
My heart goes out to Taylor, Cole, and Brody, as I know they will face many difficult challenges throughout their lives. We have a family member who was diagnosed with Cerebral Palsy at birth, and we have seen first-hand the difficulties those living with this disorder can have.
Be sure to follow THREE TO BE on Twitter for the latest updates…and to see the adorable photo of Taylor, Cole and Brody!
Thank goodness for people like Dana, and organizations like THREE TO BE. They help make the future a whole lot brighter for kids born with neurological disorders.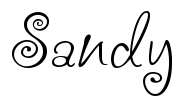 Disclosure:  Canadian Blog House did not receive compensation for this post. This is a charity close to our hearts. All opinions are our own.