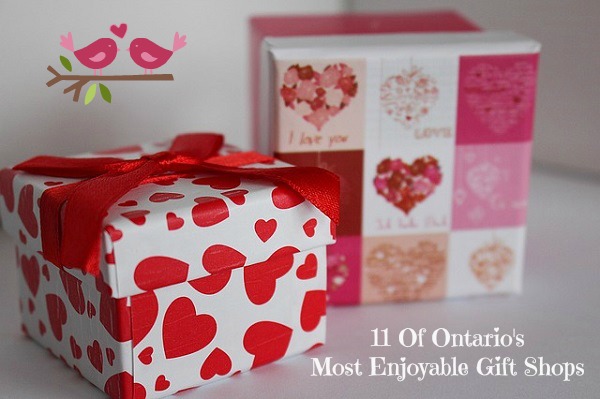 I am a big fan of gift shops. Especially Canadian gift shops that are full of Canadiana items such as Canuck-inspired maple syrup infused candies and fudge, moccasins, Group of Seven mugs, toques, and lumberjack shirts.
I've visited many gift shops over the years. There are many that I adore, including certain shops that I make sure to visit any time I am in the area.
I recently wrote about a Ontario gift shop that I fell in love with after I was asked to review it. Although not yet a bricks and mortar store, this online gift shop is not only beautiful, much of the merchandise is uniquely Canadian…and handmade by Canadians.
So I thought I would share with you some of my favourite Ontario gift shops that I have visited over the years. I can never drive by without stopping in for a quick peek!
I have not been able to visit some of these gift shops in awhile but, they are still around, and I bet they are just as wonderful as they ever were.
If you live close enough to any of these shops, and you love gift shops, make sure to stop in and take a look around next time you are in the area!
---
Westwind Gallery and Gifts ~ Bancroft, Ontario
Located in historic downtown Bancroft, Westwind Gallery and Gifts has been around for almost 30 years. They "carry a broad selection of giftware, art, stylish home decor, and casual clothing for men, women, and children–all in a fun, relaxed no-pressure atmosphere. With name brands like Woolrich, Tilley Endurables, Hatley, Wigwam, Laurentian Chief, Teva and many more."
Westwind Gallery and Gifts is one of my favourite Bancroft shops. Ever been to Bancroft? Nestled in Ontario's Highlands, Bancroft is also home to the Rockhound Gemboree, Canada's largest gem and mineral show that takes place every summer. If you love gems, and you love gift shops, you really need to visit Bancroft!
Cooke's Fine Foods and Coffee ~ Kingston & Picton, Ontario
One of my favourite childhood stores was always Cooke's Fine Foods in Kingston, Ontario. Owned by Kingston's Cooke family since Hugh G. Cooke purchased the store in 1924, Cooke's Fine Foods and Coffee is like a candy shop for both kids AND adults.
I dare you to walk into the store in Kingston and not fall in love with the delicious aroma of fresh-roasted coffee, and be amazed at the exquisite and unique candies, chocolates, biscuits and crackers from all over the world.
A visit to their shop in Kingston, with an old-world look and atmosphere of the original store, will make you feel like you've stepped back in time.
A visit to their shop in Picton, home of Susan's Kitchen Drawer, is a must for any foodie! Besides an amazing assortment of culinary treats, you will find an overwhelming array of fabulous kitchen items here!
Mariner Chart Shop ~ Tobermory, Ontario
Tobermory is the best place to get shipwrecked…or rather, see shipwrecks. With over 20 shipwrecks dotting the Lake Huron/Georgian Bay waters around Tobermory, these waters are a sailor's delight.
The Mariner Chart Shop is a great place to explore if you have a love of the water. You'll find interesting maps, charts, equipment, boating-themed gifts, and a great assortment of quality embroidered clothing. This is a must-see shop in Tobermory!
Village General Store ~ Creemore, Ontario
Currently a beautiful online store, Village General Store is looking to open a "bricks and mortar" store in Creemore in 2017. Browsing the Village General Store website is a pleasure, and before you know it, you've spent 20 minutes checking out all the wonderful gifts to be found. There's literally something to please everyone at Village General Store.
Ivanhoe Cheese Factory ~ Ivanhoe, Ontario
Venturing up Highway 62 north of Belleville? Make sure to stop at the Ivanhoe Cheese Factory. You may have seen this famous brand of cheese at your local grocery store but, nothing beats the taste of Ivanhoe cheese fresh from the factory!
The selection of Ivanhoe cheese at the factory outlet will make any cheese lover happy. But the Ivanhoe Cheese Factory isn't just about cheese. Visitors will also love the selection of specialty foods, gifts, baskets, and antiques in the factory shop. Don't forget to try an authentic old-fashioned milkshakes or cone!
The Old Hastings Mercantile & Gallery ~ Ormsby, Ontario
You've got to love a store that describes themselves as being located in "downtown" Ormsby, Ontario – population 20. Yes, Ormsby is a very small hamlet southwest of Bancroft. Don't blink or you just might miss The Old Hastings Mercantile & Gallery, and you don't want to miss it!
The intriguing gift shop has all kinds of fun, beautiful and whimsical treasures. I'm not even going to try to explain things to you further…take a peek for yourself by checking out their virtual tour. I think you'll understand why I enjoy visiting this gift shop!
Although they are open year-round, they are only open on weekends from January to Victoria Day Weekend.
Tinhouse Woodworking ~ Coe Hill, Ontario
Just a little further west of Ormsby, along County Road 620, is the village of Coe Hill, and here you will find another Ontario gift shop gem…Tinhouse Woodworking.
Brimming with beautiful handcrafted items made by over 40 local artists, you'll find plenty of "one-of-a-kind" gifts for everyone on your list. They've even got an Espresso Bar service and boast of the best coffee in town. Although I haven't tried the coffee for myself yet, I don't doubt that after visiting this wonderful gift shop last summer.
This fabulous shop is only open Victoria Day Weekend until Thanksgiving, however, custom orders of their woodworking are available all year if you call ahead.
The Sweet Shop ~ Tobermory, Ontario
A visit to Tobermory is just not complete unless you've walked through the doors of The Sweet Shop and bought yourself some of their gourmet peanut or almond brittle, some of their famous melt-in-your-mouth fudge, or stopped by to "chew, suck, crunch and savour" some of the treats from their candy counter.
Located at the harbour in beautiful Tobermory (not far from the Chi-Cheemaun ferry to Manitoulin Island), The Sweet Shop was established in 1980 and is still producing gourmet treats the old fashioned way. When in Tobermory, do not miss a visit to The Sweet Shop!
Village Green ~ Westport, Ontario
This gift shop has been a long-time favourite of mine. Located in pretty Westport, Village Green is the type of gift shop you can get lost in…for hours! There's something new to look at around every corner.
You'll find everything from kitchen gadgets and pretty home decor items, to books, wall art, and novelty gifts. You'll even find quality outerwear, shoes, and clothing for the whole family. Even dad might like shopping at this gift shop!
If you've never been to Westport, this is a town with all kinds of great little shops to explore. Be warned though. Westport can get very busy in summer with all the tourists that like to visit this beautiful town.
Mrs. Tiggy Winkle's ~ Ottawa, Ontario
Yes, you're right, this is more of a toy store than a gift store but, Mrs. Tiggy Winkles does have unique gift items. Mrs. Tiggy Winkle's is a fun store for both kids AND adults, and heck, it's local (to me). So that counts, right?
If you've never visited Mrs. Tiggy Winkle's when you are here in Ottawa, and you have kids, or shop for kids, then you really need to pay a visit to this "sensory smorgasboard" as the fine folks at Mrs. Tiggy Winkle's call themselves. I happen to think that's a pretty good description. Check it out for yourself and see if you agree!
Granny Taught Us How ~ Violet Hill, Ontario
What's not to love about a gift shop with a name that reminds you of the good old days when Granny taught you how to do things.
This fabulous gift shop, located not far from Shelburne, Ontario, is one of my very favourite gift shops of all time. Now, I haven't been there for awhile but, I doubt it has changed much, and if so, I'm sure it's only gotten better. Since I was last there, another section has been added, called Heidi's Room.
I know there are many more wonderful gift shops across Ontario – and across Canada for that matter. I'd love to hear about your favourite gift shop! Tell us where it is and all about it!