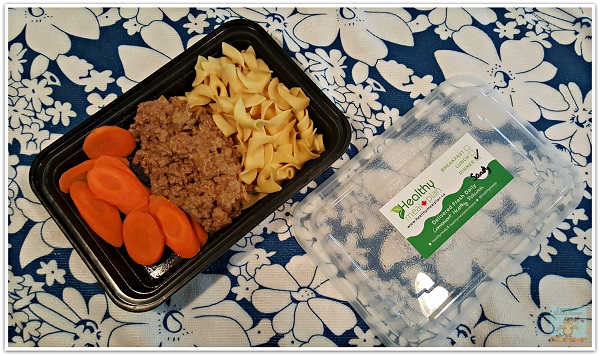 Healthy meals delivered right to your door step – every day.
Healthy meals planned for you.
Wouldn't you love to come home after a long day at work to a delicious, healthy meal that you don't need to prepare?
"The average Canadian family works long hours and has little time to spare. Meanwhile, our collective awareness has increased when it comes to eating healthy. So what do you do when you actually care about your health but have no time to make healthy meals? Healthy Meal Plan! Enjoy having your freshly prepared breakfast, lunch and dinner delivered to you everyday. Save time and money, but most importantly, stay healthy."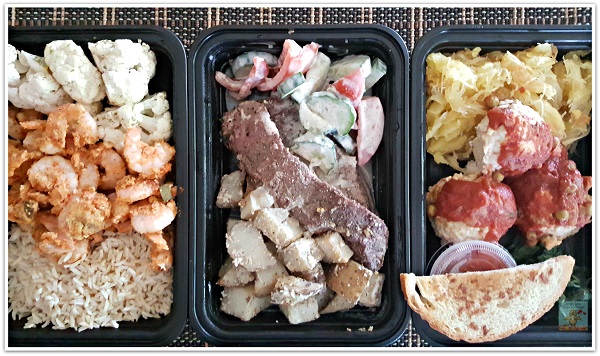 Although I am at home every day, the thought of having healthy meals delivered daily to my door for five days made me do a little happy dance in my kitchen when I was recently contacted by Healthy Meal Plans here in Ottawa.
Five days of not having to worry about what I was going to have for dinner! Less grocery shopping that would need to be done! Easy meal preparation each night!
What's not to love about all that?!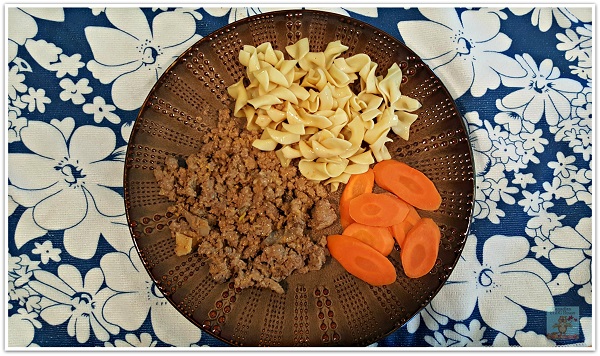 Healthy Meal Plan offers four types of meal plans for you to choose from:
Simple Lifestyle
Vegetarian Lifestyle
Athletic Lifestyle
Couples and Family Lifestyle
So, thanks to Healthy Meal Plan, we sat down to a different "couples and family lifestyle" meal each night for five nights.
I should state that, Healthy Meal plans offer breakfast and lunch options also, however, we elected to only review dinners.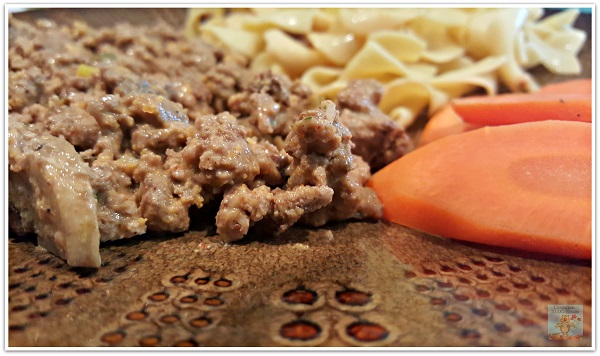 Each and every Healthy Meal Plan set of meals arrived at the door at almost exactly the same time every evening. It didn't take long to get used to the deliveries, to the point where, on the sixth night, I was disappointed when I realized there were no more meal deliveries.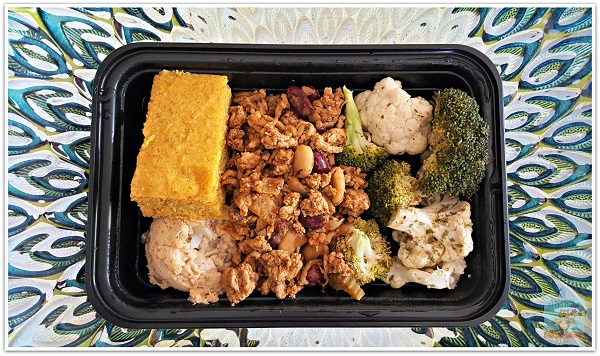 We enjoyed each and every meal we received from Healthy Meal Plan. We received a variety of meals and, I have to admit, it was fun not knowing what our next dinner was going to be until we opened up the containers. Our one and only concern with this "surprise" element was the fact that, we really did not know what we were eating, therefore, I cannot accurately describe our meals for the purpose of this review.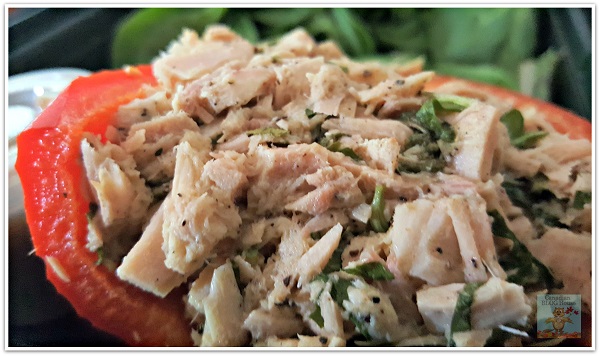 11 Reasons To Love Healthy Meal Plan
---
No Cooking – This is my number one reason to love Healthy Meal Plan. Not having to cook dinner, especially after a busy day, is a real treat.
No Clean Up – This reason follows close behind not having to cook – not having to clean. Sure you have to rinse out the containers, and maybe wash a plate or two, but clean up is a breeze with Healthy Meal Plan!
Fresh Ingredients – Every Healthy Meal Plan meal is made with fresh ingredients – not frozen.
Healthy Meals – Their name says it all. Their meals are healthy. There's no fast food involved. For those serious about eating well, Healthy Meal Plan is a great idea.
Variety – We all love different foods, so variety is key when it comes to pleasing family members. For example, I loved the chili we received one night for dinner, however, my partner is not a big chili fan, so this was not a hit for him. On the flip side, he really enjoyed the salmon dish we received another night, but I would consider this meal one of my least favourite of all the meals we had delivered.
No Meal Planning – With life so busy these days, many people find it essential to plan out their weekly meals ahead of time (just Google meal planning and you'll see what I mean). Some people even spend an entire day on the weekend cooking their menu plan up for the week. Imagine not having to do that, and just leaving the menu planning (and cooking!) all up to Healthy Meal Plan.
11 Reasons To Love Healthy Meal Plan @Healthymealp #OttCity
Click To Tweet
Microwavable – Imagine coming home from work at the end of your day, pulling your meal out of the fridge, and popping it right into the microwave. An easy, delicious, and healthy meal in minutes!
Choice – As mentioned above, there are four types of meal plans for you to choose from, depending upon your food preferences or lifestyle. You can also choose how many meals per day you receive (breakfast/lunch/dinner), and how many of those meals you wish to have delivered based on the number of family members in your household.
Suitable For Different Needs/Food Allergies – Are you a family of meat eaters, or do you prefer to go vegetarian? Does someone in your family have an allergy to peanuts or dairy products? Healthy Meal Plan takes all of this into account when planning out your family's meals each week.
The Flavours – Healthy Meal Plan has meals that appeal to all palates – those who like garlic, those who like things a bit spicy, those who prefer mild flavours, and those who love various kinds of sauces.  Our Healthy Meal Plan dinners were full of great flavours.
It's Local – We all love local businesses, right? They are a big part of what keeps our communities strong and vibrant. So I love that Healthy Meal Plan is a local Ottawa business.
Suggestions, we've got suggestions…
As with just about any product or service, there are always ways to improve. We noted a few things that we would recommend to make the Healthy Meal Plan experience that much better. Keep in mind that these are own opinions only. Perhaps others would not want to change a thing!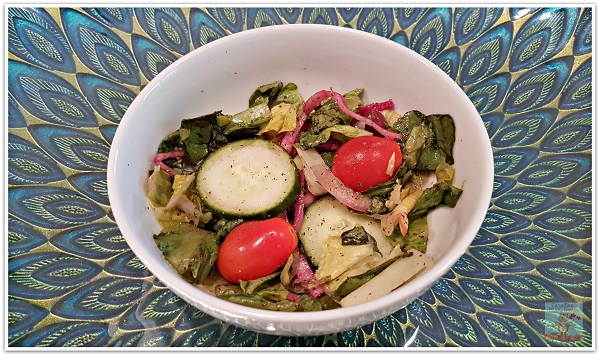 We were provided a number of great lettuce or spinach salads as part of our meals. They were excellent except most salads came with the vinaigrette/dressing already added to the salad. By the time we went to eat our dinner the next day, the lettuce was wet and limp. In all cases the flavour was delicious, we just don't like our lettuce wet and limp. Our suggestion would be to include the dressing in a small container on the side (which they did do once).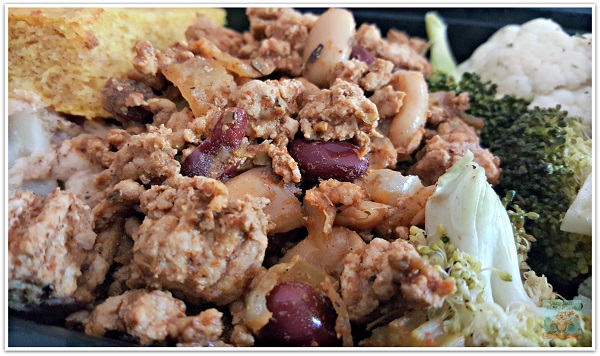 As much as we did enjoy the surprise element of not knowing what we were eating, for the purpose of our review, we would have preferred if there had been some way to determine what we were eating. I personally have friends who would want to know what it was they were eating before taking a first bite. For some meal items, it was obvious what they were, for others, not so much.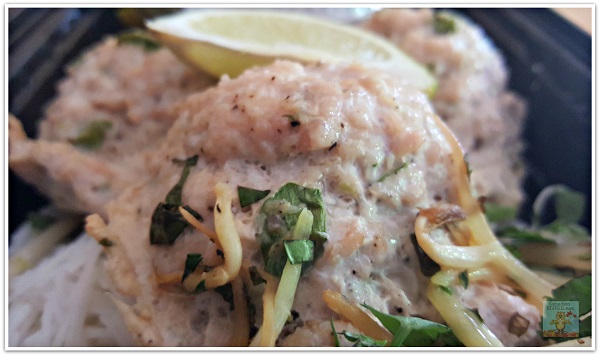 My partner, who is great with coming up with ideas, made the suggestion that, in addition to its regular clientele, Healthy Meal Plan would be a great idea for certain niche groups of people. For example, the business traveler that frequents Ottawa and is tired of eating the same restaurant food every time they are in town. Healthy Meal Plans could be a great twist on room service for travelers who are in town for at least a week at a time (and available to accept delivery each day). Of course, the hotel room would have to contain a microwave for heating!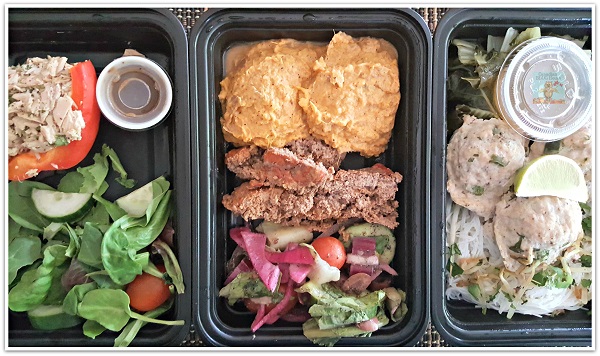 Along the same lines, Healthy Meal Plan could be a great service for seniors who are still in their own home but are tired of cooking (or cannot cook) their own meals. This could make a great gift idea for mom and dad!
For the latest information and promotions from Healthy Meal Plan, be sure to like Healthy Meal Plan on Facebook!
The great folks at Healthy Meal Plan want one lucky Canadian Blog House reader to be able to experience one of their "Simple Meal Plans" for themselves. For residents of Ottawa, here is how you can enter for your chance to win!
***Giveaway is open to Ottawa residents 18 Years Of Age or Older who reside in the following delivery areas: Ottawa south, Findley Creek, Riverside south, Barrhaven, Nepean, Kanata, Orleans, and Central Ottawa.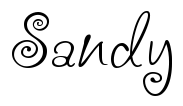 Disclosure: Canadian Blog House received a Healthy Meal Plan in exchange for this review. All opinions are our own.