Ford Canada recently held a very informative Car Seat Safety presentation here in Ottawa, at the Canada Agriculture and Food Museum, highlighting the do's and don'ts of proper car seat installation.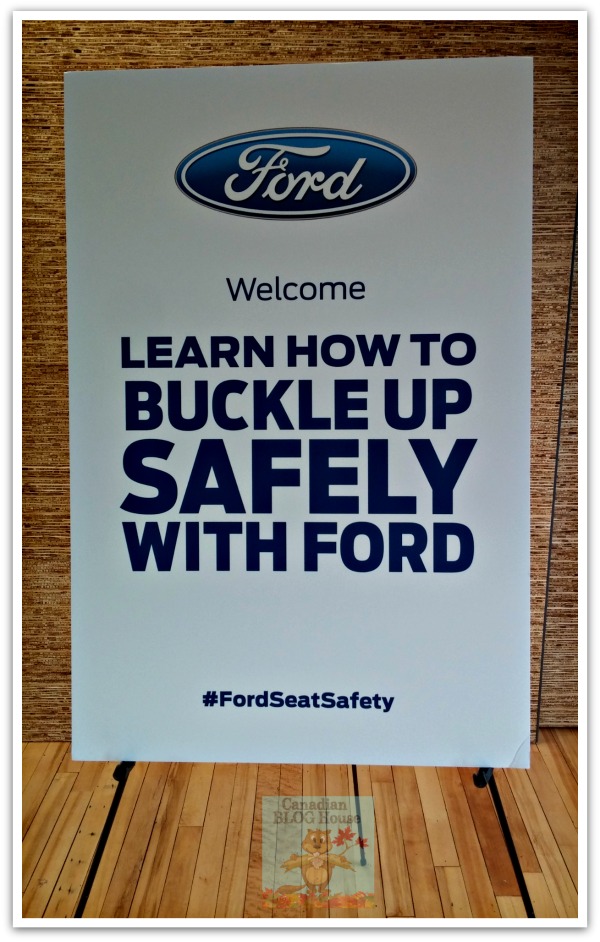 Ford's Kelley Adams-Campos, who is a certified child passenger safety technician, was on hand to explain to us everything you need to know about safe car seat installation. Car seat safety is a passion for Kelley, and it shows. Kelley is a wealth of information about this topic, and although I don't have little ones of my own who use car seats, I was very interested in learning as much as I can about proper car seat installation.
There's nothing more important than keeping our kids safe in the car, right?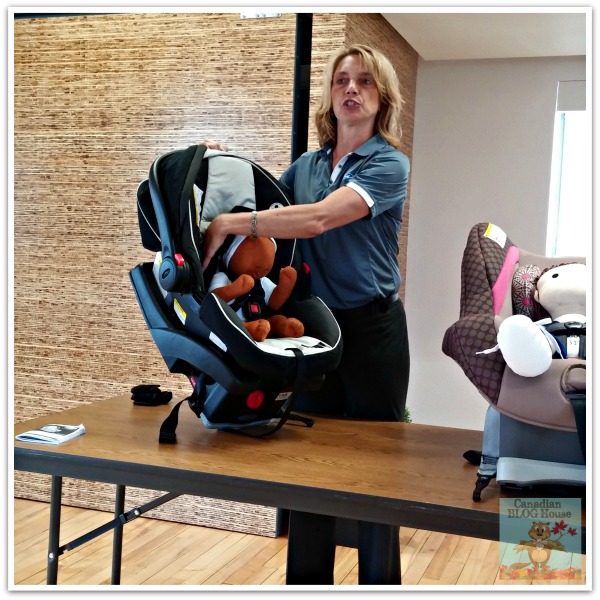 So, I paid close attention, and put together a list to help you keep your kids as safe as possible when riding in your vehicle. By remembering these important tips, you'll be keeping your kids safer, and giving them the best chance of survival in the event of a car accident.
13 THINGS TO REMEMBER FOR OPTIMUM CAR SEAT SAFETY:
1. ALWAYS read your vehicles's owner manual, AND the car seat product manual, AND follow the safety instructions for proper car seat installation. Every vehicle, and every car seat, is different when it comes to proper installation.
2. Keep your child rear facing for as long as possible. DO NOT have your child facing forward in a car seat until at least the age of 2.
3. In rear facing car seats, keep the harness at or below your child's shoulder level. Proper placement of the harness stops your child from moving up in a crash.
4. Keep the car seat harness snug. DO NOT allow the harness to become loose. This will help prevent your child from dangling from the seat in the event of a roll-over.
5. Keep chest clip even with your child's armpits. The chest clips provide proper positioning of the harness.
6. The recline angle of a car seat for newborns is VERY important. If your child's head is able to move forward too much, they could suffocate when falling asleep in a car seat.
7. DO NOT rely on the bubble indicator to make sure angle of car seat is sufficient. If you are parked on a hill, the accuracy of the bubble indicator could be off. Line indicators are better for judging proper angle of car seat.
8. Always position harness/belts on your child's bony structures – NEVER on their abdomen. Harnesses and belts positioned on your child's abdomen could result in internal lacerations in the event of an accident.
9. Make sure your child wear's as little clothing as possible when riding in a car seat – even during our cold Canadian winters. Puffy clothing, like coats, prevent harnesses from being properly positioned on your child, leaving too much space between the harness and their bony structures. Restrain first, put coat on after – backwards.
10. DO NOT buy a car seat for shower gift. Due to the fact that all vehicles have different requirements for car seats and car seat installation, it's best to let parents choose their own car seats. Give them money to purchase a car seat instead!
11. Keep your child harnessed as long as possible. Children must weigh a minimum of 40 lbs to use a Booster Seat. A Booster Seat's job is to position your child's body for the seat belt – NOT to restrain your child.
12. Minimize projectiles. Those cute toys that hang from car seats to keep babies and toddlers amused? They could become dangerous projectiles in the event of a car accident. Don't hang toys around your child in their car seat.
13. Always remember car seat safety laws are minimums!  Car seat safety laws are designed to help keep your child safe – make sure you follow the rules!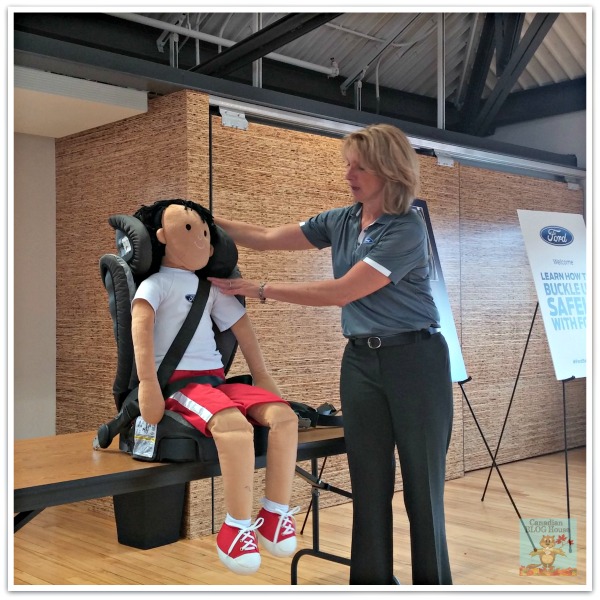 It was number 9 that made the crowd gasp. I think every parent in the room was thinking this was crazy. How can you dress your child in as little as possible in the winter? In minus 40 degree temps?
Really? Yes, REALLY.
The less padding you have between your child and the car seat harness, the safer your child will be in the event of a car accident.
And guess what? This holds true for adults as well! Those nice, big, warm, puffy coats we wear in winter? We would all be safer in a car if we wore our seat belt straps over our bony structures, and then put our coats on over top of our seat belts.
Problem is, this method takes some thought, and some prep time – like warming up the car first.
But isn't a little extra time worth it? After all, the goal is to protect our most precious cargo.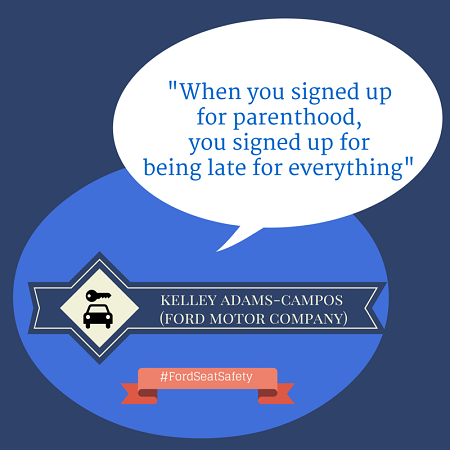 After our very informative "crash" course on car seat safety, we were treated to a coffee and a few snacks, including these cute Ford blue oval cupcakes: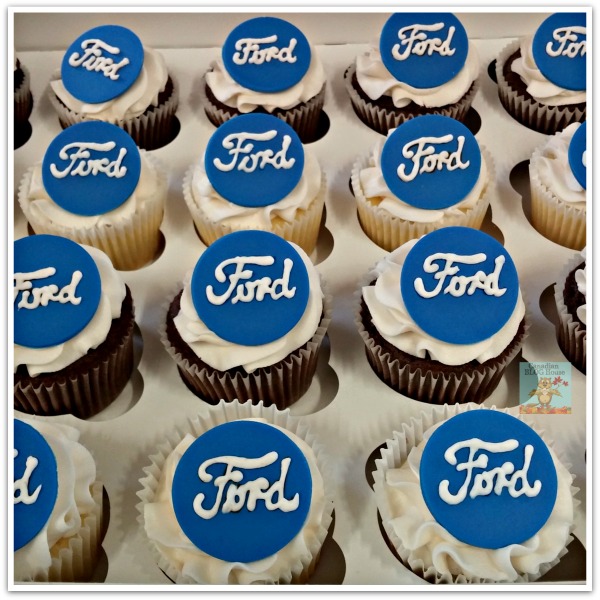 Then it was time to grab our yummy picnic lunch (courtesy of Bytown Catering) and head outside to let the kids get behind the wheels of a Ford F-150. Not a real F-150 of course: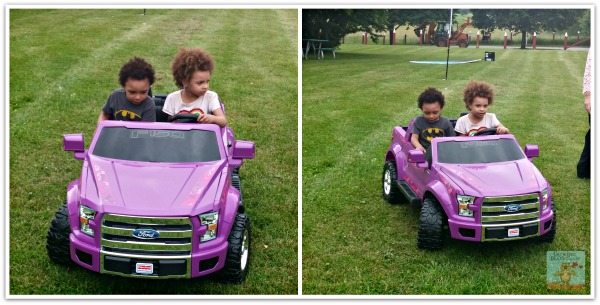 As you can see, Lian's (from Reese Speaks Blog) kids had a lot of fun driving the gorgeous purple F-150. Little Maya was a natural behind the wheel!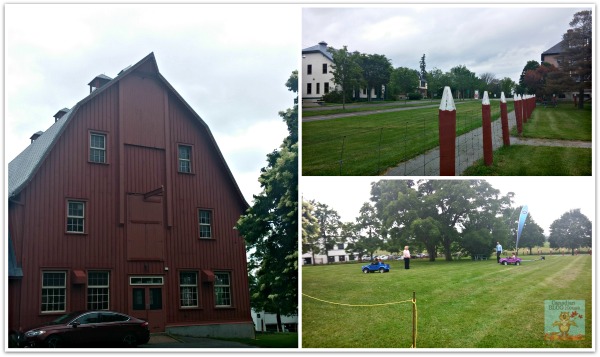 A big thank you to Kelly Adams-Campos, and Ford Canada, for this great event, and to the wonderful Melissa and Mathew, from National PR, for organizing the event…and keeping the little ones safe in their Ford F-150's!