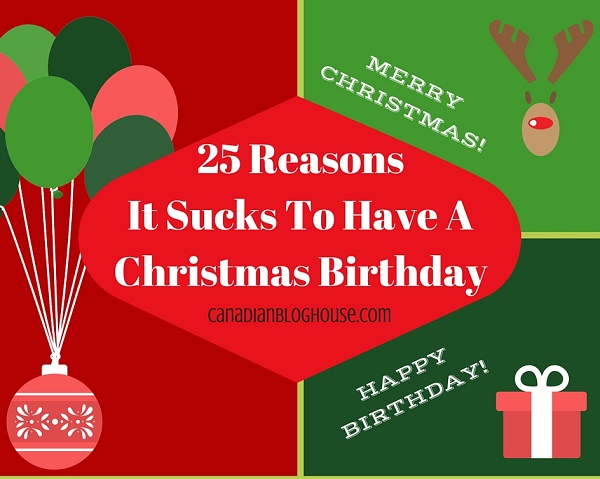 My mother was a Christmas baby. That's right, she was born on December 25th. She spent 83 years celebrating her birthday on Christmas Day. For the latter part of her life, my family tried hard to keep her birthday "separate" from Christmas, and make her birthday a special thing. No matter how hard we tried though, it was inevitable that her special day got lost in the celebrations and excitement of the Yuletide holiday.
My mother faced every one of these situations at least once in her 83 years of celebrating a Christmas Birthday. She was always a great sport about it though, and never let any of these things get her down. She still loved celebrating her Christmas Birthday any way she could!
25 REASONS IT SUCKS TO HAVE A CHRISTMAS BIRTHDAY
The Christmas Day you are born, your parents consider you a special gift from Santa, and ponder naming you Noelle, Holly, Joy, Eve or Carol. My mother almost became "Noelle" – until my grandparents came to their senses.
Some how, years later, that day you were once considered a special gift from Santa, turns into "that day you ruined your mom's Christmas" (at least jokingly). After all, it's your fault she ended up in hospital on Christmas Day, and your arrival made her miss a delicious turkey dinner.
Speaking of turkey, you are almost guaranteed to eat turkey on your birthday every year…for the rest of your life.
When you become a mom, you will spend your remaining birthdays cooking that turkey for everyone else.
On the topic of food – you can forget about your kids ever making you breakfast in bed on your Christmas Birthday. They will be too busy sitting beside the Christmas tree opening their Christmas presents.
Everyone tells you how great it must be to be born on Christmas Day! Ya. No.
You receive a lot of two-fer's on December 25th. What's a two-fer? A 2-for-1. Two presents rolled into one. A combo. Also known as a "Birthmas present".
Speaking of combos, your birthday card (if you actually receive one) almost always mentions your "Christmas Birthday". No funny cards for you. Your cards are full of snowy scenes, Santa, and Christmas decorations.
What's worse? When you receive a Christmas card containing the handwritten words "oh by the way – Happy Birthday too!".
Your birthday gets lost in the excitement of everyone else's Christmas. A quick birthday greeting, then – let the Christmas celebrations commence!
When you complain about your birthday getting lost in the Christmas festivities, people suggest you should celebrate your birthday on June 25th instead. Really? This is NOT helpful.
Your siblings also get presents on YOUR birthday.
You receive cheap birthday presents – everyone is broke by the time they finally get around to remembering they also need to buy you a birthday present.
The birthday gifts you do receive are wrapped in Christmas gift wrap.
Birthday gifts are often Christmas decorations for your home.
Any clothing you receive as a gift on your Christmas Birthday is often red or green…or both.
You never get to have an actual party on your birthday. No one is around to invite to your party – they have already left on their Christmas vacation.
Everything is always closed on your birthday.
You can't take advantage of those "birthday freebies" – because everything is closed.
Your birthday cakes are always  "day olds". Either bought the day before, or made the day before.
You miss out on the free lunch and birthday cake at work.
You pick another day during December to celebrate your birthday, only to find everyone is busy attending holiday parties.
You share your birthday with Baby Jesus – someone many people consider far more important than yourself. You're also in constant competition with that jolly old elf, St. Nick.
You spend the month of December hearing everyone else speak of their plans for December 25th with nary a mention of your birthday.
You long for a "green" birthday once in a while, while everyone else is longing for their white Christmas.
Looking on the bright side of things, being born on Christmas Day could be worse.
Just ask January babies about re-gifting!
Have YOU got a Christmas Birthday in your family? What does your family member think of being born on this day?