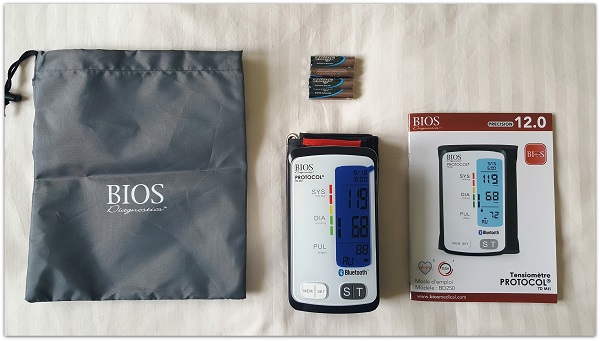 Canadian Blog House received the BIOS Protocol 7D MII Blood Pressure Monitor to facilitate a review in advance of World Hypertension Day. All opinions are our own. 
Bet you don't know that May 17 is World Hypertension Day.
Do you know what your blood pressure numbers are? You should. And so should I.
Because hypertension (high blood pressure) can be deadly. In fact, hypertension is the leading cause of death worldwide. In Canada, hypertension affects 7.5 million Canadians, with nine out of 10 Canadians expected to develop high blood pressure in their lifetime.
Hypertension can lead to strokes, heart attacks, and kidney failure – without warning.
Chances are, you know someone who has died from hypertension.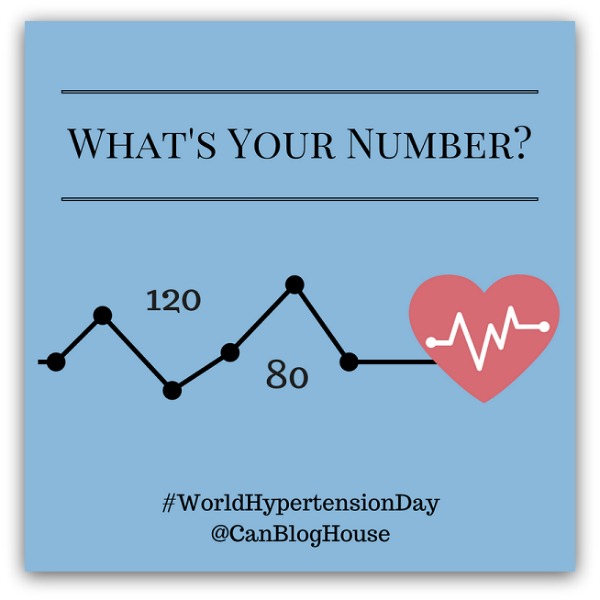 Sadly, we found out just how deadly hypertension can be, when we lost a beloved family member to this disease just a few months ago.
It was also less than 8 months ago that my family and I were huddled around my mum's hospital bed keeping an extremely close eye on her blood pressure. It was during this time that we learned more than we ever wanted to know about "good" and "bad" blood pressure numbers.
Testing The BIOS Protocol 7D MII Blood Pressure Monitor
It was for these very reasons that we decided it was time to take blood pressure monitoring into our own hands, and review the BIOS Protocol 7D MII Blood Pressure Monitor.
"The new BIOS Diagnostics Protocol® line of portable blood pressure monitors is the gold standard in home monitoring, delivering accurate readings according to the Hypertension Canada guidelines for Canadian doctors. The Protocol® 7D model features unique 7D software that can help diagnose hypertension, with features including an alarm that reminds patients to monitor at appropriate times and a memory function that confirms protocols were accurately followed. The Protocol 7D MII model has Bluetooth capability, enabling users to remotely send their readings to their doctor for immediate analysis."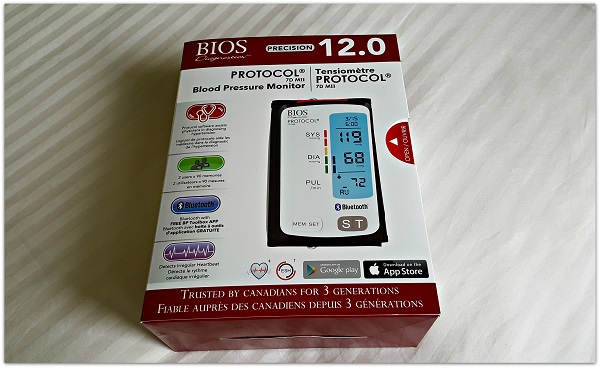 "New guidelines introduced by Hypertension Canada direct doctors to use "out of office" measurements to help prevent and control hypertension by having patients regularly monitor their blood pressure at home."
In fact, Canadian guidelines now recommend using automated blood pressure machines, such as the BIOS Protocol® 7D MII, when blood pressure is taken at the doctor's office. The reason for this? Better accuracy. Automated machines take several readings, and average out the results.
Furthermore, Canadian guidelines no longer recommend that a stethoscope be used with a cuff on a patient's arm to measure blood pressure. Simply put, this method can produce very inaccurate results. More and more doctor's, like mine, are using automated machines.
Because it's so important to get an accurate blood pressure reading.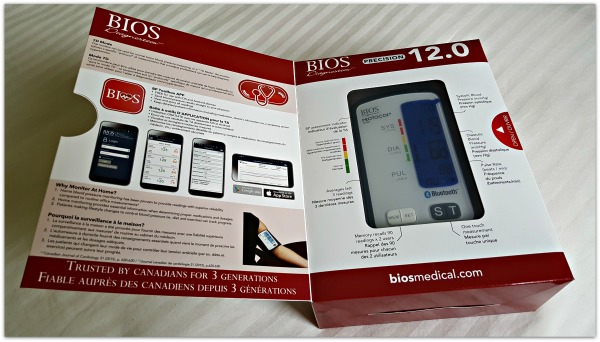 So far, I've been very lucky with my own blood pressure. If anything, my blood pressure has always been a bit on the low side.
Don't Be Fooled – Low Blood Pressure Can Be A Sign Of Problems Too
Don't be fooled though. As I learned while researching hypertension, low blood pressure can sometimes be a bad thing. There are deadly misconceptions about low blood pressure as well.
Low blood pressure can be indicative of certain health problems – or something as simple as dehydration. No matter whether your blood pressure is too high, or too low, it's always best to consult your doctor so that he/she can rule out any health concerns. My doctor has assured me that my low blood pressure is nothing to be concerned about.
Some people have "White Coat Syndrome" – a high blood pressure reading that happens when people are nervous about being seen by a doctor or nurse. My partner's blood pressure always increases the minute he steps into his doctor's office, so these blood pressure readings are never accurate.
If you have "White Coat Sydrome", being able to monitor your blood pressure, while relaxing in the comfort of your own home, is just one of the important reasons to own a BIOS Protocol® 7D MII.
Fast Facts About The BIOS Protocol® 7D MII:
can be used for normal home blood pressure monitoring OR in "7D Mode" that follows a specific protocol of measurements that a medical professional can use to help diagnose hypertension
comes with a free BP Toolbox App which allows you to send your blood pressure results directly to your physician.
one touch measurement
stores info for 2 users and 90 memories
irregular heartbeat detection
averages out the last 3 readings
We love the ease of use of this monitor. Once you do the initial set up (which is simple!), you just slip your arm into the cuff, position the monitor, tighten the cuff, and press the buttons to begin taking your reading. That's all there is to it!
One of the key features of the BIOS Protocol® 7D MII, is the monitor's Bluetooth capability to remotely send readings to your family doctor. This is an extremely handy feature for me, as I live a long distance from my doctor. So, if there ever comes a time when my doctor needs frequent monitoring of my blood pressure, I'll be ready with my BIOS Protocol® 7D MII!
I had never considered purchasing a home blood pressure monitor before, as I always thought that they would be difficult to use or understand. I was wrong!
Here, you can see for yourself how easy it is to use the BIOS Protocol® 7D MII. The upper number is my Systolic reading, and the lower number is my Diastolic reading. So 98/58. The "78" is my pulse rate.
I stayed quiet during the filming of this video as it's best not to talk while having your blood pressure taken.
I learned a lot about hypertension in my research for this post. I discovered that there are many deadly misconceptions about hypertension. I must admit, I always thought that if one had hypertension, they would know it. After all, don't we often say we can "feel" our blood pressure rising when we are irate or upset about something?
How much do you know about hypertension?
5 Deadly Misconceptions About High Blood Pressure
---
Hypertension runs in my family so there is no point trying to treat it.
FALSE! There ARE things you can do to try to help prevent hypertension. Lifestyle changes, such as eating a balanced diet, quitting smoking, limiting alcohol intake, and getting regular exercise, can reduce your risk of developing hypertension and the diseases associated with it.
Hypertension is not a big deal. 
FALSE! Hypertension IS a big deal. The problem with hypertension is that it can be a silent killer. A person can have hypertension, but no symptoms – for years! By the time you develop symptoms, it may be too late to treat them. Monitoring your blood pressure regularly, with a home blood pressure monitor, could help catch hypertension in its early stages, before you notice symptoms.
You can skip your hypertension medication if your last blood pressure reading was normal.
FALSE! Forgetting to take your hypertension medication, or intentionally missing a few doses, can actually increase your risk of a heart attack or stroke. This is because missed doses of hypertension medication can cause a person's blood pressure to swing dramatically, putting an increased strain on blood vessels, and causing progressive damage to these blood vessels. Always follow your doctor's advice, and never make any changes to your prescription without first consulting your doctor.
People know when they have high blood pressure.
FALSE! According to the Heart and Stroke Foundation, 1 in 6 Canadians with high blood pressure are unaware of their condition.
You can get an accurate, reliable reading of your blood pressure at any time of day.
FALSE! Timing does matter. For a more accurate assessment of your blood pressure, according to the Mayo Clinic, you should measure your blood pressure twice daily – once in the morning before eating or taking medications, and once in the evening. Taking two or three readings each time helps provide a more accurate assessment as well.
BIOS Diagnostics Protocol®home blood pressure monitors are available at pharmacies nationally starting April 1, 2017. To learn more about hypertension, and for a complimentary trial of a BIOS Diagnostics Protocol®home blood pressure monitor, visit one of 1,000 participating pharmacies nationally on World Hypertension Day, May 17. For more information, visit www.biosmedical.com.
Please note: I am not a doctor, nor a medical professional. Please be sure to see your family doctor for your annual physical exam, or if you suspect you may have high (or low) blood pressure. Using a home blood pressure monitor is a great addition to your health care plan but, it does not replace the advice and medical expertise of your doctor.