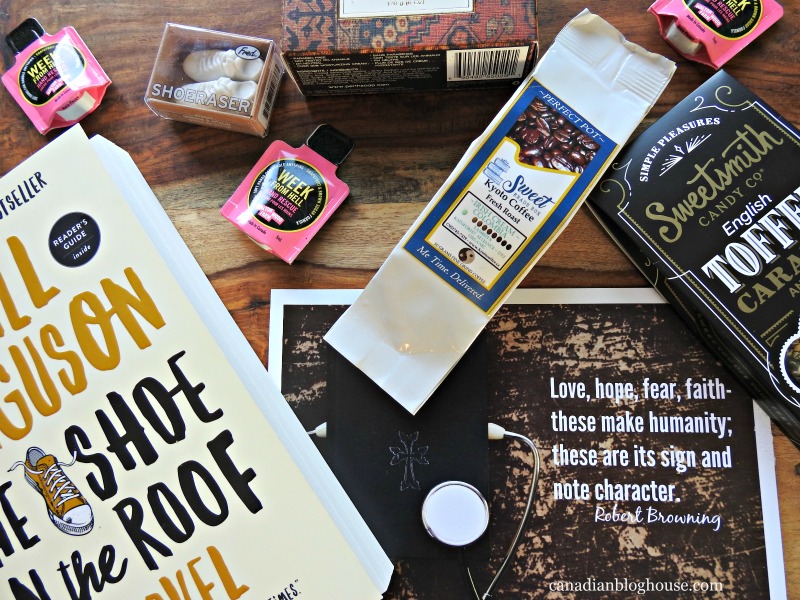 We know how much our readers love books – and surprises – so we've teamed up with Sweet Reads Box to bring you our thoughts on a subscription to Sweet Reads Box. We received their May subscription box in exchange for this post. All opinions are our own.
If you have an avid reader in your life, a subscription to Sweet Reads Box is the answer to your quest for the perfect gift idea for your favourite book lover.
Me Time. Delivered.
Sweet Reads Box is a book subscription box that contains "a carefully curated box showcasing the novel of the month."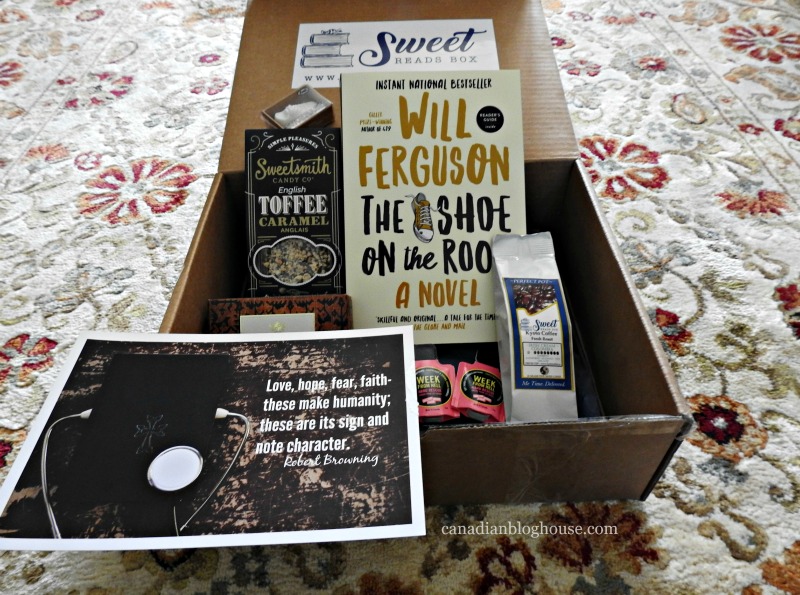 Each Sweet Box contains:
Bestselling fiction novel
Beautifully crafted items
Artisan drinks
Gourmet goodies
a card explaining our choice of novel and how your items connect.
All Sweet Reads subscription boxes come with a great paperback novel from the Globe and Mail Best Seller list and/or the New York Times Bestseller List.
Owners of Sweet Read Box, Kerrie and Mark, who are avid readers themselves, personally select all books to be included in their subscription boxes.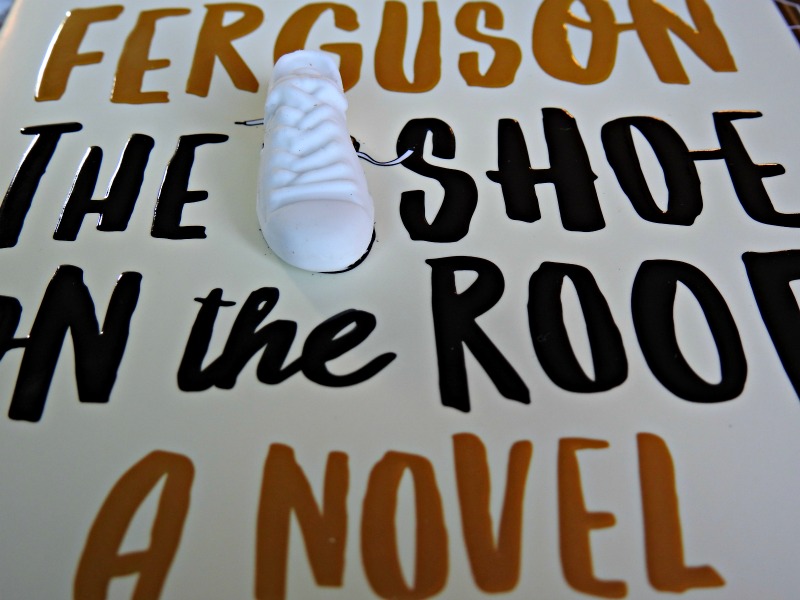 "Sweet Reads Box was the dream of Kerrie and her partner Mark. Stemming from their love of reading and a decadent sweet treat their vision of creating a product that fellow book lovers would enjoy came to life."
I must admit that these days, I'm not a huge reader of books.
As a kid, teenager, and young adult, I used to be. I used to devour books.
Then came computers and the internet and, sadly, I put down the books.
Receiving our Sweet Reads Box made me realize how much I miss the experience of reading from an actual book.
Something tangible.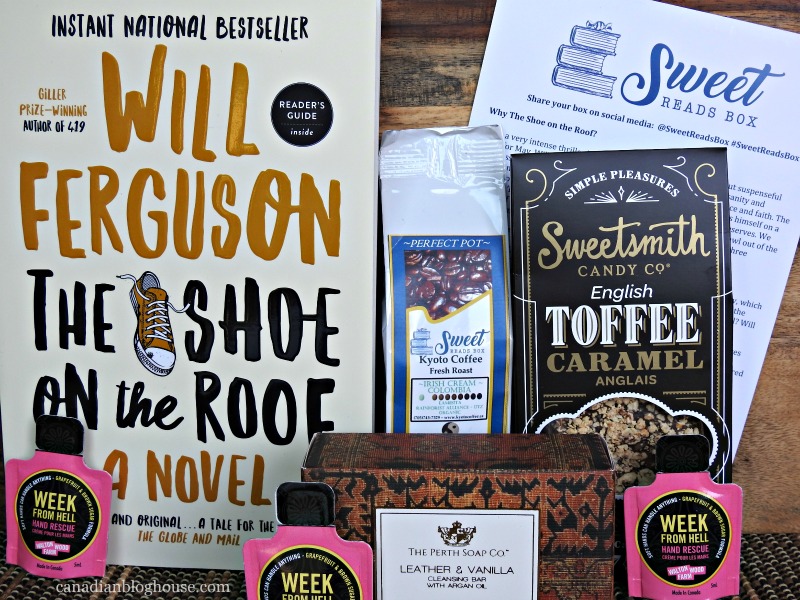 The feel of the book in your hands, the anticipation of turning the next page, the satisfaction of looking at your bookmark and seeing how much you've read – that is all lost when you use an electronic reader or computer.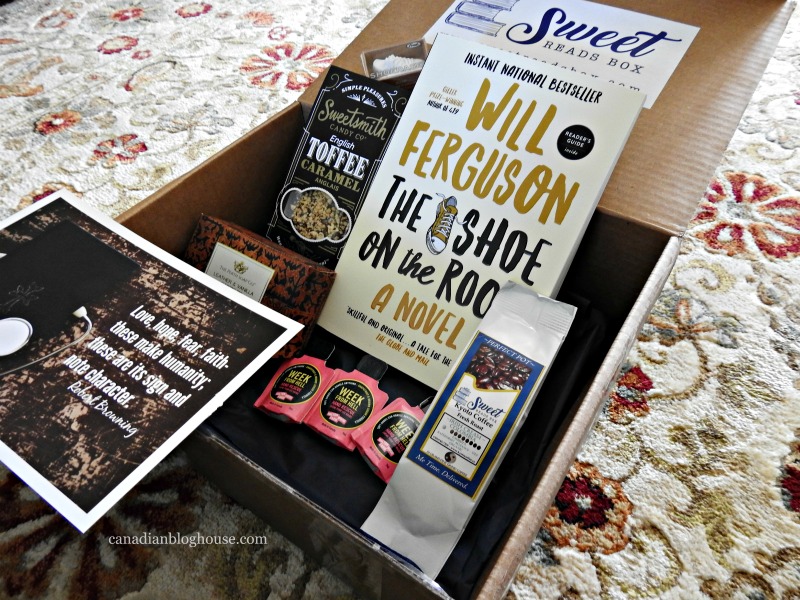 Sweet Reads Box – May
So I was delighted when we received our Sweet Reads Box for May. Maybe this was the kickstart I needed to get me back into reading books!
I couldn't wait to unbox all the treats inside…
What a great assortment of curated items! The thought that Kerrie and Mark put into this month's box is evident – right down to the tiniest of details.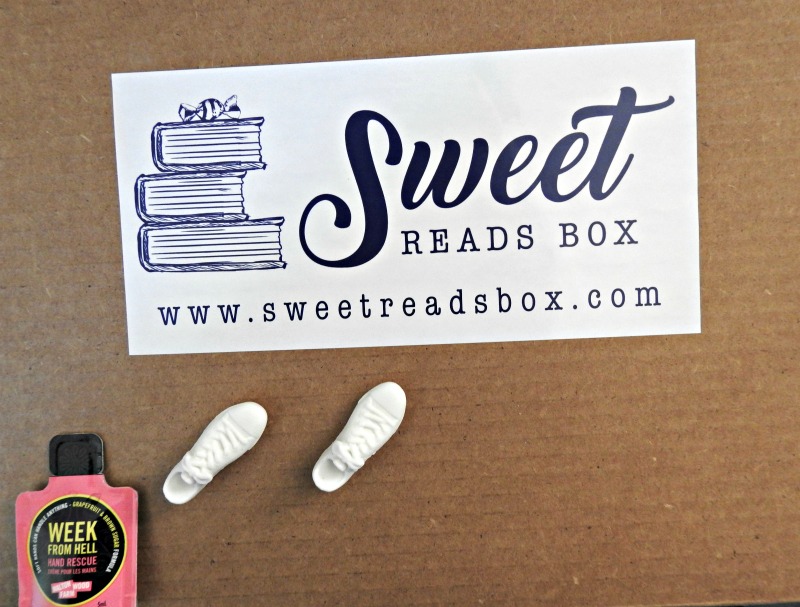 See those running shoe erasers? How cute are those?! Notice how they tie in so well to the image on the Will Ferguson novel? Perfection!
I also had a laugh-out-loud moment with this subscription box. While I absolutely love the smell of our new hand lotion, I may have to keep one of those pink "Week From Hell" packages, just because I love the name! I'm currently resisting the urge to lick my hands – the lotion smells so darn tasty!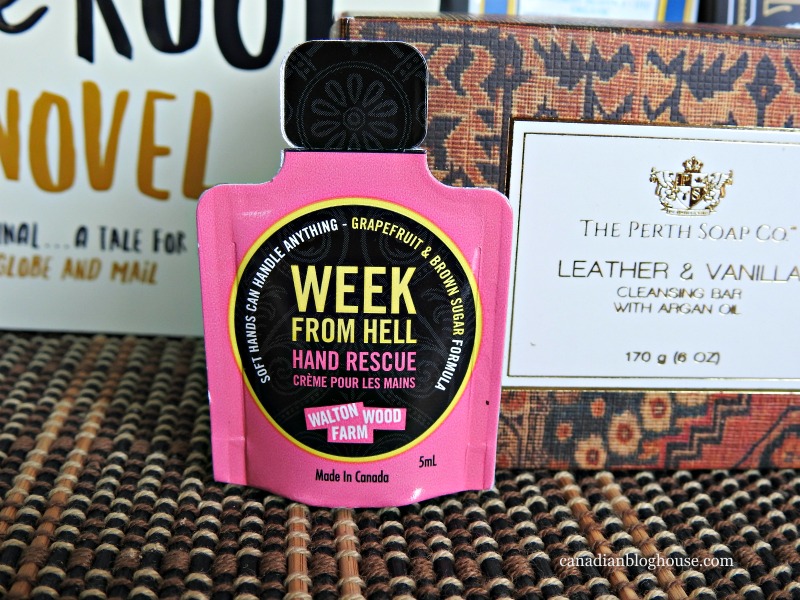 We discovered many reasons to love a subscription from Sweet Reads Box. Here are our top 5…
5 Reasons Readers Will Love A Subscription To Sweet Reads Box
You can start with a one month box
Along the lines of "try before you buy", readers can purchase a one month box before committing to a full subscription to Sweet Reads Box. Then, if you love your first Sweet Reads box – and I know you will – you can sign up for a 3 or 6-month subscription.
Every month is a surprise
Sweet Reads Box knows how much we all enjoy a surprise. Every month, when you subscribe to Sweet Reads Box, you'll receive a surprise package full of goodies just waiting to be unboxed! Even the award-winning book included in your Sweet Reads Box will be a surprise!
Every Sweet Reads Box contains quality products
Thank goodness I took photos of our Sweet Reads Box the minute it arrived. If I hadn't, you would be looking at photos with a number of Sweet Reads Box items missing.
You guessed it. The toffee was the first to go. It was simply divine. Secretly, I was plotting on how I could sneak away with our Sweetsmith Candy Co. English Toffee and devour it all myself. My plan didn't work. The toffee got split in half.
The Sweet Reads Kyoto coffee. It was enjoyed a couple of mornings in a row. Our only complaint? Not having any left for a third morning of coffee.
The running shoe erasers? They quickly made their way into X-Man's pencil case for school.
While I have every intention of reading Will Ferguson's "A Shoe on the Roof", it's currently in the hands of a family member who is an avid reader. We're pretty sure she's enjoying this award-winning book!
It's a curated care package
One thing that struck me when I unboxed our May Sweet Reads Box, is how much it felt like I was receiving a care package from my mum. This box contained a wonderful collection of things that, I think, my mum would have sent to me in a care package:
a great book to curl up on the couch with
a sweet treat for a tasty afternoon snack
coffee to wake me up and warm me up
beautiful smelling lotion and soap
Imagine how much your kids would love a monthly Sweat Reads Box! It's a like getting a warm hug from mom when you can't be together!
Every box has a theme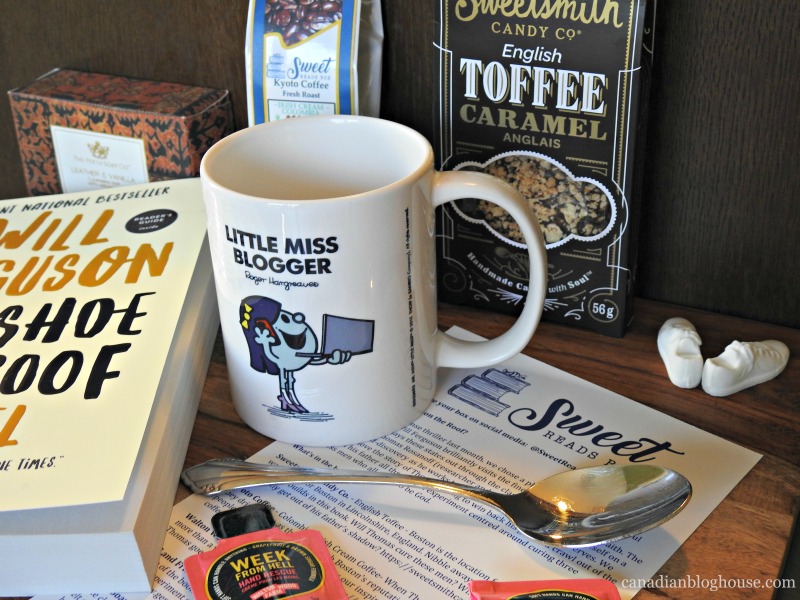 One of the special added touches that comes with each Sweet Reads Box is a card that contains a special quote that reflects the theme of the novel and subscription box contents.
A description of each item in the box can be found on the back of this card, and ties everything in the subscription box together.
A simple, yet great, idea.
Of course, there are many more reasons to love Sweet Reads Box, but you'll just have to discover those for yourself!
Sweet Reads Box is offering Canadian Blog House readers the chance to WIN July's subscription box!
One lucky Canadian Blog House reader will enjoy receiving a box full of wonderfully curated treats, and a fabulous novel – all courtesy of Sweet Reads Box!
Here's how you can enter for your chance to WIN:
Do you have a quality product that you think would make a fabulous addition to a Sweet Reads Box? Why not reach out to Kerrie and Mark to discuss partnership ideas! **Please note: At this time, Sweet Reads Box is only available to readers in Canada.