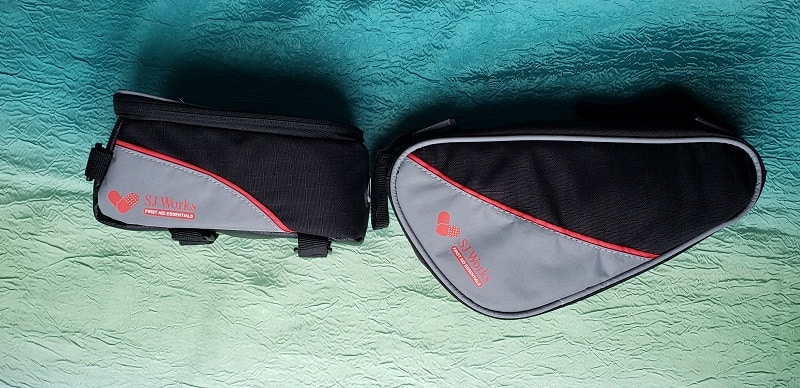 At Canadian Blog House, we believe in being prepared for emergencies, and that everyone should carry a bicycle first aid kit on their bikes. We received 2 SJ Works bicycle first aid kits to facilitate this review and giveaway. All opinions are our own.
I never really thought too much about why I should carry a bicycle first aid kit with me when I am out riding my bicycle.
All that changed when we were recently contacted by SJ Works asking us to review their bicycle first aid kits.
SJ Works "believe in helping people in all first aid situations. Safety is a paramount concern, which is why we want first aid kits to be readily available in your daily life, not packed away in a box somewhere."
I still remember my first bicycle accident I had while riding a bike when I was 8 years old. Silly me, I jumped onto my cousin's bicycle that was much too big for me, thinking I could ride it just as easily as my own.
Nope.
I hit the curb and down I went. I landed hard on the pavement and managed to remove a few layers of skin from my knee. It wasn't the worst bicycle accident by any means but, I did manage to mess up my knee pretty badly. I picked myself up, along with my wounded pride, and peddled my way home, leaving a trail of blood along the way.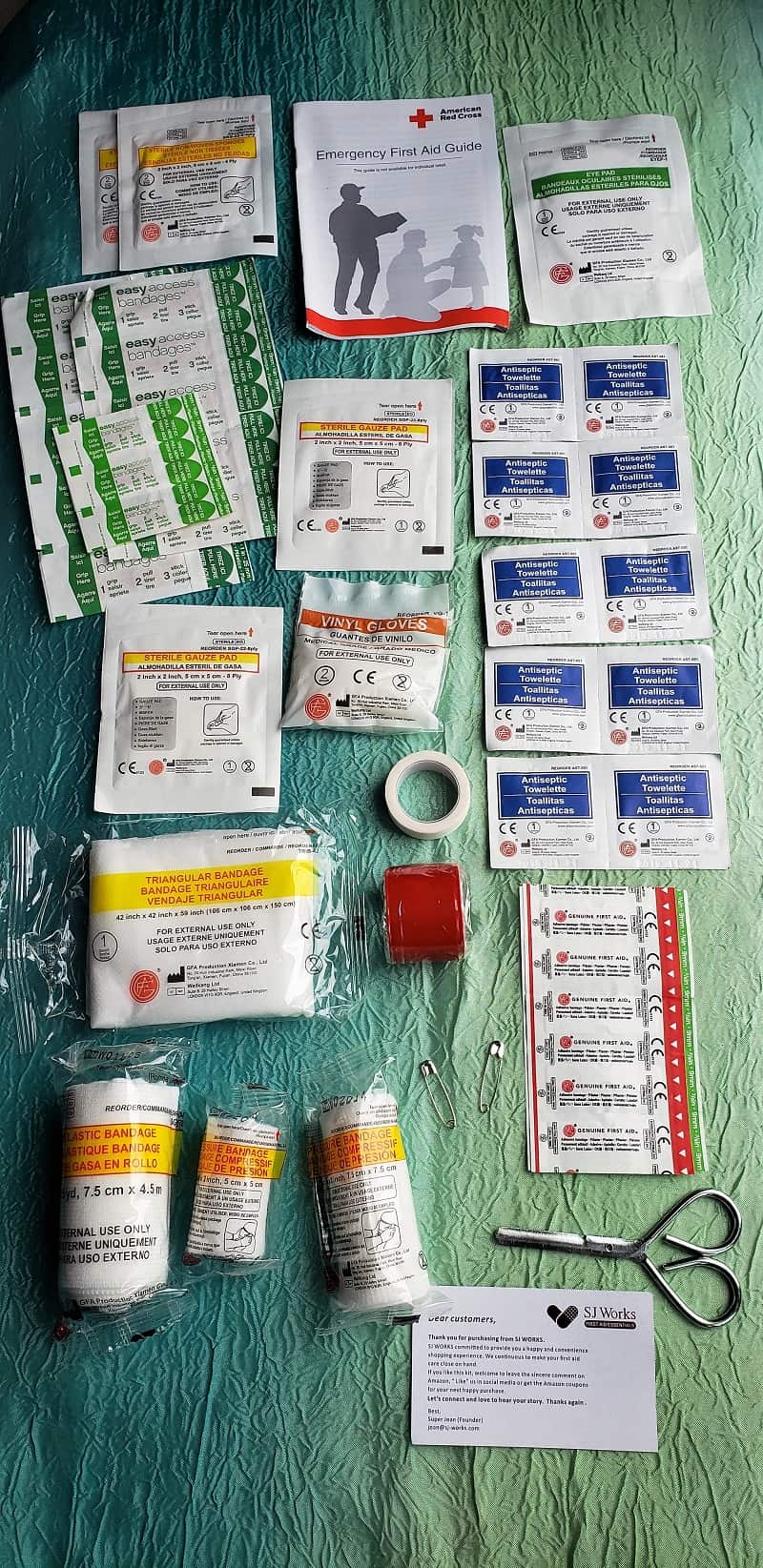 Many of us keep first aid kits in our car for emergency purposes when we travel, however, most of us don't consider adding a bicycle first aid kit to our bikes.
But we should carry a first aid kit, and here's why…
5 Reasons Why You Should Carry A Bicycle First Aid Kit

To Help Yourself
Accidents happen. We've all "been there, done that" when it comes to suffering a minor cut or abrasion from a fall off a bike. A bicycle first aid kit can help you clean up minor wounds, help stop bleeding, and provide protection until you can make it home and clean your wound properly.
To Help Calm The Kids
Bandages always make boo-boos better don't they? They certainly help calm a child with a minor scrape. That's reason enough to carry a bicycle first aid kit on your bike when you go riding with the kids. Being able to clean up a child's minor wound while out on a bike ride, can be the difference between carrying on with your family bike ride, or having to go home right away.
To Help Others
There's nothing more satisfying than being able to help someone in need, right? Imagine being able to stop and help a fellow bicyclist who has been hurt. This is a great reason why you should carry a bicycle first aid kit.
To Help Carry Your Mobile Phone
Don't leave your mobile phone at home just because you have nowhere to store it while out for a bicycle ride. If you need to call for help in an emergency, you need your phone within reach. The SJ Smart Phone Solution Bicycle First Aid Kit is perfect for providing you with a place to conveniently, and safely, store your mobile phone.**
To Help When Help Isn't Close By
Do you love to hit the trails or back-country roads on your bike? When help is not close by, you should carry a bicycle first aid kit, especially if you love to bicycle alone. Make sure you are prepared to help yourself!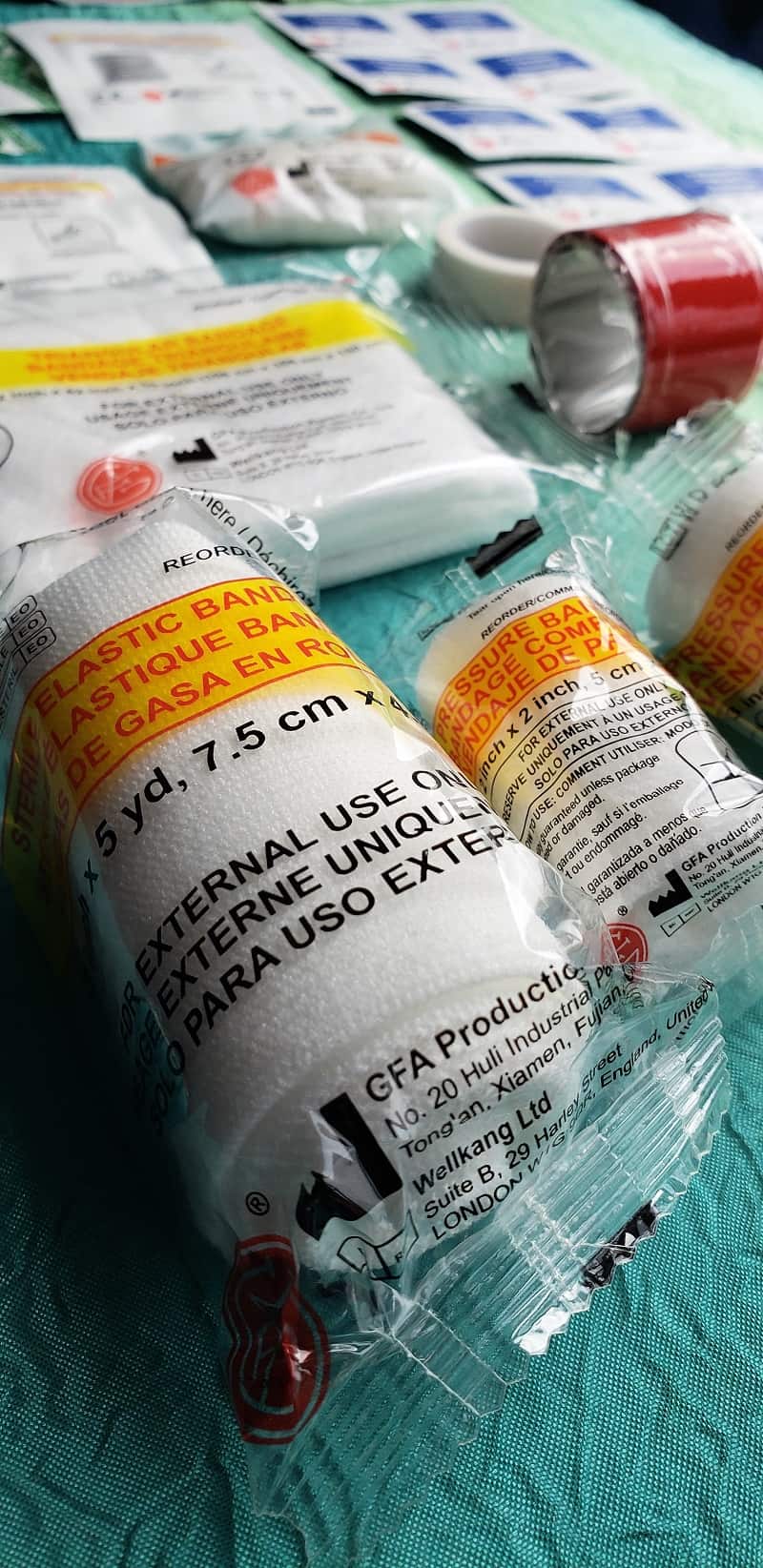 The great thing about our SJ Works bicycle first aid kits is that I noticed that they leave room to add a few extra small items of your own. You could consider including items like sunscreen, lip balm, an energy bar, wipes, kleenex, a compact multitool, pain reliever…or any other helpful small item.  You could even throw a baggy for storing garbage while out for a bike ride.
The SJ Works bicycle first aid kits are packed with lots of useful supplies – everything you would need for minor bicycle mishaps. They are compact and fit easily on your bicycle. The outer shell of the bicycle first aid kits is made from a very durable canvas.
The wonderful Super Joan at SJ Works wants you to be safe when you head out on your bicycles! That's why she is giving one lucky Canadian Blog House reader the chance to WIN an SJ Works Smart Phone Solution Bicycle First Aid Kit (ARV $33).
**Please note. We have Samsung Galaxy S9+ mobile phones. These phones are too large to fit in the Smart Phone Solution Bicycle First Aid Kit. Please compare the dimensions of your phone with the dimensions listed on the website, before making a purchase of this particular bicycle first aid kit. 
Here's how you can enter for your chance to WIN: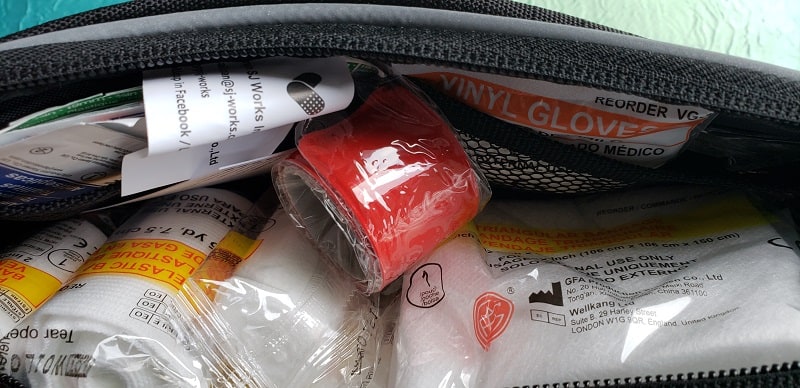 Experience peace of mind with your own SJ Works bicycle first aid kit!
Can you think of any other reasons why you should carry a bicycle first aid kit? Tell us!