Canadian Blog House received a media invite from Ocean Wise to celebrate the launch of their new global ocean conservation organization. All opinions are our own.
As Ocean Wise says…"we are all connected to the ocean."
Whether we live in Tofino, British Columbia, Cavendish, Prince Edward Island, or Ottawa, Ontario, what we do to the water we use in our homes and businesses, has an effect on the world's oceans.
After all, most of the world's major rivers drain into our seas and oceans.
I like to think that I am conscious of this fact, and that I'm careful about what I flush down the toilet, or rinse down the drain.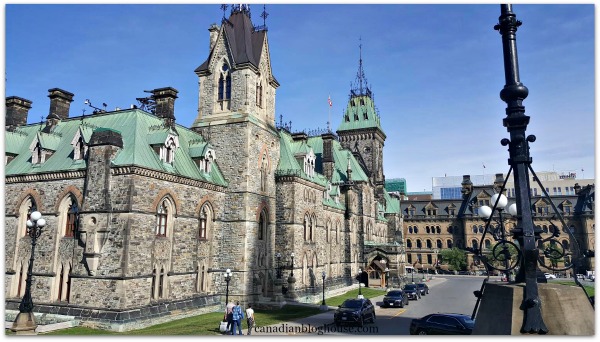 Our evening at Parliament Hill, as guests of Ocean Wise, taught me that I am still terribly remiss about the plastic products I purchase, that are contributing to the huge amount of plastics that end up in our environment…and in our oceans.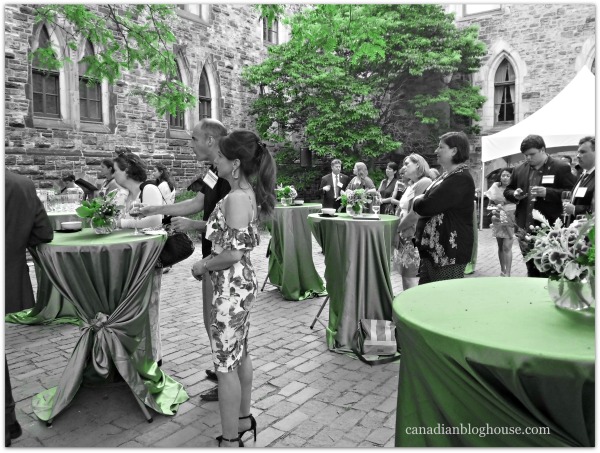 Just think about this for a moment.
We all recycle, right?
Every two weeks I place a blue bin at the curbside, ready for the city recycling truck to pick it up, and haul plastic items away for recycling. This bin is usually overflowing with all the plastic (and glass) packaging, and containers, that we have used in the last couple of weeks.
As I set the blue bin out to the curb, I always get a feeling of satisfaction, knowing that I have just diverted all of these items from our local landfill.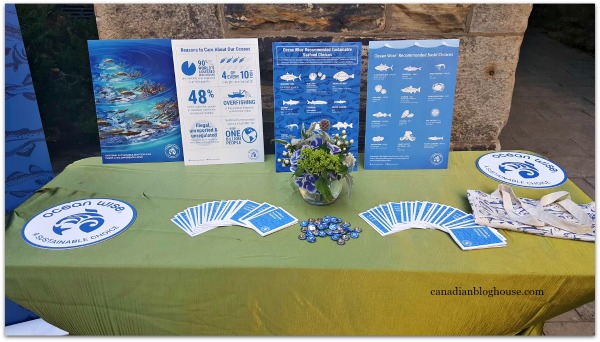 And while I can be happy that I am making a difference by doing my part with recycling, at the same time, if you peek into my garbage bag you'll see a whole lot of things that I'm not so proud of.
Like my empty toothpaste tubes. Did you know they are made of plastic that cannot be recycled in most areas?
And my worn out bath sponges. It doesn't take long for these popular plastic puffy sponges to wear out and fall apart. Once they do, they are useless. So they become garbage – plastic garbage.
The mission of Ocean Wise, is "to inspire the global community to become Ocean Wise by increasing its understanding, wonder and appreciation for our oceans."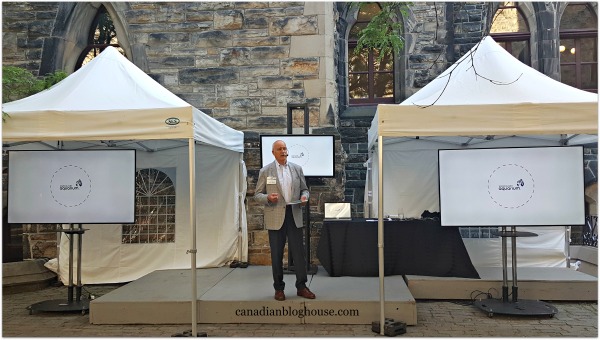 While mingling with other Ocean Wise guests, we had the pleasure of conversing with Andrew Day, of Ocean Wise, whose title is Vice President, Research & Executive Director, Coastal Ocean Research Institute.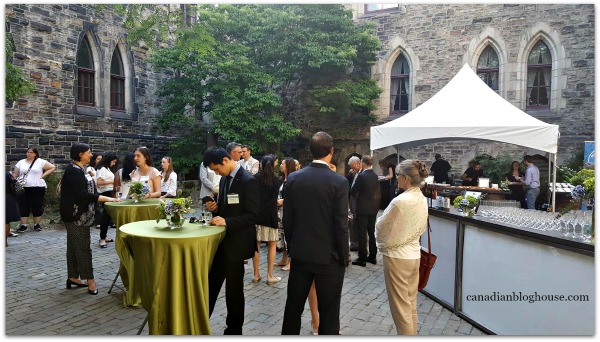 A very personable man, Andrew was a complete pleasure to talk with, and we enjoyed a great discussion with him about Ocean Wise. Andrew also provided us with some terrific tips about places to visit on Vancouver Island – so now we've added this great destination onto our bucket list!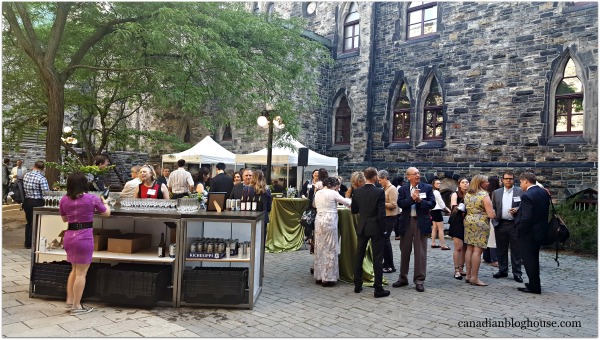 Guests of the Ocean Wise event were treated to refreshing drinks, and delicious sustainable seafood appetizers from Ottawa's Riviera restaurant.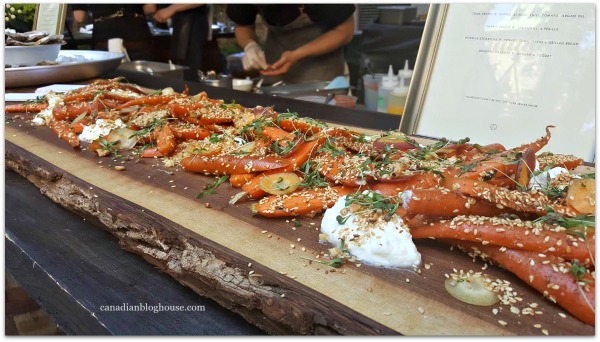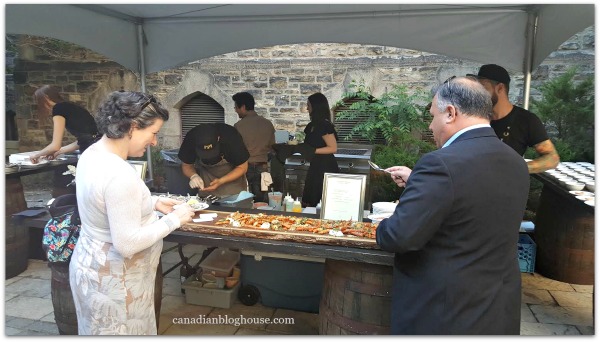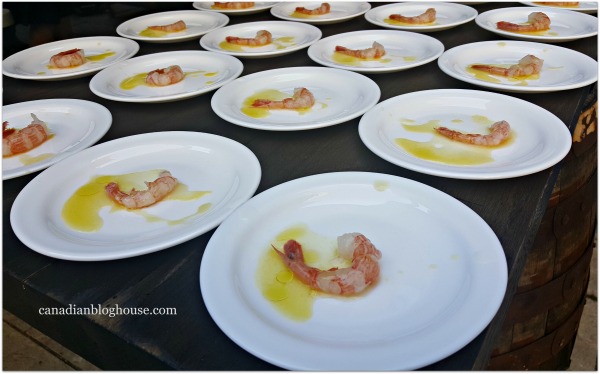 The venue could not have been a more beautiful backdrop for this Ocean Wise event. The only location that would have been better than being surrounded by the stunning architecture in the courtyard at Parliament Hill's East Block, would be somewhere on the shores of one of Canada's oceans.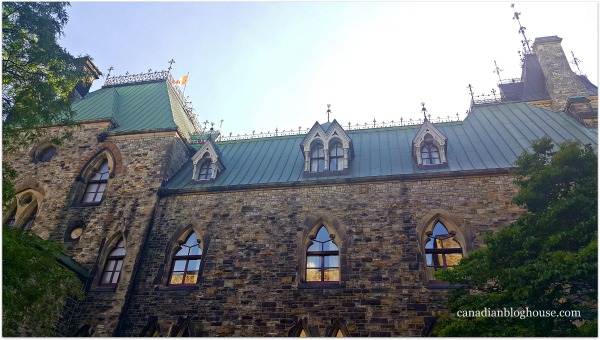 Beautifully decorated cocktail tables were placed around the courtyard for guests to stand at. Appropriately, focus was on the colour green, made even more appropriate by the fact that Elizabeth May, leader of Canada's Green Party stood next to us at our table.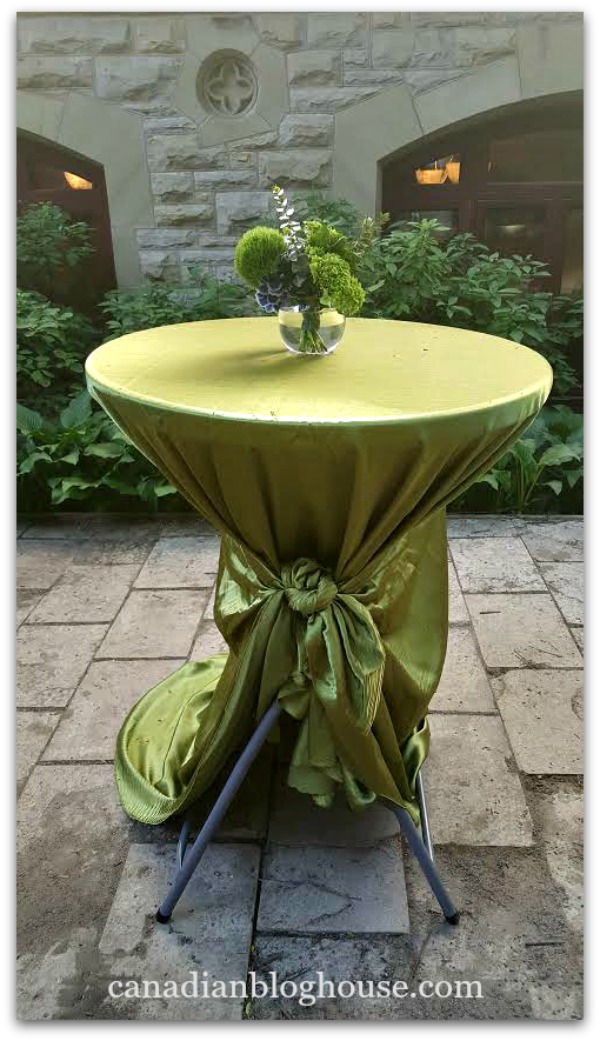 We learned a great deal of important information during the Ocean Wise event, including how you and I can become "Ocean Wise"
Here are 5 tips we picked up:
5 Ways You Can Become Ocean Wise
---
Whether it's along your local shoreline, in your local parks, or at the side of the road, taking part in a local clean up event can help make a huge difference in your neighbourhood. No clean up events in your area? Start one!
One of the biggest threats to our oceans is overfishing. Whether you are at the grocery store, or a restaurant, choosing seafood items that display the Ocean Wise symbol ensures that you are eating sustainable seafood options.
The best way to help to protect Killer Whales is to study and learn everything we can about them. Studies are terribly expensive, however, funds raised by the adoption program help to offset these expenses. Or, a donation to Ocean Wise can help ensure the conservation of aquatic life.
Reduce Your Plastic Use
Shop with reusable cloth bags instead of plastic shopping bags (plus you'll save $ by not having to purchase bags at the grocery store!)
Use a rechargeable razor instead of buying disposable razors/blades
Fill reusable water bottles with ice-cold water instead of purchasing plastic water bottles from the store.
Did you know that cigarette butts are the worst litter offender? While they seem harmless and biodegradable, cigarette butts are bad for our environment. Most cigarette filters are actually made from cellulose acetate, a non-biodegradable plastic. So when we just toss cigarette butts on the ground, those butts can take up to 25 years to decompose. This doesn't even account for the toxins that are found in cigarette butts, or the fact that they could be ingested by birds, animals…and even children!
Here are 11 other items that make up Canada's dirty dozen list. I've seen many of these items strewn along our river banks here in Ottawa…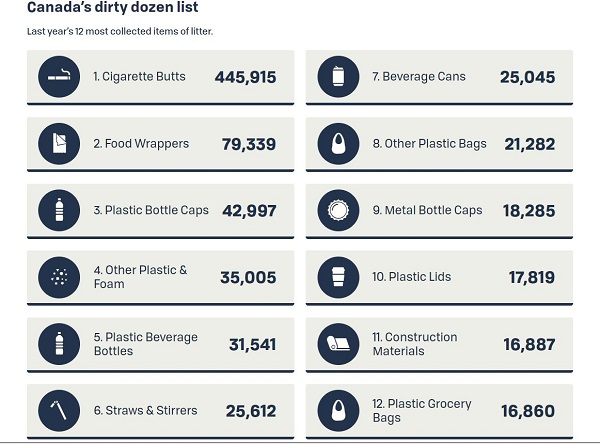 For more information about these important initiatives, please visit the Ocean Wise and Vancouver Aquarium websites.
Our evening at the celebration of the launch of Ocean Wise held another surprise for us.
While awaiting the courtyard gates to be opened, we decided to take a little walk around the beautiful Centre Block at Parliament Hill. It was here we came upon Prime Minister Justin Trudeau, and his wife Sophie Grégoire Trudeau, speaking to the media about the Women Deliver Conference that will be held in Canada this year.
So, of course, we took a few photos, and grabbed a quick handshake with both Justin and Sophie…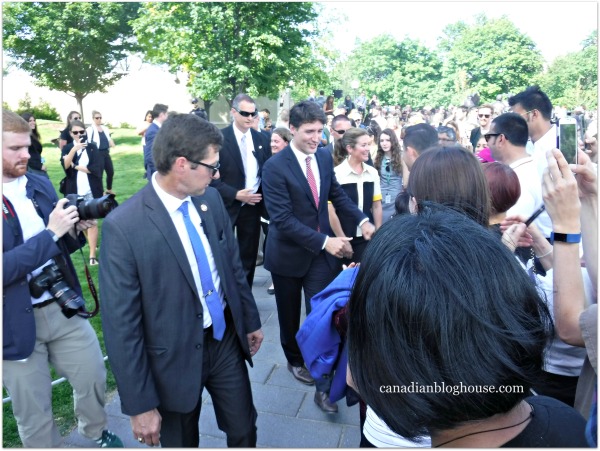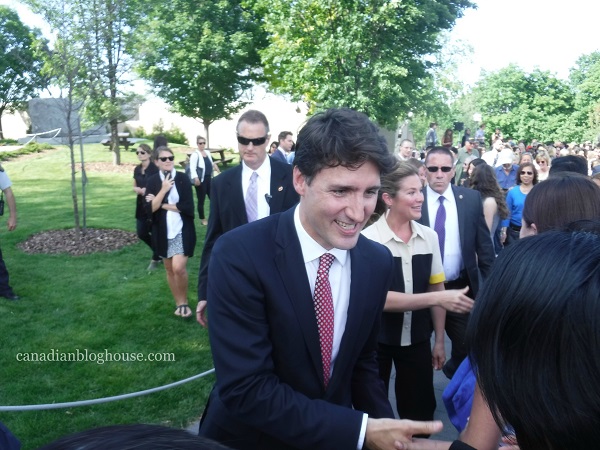 What will YOU do to become more Ocean Wise?