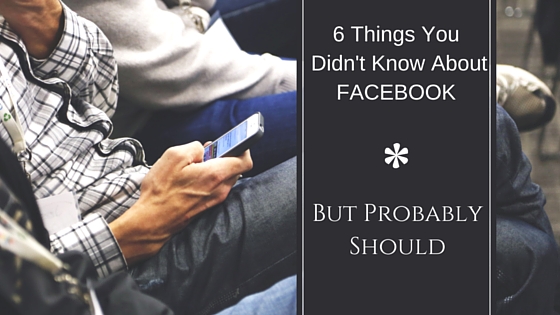 Think you know Facebook? Like many social media users, you probably know Facebook pretty well. But like all social media channels, no matter how much we use them, or how well we think we know them, there always seems to be some feature, or secret hack, we never knew about.
I recently discovered some interesting things about Facebook – like how those sponsored ads work – and it got me thinking about other Facebook features that you may not know about.
6 Things You Didn't Know About Facebook – But Probably Should
1. Sponsored Ads – Those pesky Sponsored Ads that seem to constantly pop up in your feed? Facebook targets ads to you based on your browsing history as you use Facebook. Did you ever wonder why you are seeing a particular ad though? To find out, simply follow these steps from an example from my own Facebook news feed:
Click on the arrow in the top right hand corner of the sponsored ad. A drop-down menu will appear (as pictured). Next, click on "Why am I seeing this?".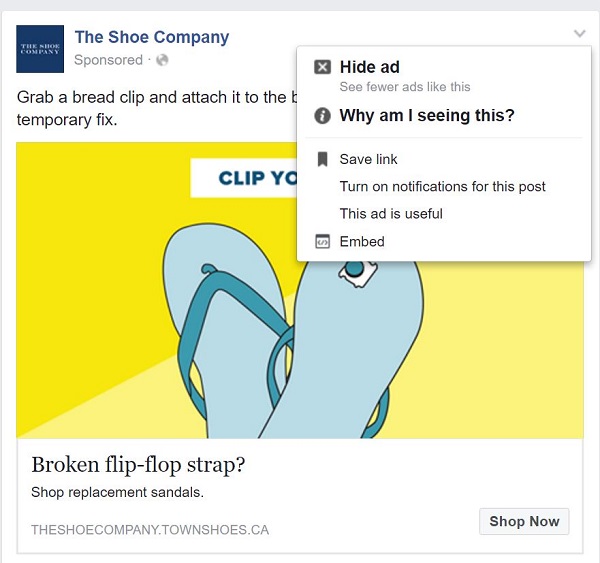 Another box will open up and provide you with the reason that you are seeing this particular ad in your Facebook news feed. In this case, Facebook tells me I'm seeing this ad because I'm interested in "shopping" (true!), and because of my age, and the province I live in.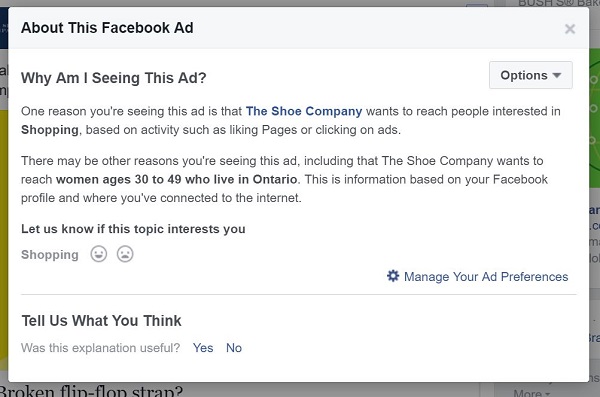 Don't want to see ads for a particular company in your feed? No problem. Simply click on the "Options" button in the top right hand corner of this box and you can click to "hide all ads from this advertiser".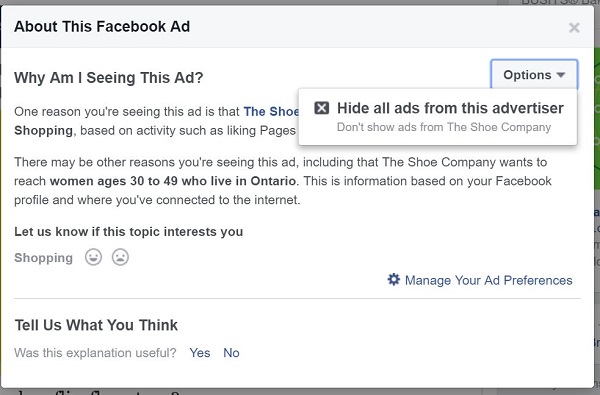 2. Secret Emoticons – This is not a feature that serves any special need but, we all know how much everyone loves to use emoticons on social media. Did you know that there are "secret emoticons" on Facebook? If you use Chrome for your browser you can get access to all kinds of great emoticons by using the Facebook Secret Emoticons Chrome Extension.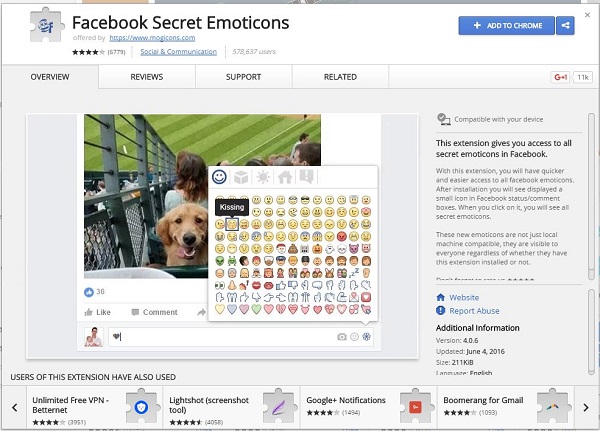 3. Hidden Inbox – Facebook is full of secrets…like your Hidden Inbox. What? You didn't know you had a hidden inbox (known as "filtered messages" now)? You do! What's the purpose of a hidden inbox? It's for people who aren't your friends but wish to message you for some reason. Just a word of warning. People who are trying to access your personal info – for nefarious reasons – will tend to use this method to try to contact you. Usually it's best to just hit the delete button on these requests! Don't let that image of a pretty rose from a stranger fool you!
Click on "Messages" in the menu on the left-hand side of your Facebook page: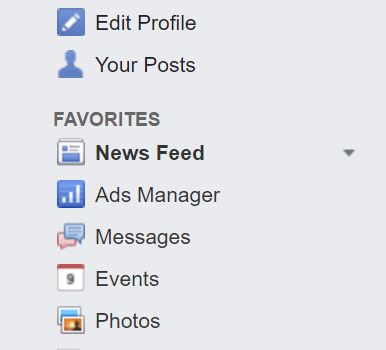 Click on "More" in the messages column on the left-hand side of your Facebook page. Then click on "Filtered". If you have any messages in this section, they will show up. I did not have any outstanding filtered messages in my box.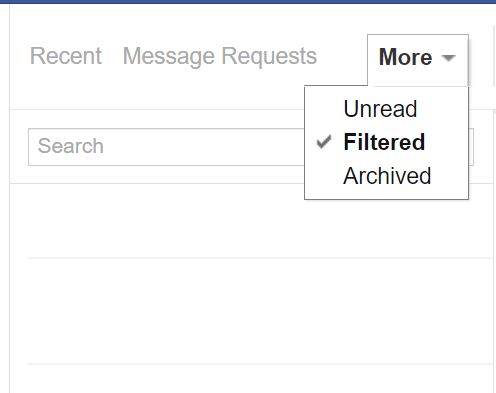 4. Sort Your News Feed – I'm sure you have seen a lot of complaining from friends about their Facebook news feed. It seems Facebook is always showing us things we don't want to see, rather than the status updates from friends, family or businesses that we do want to see. And sometimes, we see those unwanted posts, not just once, but over and over again. Did you know that you can adjust your Facebook News Feed settings?
From the menu on the left-hand side of your Facebook page, click on the little arrow beside "News Feed". A drop-down menu will appear. Mine was automatically set to "Top Stories", which means I would see the same stories over and over in my feed. By checking "Most Recent" I'm now able to see those stories instead.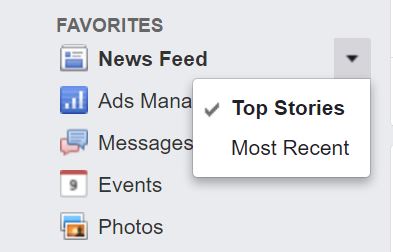 5. Support Inbox – Your support inbox is a very handy thing to know about. You can find this inbox when you click on the little arrow located in the top right-hand corner of your Facebook page (beside the lock). The support inbox is the place to go to:

Within your support inbox you can also find other great information to help you managed your Facebook account: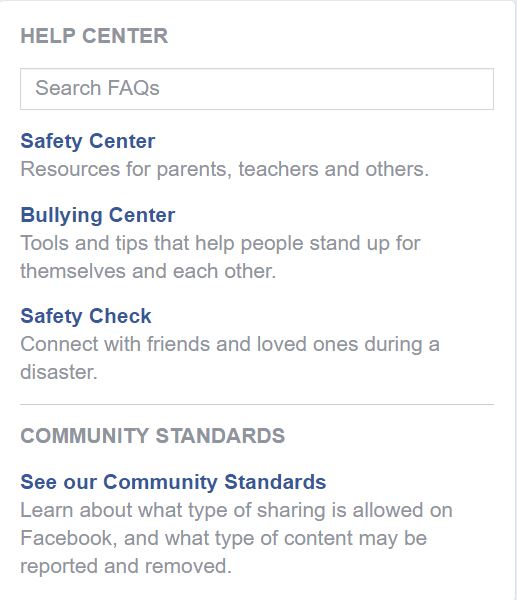 6. Memorialized Accounts – Ever thought about what happens to your Facebook account after you pass away? I hadn't either until friend and fellow blogger, Deanna, from Maple Leaf Mommy, wrote about her experience with memorializing her father's Facebook page. Here's how you can memorialize your Facebook page.
Do you know of any Facebook hacks, or hidden features, that aren't mentioned here? Tell us about them!
If you enjoyed this post, you may like "Admit It! 15 Things You've Secretly Done On Facebook".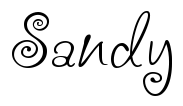 Disclosure: Canadian Blog House did not receive compensation for this post. All opinions are our own.