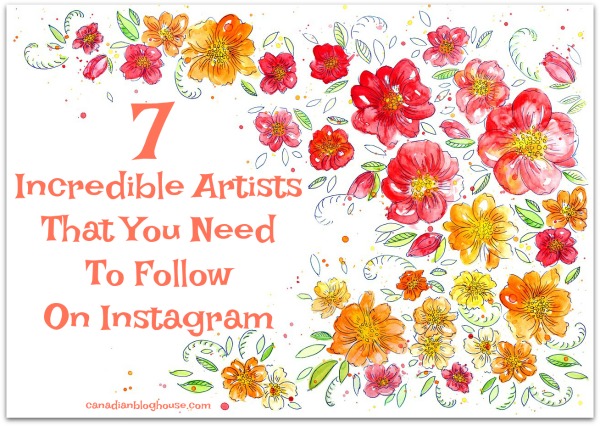 I love to discover new (to me) artists, and a platform like Instagram is the perfect place to discover some amazing artistic talent.
I recently spent some time browsing artwork on Instagram, and discovered some incredible artists that I wanted to share with you.
7 Incredible Artists That You Need To Follow On Instagram
Every so often, I stumble upon an artist whose art I absolutely adore.
Kelly Lahar is one of those incredible artists.
I happen to have a soft spot for hedgehogs, having once owned one of these cute little critters myself. Kelly's "Succulent Hedgie" print stole my heart the minute I saw it. It's one of those images that makes me smile every time I look at it.
The colours, the style, and the realistic look of the hedgehog grabbed my attention but, as I browsed Kelly's Instagram feed, I realized there's a lot more to this very talented artist.
Take a peek at Kelly's Instagram feed. Her pet portraits are incredible.
And…the tiger. Gorgeous!
It was in Kelly's Instagram feed that I discovered another incredible artist, Morgan Davidson.
I was mesmerized by Morgan's Instagram feed.
Those colours!
The chameleon. The peacock. The sea turtle. I really don't know which piece of Morgan's art I like more.
But it was this video Morgan filmed of her drawing on black textured paper that "wowed" me.
You'll want to watch this video!
Meet incredible artist, Vince Okerman.
This 19-year-old artist, and YouTuber, creates eye-catching colourful art.
His charming art, full of fun and whimsical characters, is sure to make you smile.
Then there are pieces like this one. I'm in awe that someone can do this with Crayola pencils…
I dare you not to feel completely satisfied watching artist Annette Labedzki's videos.
Yes, I got sucked into watching at least a half-dozen of her videos. You will too. I fully intend to watch them all at some point.
Annette's art brings a whole new meaning to paint mixing!
SO satisfying!
I love a beautiful watercolour painting. My sister has a real talent for watercolour painting, so perhaps this is why I enjoy this medium so much.
I adore Louise De Masi's use of colour in this painting of these beautiful birds.
If you love beautiful flowers and nature, you will love Louise's Instagram feed. Be sure to scroll all the way to the end and check out her zebras, giraffes, and parrot!
The intricate, colourful designs were created by Norway's Sine Hagestad.
Her art captured my attention, and her videos mesmerized me.
The detail! The colours! Even Sine's black and white pieces are spectacular.
Chloe O'Shea, a young artist from Darwin, Australia, has incredible talent.
This black and white video, of Chloe creating a portrait of a mama polar bear and her cubs, caught my eye.
Her nature scenes of mountains, the moon, and the northern lights, are stunning. Her 3-D images pop.
And her parrot. Wow.
If you love any of these incredible artists like I do, be sure to show your support and follow them on Instagram!
Do you follow any other incredible artists on Instagram? Tell us about them!