I recently had the opportunity to travel from Ottawa to Prince Edward County with 3 of my friends, riding in this ravishing red beast – the 2015 Ford Expedition Platinum.  As someone who normally drives a mid-sized car, with only a few "bells and whistles", I was most interested to see what a ride in a Ford Expedition had to offer.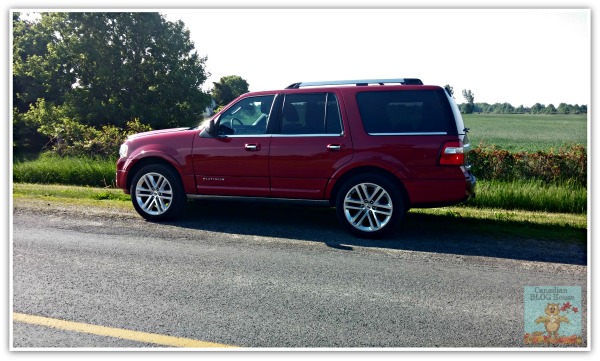 It (obviously) looks beautiful on the outside, but what could it provide to four fun-loving bloggers from Ottawa on a 5 hour/2 day road trip to The County? Plenty!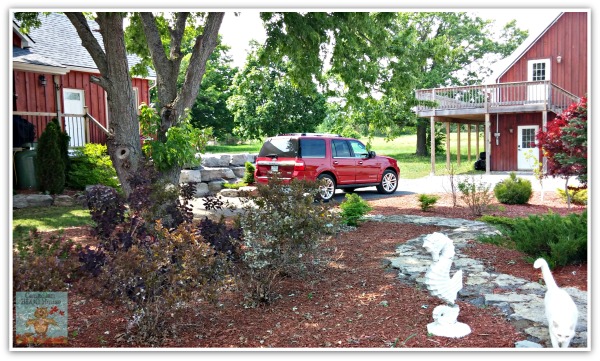 9 Must-Have Features Of The 2015 Ford Expedition Platinum: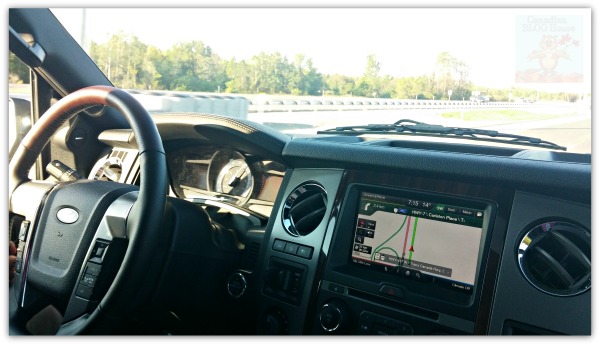 Rear View Camera – Where have you been all my life, Rear View Camera? Do you know how many times I could have used you in MY car? The Ford Expedition Platinum Rear View Camera could quite possibly turn me into a lover of backing into parking spots AND parallel parking. If you know me, that says a lot. I very much dislike parallel parking and go to great lengths to avoid it if at all possible. Watching Vanessa maneuver our big red beast into a parking spot on Main Street in Picton made parallel parking seem easy-peasy. Vanessa probably thinks it was her phenomenal parallel parking skills that did such a great job parking on a busy downtown street, but really, we all know, it was the Ford Expedition's Rear View Camera that saved our bacon that day. With a large 8-inch LCD touch screen, colour-coded screen alerts, and an alarm that warns you when you are close to a curb, car or other object, the Rear View Camera definitely takes the stress out of backing up, and parking, such a large vehicle.
Blind Spot Information System with Cross-Traffic Alert – Next to the Rear View Camera, this feature is definitely at the top of my options wish list. This feature worked so well for us during our road trip to Prince Edward County, keeping us safe when changing lanes on the highway, and when trying to pull out into oncoming traffic on Main Street, Picton. Blinking lights on your side mirror lets you know if another car is in your blind spot. This was especially handy when backing out of a parking space in parking lots. Any car passing behind you as you start to pull out will trigger the flashing light. I would love to have this feature when driving in busy, multiple lanes of traffic in Ottawa!
Power-Deployable Running Boards – Ok maybe I don't exactly need this on my low-riding car, but it sure was great to have this feature on our Ford Expedition. For short people like me, the power-deployable running board makes getting in an out of the Ford Expedition seats so easy. Besides, it's just fun to watch the running boards fold down for you the minute you open the door. Almost makes you feel like your vehicle is a gentleman helping you in and out of your car. Plus, with doors closed, and the running boards folded up into the vehicle, this makes the Ford Expedition look much more sleek from the outside.
Dual-zone electronic automatic temperature control (DEATC) – I'm not sure how much my fellow road trippers enjoyed this particular feature, but this is something I would love to have in my car. I tend to get cold easily, even in summer, and I usually find that, when driving in a car with others, I freeze while the rest of the passengers blast the air conditioning because they can't stop sweating. Having my very own temperature controls would make me a very happy traveler.
Rear Auxiliary Climate Control – In a vehicle loaded with four "hotties", Rear Auxiliary Climate Control was a much-loved feature of the Ford Expedition. We're talking "hotties" as in, four women prone to hot flashes, and with poorly working internal thermostats. It took awhile for me (front passenger) to figure out the temperature controls. As Vanessa and I started to become frozen in the front seats from blasting the air conditioning at full throttle (so the ladies could feel it in the back), I had the sudden urge to belt out my version of "Let It Go". I finally had to admit to being technically challenged when it came to figuring out how to turn on the Rear Auxiliary Climate Control. It turned out to be über easy. Thank goodness one of our smart passengers was able to figure it out for us before the weekend was over!
Power Moonroof – I'm already a big fan of sunroofs, so to have a moonroof is just that much better! I love the extra light the moonroof provides,  and the moonroof gives passengers the feeling that the roomy interior is even roomier. For me, a moonroof is more than just a luxury feature. Personally, I see it as somewhat of a safety feature. I know someone who managed to escape out a sunroof after a serious accident. The sunroof was the only escape route out of the car after all doors had become jammed as a result of the accident. So to me, the Ford Expedition's moonroof isn't just another pretty feature.
Front Cooled Bucket Seats – My current vehicle has heated seats in the front, and during the frigid Ottawa winters, a heated seat is a magnificent feature I never want to be without. Turns out, the Ford Expedition has "one-upped" the heated seat feature by offering "cooled" seating in the front bucket seats. Who's the genius who invented this great feature? I want to shake her hand! This one came in handy for the two of us in the front who are prone to overheating on long late-spring road trips. There may have been some jealous ladies in the back seats when we all discovered this fabulous feature. Vanessa and I would have kept our cooled seats a secret, save for the shriek and giggles that came from Vanessa when she suddenly discovered her nether regions were being "cooled"!
Interior room – Four women on a road trip. Need I say more? Space, we need space! Space for all the essentials we travel with, and all the extras we think we might need to make our weekend a memorable one. We went loaded with 2 large coolers (filled with enough food to feed an army), 3 air mattresses, 4 pillows, 4 blankets, 4 suitcases, cases of water, 7 swag bags full of goodies for our guests joining us for the weekend, bags of snacks, and other assorted items. We were jam-packed into our Ford Expedition! Don't believe me? Just look: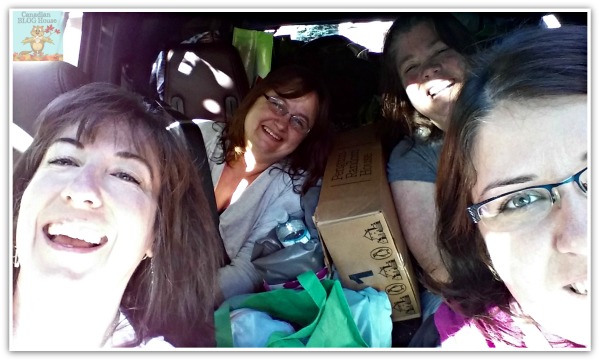 We only left room for some Double Doubles, Ice Caps & Hot Chocolate from Timmie's, and a prerequisite road trip box of Timbits!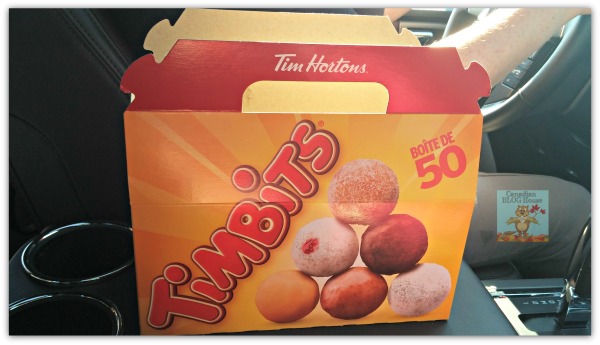 I've only scratched the surface when it comes to fab features found in the new Ford Expedition Platinum. I haven't even touched on the SYNC With My Ford Touch, the Control Trac® Four-Wheel-Drive System, the 3.5L EcoBoost® V6 engine, and all the other features that make the 2015 Ford Expedition Platinum a great vehicle for a Canadian road trip!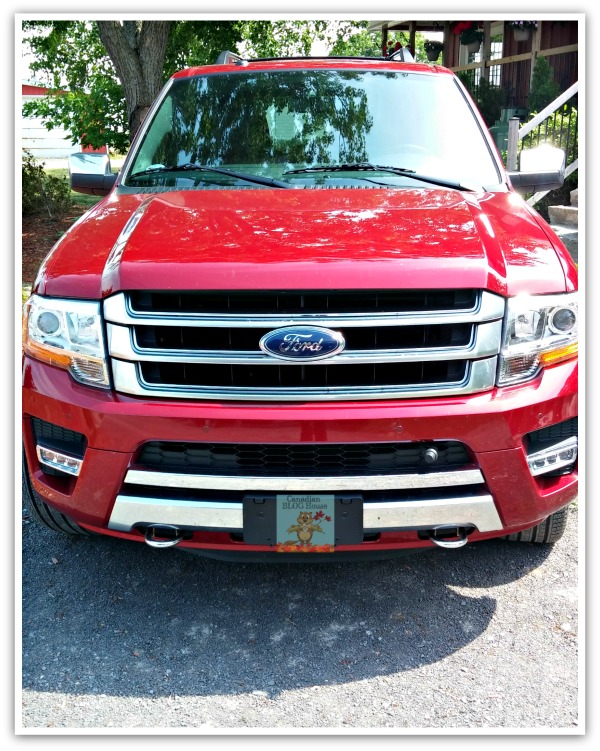 What features do YOU wish you had in your car? What's on your "dream car" options list? We'd love to know!
Thanks to Ford Canada for providing the four of us with a fantastic set of wheels for our excursion to Prince Edward County, and Melissa from National PR for facilitating our ride. We loved every minute of our time spent with this beautiful red beast!