Thanks to one of my wonderful followers, Paul Crowe (@ScorpiosTales), I was introduced to the VETS Canada website, an organization that is committed to helping homeless and at-risk Canadian veterans reintegrate into civilian life.
Since 2010/2011, VETS Canada "has grown into a federally registered non-profit charity that has a network of 135,000 and hundreds of dedicated volunteers across the country, most of who are ex-military/RCMP. They work within the community to identify homeless veterans and quickly re-establish the bond of trust that exists between soldiers."
"Working within the community, VETS Canada members attempt to move veterans from the streets or shelters into affordable housing (if available). They also connect the veterans with needed health care, help them access benefits and services from other organizations, and support them in finding suitable employment. The volunteers stick with these veterans every step of the way and do everything possible to help them re-establish themselves."
I'm truly grateful for all our soldiers, past and present, who have risked their lives for the freedoms we enjoy today. I love honouring and remembering our soldiers every year on November 11th, but we can do better than that, by offering them the support they really need – every day of the year.
Please take a moment to read Paul's story and visit the VETS Canada website.
Thank  you.
---
VETERANS VISION
A thousand soldiers with a thousand different stories and memories of a beginning in each of their lives that supported and built our great country. How do we teach fellow citizens to hear the cries and needs of people who have a life that is so busy trying to get by for themselves.
Any soldier will tell you the journey is sometimes difficult and some may not talk at all, but each of us carry a burden of sights, sounds, the people and most of all the memories of our times in foreign lands helping people who we may never know, but because we were asked to do so. Sometimes time away may be several weeks to many months from home and our own loved ones who must carry on with their lives too, raising children, taking care of elderly family members and so much more. People don't believe the reality when you see veterans on the streets with nowhere to go, sad, but true. A very small pension if they get one at all, sickness, family passed on or lost touch all together can cause the homelessness we see so often today. A small pension is sometimes all that can be a saving grace for food and shelter. Many veterans don't qualify for other funds due to not working, age factors or just no information to support their needs. I guess in my own thoughts I talk about the plights of veterans who have gone before me, served with me, shown me the way and those I see in such despair today.
We must do more to ensure the memories not only carry on but the help is given to the ones that have created those memories we cherish to this day. Teach our children young and old of the sacrifices made by so many. We mostly need to teach that this isn't a November 11th thing ,but to have compassion and action all year long. Suffering is not a one day a year event to give thanks. The Legion, our homeless shelters and most of all the food banks need to be forefront in our hearts and minds going forward. A special organization that is doing something about it is Vets Canada. www.vetscanada.org.
Take some time and look at the work and needs for a group of people who were there when we needed them and now need us. For me it's a "Veterans Vision".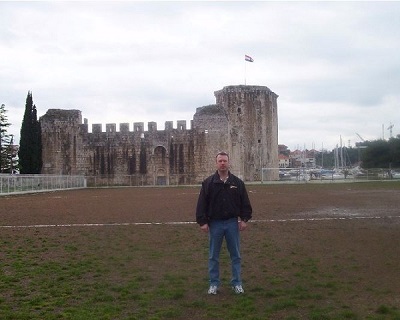 Paul Crowe is a veteran of over 20 years service with the Canadian Armed Forces, Army branched Traffic Tech with many army and air forces postings such as Gagetown, Petawawa, Winnipeg, and North Bay to name a few. He is a decorated service member with several years spent in Europe and the Middle East on tours and deployments. Originally from Peterborough, Ontario, Paul is now retired and residing in the beautiful Fraser Valley, British Columbia. Trained in Logistics Management, Paul is now continuing to pursue his passion for writing, to do his part to "pay it forward".