The Mentholatum family of products has long been a trusted brand for my family since way back in the 1960's. That's over 50 years! I still remember my mum rubbing green mentholatum paste on my chest when I had a bad cold.  The wonderful menthol smell would immediately help make breathing easier.  It was like having a "comfort blanket" on my chest when I felt my worst.  To this day, the smell of the cooling mentholatum immediately brings back wonderful memories of how well my mother used to take care of me when I was sick. This is the original bottle..still going strong!

I also grew up using Phisoderm facial cleanser.  It was a staple on our bathroom counter.  Considered safe for the whole family, this was one product my mother always kept on hand for all of us to use.  During my teenage years,  other Mentholatum products, Oxy acne washes and creams,  became my "go-to" acne solution.
So when the folks at Mentholatum Company of Canada contacted me recently asking me to review one of their brand new products, I eagerly agreed.  Considering I have been a long-time fan of their products, I was very keen to try their brand new Oxy Emergency Acne Vanishing Treatment Wipes.
Acne treatments have come a LONG way since I was a teenager.  I remember the harsh medicated smells of  the various cleansers and creams I would try to use in the 1980's before I found Oxy products.  They worked alright but, oh boy, did they stink!   I remember feeling like I was a walking acne treatment with the strong smells trailing behind me.  As a paranoid teenager, I started to wonder if it was my acne people were staring at, or were they staring at me because of the smell? So embarrassing!
For today's teenagers, and adult acne sufferers,  there are some great treatment options for acne….without the overpowering medicated smell.
Oxy Emergency Acne Vanishing Treatment Wipes are one such treatment option.  These Oxy wipes "work rapidly to help heal acne".  The new Oxy Emergency Acne Vanishing Treatment Wipes:
are the only medicated wipe on the market with the acne fighting ingredient Benzoyl Peroxide, clinically proven to kill acne bacteria on contact and help heal acne blemishes fast

relieve redness and work to reduce the size of pimples fast

have an advanced encapsulated technology that controls oils and work continuously to fight breakouts throughout the day

re-sealable on-the-go package for added convenience

non-drying, alcohol free formula with added oil free moisturizers

dermatologist tested

30 wipes packaged for a month-long supply
Thanks to a recent change in diet (we are trying to get healthy and fit!), we have found an added benefit to our new way of eating…less acne!  While this is a great thing, it isn't helpful when you are waiting to try out a new acne treatment.  However, I always know there is no escaping the claws of the acne bacteria beasts – at some point they are going to surface!  So we just waited until they made an appearance…and they finally did.
Our acne breakouts tend to be "greasy or fatty food related", and in my case, hormones play a big part.  For me, acne seems to like to pop out at "that time of the month" just when I'm already feeling my worst.
Last week I started getting a small breakout of acne.  My problem with any acne I get is that, usually, it sits just under my skin, in a bump that never rises to the surface and "pops".  It just sits there like a lump…a sore lump. That's exactly what happened last week so I decided to put my Oxy Emergency Acne Vanishing Treatment Wipes to the test on my "no pop" acne.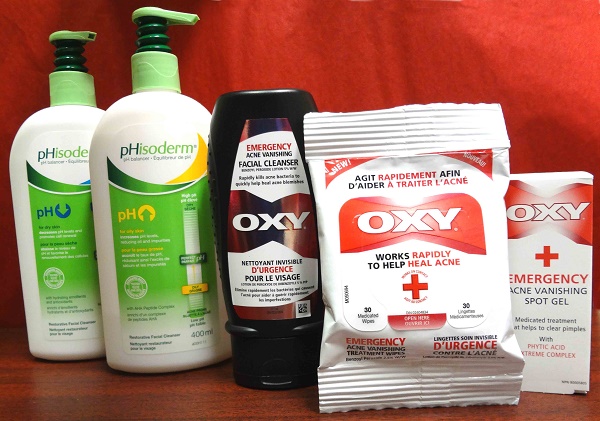 I peeled open my pack of wipes and pulled out a perfect "palm-sized" wipe from the package.  Because I had this convenience pack of wipes with me in my purse, I was able to use them while I was out running errands.  I applied a wipe to my acne and immediately felt a cooling sensation.  I wiped and dabbed my acne bumps, tossed my wipe in the garbage, and went on with my day.  I forgot about the wipes and my acne until that evening when I went to wash my face. I was amazed to find that, not only was the redness gone from this patch of acne, my small bumps had all decreased in size to just about nothing.  I had hoped that my Oxy wipes would help my acne rise to the surface and pop, but they did the opposite.  The Oxy Emergency Acne Vanishing Treatment Wipes had actually decreased the inflammation and swelling of my bumps, rendering them (pardon the pun) wiped out!  I treated my acne with one more Oxy wipe before bed, and awoke in the morning to find my acne completely healed up.  I was very pleasantly surprised.  I was not expecting the results I got from using these wipes.
Aging tends to dry out your skin, and my skin has started to experience these changes with the aging process. While my skin used to lean more towards the oily side of the spectrum, these days it tends to be dry.  So I was a little concerned that using my Oxy wipes may dry out my skin.  I discovered there was no need for concern though.  The Oxy Emergency Acne Vanishing Treatment Wipes got rid of my acne, but left my skin feeling clean and soft.
While I wasn't expected to review other Mentholatum Canada products as part of this post, I was sent all of the products seen in the photo at the top of the page.  One thing I did want to note was that I was happy to be sent the Phisoderm Facial Cleansers (one for oily skin and one for dry skin).  It had been a long time since I had used a Phisoderm product, and I had forgotten how much I liked their cleanser.  With a clean, mild scent, Phisoderm leaves my skin feeling refreshed and energized.  I will be using the Phisoderm Cleanser for oily skin during the summer,  and will keep the Phisoderm Cleanser for dry skin during the winter months.
If you suffer from acne, be sure to give the Oxy Emergency Wipes a try to see what they can do for you.  You can also try the Emergency Spot Gel and Emergency Cleanser to help you in your fight against acne.  Please keep in mind that my acne is not severe,  and that my results may differ from yours depending on the severity of your acne.
Thanks to the great folks at Mentholatum Canada, one lucky Canadian Blog House reader can win this same fantastic prize pack that I received, full of great acne fighting products!
Here's how you can enter for your chance to WIN:

Disclosure:  Canadian Blog House received the above products for the purpose of this review.  All opinions are my own.