Have you seen that snow outside? Is it really March 19th? If you live in Eastern Ontario, you know what I'm talking about.  We've had about 10-15 centimetres of snow today, and the storm is still going strong.  Last year on March 19th I was at my sister's cottage, sweltering in a t-shirt and shorts, in 25 degree celcius weather.  What a difference a year can make!
So since I have been hibernating inside today, I decided it was a good day to whip up a batch of homemade Banana Chocolate Chip Muffins.  This is my second time making this particular recipe since I found it online on the Canadian Living website last week.  It's one of the best recipes of it's kind that I've tried.  So easy to make – you don't even need to get out your mixer.  This recipe is mixed the old-fashioned way – by hand.
Here's how Canadian Living describes theses Banana Chocolate Chip Muffins:
Our moist, decadent banana chocolate chip muffins combine the warmth of banana bread with silky chocolate chips. Perfect, for breakfast, after school, or as an indulgent midnight snack, these scrumptious baked goods are sure to satisfy your sweet tooth.
I tweaked the recipe just a bit, based on the ingredients I had on hand.  Instead of Buttermilk, I used Vanilla Yogurt. I then decreased the amount of Vanilla called for in the recipe to a 1/2 teaspoon.  I used Renyolds StayBrite easy release baking cups.  I love them. They peel off without taking half your muffin with them.  Highly recommend!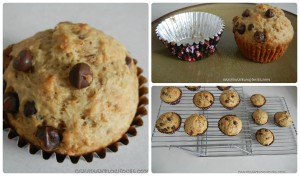 These muffins are delicious…be sure to eat one fresh from the oven or heat one up in the microwave for 15-20 seconds before eating.  Enjoy!!
Ingredients
2-1/2 cups (625 mL) all-purpose flour
1 cup (250 mL) packed brown sugar
1-1/2 tsp (7 mL) baking powder
1 tsp (5 mL) baking soda
1/2 tsp (2 mL) salt
2 eggs
1 cup (250 mL) buttermilk
1 cup (250 mL) mashed bananas
1/3 cup (75 mL) vegetable oil
1 tsp (5 mL) vanilla
3/4 cup (175 mL) chocolate chips
Preparation
In large bowl, whisk together flour, sugar, baking powder, baking soda and salt.
In separate bowl, beat eggs; blend in buttermilk, bananas, oil and vanilla. Pour over dry ingredients. Sprinkle with chocolate chips; stir just until dry ingredients are moistened.
Spoon into greased or paper-lined muffin cups, filling three-quarters full. Bake in centre of 375°F (190°C) oven until tops are firm to the touch, 20 to 25 minutes. Let cool in pan on rack for 5 minutes; transfer to rack and let cool.
Source : Canadian Living Magazine: November 2003