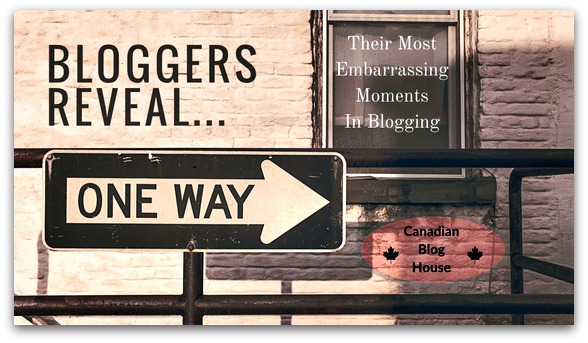 Life is full of embarrassing moments, isn't it?
Well, it sure is for me.
Sometimes I feel like the queen of embarrassing moments with all the crazy things that have happened to me over the years.
Luckily I am the type of person that can laugh at myself.
This means I laugh – a lot!
Just ask my friend Annie. Annie has known me for more than 3 decades. She has seen many of my most embarrassing moments…like the time I slipped in my brand new 80's faux cowboy boots and fell from the top step, down a big flight of stairs, at a Toronto subway station – while holding an open change purse! Clink! Clink! Clink! went the change…everywhere! And there was me on my butt at the bottom of the stairs, unhurt but nursing a totally bruised ego!
Apparently, multi-tasking wasn't my thing back then!
Giggling to myself about some of these most embarrassing moments the other day, I started thinking about embarrassing things that had happened to me while blogging.
Like this gem from a couple of years ago:
Before I made the big jump, I joked with the staff and asked them "do people really fall off the airbag?". They told me it doesn't happen often but, yes, sometimes it does.
Leave it to me to be one of the few!
I was left literally clinging to the edge of this massive airbag until staff rescued me. In my defense, it's hard to stand up and try to walk on a giant airbag without losing your balance!
I knew I wasn't the only blogger who has had something embarrassing happen to them while blogging. Whether it's something unplanned that happens on video, a typo in a social media share, or a time you didn't "think" before you tweeted, none of us are immune to these embarrassing moments!
So a big thank you to my blogging friends who stepped up and agreed to share their most embarrassing moments in blogging. Some are awkward, some are mortifying, and some are downright hilarious. A couple of these had me in tears of laughter when reading them.
Enjoy!
Bloggers Reveal Their Most Embarrassing Moments In Blogging
---
"I was going through my analytics when I noticed a large amount of traffic coming from a particular site. I clicked and found a social media class from a local college was discussing my blog and pointing out everything wrong with my writing. That stung." 
~ Kamerine ~ The Life Of K
"Not a public embarrassment but still bad: working with a rep a few years ago I assumed was a male (due to name) and had their coworker correct me after several emails saying it was a she, not he. Cue melting into a puddle of embarrassment…."
~ Alyssa ~ A Motherhood Experience
"Despite being an experienced blogger of over 15+ years, I once hit Publish on a post that was in early draft mode. 27 words of early draft mode, to be precise, instead of the 2,800 word one it would turn out to be. The follow-up email to 5,800 subscribers to explain what had happened was fun… 🙂 "
~ Danny ~  Danny Brown
"In my first months on Twitter, I hadn't yet fully grasped the rules of live Tweeting. The new season of The Biggest Loser was starting and I was a fan so I thought I would start off with that. I didn't know about checking hashtags, so misstep #1 right there. Misstep #2? I spent an hour tweeting everything instead of being selective. I wound up annoying the creator of the hashtag and attracting a comment from another Tweeter along the lines of, "Doesn't she know we're all watching the same thing?"
~ Victoria ~ Just Call Me Kanga
"Letting my domain expire the day I am heading off to a blogging conference."
~ Shannon – Shannon's View From Here
"Misspelling the movie I reviewed, Shutter Island. The "i" and "u" are right beside each other on the keyboard…."
~ Shannon – Shannon's View From Here
"My embarrassing moment was when I had a few reps named Jen. I wrote a post for an adult company, very detailed. I usually posted these hidden from my home page so only those who looked at the tab would see. I sent the link for the post to a rep with the same name that was not an adult oriented PR. Immediately I realized and was embarrassed. We both laughed."
~ Kim ~ Tales Of A Ranting Ginger
"Auto correct causes a repeat one for me. When I email winners I like to write "Congratulations Blog Winner" but often it is sent out saying "Congratulations Big Wiener" I now know to sadouble-check before hitting send. And no, I never purposely type those words together haha."
"Well, mine has to do with my name Thrifty Momma's Tips. I thought it was catchy and I had car signage at one point but when I drove to a family event, one or two relatives read the car signs quickly and said – Thrifty Momma STRIPS – which is definitely not the tone of my family travel, tech and health blog. That made me question the name of the blog itself. They, of course, thought they were hilarious!!"
~ Paula Schuck ~ Thrifty Momma's Tips