Psssst!! The world's beautiful and majestic panda bears have been hiding a secret from us humans for years.
This secret? Bamboo.  You know,  that dietary staple that panda bears eat pounds of every day.  Now I know why panda bears have such beautiful, thick black and white hair.  As they say "you are what you eat!".
I'm always excited when I get to introduce my readers to a great Canadian product line.  Have you heard about Canada's Boo Bamboo?  Boo Bamboo has taken a cue from the lovable panda bears and infused the goodness of bamboo extracts into their hair and skin care products.
"About Boo Bamboo
Stronger, healthier looking hair
with incredible shine after one use.
Nature's fastest growing plant has been harnessed into a collection of hair products that's guaranteed to make your hair strong and gloriously shiny 
in no time flat.
o Formulas contain Certified Organic bamboo extracts 
o Bamboo extract is the richest known source of natural silica
o Rich in minerals and organic proteins essential to strong, shiny hair 
o Strengthens hair up to 5x and creates angelic shine
Why Boo Bamboo?
Rich in mineral and organic proteins, bamboo extract helps strengthen the 
hair follicle and retain moisture to promote shine. Boo Bamboo products
improve the strength and condition of your hair, helps eliminate frizz and 
creates incredible shine."
I have spent the last couple of weeks testing 6 of Boo Bamboo's hair and skincare products:

No I don't colour my hair (those greys are starting to take over my head, but I haven't succumbed to colour from a bottle yet), but I just could not turn down the chance to try this yummy looking bottle of berry goodness on my hair (oh..and maybe it's because I love those awesome squishy bubbles and coloured beads).  Boo Berry Colour Prolonging Shampoo coats your hair in a thick, soft, wonderful smelling mixture of bamboo extract, antioxidant vitamins and organic proteins, making your hair feel amazing the minute the shampoo is applied.  Boo Berry shampoo lathers up nicely and leaves your hair feeling incredibly clean.  The first time I used Boo Berry shampoo I couldn't stop playing with my own hair once it was dry – it felt so amazingly soft.  If it made my "uncoloured" hair feel this good, I can only imagine how great it is for the coloured treated hair for which it is designed.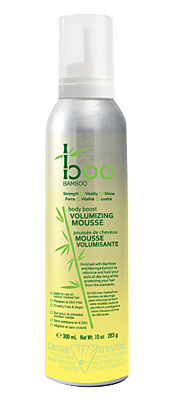 I have poker straight hair.  It may be thick, but it still needs volume.  Just a small dollop of Boo Bamboo Body Boost Volumizing Mousse did the trick for my hair.  I applied it to my damp hair after washing with my Boo Berry shampoo, and it provided ample volume to my hair.  What I loved most about this Volumizing Mousse is that it didn't leave my hair feeling sticky, nor did it dry up and leave flaky bits on my hair (as some mousses tend to do).  The Boo Bamboo Body Boost Volumizing Mousse has a light, clean scent, which did not overpower the wonderful scent of the Boo Berry Shampoo, leaving my hair smelling amazing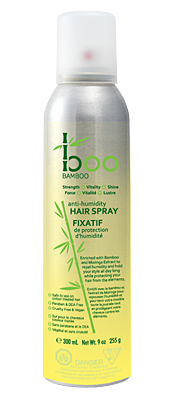 I don't often use hair spray as I find it dries my hair out quite a bit during our harsh winters.  I reserve the use of hair spray for special occasions where I want that extra hold for a night out when I've actually taken the time to work at giving my hair some fancy curls.  For those special occasions in the summer, I need a hair spray that can fight the affects of the nasty humidity that we often see here in Ottawa.  Boo Bamboo Anti-Humidity Hair Spray is just the product I need.  This hair spray goes on light with no nasty stickiness, and kept a great hold on my curls when I tested it out. Believe me, that says something.  Anything that can keep my hair from uncurling back to its original straightness has to be good.  The only thing I am not a fan of when it comes to this hair spray,  is the scent.  Why? Because it really doesn't have much of a scent.  Is that a bad thing? No, not at all.  In fact, most would say that's a good thing.  For me, however, I love a yummy scent in the products I use.  Just my opinion.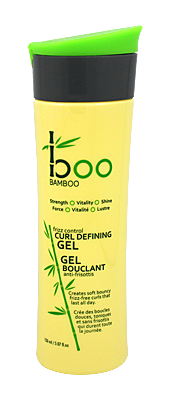 I know.  Why would a woman who has poker straight hair attempt to test a product like Boo Bamboo's Frizz Control Curl Defining Gel.  I'll tell you why.  Two reasons. First, I'm always looking for a product that can help me out in the curl department whenever I go at my head with a curling iron.  Second, remember those "greys" I mentioned that are starting to take over my head? Well, those greys have a strong foothold around my temples, and guess what? They got curl!
Huh? The greys have curls?
Yep.
In fact the greys have so much curl to them that they act like a Slinky that hasn't been let out of the box for 50 years – all kinked out, springy, and full of bounce!
*Sigh*
So yes, I decided to try the Boo Bamboo Frizz Control Curl Defining Gel on my out-of-control greys, and guess what? It works! Just a little dab of this wonderful product keeps those greys much more "defined" and looking more like the rest of my "normal" hair.  This makes me very happy.  Word of warning though.  I was so pleased with the results after using a little of this product on my greys that I decided to apply it all over my hair after shampooing one day.  I applied it like I would a regular "gel" product.  Oops! Apparently I forgot about the "frizz control" and "defining" aspects of this product.  A little goes a long way.  Use too much like I did and, well, you end up looking like you haven't shampooed your hair in a week.  I had to go under the tap for another round of Boo Berry Shampoo after that, lol.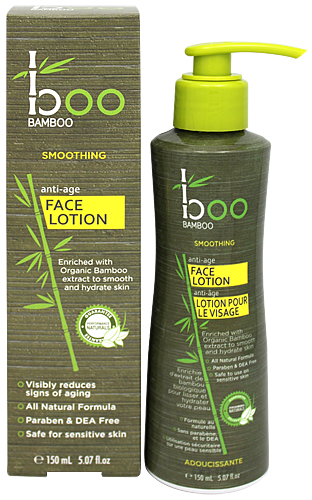 Yes, I am at an age where I'm trying to "Anti-Age" right now.  Those "cute little smile lines" and "tiny wrinkles" are suddenly turning into deep crevices that my foundation gets sucked into every day.  So I was only too glad to be able to test out Boo Bamboo's Smoothing Anti-Age Face Lotion.  Enriched with Organic Bamboo Extract, this Boo Bamboo face lotion felt wonderful when applied to my freshly washed face. With a lovely light scent, and a formula that doesn't leave your hands or your face greasy, this face lotion "keeps your face soothed and hydrated for up to 24 hours and reinforces your skin's natural defense again the onset of new fine lines".  If only I had found this product about 10 years ago!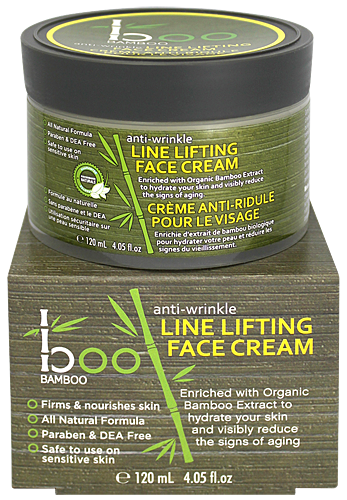 The Boo Bamboo Anti-Wrinkle Line Lifting Face Cream is one of my stand-out favourite Boo Bamboo products.  I have been using this face cream each morning and night since I received it, and I love the way it has made my skin look and feel.  The cream is silky soft, non-greasy, with a great light scent.  It makes my face feel incredible.  Has it helped reduce the signs of aging on my face? While I can't say for sure (I hope it has!), it certainly has made my skin look healthier, more supple, and incredibly soft.
For those of you who care about what goes into the products you put on your hair and skin, all Boo Bamboo products I tested are Paraben and DEA Free.  All Boo Bamboo products are "Cruelty Free" and "Vegan".
Be sure to check out all the other great Boo Bamboo hair and skin care products to find the ones that might be right for you.  If you are a mom or dad of little ones, you may wish to check out their Baby Boo Bamboo product line. With summer coming, Boo Bamboo offers a selection of sunscreen products as well.  You can purchase Boo Bamboo products online or at any of these retailers near you. 
The great folks at Boo Bamboo are generously offering up a fantastic Boo Bamboo Prize Pack for one lucky Canadian Blog House reader!  That's right! You get the chance to WIN a Boo Bamboo Prize Pack full of all the great Boo Bamboo products I reviewed!
Here's how you can enter to WIN: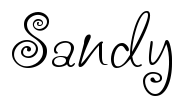 Disclosure:  Canadian Blog House was provided with these products for the purposes of this review.  All opinions are my own.