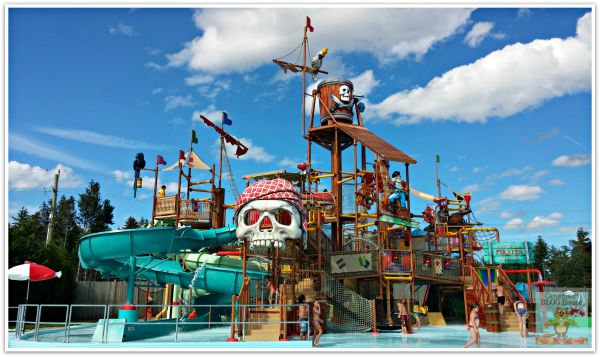 The city of Ottawa is full of many fantastic tourist attractions that its citizens, can take great pride in, including our world-class museums, our beautiful parliament buildings, and the bustling Byward Market. Ottawa also has another attraction to be proud of – Calypso Theme Waterpark, located on the outskirts of Ottawa, in the town of Limoges, Ontario.
The world's largest travel site, TripAdvisor, recently named Calypso Theme Waterpark the #1 "Amusement Park & Water Park In Canada". That's quite an accomplishment to be proud of! After all, Canada has some fantastic amusement and water parks. A nod like that from TripAdvisor is highly coveted in the travel and tourism world.
We have been long-time fans and customers of Calypso Theme Waterpark. We never let a summer pass us by without spending at least one day at this water playground for kids of all ages.
We couldn't wait to get back to Calypso this summer. It's truly one of our favourite places to spend time on a hot summer day. One of the things we love about Calypso is that it is a water park full of adventure for everyone in the family – no matter what your idea of adventure is.
Of course, for the bravest of adventurers, Calypso has some of the most fun and exhilarating water slides you'll find anywhere, including Summit Tower, the tallest water slide in North America!
If you are into something a little less adventurous, Calypso has you covered too:
Zoo Lagoon: A zoo-themed lagoon that is child-safe and child-oriented with sliding, splashing, spraying and climbing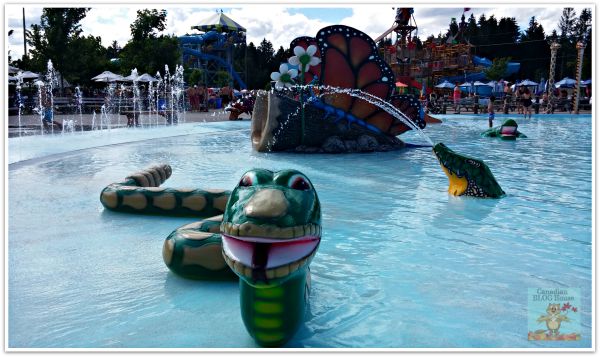 Pirate's Aquaplay: A magnificent ship designed for youngsters to lose themselves in hundreds of water games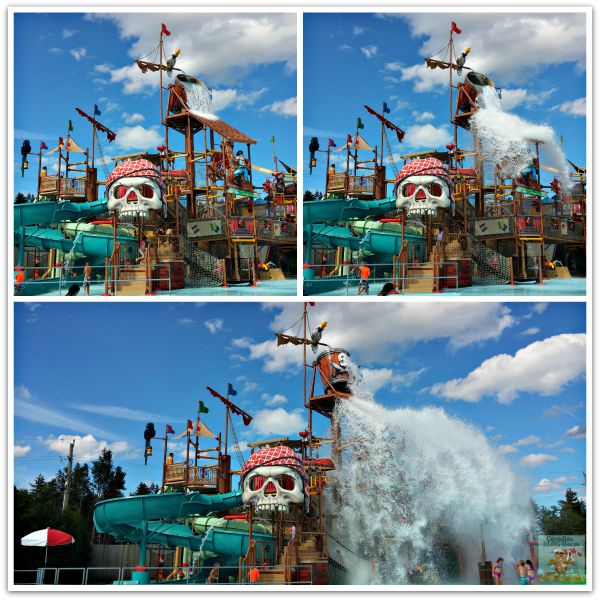 Jungle Challenge: An exotic course featuring obstacles and surprises; walk on logs, crocodiles and water lilies, while holding onto ropes and nets – all without getting wet!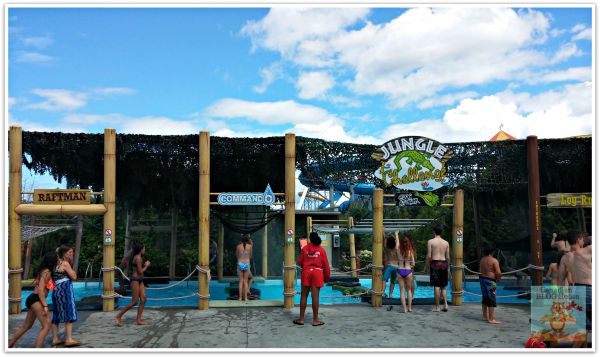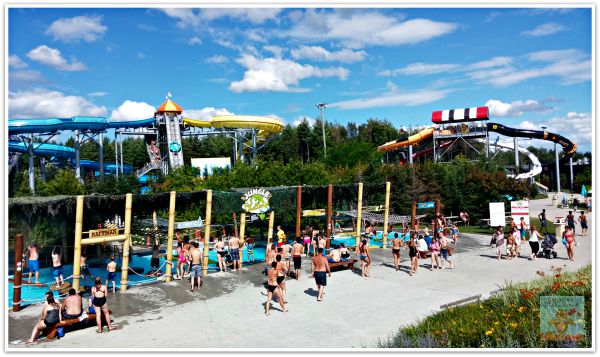 Kongo Expedition: A mysterious river through flooded caves, tropical villages and raging waterfalls, complete with Kongo Beach family wave pool and Splash Zone.
And so, on an early August day, our Calypso adventure began…
We set out on a day where the temperatures were in the low 20's, with plenty of cloud. Some would say not the best day for the waterpark, but we would completely disagree! Cooler temps, and some clouds, meant fewer visitors – and less time standing in line ups for us! Don't forget, Calypso Theme Waterpark uses heated water, heated to 80 degrees fahrenheit, which makes cooler days just as enjoyable for visitors!
We chose to bring X-Man's friend R with us this time, knowing that a visit to Calypso would be much more fun for X-Man if he had a friend with him. We big kids weren't feeling our normal adventurous selves on this day, so having R with us meant we could stick to the gentler rides, while the kids enjoyed the more exhilarating ones.
We all agreed that the Jungle Run was the place to start our Calypso adventure. This fun, easy-going ride floats visitors along a meandering river at a pace that is perfect for both little, and big, kids. Float boards are provided, and parents can rent a personal flotation device for younger kids. Go around as many times as you wish, the choice is yours. Chances are, you'll want to go around more than once, just like we did.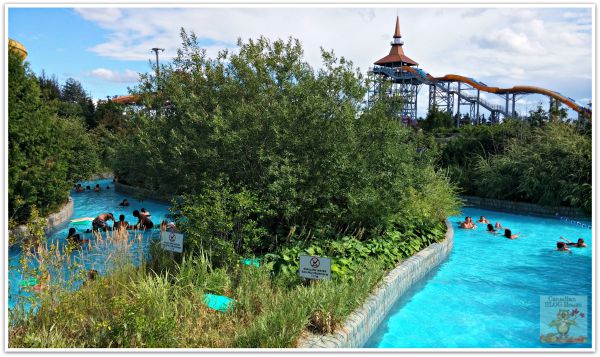 Next we visited the Calypso Palace Wave Pool – the largest wave pool in Canada. If you love frolicking in big waves, Calypso Palace is the place for you! Much has been said about the size and force of the waves in the Calypso Palace wave pool. Yes, the waves are large in this pool, but if you use common sense, pay attention to the waves and those around you, know your limits, you can have hours of fun here. This is a spectacular wave pool, the best we have ever been in. If you respect and follow the rules that Calypso has in place, your time in the wave pool will be safe and full of fun. For younger kids, make sure they are wearing a personal flotation device and keep them closer to shore. Young children, or anyone who is a weak swimmer, should not be out in the deeper water where they might find the waves overwhelming.
Speaking of safety, Calypso Theme Waterpark takes visitors' safety very seriously. On the day we visited, I counted 8 lifeguards situated around the entire perimeter of the wave pool, watching swimmers' every move. I heard frequent lifeguard whistles going off as lifeguards alerted swimmers to their dangerous behaviours, like kids pushing and shoving one another into the big waves.
Any activity that involves water and sliding can be dangerous. Accidents can happen when people don't follow the rules, or act in reckless ways, especially in water, and on slippery surfaces. Calypso Theme Waterpark posts unique safety rules and information at the entrance to each water slide/play area in the park. Be sure to take some time to read the rules before entering the ride.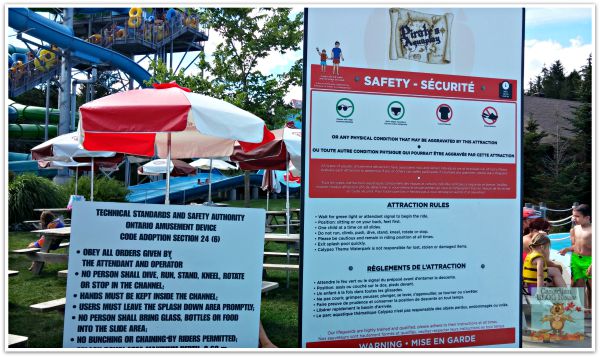 You can also find some terrific safety videos on the Calypso Theme Waterpark website that you can watch before visiting the park.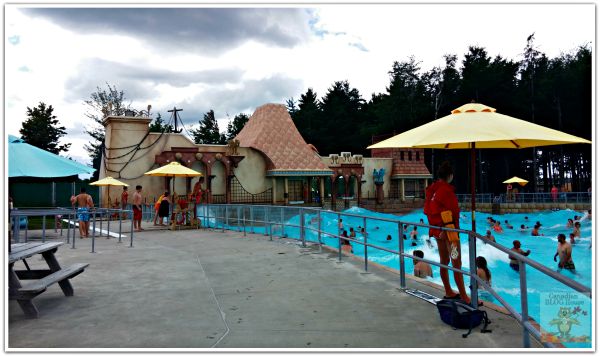 Can you spot the lifeguards in our photos?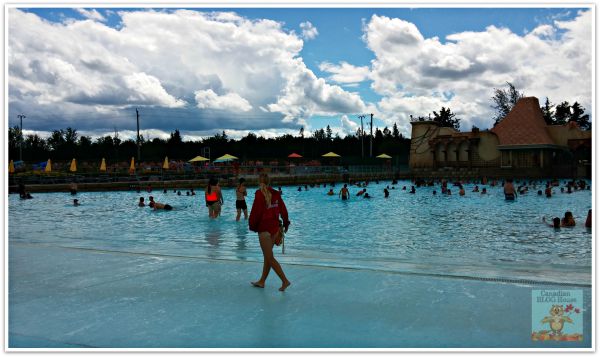 Well-trained lifeguards patrol all sides of Calypso Palace wave pool. Calypso Theme Waterpark employs 120 lifeguards and 55 slide attendants.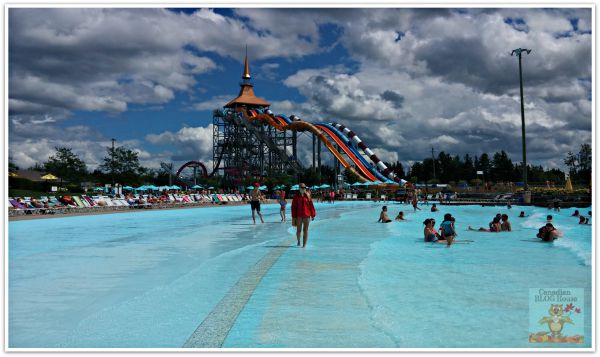 We also witnessed a staff member (left side of photo) doing extensive tests on the water quality of the wave pool while we were there.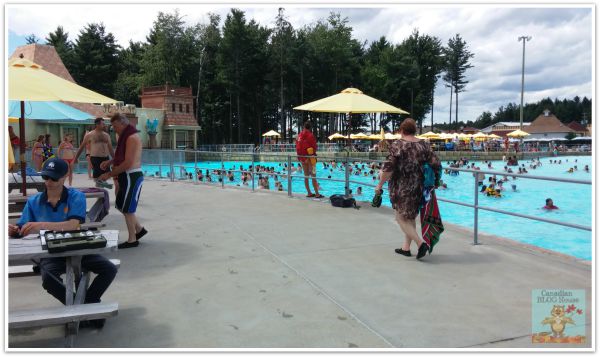 There is plenty of space to paddle around in the shallower water of the wave pool. You can even sit in the water and let the small waves wash over you to keep you cool. You will also find rows upon rows of lounge chairs around the wave pool for those wishing to sit poolside and soak up some sun.
During our previous visits to Calypso Theme Waterpark, we have enjoyed many rides on some of the more adventurous water slides. I've conquered 2 of the 3 slides on this tower, including Fast Track (blue and white race lanes), and the orange twisty slide called Adrenaline. Both are an absolute thrill. X-Man and his friend R rode the Fast Track this time. This was the first year X-Man was tall enough to get on this ride, so it was a pretty exciting moment for him. I have yet to attempt the tall white slide called Vertigo. That one scares me just a little too much. Maybe next time!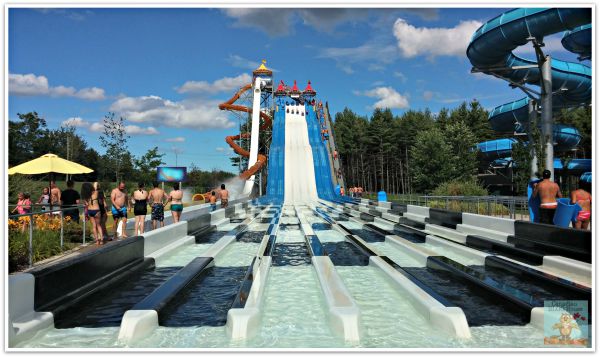 Here's a closer look at Vertigo (and yes, that is a man coming down the slide in my photo!)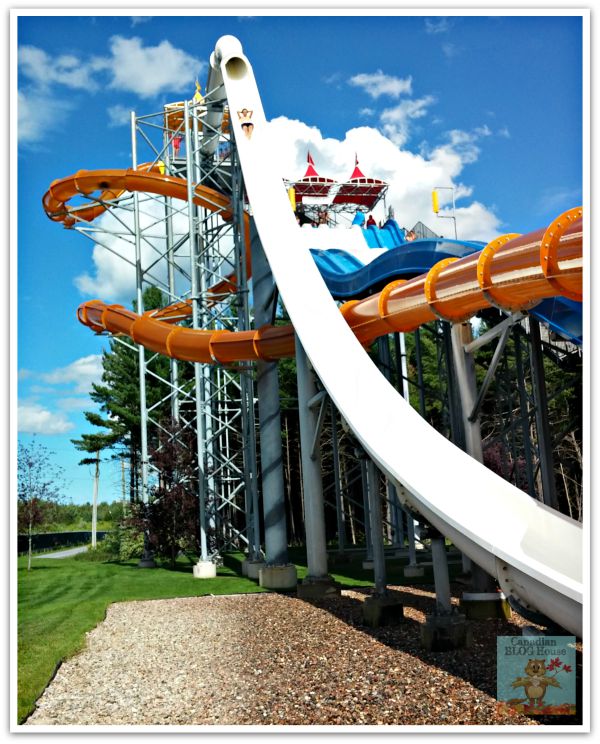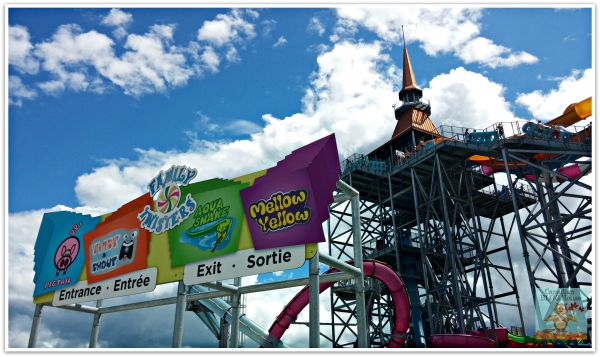 Calypso Theme Waterpark has such a great variety of slides, and that's one of the things we love about the park. They've truly got something for everyone. The kids especially enjoyed riding the Family Twisters slides. This group of slides are full of fun dips, dives, and turns, without being too scary for kids. X-Man and R did multiple runs of these slides.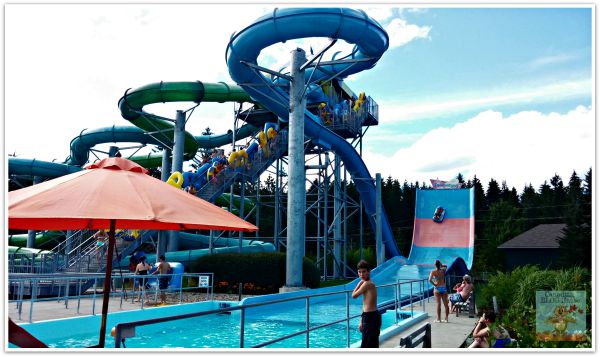 Are you willing to unleash your inner daredevil? Then Calypso's Zoomerang, or similar slide, Boomerango, may just be what you need to dip your toes into something a little more adventurous than your typical water slide. We've never experienced Zoomerang, however, Boomerango is a family favourite. You may lose your breath for a second, as you slip over the edge, but this one is definitely worth a try! You'll be smiling at the bottom!
The fun doesn't end in the water at the bottom of Calypso's 35 water slides. Calypso has 8 restaurants for hungry visitors, and 23 VIP cabanas for those wishing to unwind for a little bit while the kids continue to burn their limitless energy off on another round of rides. For sporty types, why not enjoy a game of beach volleyball, then head over to one of Calypso's many picnic areas and enjoy a picnic lunch or snack under the trees. Enjoying a picnic at Calypso is one of our favourite things to do. We think it's fabulous that the park allows you to bring your coolers into the park with you so that you can enjoy food from home while you are at Calypso (but please leave your alcoholic beverages at home). If you do bring your own cooler of food and drinks, find a picnic table in a desired spot, and leave your cooler at your table for later. You will see many other Calypso guests doing this.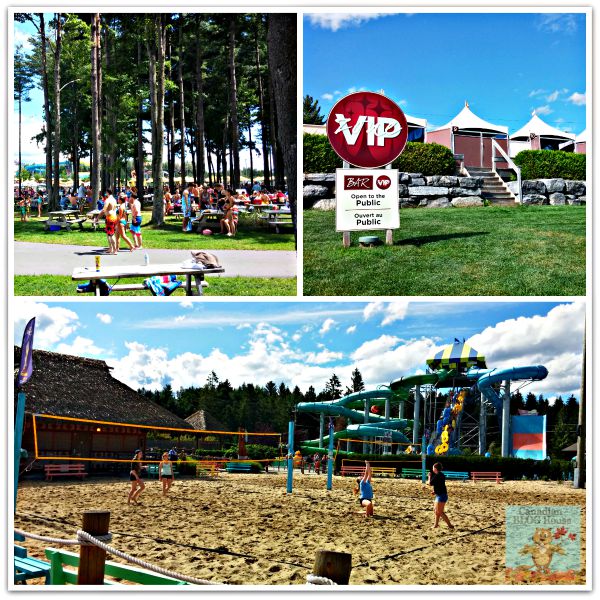 Calypso offers a number of different food options including Ulysses Bar & Grill.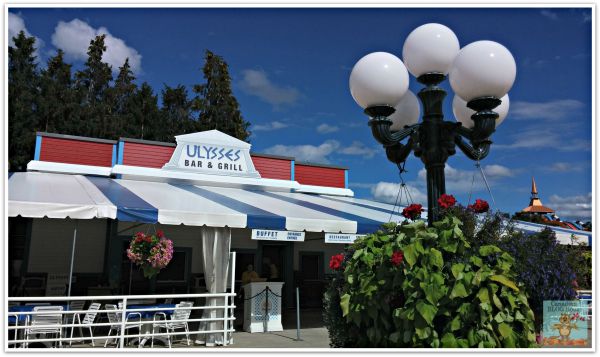 We ate at the Main Street Restaurant where we snacked on some hot dogs, fries and pop.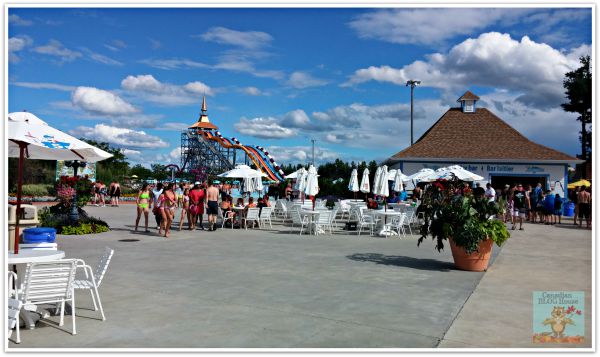 Calypso Theme Waterpark is open daily until September 7, 2015. Until August 22nd you can visit from 10AM-7PM, and then from August 22nd to September 7th, it is open from 10AM-5PM. Season passes can be purchased for as little at $99 for seniors and children. A fantastic deal especially if you intend on taking the kids numerous times over the summer. We know someone who takes their kids to Calypso a few times a week during summer vacation. They get more than their money's worth out of their passes! For more information on rides, services, and amenities, be sure to visit the Calypso Theme Waterpark website. You can also follow Calypso on Twitter, and like Calypso on Facebook to keep up with all the latest news, information, and promotions.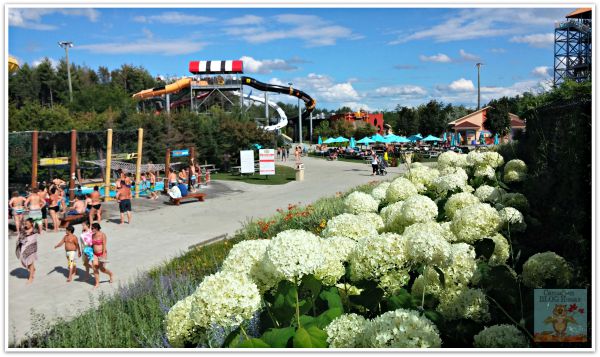 Many thanks to Calypso for hosting us for a day of fun. We truly loved our day at the park! We will definitely be back again soon!
Have you ever been to Calypso, or another waterpark? What's your favourite type of ride at a waterpark?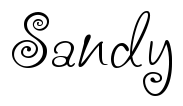 Disclosure: Canadian Blog House received special perks in exchange for this review. All opinions are our own.