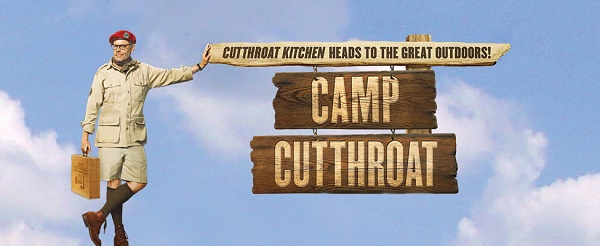 Hey Foodies! Your favourite show, Cutthroat Kitchen is headed into the great outdoors! "Head Counselor" Alton Brown hosts the five-episode special series, Camp Cutthroat, where twelve cunning chefs compete for victory and the chance to win up to $75,000 in a tournament of outdoors-themed culinary challenges with a diabolical twist.
Full of mischief and devilish humour, Alton Brown will challenge the twelve culinary experts with events like "canteen cooking", extreme tug-of-war games, and battles in the camp lake. This group of chefs is going to need some pretty big culinary chops to get through to the end of the series!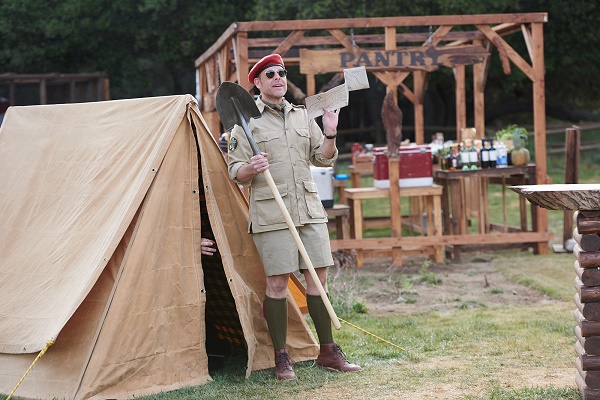 Competitors will go head to head in this unusual outdoor kitchen setting. Here's a sneak peek of what you will see over the five weeks. Pay particular attention to each show's title. They had me giggling!
Camp Cutthroat: Porks and Rec Premieres Wednesday, August 12th at 9pm
Alton gives two blindfolded chefs a pork and beans challenge, then someone finds out just what a bear does in the woods. Finally, one chef is followed by a very persistent rain cloud.
Competitors: Ruddy Bello (Boston), Emmanuel Delcour (Los Angeles), Monterey Salka (Savannah, GA)
Judge: Simon Majumdar
Camp Cutthroat: Wet, Hot American Sabotage Premieres Wednesday, August 19th at 9pm
Alton orders two chefs to make a pancake breakfast while performing a balancing act and someone gets their mind blown by a high-powered wind machine. Then, everything is at stake during a steak dinner challenge.
Competitors: Robyn Almodovar (Miami), Jack Taylor (San Diego), Candice Wilson (Los Angeles)
Judge: Simon Majumdar
Camp Cutthroat: Rock Wall Me, Amadeus Premieres Wednesday, August 26th at 9pm
Competitors struggle to hold on to their ingredients, then Alton throws a big obstacle between the chefs and their barbecue chicken. Finally, one chefs has to hang in there while cooking on a rock wall.
Competitors: Clay Carnes (Wellington, FL), Hop Phan (Santa Ana, CA), Jessica Entzel (San Francisco)
Judge: Jet Tila
Camp Cutthroat: If It Bleeds, We Can Skillet Premieres Wednesday, September 2nd at 9pm
One chef hits the trail in search of new ingredients, then Alton takes the chefs to a skillet breakfast cookout atop a lookout tower. Finally, one competitor gets into chilly water while making chili.
Competitors: Trevor Ball (Dallas), Demarco Ellis (Lancaster, CA), Emily Ellyn (Orlando)
Judge: Jet Tila
Camp Cutthroat Finale: The Great Troutdoors Premieres Wednesday, September 9th at 9pm
The winners of each heat compete for up to $75,000 andCamp Cutthroat end-of-summer bragging rights. Alton sends two chefs to rock the boat and make a trout dinner, then the opponents play "capture the cheese." For the final challenge, it's a dessert battle with a tight squeeze and the winner takes it all.
Judge: Antonia Lofaso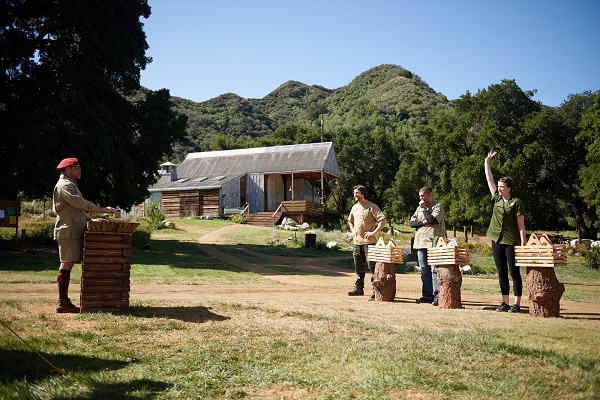 A RECIPE FOR SUCCESS!
The Food Network has combined 2 things Canadians love: the great outdoors and FOOD! Add in a pinch of drama, a smidge of sabotage, and a cup of excitement, and it looks like a recipe for success!!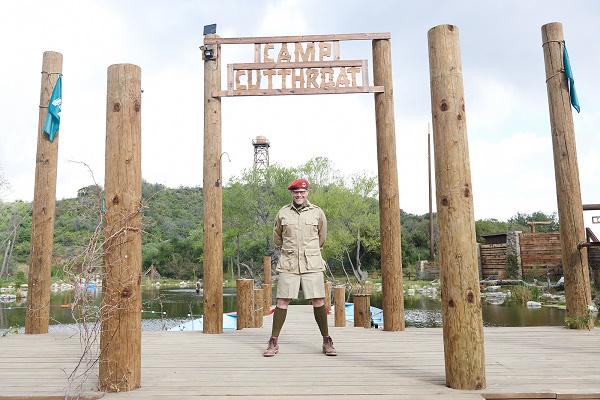 Want to experience even more Camp Cutthroat craziness? Be sure to check out Camp Cutthroat on the Food Network's website for  behind-the-scenes footage, photos, interviews, how-to's for camp-inspired cuisine, Cutthroat cocktail recipes and much more.
For viewers who also love social media, you can join in on the conversation by using hashtag #CampCutthroat on Twitter.
All the cutthroat actions starts Wednesday August 12th at 9PM ET and runs until the final showdown on Wednesday September 9th at 9PM ET.