If you look into one of my closets, you will see over a dozen photo albums, full of photos from just about every year of my life. That's not to mention the boxes of loose photos I own – that have yet to be organized in a photo album!
My uncle was a professional photographer. My mother, his sister, was always the one at our family gatherings to have her camera in hand. She loved capturing all our family's greatest moments on film. I inherited her love of taking photos at an early age. I received my first camera when I was in my early teens. I still remember the excitement I felt when I opened my first Cannon camera. The only thing that put a damper on that excitement was when my friend received one of those Kodak Disc cameras as a gift. I was jealous of my friend and her cool new camera. Dead jealous.
I never did own one of those Disc cameras myself, and eventually, Kodak Disc cameras, and all the other 35mm film cameras I ever owned, were replaced by digital cameras.
It wasn't long after I had my first digital camera that mobile phones, equipped with cameras, entered the market. Once I had one of those in my hands…the rest is history!
So now, after owning various mobile phones with built-in cameras over the past five years, taking pictures has become even easier. I have probably taken as many photos in the last 5 years of my life, as I did in the previous 30 years combined.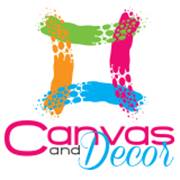 I love digital photos but, what I don't like is the fact that I have (almost) never printed any of these digital photos. Sure, I have good intentions. I always say I'm going to go through my photos and have the best ones printed. But I never do.
So I was THRILLED when I was contacted to do a review for Canadian company, Canvas and Decor, whose specialty is producing beautifully finished, gallery wrapped canvas photo prints. Canvas and Decor do more than just canvas prints though. More on that later!

With all the digital photos I have, you can just imagine the trouble I had finding just the print I wanted for this review! Once I got looking, I found so many that would look fantastic on a canvas print. Finally, I narrowed my choice down to this one, which I just love: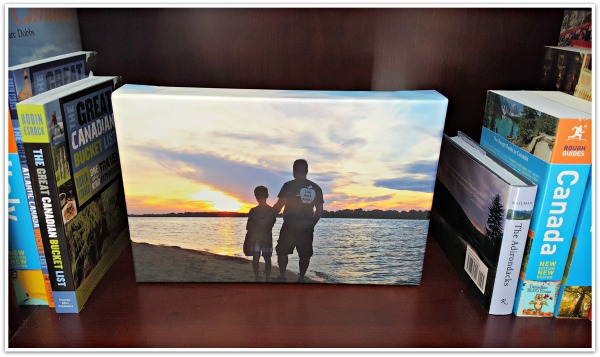 I took this photo last summer on the banks of the Ottawa River while we were having a walk along the shore. The sunset that night was so gorgeous, and I loved how my partner and X-Man looked in the shadows as they stood together to watch the sun setting. I couldn't resist the photo opp!
The ordering process at Canvas and Decor could not have been easier. You basically follow these steps listed on their website: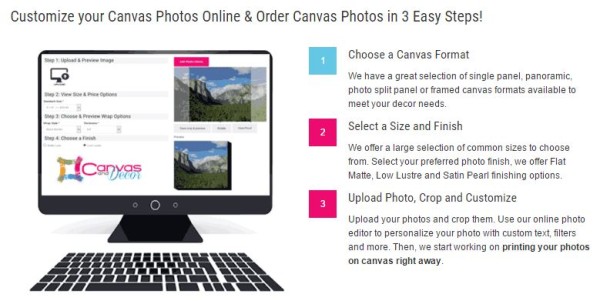 From start to finish, the whole ordering process took me about 10 minutes. I thought I had done something wrong because it seemed too easy!
Even more shocking was the fact that I received my canvas print so quickly. I placed my order late on Thursday, it was shipped on Tuesday, and I received it on Wednesday.
I have to admit, I did not read the Canvas and Decor site too thoroughly before placing my order. I thought the canvas was something I would simply place on a shelf or table to display. Yes, Canvas and Decor canvas prints are able to sit upright on a table but, as you can see from my photo of the back of my canvas print, there is some sturdy hardware on the back that allows for easy hanging on your wall: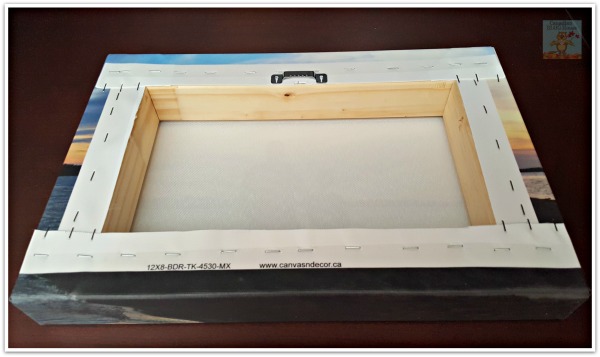 Judging by the staples and folds in the canvas, this looks like top quality workmanship. Staples are evenly placed and fully stapled into the frame. The hardware at the top? It's more than adequate for hanging such a light object such as this canvas print. I was truly impressed with the look of my canvas print – front AND back!
Even the side view looks terrific!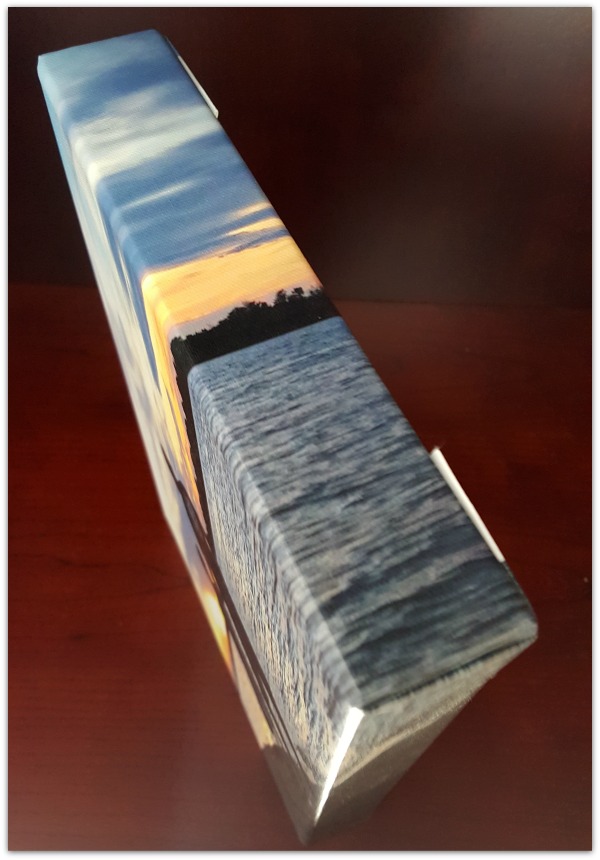 I had seen canvas prints before (my sister has a few in her home), however, I had never ordered one myself. We all know how actual photos can fade over time, so that was one thing I wondered about when it came to my canvas print.
I found information regarding my concern on the Canvas and Decor website:
"All of our products are created using only the best quality archival components which make our products last for generations to come. Most of our materials derive from renewable resources which are safe for pets, kids, households and the environment."
I was glad to read all of this as, one day, I would like to pass this cherished canvas print down to X-Man.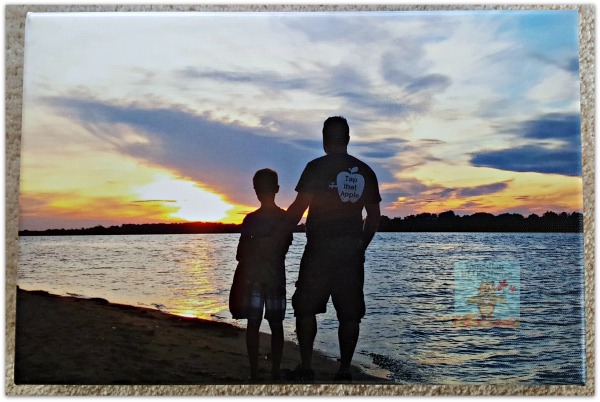 Canvas and Decor product selection doesn't stop at canvas prints. Coming soon, customers will be able to purchase specialty photo prints such as peel n' stick photo prints, fine arts prints, metal photo prints, and acrylic photo prints.
Something I spotted on the site that I cannot wait to explore is this: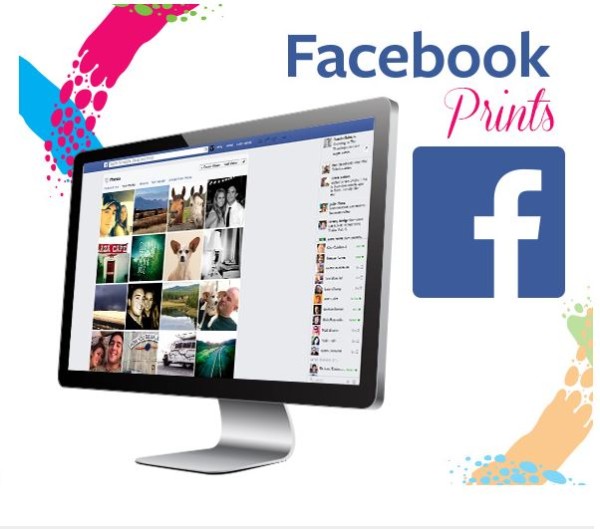 And especially this: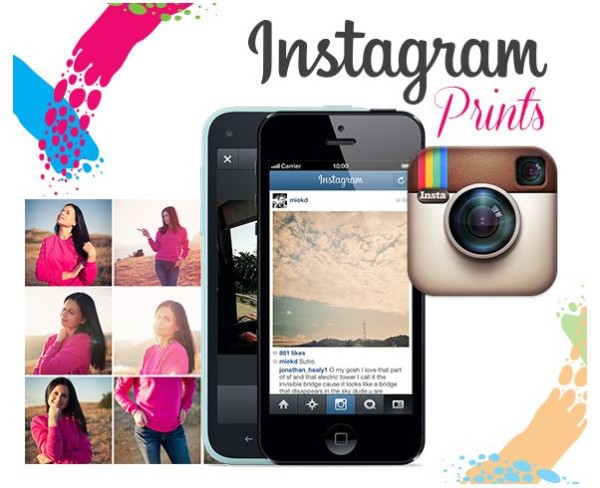 I tend to put my best photos on Instagram and I'm very curious to try out this new type of print to see how well the image works on a canvas print. In the past I have made prints from my Facebook page but they never turn out that well. These types of prints by Canvas and Decor just might be the answer!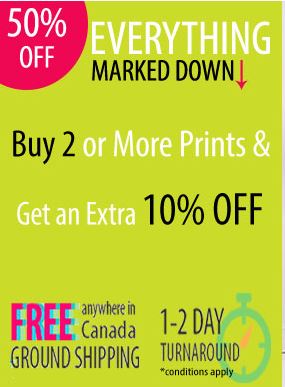 Looking to get your own canvas print? For a limited time, you can save 50% off on your order from Canvas and Decor AND save an EXTRA 10% when you order 2 or more pieces! ALSO, you get free Ground Shipping in Canada (Yukon, NWT, Nunavut express only).
I never knew how much I missed the excitement of waiting to see a real photo that I captured…and actually hold it in my hands. Canvas and Decor may have just given me that push I need to star filling up the shelves and walls with photos once again!
For more information about Canvas and Decor, and to stay up-to-date with the newest products and offers, be sure to visit Canvas and Decor online!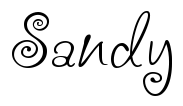 Disclosure: Canadian Blog House received the above product in exchange for this review. All opinions are our own.