A destination renowned for world-class sport fishing, scuba diving, and boating, the Florida Keys offers tourists the chance to get up close and personal with some pretty amazing tropical critters and creatures.
Captivating Critters And Creatures Of The Florida Keys
The Florida Keys are a little slice of heaven on earth. This 120 mile string of tropical islands, located off the tip of mainland southern Florida, is surrounded by the waters of the Atlantic Ocean, the Gulf of Mexico, and Florida Bay.
On our recent trip to the Florida Keys, we were astounded by the number of fascinating examples of Florida wildlife that we were able to find on our travels from Key Largo to Key West. While some critters and creatures evaded us during our time in the Keys, like the Salt Water Crocodiles (probably a good thing!), we did manage to get close enough to touch, and even hold, some of these fascinating Florida Keys critters and creatures.
Brown Anole Lizard
This little guy is a Brown Anole Lizard. Originally from Cuba and the Bahamas, you can now find these lizards throughout the state of Florida, including the Florida Keys. These tiny lizards are cute as a button, and we found them everywhere, scurrying about the paths we walked on, in gardens, and climbing up the trunks of palm trees. Don't let the last photo scare you. His teeth are so tiny, he can't pierce the skin. He tried hard to scare us away with his puffy orange throat and his little nips, but really, he's harmless.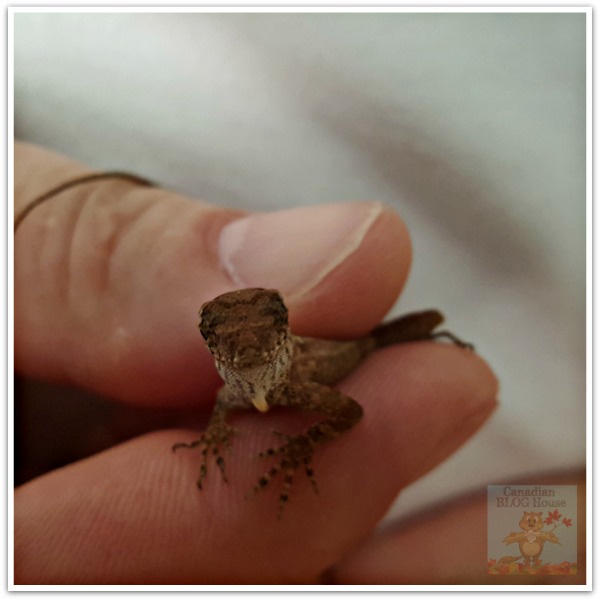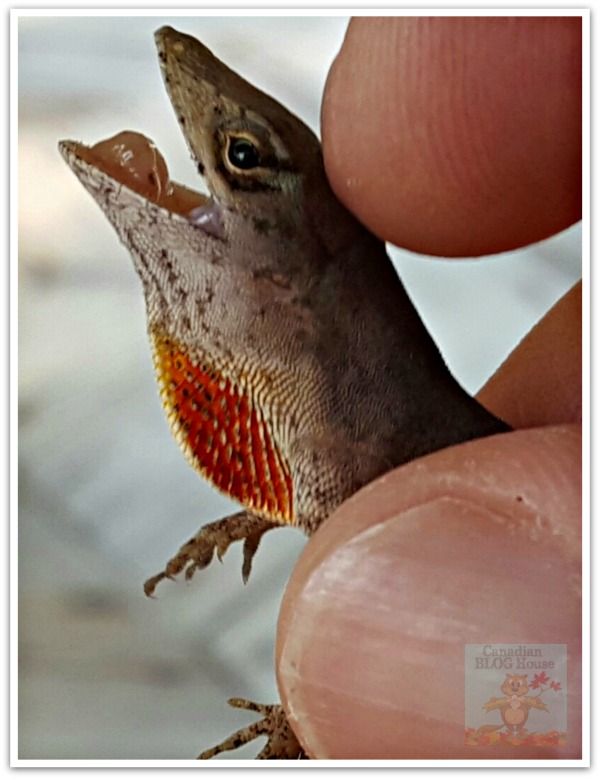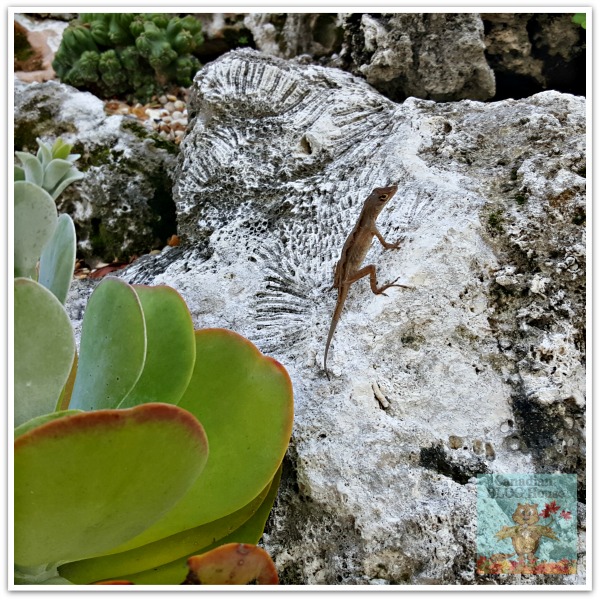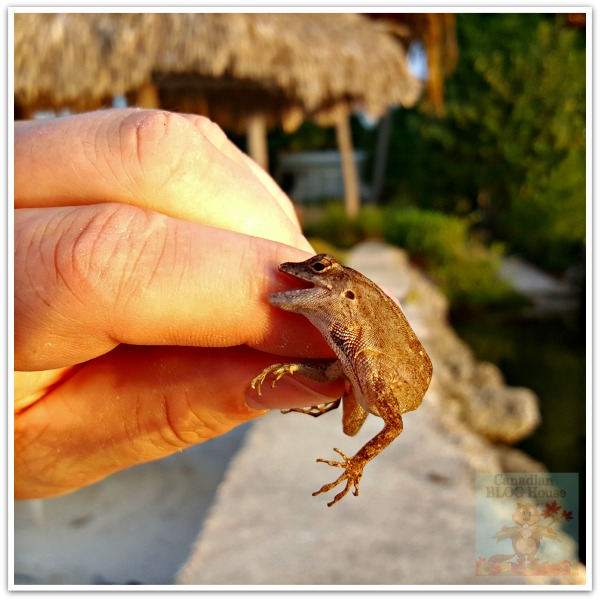 Curlytail Lizard
This beauty is a Curlytail Lizard. Native to the Bahamas, Curlytail Lizards are named for their distinctive curly tail. We saw many of these during our time in the Florida Keys, however, we didn't manage to catch a good photo of one showing its curly tail. They are speedy little creatures that are very hard to catch – or even get close to.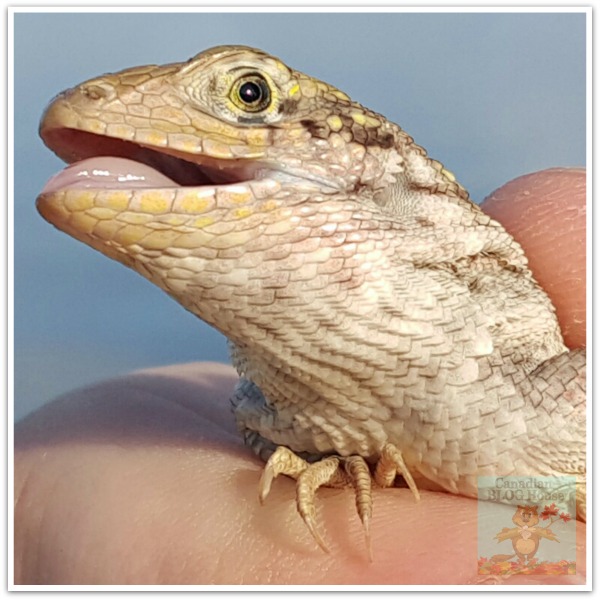 Green Iguana
Green Iguanas are abundant in the Florida Keys. They seem to be as plentiful in the Keys as the squirrels we see here in Canada. For tourists like us, it is fascinating to see these pre-historic lizards wandering around. For the majority of Florida Keys' residents, however, these invasive reptiles are considered more of a pest – and a threat to endangered plants – with a penchant for eating the beautiful flowers and fruits grown in the Florida Keys region. Green Iguanas can grow up to 4-6 feet in length! One of the resident Green Iguana's at the Kona Kai Resort, Gallery & Botanic Gardens, where we stayed in Key Largo, was approximately 4 feet long (you can see this iguana in the tree in the photo below).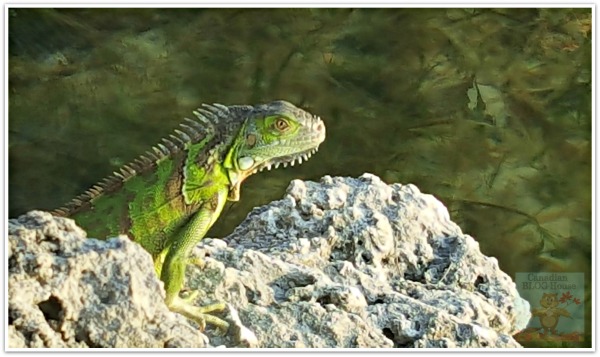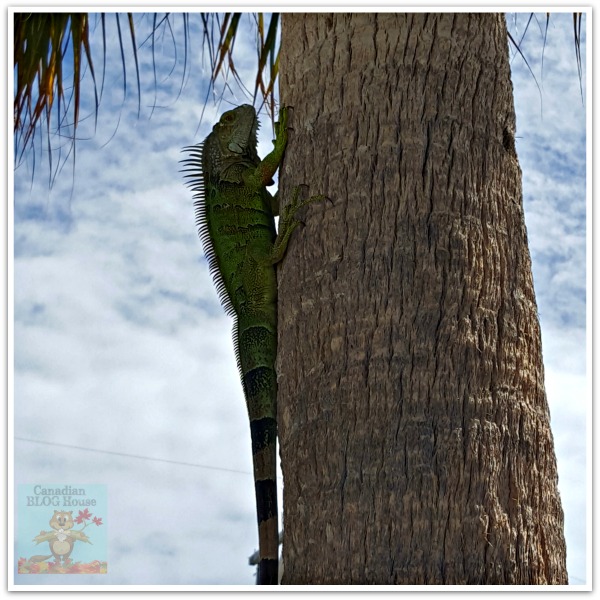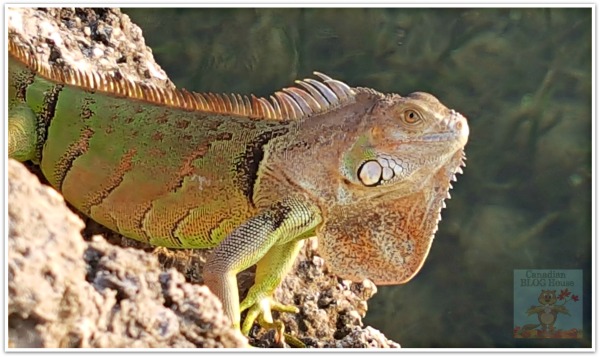 White Ibis
The White Ibis is a common bird in Florida and the Florida Keys. With its distinctive long, curved, orange beak, this wading bird uses its tweezer-like long beak to probe into the mud, sand and soil to catch insects, snails and small crabs. These birds are rather tame around humans, and were curious enough to come quite close to us out by the water at Kona Kai.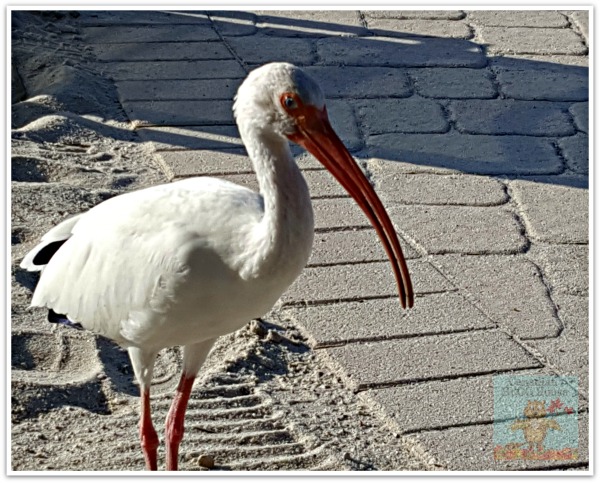 This slimy looking sea creature was found in the water, by my partner, while snorkeling in the water in front of the Kona Kai Resort. A quick search on Google failed to bring me an answer as to what type of shell this is. If any of you know, I'd love to hear from you in the comment section at the end of this post. He/she was definitely slimy!!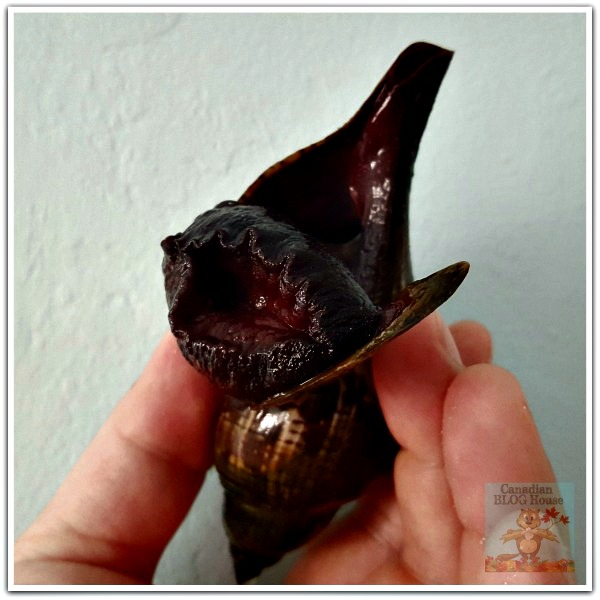 Downy Woodpecker
Not the best photo, but here is the Downy Woodpecker I spotted high up in a palm tree at the Kona Kai Resort. The hard-working woodpecker was leaving a lot of evidence behind. Look at all the holes he left in the trunk of this palm tree!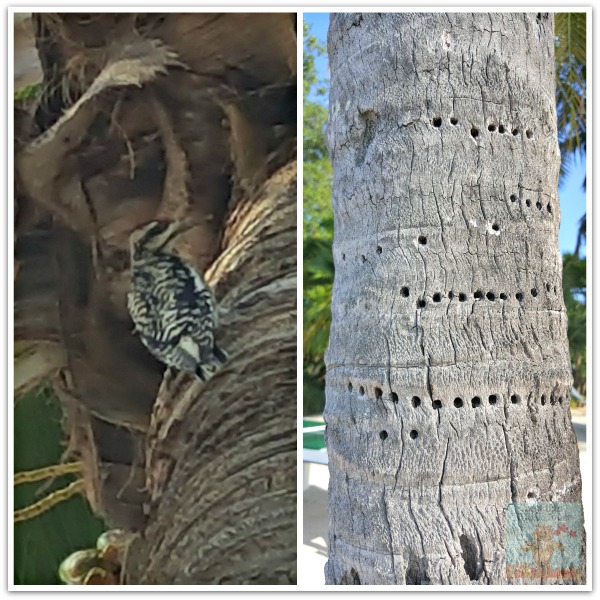 Florida Box Turtle
If there was a critter to be found while on our trip through the Florida Keys, my partner was the one to find it! At John Pennekamp Coral Reef State Park, near Key Largo, his "eagle-eye" spotted this Florida Box Turtle rummaging through the forest. Shy at first, this Box Turtle slowly poked out his head, giving us a great look at his beautiful markings. He happily trotted off on the forest floor once we set him back down.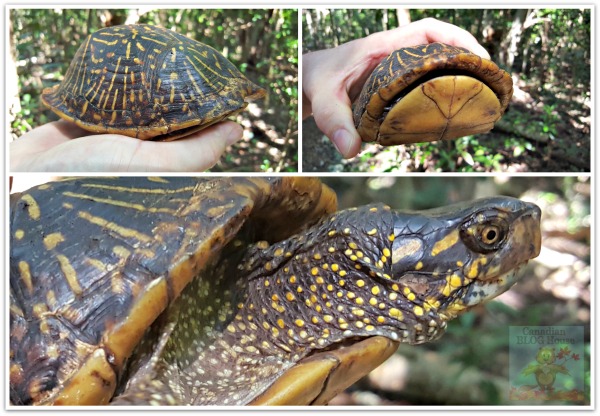 Liguus Tree Snail
Another find at John Pennekamp Coral Reef State Park was this beautiful Liguus Tree Snail. We were a little shocked to spot this magnificent shelled snail crawling up one of the trees situated along the path we were walking on. We are accustomed to finding shells like this in the ocean – not in the forest.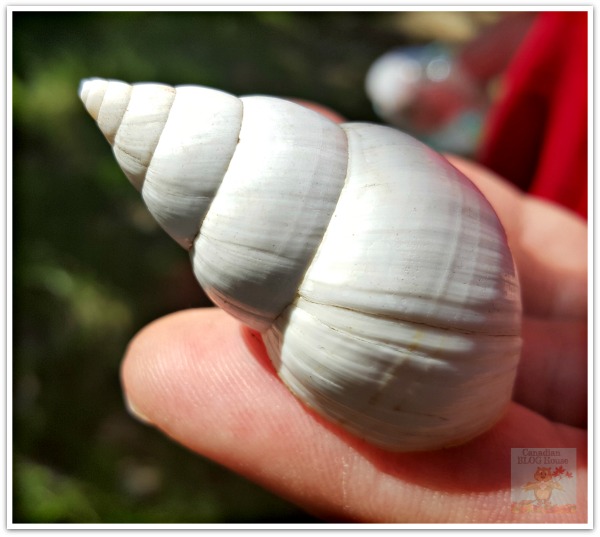 Key West Roosters
No, we did not visit a farm while in the Florida Keys. These "free roaming" roosters happily rule the roost in Key West, Florida. When in Key West, you will see them everywhere. We saw them in gardens, at the waterfront, in parks, under parked cars, wandering in crowds of people, and happily crowing their way down Duval Street. As city dwellers, we found it so strange to see roosters (and hens) around every corner. As rooster lovers, it was fun to hear them crowing as we roamed around the town. Key West is a bird sanctuary, and these fine-feathered friends are free to roam this Key wherever they wish.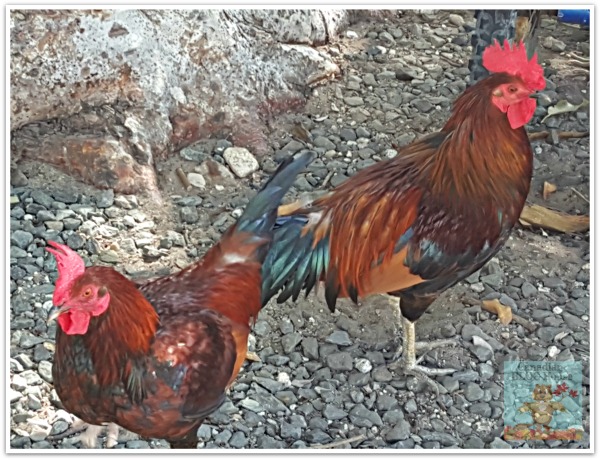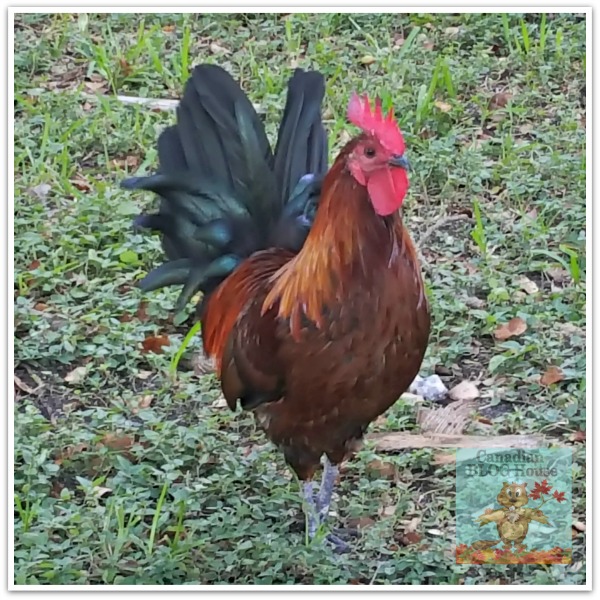 Polydactyl Cats
A visit to Ernest Hemingway's home, introduced us to more of Key West's unusual residents. Over 50 cats, all descendants of Ernest Hemingway's pet cats, still reside at this iconic Key West home.  An unusual feature of these cats is that they are all "Polydactyl" – six-toed cats. This green-eyed Hemingway calico is one we saw roaming the property while we were there. Sadly, this elusive kitty would not let us pick her up for a close-up photo of her six toes.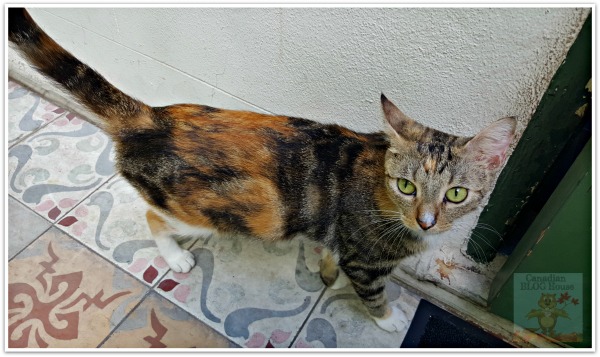 Touch Tank
The Key West Aquarium, built in 1934, is one of the oldest aquariums in the United States. A "hands-on" section of the aquarium, called a "touch tank", allowed us to touch and hold various sea critters and creatures, including hermit crabs, horseshoe crabs, sea cucumbers, starfish and other salt-water critters. Don't worry, fingers were NOT allowed in the tanks with the alligator, nurse shark, and moray eels.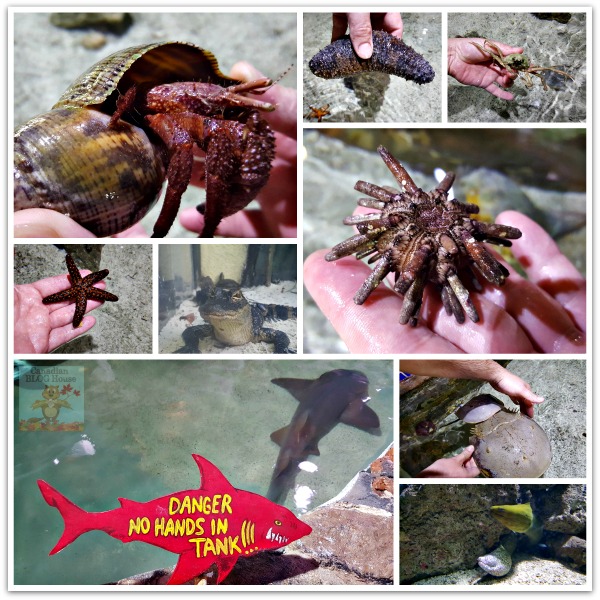 Parrot
While browsing in one of the many fun shops surrounding Mallory Square in Key West, we came upon this handsome guy sitting on the shoulder of his owner. Of course, he's not a native bird from the Florida Keys, but I still wanted to include his photo as I enjoyed spending a little time with this cuddly avian.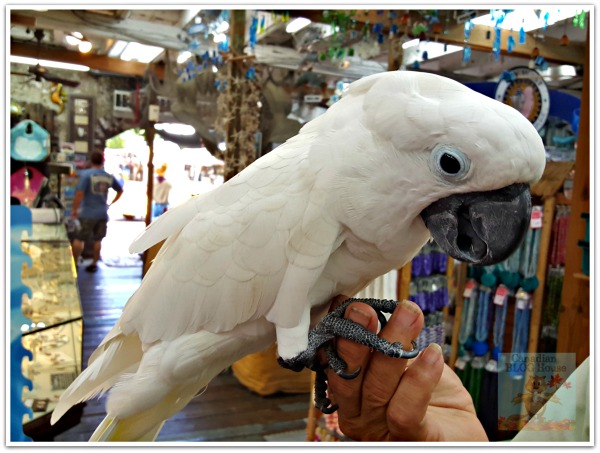 Sea Turtles
A visit to the Turtle Hospital in Marathon gave us photo opportunities with many rescued Sea Turtles. A snorkeling trip to a reef off the coast of Islamorada provided us with a glimpse of a wild sea turtle in the ocean, but sadly, he swam away before I could take a photo.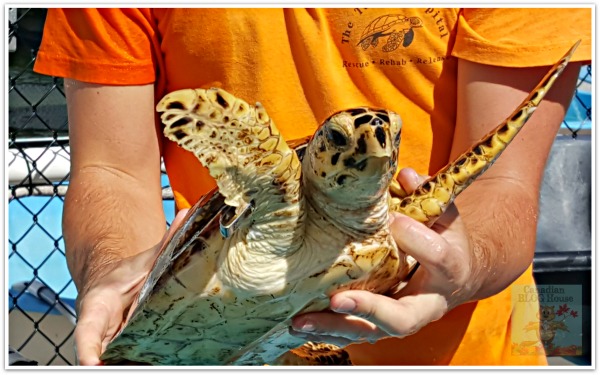 We discovered a rather tame Green Iguana lounging in the grass on the grounds of the Turtle Hospital. He happily posed for a few photos.
Pelicans
We spotted a few Pelicans while in Islamorada (my favourite Florida bird), however, they were nowhere near as plentiful as they are on the Gulf Coast of Florida. We heard from a few locals that they see more Pelicans show up in the Florida Keys during winter months when they tend to come further south.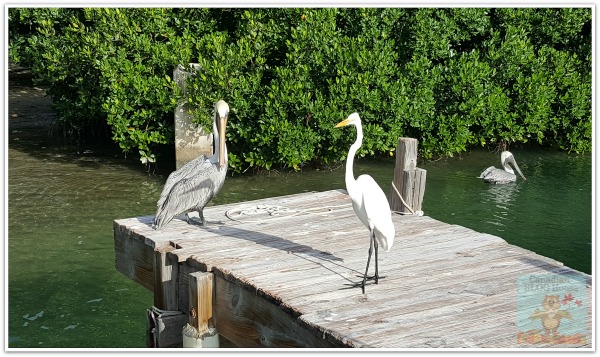 Great Egret/White Heron
These beautiful white birds are a common sight in the Florida Keys. Known as the Great Egret, or White Heron, we often saw them hanging around docks waiting for handouts from fishermen cutting up their catch. We also spotted one during our boat excursion into the mangroves in the Everglades.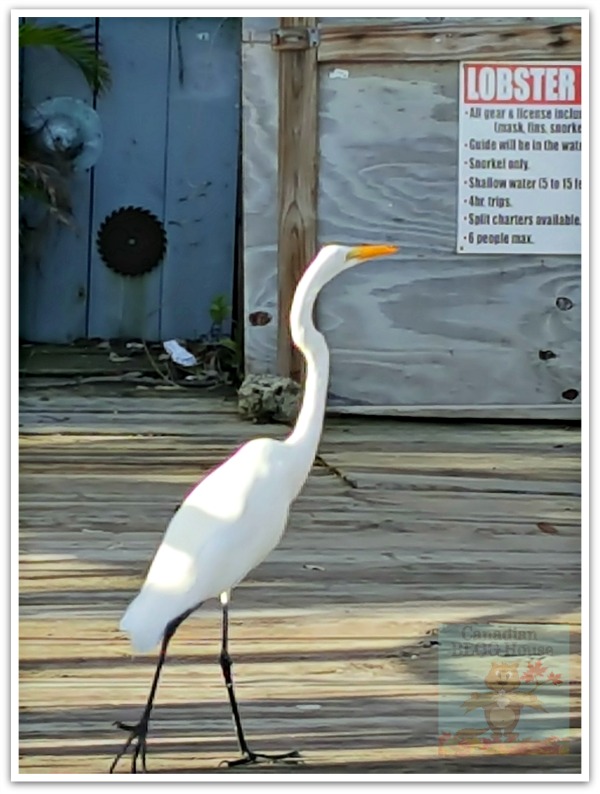 Tarpon
Tarpon are a species of saltwater fish found in the waters of the Florida Keys. We saw these large fish in a few locations, usually hanging around docks where it is common for people to feed them bits of leftover seafood.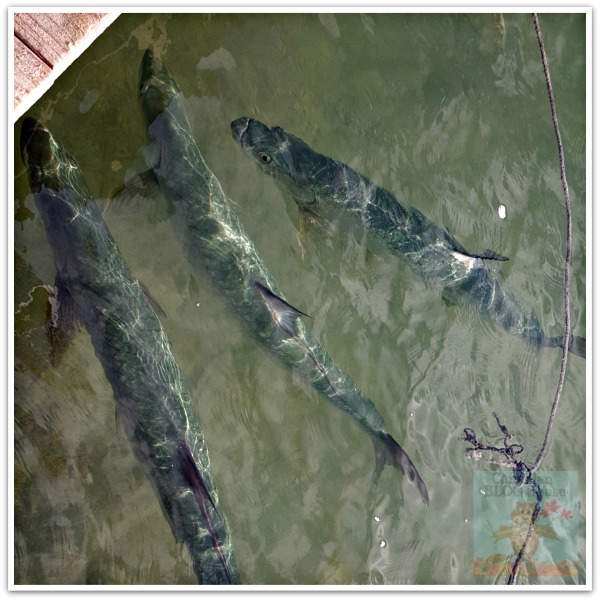 Manatee
One of my favourite Florida mammals is the Manatee. Manatees are also known as "sea cows". While moving slowly through shallow waters, these gentle giants are often the victims of boat propellers, as they tend to swim close to the water's surface. This large manatee showed up beside the boat during our tour of the Everglades. This encounter was one of the highlights of my trip. All manatees breathe air so must come to the surface of the water at least once every 15 minutes. Lucky for us, she chose this time to take a breath of fresh air, allowing us to see her better.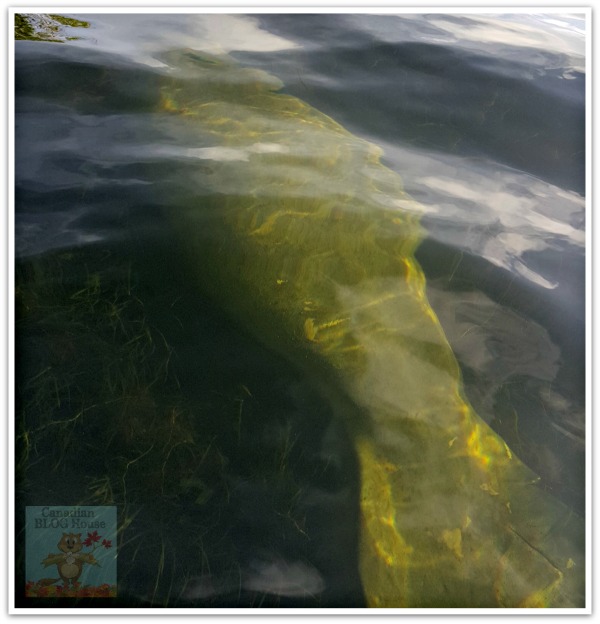 We managed to see a few more critters and creatures during our time in the Florida Keys. The rest, however, were camera-shy, so we were not able to capture them in a photo. These creatures included a Nurse Shark we saw swimming around the area where, earlier in the day, we had been snorkeling. Yikes! We also encountered many Cassiopeia ("upside down" jellyfish) in the waters surrounding the Kona Kai Resort. A beautiful sight, a bed of Cassiopeia on the sea floor reminded us of icy white Canadian snowflakes.
The most phenomenal display of tropical sea life we saw was during our snorkeling excursion to a coral reef off the coast of Islamorada. You can be sure we were wishing we had a water-proof Go-Pro with us that day. There were fantastic photo opps around every coral rock and plant.
What wonderful critters and creatures have you come across during your own vacations away from home?
A special thanks to Jerry and the team at The Florida Keys & Key West, and Visit Florida, for inviting us and facilitating a portion of our trip to the Florida Keys! Stay tuned for future posts relating to all the fun things to see and do, great places to stay, and fantastic food to eat, in the Florida Keys.