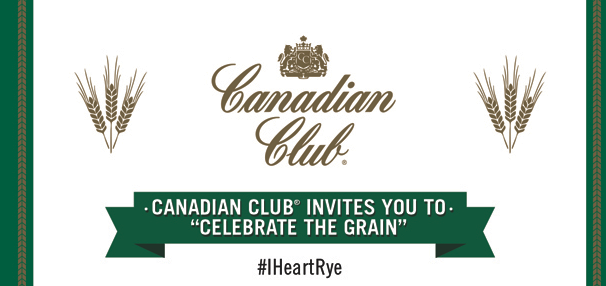 What happens when you bring Canadian Club's Tish Harcus, Beam Suntory's Whisky Chef Matt Jones, and award-winning Canadian author (and certified Malt Maniac), Davin de Kergommeaux together in one room at Social Restaurant & Lounge in the Nation's Capital?
You end up with a room full of happy media and digital influencers eager to sniff and taste some of the finest whisky Canada has to offer.
It's a rough job, but someone has to taste test the whisky, right?
Right?
We love a good whisky, so when we got invited by Canadian Club to come take part in an evening of "celebrating the grain", was there really any other answer except "Thank you and….YES of course we will be there!"? We didn't think so. Besides, celebrating the grain sounds like a great reason to celebrate if you ask me!
Our evening started out great when we were introduced to the fun and fabulous, Tish Harcus, Canadian Club's Brand Ambassador. A Canadian Club employee for over 26 years, we could see why Tish is their Brand Ambassador. Not only does she know the answer to just about any Canadian Club whisky question you can throw at her, the enthusiasm she has for the brand is evident. She almost bleeds Canadian Club whisky. A very "down-to-earth" woman, full of personality, Tish is one of those people who you feel like you've known your whole life – five minutes after meeting her (maybe that comes from her Cape Breton roots!). Hang on to this lady, Canadian Club! She is one amazing ambassador!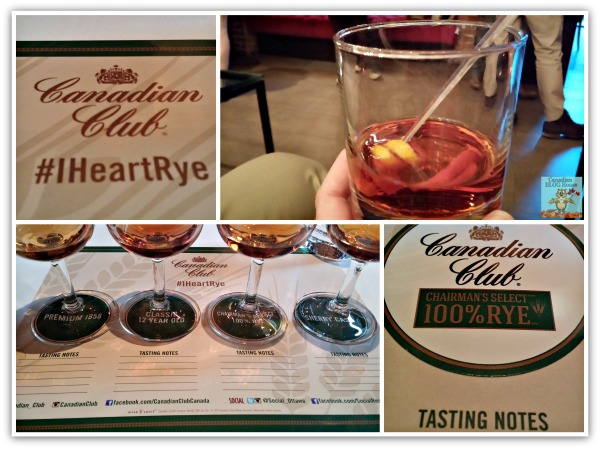 Our first taste of iconic Canadian Club Whisky came to us by way of a special cocktail. At the time, I couldn't tell you what it was, and what variety of Canadian Club Whisky was used in this drink. I'm not going to lie. I should have been paying more attention to the description of the drink, however, one look, one sniff, and one sip, and my thoughts took me away to a warm tropical beach where I could smell the scent of sun-kissed oranges. Ahhhh…it was citrusy delicious!
When I "came to" I had missed the description of the whisky…and sadly, I was still in cold and snowy (yes snowy!) Ottawa.
I later found out that this fabulous cocktail, the Sazerac, was made with the featured whisky – Canadian Club 100% Rye. Paired with the mouth-watering cheeses, crackers and other assorted munchies that we were offered, this was just a "taste" of the "grain celebrations" to come!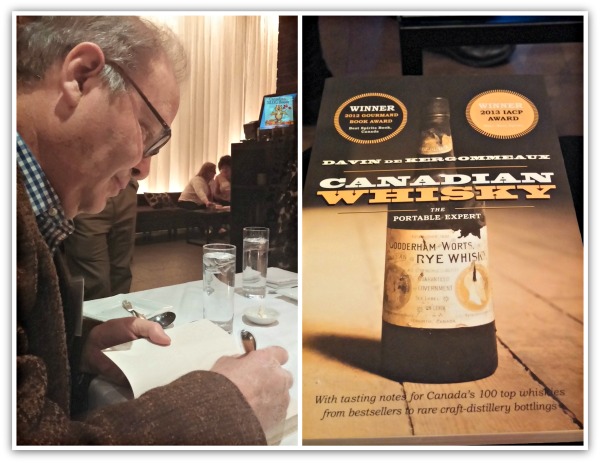 During our evening at the beautiful Social Restaurant & Lounge, we had the pleasure of chatting with Davin de Kergommeaux.  Author of "Canadian Whisky: The Portable Expert", this trained sommelier is a true whisky aficionado who could tell you anything you want to know about whisky.  It was such a pleasure to meet Davin and have him join us for the evening.
It wasn't long before we were escorted to our seats where we each came upon this site in front of us:
This may be my favorite dinner ever! #Iheartrye @Social_Ottawa pic.twitter.com/z8tzukDih1

— Canadian Blog House (@CanBlogHouse) April 8, 2015
Yes, if dinner had stopped with this offering, I would have left fully satisfied. But it just got better from here. Tish led us through an amazing portfolio tasting of these four Canadian Club whiskies. While I (obviously) loved the whole "sniff and taste" experience, what I truly enjoyed was learning some of the history behind Canadian Club and its whiskies, and I also loved coming away with tips like this:
Drinking whisky? Use a glass with a bit of a belly #Iheartrye — Canadian Blog House (@CanBlogHouse) April 8, 2015
We had never been to Social Restaurant & Lounge before this evening with Canadian Club. How did we not know about this restaurant? Seeing this menu before me, I wanted to replace all the "ORs" with "ANDs". Everything just looked THAT delicious!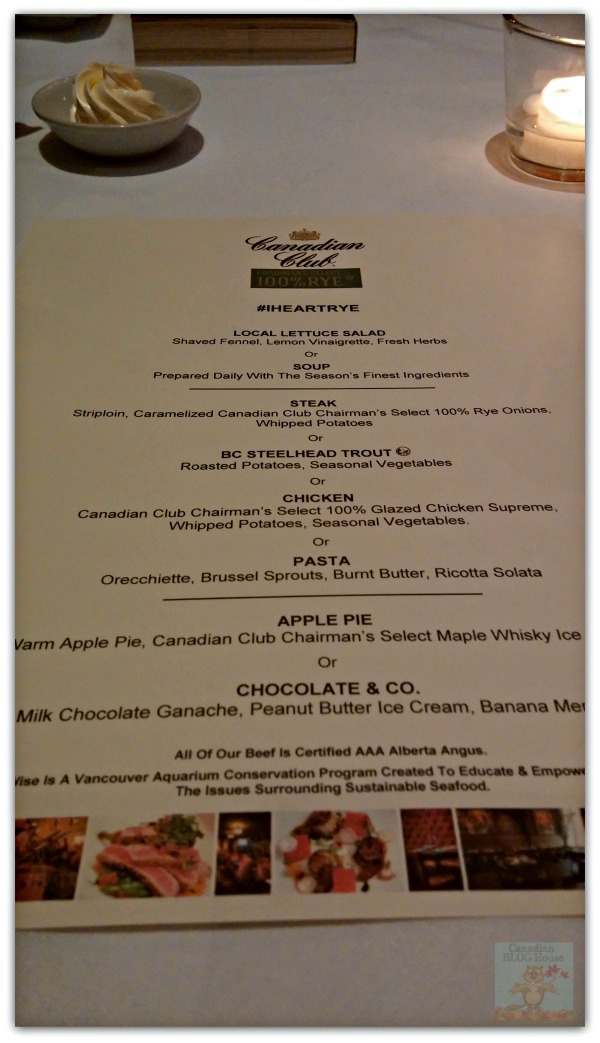 It was a difficult choice, but we knew we wanted to eat something infused with some Canadian Club whisky, so we chose the steak dinner. I don't think we could have made a better choice. Our meal was outstanding! The steak was mouth-watering, the 100% Rye Onions were superb, and the whipped potatoes? Wow. I may have to go back to Social Restaurant & Lounge just for those potatoes!  I don't believe I have ever been served such a thick, succulent piece of steak before…until this:
Beam Suntory's Matt Jones entertained the crowd for the rest of the evening teaching guests how to make special Canadian Club cocktails, including a "Dry Rye Manhattan", another cocktail that contained the featured whisky of the evening, Canadian Club 100% Rye. It was a great watching all the smiles of those honing their Canadian Club bartending skills!
Of course, one of the best things about an event like this is enjoying an evening out in Ottawa with friends: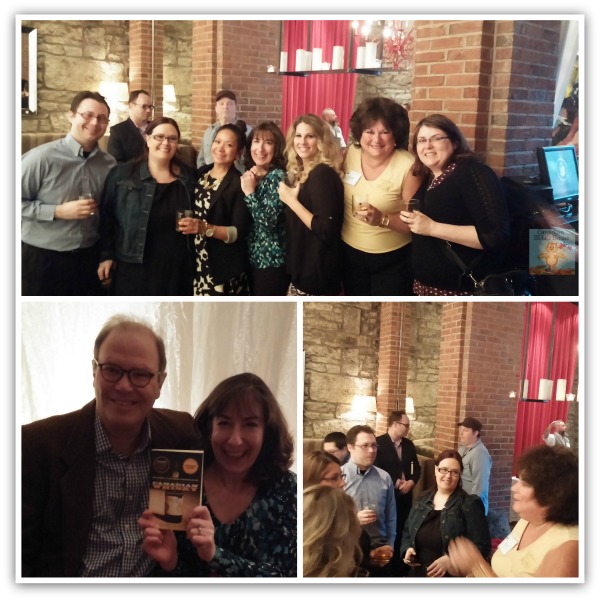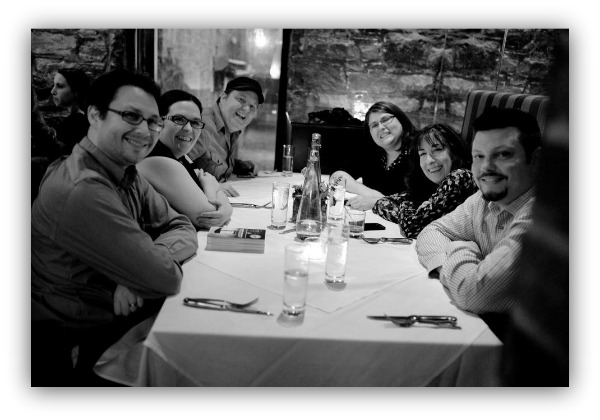 Photo Courtesy of Tim Obas
A huge thank you to Tish Harcus, Margaret Bourne, and Social Restaurant & Lounge for hosting such a great Canadian Club evening!
And so, my Canadian Blog House friends, are you a whisky lover? What is your favourite beverage? Would you like a chance to WIN an autographed copy of Davin de Kergommeaux's book "Canadian Whisky: The Portable Expert"? Davin graciously autographed two copies for me to give away on the blog – because I knew you would love to own one for yourself!
Here's how you can enter for a chance to WIN:
Cheers!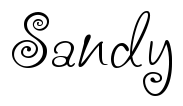 Disclosure: Canadian Blog House was invited to attend this complimentary dinner/tasting event but was not obligated to write about it. All opinions are our own. Canadian Blog House reminds you to please drink responsibly!!