The circus has come to town, Ottawa!!  Cirque du Soleil opened up their blue and yellow big top last Thursday night much to the delight of Ottawa Cirque fans who came to see the latest show – TOTEM.  I was lucky enough to be able to spend my evening under the big top, with my boyfriend, watching stunning acrobatic performances, eye-catching effects, and even some hilarious comic moments.  Cirque du Soleil's TOTEM is a "must-see" event!
Friends and family have told me for years how fantastic Cirque du Soleil shows are.  My mother has attended 4 different Cirque du Soleil shows over the years, and has raved about every one.  I'm not sure what took me so long to jump into the Cirque big top, but I'm sure glad I was invited to attend the opening night media event for TOTEM here in Ottawa.  I had NO idea what I had been missing!
I quickly discovered that Cirque du Soleil's TOTEM is a feast for the senses.  From gorgeous visuals, stunning water effects, and toe-tapping, hand-clapping LIVE music, to performers getting up close and personal with audience members in their seats, this Cirque du Soleil performance will captivate you from start to finish.
Seating for TOTEM is very well laid out.  Looking around me from our seating area in the 2nd level section, it appeared that there wasn't a bad seat under the big top.  When we first sat in our seats, we noticed a very tall man sitting near us.  We commented to each other that we hoped no one short sat behind him or they may not be able to see the show.  No worries though. That tall person sitting in front of you isn't likely to be a problem. Like other Cirque du Soleil shows, so much of TOTEM takes place in the air, well above the heads of audience members.
TOTEM "traces the fascinating journey of the human species from its original amphibian state to its ultimate desire to fly".
TOTEM'S comedic look at the evolution of mankind was very funny, and very well done: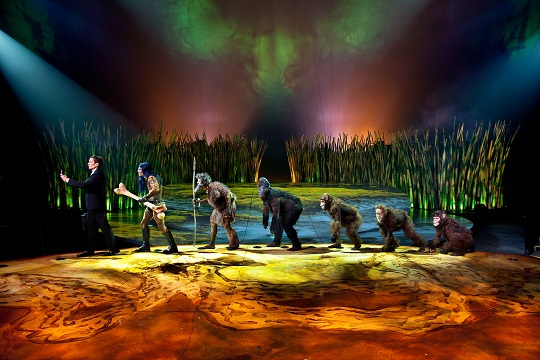 The death-defying acrobatics were phenomenal! Who knew the human body could do such things?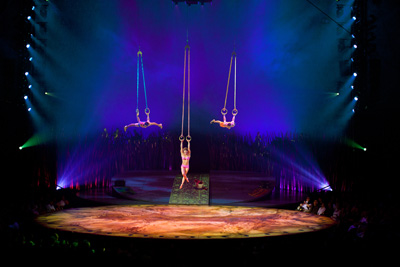 The costumes were gorgeous!
And of course…my favourite Clown, played by Pippo Crotti (seen on the left):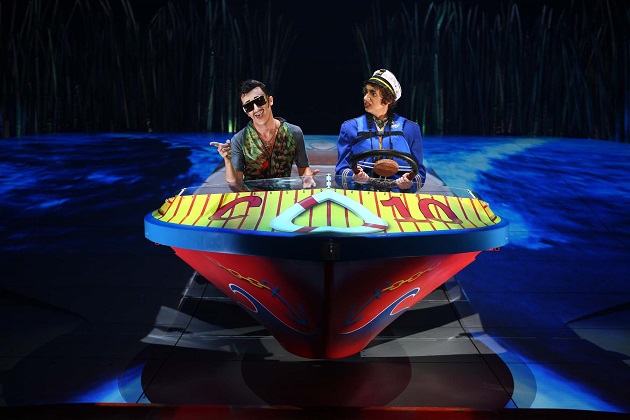 A review of any Cirque du Soleil performance would not be complete without touching on the recent tragedy and loss of one of their great acrobats during a Cirque show in Las Vegas.  Such tragedies are a real and present danger for performers who are performing such amazing, complex and challenging acrobatic acts, high above the Cirque stage.  After witnessing a few heart-stopping moments during TOTEM (performed on purpose), I can now understand how easily something can go terribly wrong.  However, it is these phenomenal and death-defying acrobatics and "other worldly" skills of the performers that fascinate us all, and keep us on the edge of our seats wanting more.
We enjoyed many little "extras" that night including complimentary popcorn (don't circuses and popcorn go hand-in-hand?) and champagne.  Wow! It's not often that I get free champagne. Shhhh….don't tell anyone…but I snuck a second round of champagne. Yum!
We also got to meet up with a few of my fellow Bloggers in real life, including Shannon from Shannon's View From Here, Julie from Coffee With Julie, Ashley from Tales of Mommyhood and Ottawa Mommy Club Blogger, Tracy.
Local celebrity and former news anchor, Max Keeping, sat close to us during the performance.  I think Max enjoyed the show every bit as much as we did judging from the big smile on his face, the clapping of his hands, and the stomping of his feet.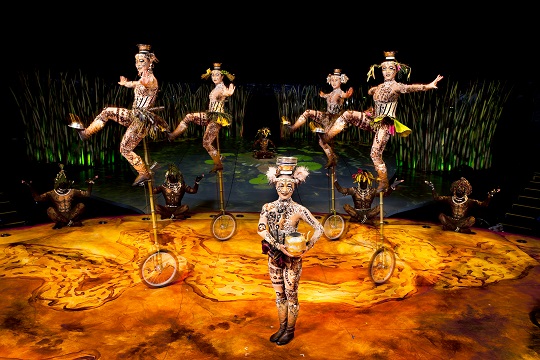 If you go to see TOTEM, be sure to bring some spare cash for all the TOTEM souvenirs.  The have some great merchandise for young and old alike.  And don't make the mistake I made. Bring cash for parking.  Parking for TOTEM costs $12…CASH.
How ironic is it that this review has been the most difficult review for me to write?  I never realized, until now, how hard it is to write a review about an event that is so spectacular that you just can't seem to put your thoughts about it into words.  Never mind that I don't think my words could ever do TOTEM justice.  You know what that means?  It means that you just have to experience TOTEM for yourself!

You can purchase tickets for Cirque du Soleil's TOTEM here.
Be sure to follow Cirque du Soleil on Twitter, and like them on Facebook.  Oh…and you can follow my fave funny clown, Pippo Crotti, on Twitter here.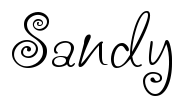 Disclosure: Canadian Blog House was provided with complimentary passes to attend Totem.  All opinions are my own.