I was introduced to Canadian rockers, Clear Stone, during a Twitter conversation and subsequent emails with Dimitri Tadin.
Dimitri is the Bassist for Clear Stone.  He joins his "brothers Tadin" – Dio and Tristan – as well as Andrew Aldridge and Scott Adept.
Clear Stone was inspired by musicians such as John Lennon, Neil Young and Tom Petty.  The band was originally formed in Toronto in the early 2000's, playing top Toronto venues including Lee's Palace and The Horseshoe (what Toronto music fan hasn't heard of those iconic venues?).
A brain tumour for Dio sidelined the band until 2008 (I'm happy to report that Dio is a survivor and is now doing well).  It wasn't until 2011, however, that the brothers Tadin were introduced to their current guitarist, Andrew Aldridge.  Now with Andrew and Tone Valcic in the lineup…as they say…the rest is history!
Back to the music.  Dimitri sent me a link to their newest tracks from their debut album "Supposed To Be" (available April 14, 2013).  Being the huge music fan I am, I just had to take a listen.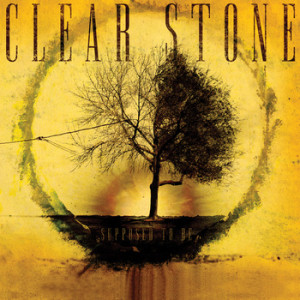 Thirteen tracks make up "Supposed To Be":  Looking to hear some new "classic rock/blues-influenced" music?  Then you've got to check out Clear Stone.  Even before reading any of their bio, I was blown away by how much Clear Stone reminds me of their musical influences – namely John Lennon and Tom Petty.  I had a hard time trying to decide which musician I heard in Dio's voice – Lennon's or Petty's.  So I gave up and decided to jump on the celebrity-naming bandwagon and call his sound something of my own creation, "John-Tom".
After taking a listen to the tracks on "Supposed To Be", my clear favourites are:
I find the title track "Supposed To Be" a haunting song, who's sound pulls you in.  I love a song that goes from a harder sounding chorus, full of passion, to softer verses throughout.  "Supposed To Be" has that great mix.
As someone who attends the Ottawa Bluesfest every summer, I love the sound of "Love Takes Time", my second favourite track off the album.  Fabulous guitar work, a great beat, terrific melodies, and a cool "bluesy" sound, make this my choice for "fan favourite".
Looking for a catchy tune?  A song with a faster beat that makes you want to get up and "cut the rug"?  You'll find that in "Constance".  This track will definitely have you tapping your toes.  "Constance" just may be the first single off the new album.
Want to own "Constance" for yourself now? Clear Stone has agreed to make this track available for FREE download for all my House Mates here at Canadian Blog House.
Take a listen and enjoy!
You can also check out the guys live from their studio recording "Supposed To Be":
Here's an interesting bit of Clear Stone trivia for you.  Guitarist, Andrew Aldridge, used to play for Canadian artists Sarah Slean and Universal Honey.  Drummer, Tone Valcic, was Chantal Kreviazuk's drummer on tour with The Barenaked Ladies.
Canadian Blog House wishes you great success with your debut album, Clear Stone!