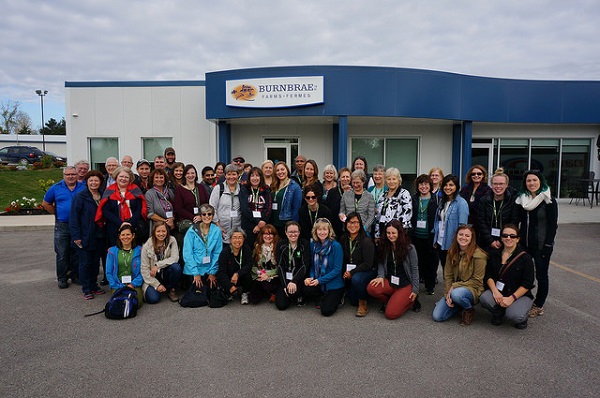 Early October saw Ontario's agricultural community celebrating Ontario Agriculture Week. For 37,000 Ontario farming families, this was their time to shine!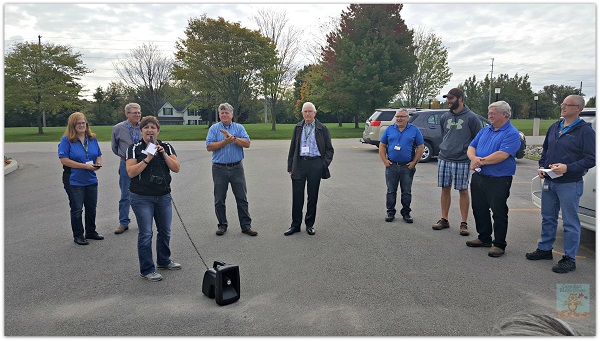 One of Ontario's best-known egg farming families is the Hudson family from Lyn, Ontario, just outside of Brockville. This wonderful family of egg farmers, who operate Burnbrae Farms, one of Canada's leading egg producers, with farms in Ontario, Quebec, Manitoba, and Alberta, are a 4th generation farm family.
On a beautiful fall day in October, we were provided with an eye-opening, behind-the-scenes tour of Burnbrae Farms thanks to https://canadianbloghouse.com/local-food-week-a-visit-to-st-albert-cheese-co-operative-loveontfood/Farm & Food Care Ontario. To say it was a fascinating visit would be an understatement. Venturing out into the country to celebrate Ontario agriculture and food, gave us an eggs-cellent opportunity to get the (s)coop straight from the egg farm.
We learned so many interesting things about egg farming like…did you know your eggs get washed and sanitized before they get put into an egg carton? They do!
Ever wonder how @BurnbraeFarms washes your eggs? It's quite a process!! @FarmFoodCareON #loveONTfood pic.twitter.com/xBJ5nwNWj0

— Canadian Blog House (@CanBlogHouse) October 5, 2016
My biggest takeaway from our time at Burnbrae Farms?
I met a multi-generational egg farming Canadian family who is committed to their customers, their chickens, their family business, consumer safety, and to bringing Canadians quality Grade A eggs.
The openness and transparency of this Canadian company is evident in their willingness to provide tours of their farm facilities and allow groups like ours to get up close to the chickens…even renovating their hen housing to accommodate human visitors. To alleviate stress on the chickens, and to help prevent spread of diseases between humans and birds, visitors are kept behind windows in special viewing rooms.
I was also impressed with their willingness to answer even the tough questions – and I had plenty of those.
Because one cannot visit an egg farm without being armed with some tough questions.
As an animal lover, I'll be honest. I was apprehensive about touring a facility that houses hundreds of thousands of chickens for egg production. My fears were unfounded, however.
I can't speak for other egg farms, but what I saw at Burnbrae Farms made me feel a whole lot better about the Burnbrae Farms eggs that I consume on a daily basis. At no point did I see any chickens looking ill, injured, or in distress.
In fact, I learned that, contrary to popular perception, properly maintained conventional chicken housing, like the conventional housing found at Burnbrae Farms,  can actually be a better type of housing for the chickens than free run housing. Conventional housing allows for staff to keep a better eye on hens, keeping weaker hens separate from bully hens.
Because being hen-pecked is a very real thing (seen fact below).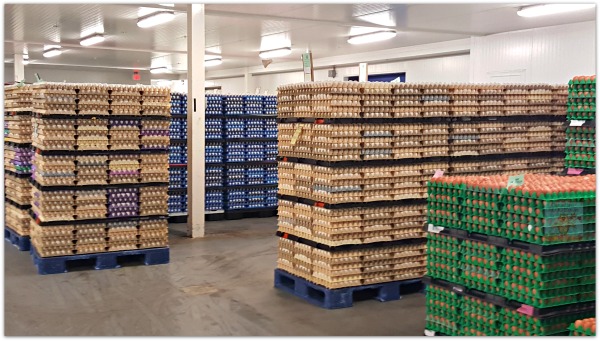 Before visiting Burbrae Farms, as a regular consumer of Canadian eggs, I thought I knew eggs. Thanks to the folks at Burnbrae Farms, I found out there was a lot I did not know about eggs and egg farming in Canada.
Interesting facts I thought you might like to know about as well…
29 Interesting Facts About Burnbrae Farms And Egg Farming
Joseph Hudson, a cattle farmer, started Burnbrae Farms 123 years ago
The name Burnbrae Farms comes from the Scottish words "burn" stream, and "brae" hill. A stream and hill are both found on the original Hudson family property.
Did you know? The Hudson family farm name @BurnbraeFarms came from "burn" stream and "brae" hill. @FarmFoodCareON #loveONTfood pic.twitter.com/30g1JmVxc7

— Canadian Blog House (@CanBlogHouse) October 5, 2016
3rd generation Hudson farmer, Joe Hudson, bought 50 chickens and started selling eggs…and the rest is history!
350,000 chickens are on-site at the farm in Lyn, Ontario
Burnbrae Farms operates conventional, enriched, and free run housing for chickens.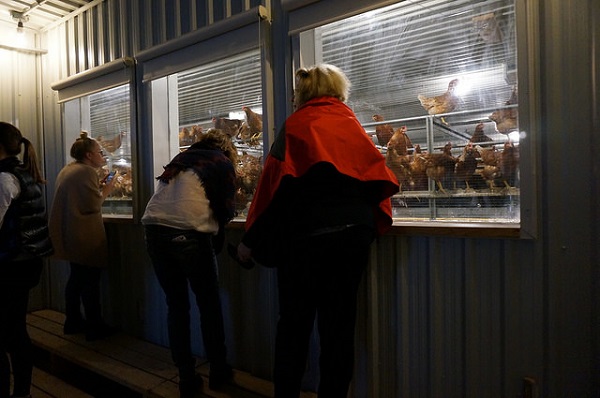 Contrary to popular belief, conventional or enriched housing for chickens is cleaner and safer for the hens than free run. Collection of chicken manure is contained and kept away from the chickens in conventional and enriched housing, whereas free run chickens run around in their own manure, naturally stirring it up in the dirt.
As I mentioned, being hen-pecked is a real thing. Hens have a hierarchy – a pecking order. Apparently, hens have never seen an anti-bullying campaign before. Hens can be real bullies. Weaker free-range hens are most at risk to being hen-pecked by stronger hens. This can result in real injury – and sometimes death – for free run hens.
Free run chickens are rounded up and taken out of the building they are housed in once per year so that the entire free run area can be thoroughly pressure washed
Chickens at Burnbrae Farms have an early bed time. Lights out at 7PM!
Burnbrae Farms purchase and process eggs from over 400 farmers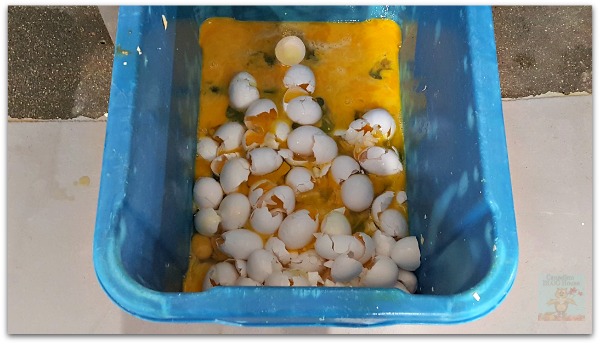 At Burnbrae Farms their hen breeds are Leghorns or Rhode Island Reds
All coop flooring has a 7 degree slope – this allows for the eggs to roll gently down to the conveyor belts for processing
At 19 weeks old, hens are ready to lay eggs
Hens are finished laying eggs when they are approximately a year and a half old
Hens at Burnbrae Farms that are no longer producing eggs are sent to Maple Ridge Farms for processing. Their meat is used in chicken noodle soups.
Egg-laying hens cannot be used for the chicken breasts we eat. They do not contain enough meat.
Hens who are finished laying eggs are known as boiling fowl. These hens are generally used for soups, stocks, and ground chicken products like chicken nuggets.
You will find absolutely NO egg waste at Burnbrae Farms. All broken eggs are put in drums and sold for feed
There is absolutely no egg waste at @BurnbraeFarms. All broken eggs are put in drums and sold for feed. #loveONTfood 🐣🐔🐔🐔🐣 pic.twitter.com/TkQEgnaOOz

— Canadian Blog House (@CanBlogHouse) October 5, 2016
From hen to store: Burnbrae Farms eggs are delivered the same day to some grocery stores, within 2 days to other stores, and to some specialty stores, within 5-6 days
A 28 to 35 day best before code is put on eggs to ensure maximum freshness and Grade A quality. Eggs are still safe to eat for up to 3-4 weeks past the code date on their package.
The three quality grades that apply to eggs for sale to customers are: Grade A (household use), Grade B (used in bakeries) and Grade C (sent to egg breakers for processing)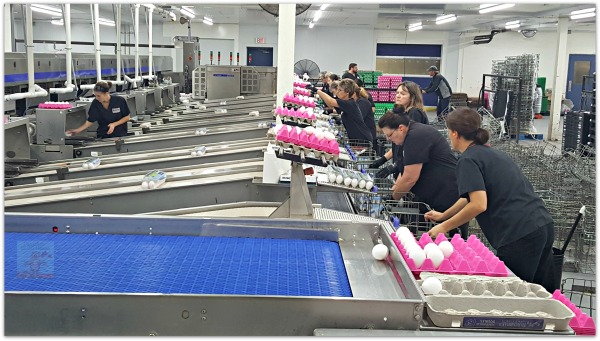 The average laying hen produces more than 320 eggs per year
On average, each Canadian eats 193 eggs per year. Think about that. One hen feeds less than 2 Canadians per year.
Most eggs are laid between 7AM and 10:30AM each day
Cluck Cluck! Did you know most eggs are laid between 7AM and 10:30 AM each day? @BurnbraeFarms @FarmFoodCareON #loveONTfood

— Canadian Blog House (@CanBlogHouse) October 5, 2016
There is no difference in the nutrition value between a white shelled egg and a brown shelled egg
Eggs become more runny as they age. The air sack increases inside, making eggs easier to peel. Older eggs will float in water.
In Canada, none of our chickens are given hormones
Canada's supply and management system assures Canadian egg farmers and Canadians a fair price, and Canadians a good quality Grade A egg
If you drop an egg on the counter or floor, sprinkle it heavily with salt. This will make clean up easier!
Many thanks to the great egg farming folks at Burnbrae Farms for opening their doors to us, and providing a great tour of their facilities. Many thanks as well to Farm and Food Care Ontario for facilitating our trip to Burnbrae Farms in support of Ontario Agricultural Week.