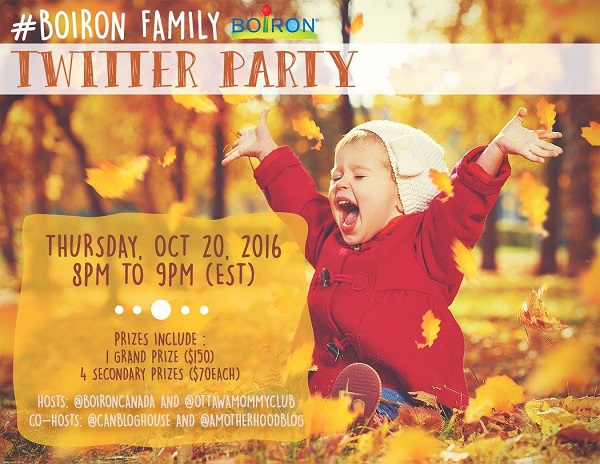 Cough and cold season is almost upon us.
Or maybe for your family, it already is.
We weren't more than a week into the new school year when I started seeing a number of mom's reporting that their family had already been hit with that first dreaded cold.
The Boiron Group want to help you keep your family healthy this cold and flu season.
For over 80 years, the Boiron Group has been keeping families healthy with their homeopathic medicines.
Boiron "takes great pride in providing you with products that are "as pure and perfect as possible. Each and every one of our medicines is made following the same tradition of excellence that has been the Boiron hallmark for the past eight decades and in accordance with European and Canadian pharmaceutical standards. Boiron homeopathic medicines have all been issued a DIN-HM (product license number), which can be retrieved online via Health Canada's database."
Come join hosts Boiron Canada and the Ottawa Mommy Club, together with Moderators Canadian Blog House and A Motherhood Experience, on Thursday October 20th from 8PM to 9PM EST, and get ready for cold & flu season with the #BoironFamily Twitter Party!!
There are some great prizes up for grabs!!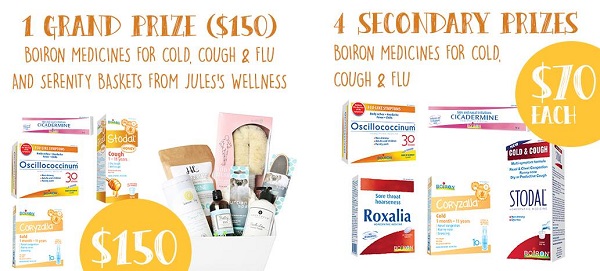 1 Grand Prize – Value $150: Boiron medicines for cold, cough & flu + Serenity baskets from Jule's Wellness
4 Secondary Prizes – Value $70 each: Boiron medicines for cold, cough & flu!
Want to join us but aren't sure how a Twitter party works? It's fun and easy! Be sure to check out these Twitter party instructions before the party and you'll be all set to take part!
Twitter parties are always fast-paced. Be sure to check out our Twubs link for the #boironfamily Twitter Party as it will help you manage your time at the party.
For further information, including how you can qualify for your chance to win a prize at the party, be sure to check out the #boironfamily Twitter party rules page.
Attending the #boironfamily Twitter party? Be sure to RSVP in the linky below in order to qualify for your chance to win one of the great prizes being offered!!
See you there!!

OVER