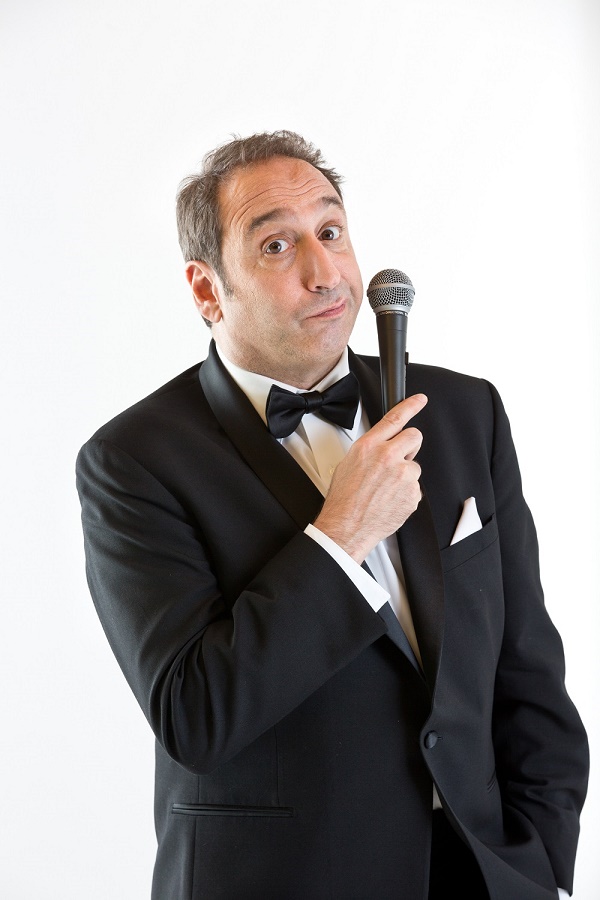 Canadian Gemini award-winning comedian, Jeremy Hotz, is a miserable man. You probably would be too if you were spending the cold and snowy month of February taking your show on the road on a cross-Canada tour.
"Fighting his way across the frozen tundra and battling the evil elements, Jeremy Hotz will pit his wits against the harsh Canadian winter with his all-new stand-up show, Jeremy Hotz: International Man of Misery, from February 2 to 28, 2016. The tour will have the lovably miserable comedian brave the cold once again to entertain audiences nationally from coast to coast, from Newfoundland to British Columbia. With the holidays just around the corner, these miserable show tickets make a great gift for your loved ones! Tickets go on sale Friday, November 27 at 10:00 AM (12:00 noon in Halifax and Kingston)."
If you've followed the Canadian comedy scene for any length of time, you likely know the name Jeremy Hotz. Jeremy has been playing sold out shows across Canada for years now.
Jeremy "has performed multiple times at Just For Laughs' Montreal festival to critical praise – including being hailed Best Performer by the Globe and Mail and Best in Fest by the Montreal Gazette – and on national JFL tours including his sold-out What A Miserable Tour This Is in 2008 and Magical Misery Tour in 2013."
Many Canadians may also recognize Jeremy from his work in the celebrated series, The Newsroom, on CBC, for which he won a Canadian Gemini Award.
What you may not know is that Jeremy is also a talented actor and writer. His credits include:
staff writer and performer on the Jon Stewart Show
appeared in the fourth season of HBO Canada's "Call Me Fitz"
starred in the four-part mini-series "Married Life" on Comedy Central
appeared in feature films "My Favourite Martian" with Elizabeth Hurley and "Speed 2" with Sandra Bullock
Jeremy has also performed on "The Late Show with David Letterman", "The Tonight Show" with Jay Leno, plus many of his own television specials. In 2008, Jeremy was honoured with Canada's prestigious "Dave Broadfoot Comic Genius Award" at the Canadian Comedy Awards.
I caught up with Jeremy Hotz yesterday by phone from Toronto on the day he was set to perform in front of a packed theatre of fans at Toronto's Massey Hall.
Here's how it all started: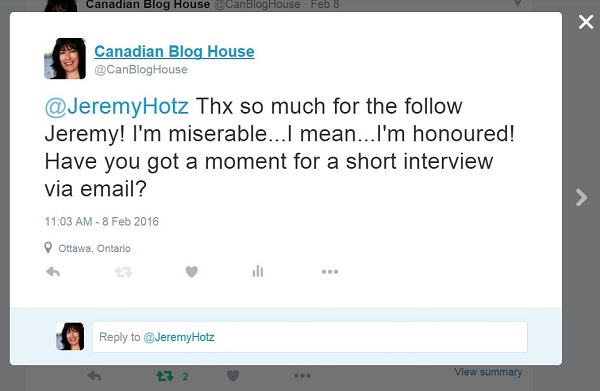 To say that I was honoured that Jeremy took the time to speak with me, would be an understatement. Not only did Jeremy agree to talk with me, he devoted 35 minutes of his precious time to give me this interview of a lifetime!
Before my interview (listen to the interview in the YouTube link below), I already knew that Jeremy was a hilarious stand-up comedian but, during my conversation with him, I also learned that Jeremy Hotz is truly a stand up Canadian. Jeremy may live in Los Angeles now, but his heart is still back home in Canada!
Jeremy graciously allowed me to record our conversation, which I'm thrilled to share with you here. For any of you who are Jeremy Hotz fans, I think you will thoroughly enjoy this. Jeremy had me laughing from start to finish – even when we touched on more serious topics. Would you expect anything less? I didn't think so!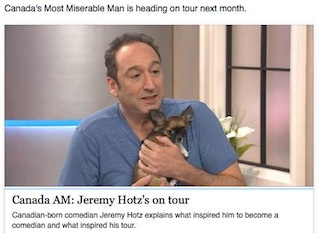 Jeremy was very candid with me about a number of topics, including his battle with General Anxiety Disorder (GAD) and how both his new "therapy" puppy, Shackleton, and his brother, who is a Psychologist, are a huge support for him in helping him deal with his anxiety, especially when he is on the road touring.
Jeremy was a great sport and indulged me by answering all the crazy questions I asked him. I learned so many fascinating things about Jeremy:
his favourite memory of growing up in Ottawa
his favourite ride at the SuperEx
how he came up with his "on-stage" style/persona
who his favourite Canadian comedian is
what his misses most about Canada now that he lives in LA (you'll love his list!)
the Canadian city with the best audience…and the worst!
In my interview, Jeremy also weighs in on social media, discovers for the first time what "vaguebooking" is, and shares his opinion on online trolls and Canadian band, Nickelback.
We covered a lot of Canadian territory in this conversation!
We touched on the topic of pet tricks when I told him about my dog Guinness and how she does this:
Then, Jeremy filled me in on the silly things Shackleton does, and how "privileged" he is – but that he doesn't even know it. Also, word is, Shackleton plays a mean game of "tug of war"!
Go easy on me – this was the first time I've ever interviewed anyone by phone – let alone someone like Jeremy Hotz! But, yes, go ahead and laugh at me – I did.
(Did I really tell Jeremy I peed my pants? Ugh!)
A huge thank you to Jeremy Hotz for being so easy to talk to, for putting me at ease immediately, and for agreeing to speak with me. This was a great learning experience for me and one I'll never forget.
The best part? I actually made this fabulous comedian laugh a few times! Me.
In case you are wondering, it's this clip I'm referring to at the end of the interview:
For more information on how you can get tickets to one of Jeremy's show's (if they aren't sold out already!) check out Jeremy's page at Just For Laughs. Oh yes….and follow Jeremy on Twitter and Facebook – you'll be sure to have a laugh or two!
In the meantime…enjoy the interview!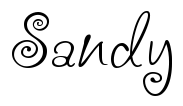 Disclosure: Canadian Blog House did not receive compensation for this post. All opinions are our own.