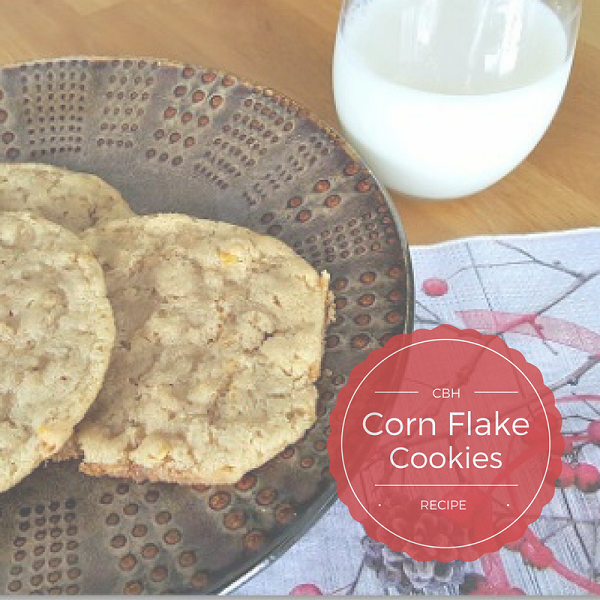 Corn Flake Cookies Recipe
There's nothing better than homemade cookies. My mum's homemade cookies were always so delicious, no matter the type of cookie she made. Our house was often filled with the aroma of homemade cookies.
One of mum's cookie recipes that she baked many times over the years, her Corn Flake Cookies recipe, is a family favourite.
As a young child, however, the thought of eating corn flakes in my cookies made me gag.
Although I loved Rice Krispie Squares, and never thought about the fact that they were also made with breakfast cereal, the idea of these corn flake cookies being made with my dad's favourite cereal, was not appealing to me at the time.
The only thing worse for me was the evening I went for dinner at my dear aunt's place when I was about 12 years old – and she served chicken breasts – coated in corn flakes! Ack!
Thankfully, my tastes have drastically changed over the years, and I am no longer a picky eater.
These Corn Flake cookies are now one of my favourite treats…and my father's also.
I recently pulled this recipe out of my mother's old recipe book for the first time in a long while.
I had forgotten how good they really are!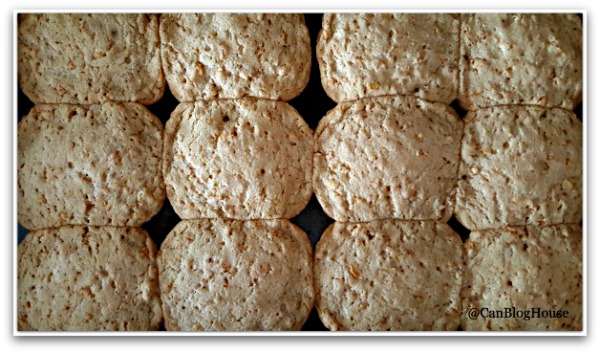 This cookie dough tends to spread out as it bakes, so there is no need to flatten out the cookie dough on the cookie sheets. Just drop a ball of the dough on the sheet and pop in the oven.
I happen to like big cookies, so the amount of dough I use tends to be larger than what the recipe calls for. As you can see, the large size tends to make the cookies stick together. Nothing the end of a spatula can't cut through!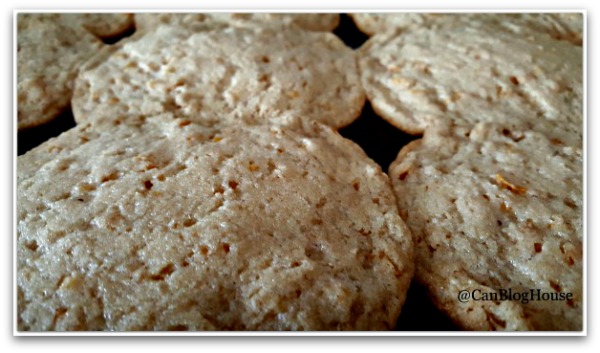 If you've never eaten cookies with corn flakes in them, you may be surprised. The corn flakes give the cookies a consistency of what it's like to eat a cookie that contains crunchy caramel or toffee. Simply delicious!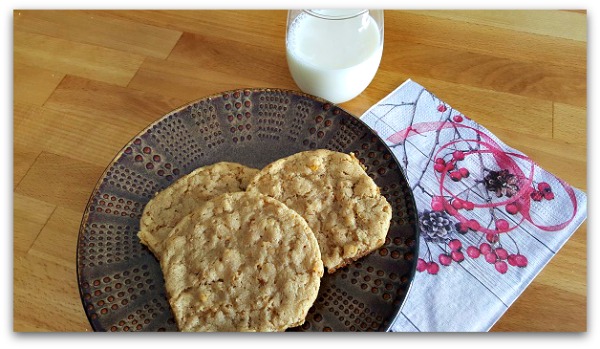 Of course these cookies pair well with a cold glass of milk!
These Corn Flake cookies are super easy to make! You'll be munching away in no time!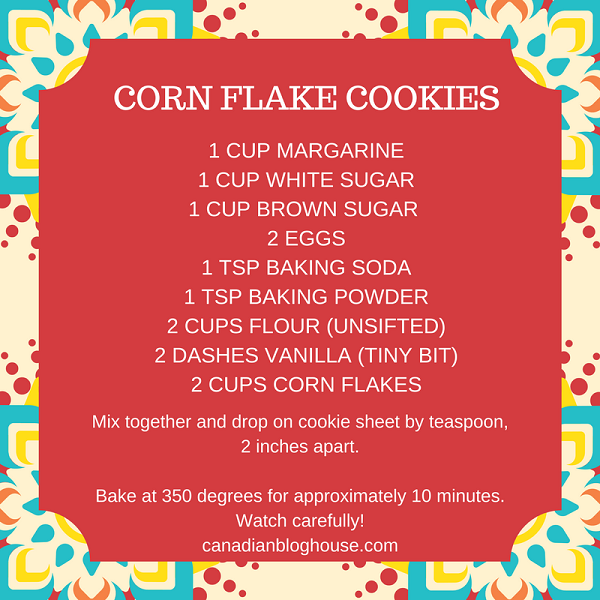 A word of caution. These cookies bake up fairly thin. This is why, especially the first time you try to bake these cookies, you need to keep a close eye on them in the oven.
This recipe calls for margarine, however, you can just as easily use butter. My mother was on a margarine kick at the time she wrote out this recipe. Personally, I prefer using butter.
Once removed from the oven, give the corn flake cookies a little time to firm up, otherwise you may have trouble lifting them off of the cookie sheet.
Enjoy!!