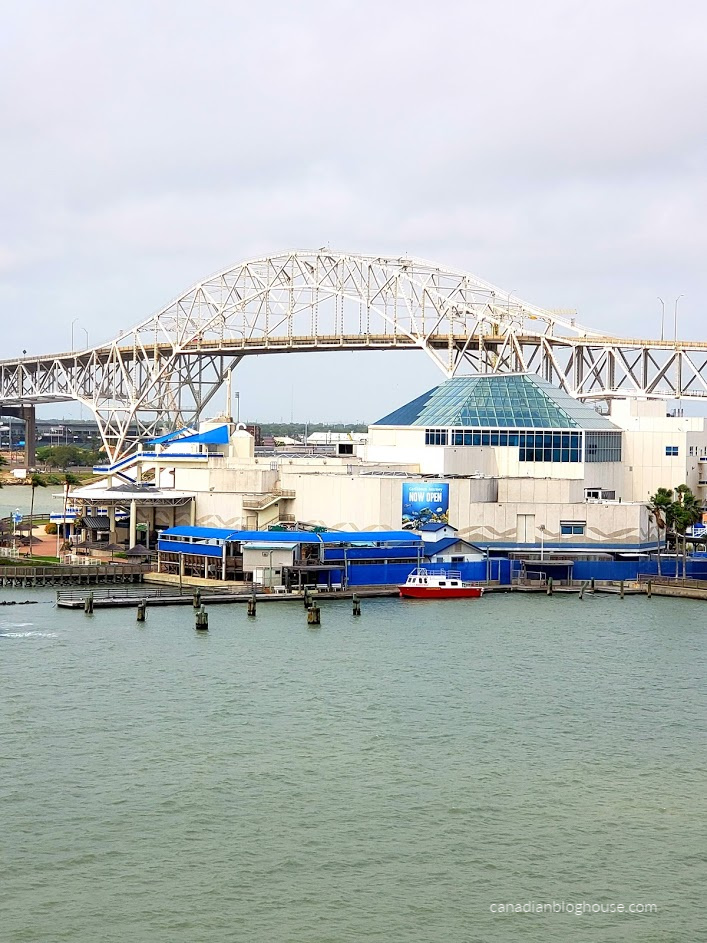 Canadian Blog House partnered with Visit Corpus Christi to experience 48 hours of family fun on the Texas Gulf Coast. All opinions are our own.
Visit Corpus Christi For An Unforgettable 48 Hours Of Family Fun On The Texas Gulf Coast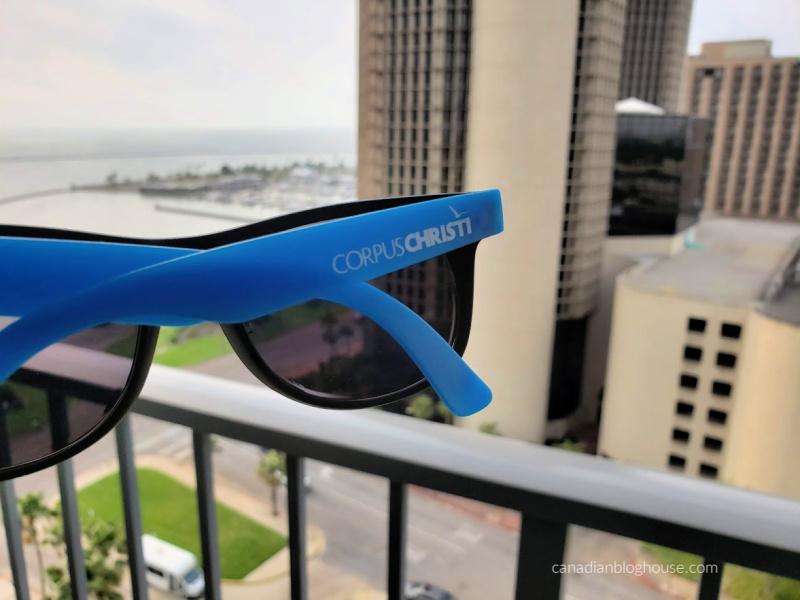 Our desire to experience 48 hours of family fun on the Texas Gulf Coast led us to the fabulous city of Corpus Christi, Texas!
I won't lie. Corpus Christi was never on my travel bucket list. In fact, I knew very little about this city that boasts 192 square miles of shoreline, with the longest undeveloped stretch of barrier islands in the world.
Thanks to a recommendation from the great folks at Travel Texas, a visit to Corpus Christi – the 8th-largest city in Texas with a population of approximately 325,000 – was just what we needed to cap off a fantastic vacation in Texas.
A memory-making 48 hours of family fun on the Texas Gulf Coast!
Unforgetable Texas Road Trip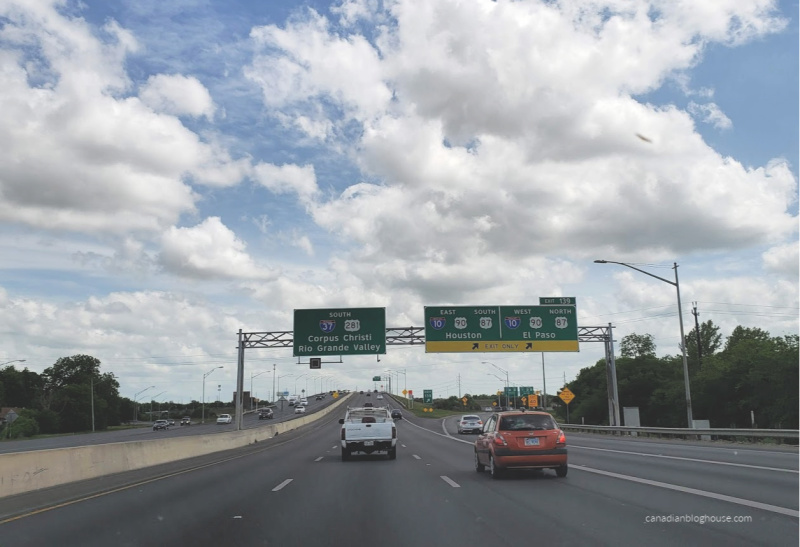 An easy 3-hour drive southeast of San Antonio, Texas, Corpus Christi truly surprised us with its warm hospitality, super-fun family-friendly activities, foodie scene – and its endless miles of spectacular beaches.
Primarily known as a "refinery town", the incredible views, showcasing the skyline of refineries defined by pipes, stacks, and storage tanks, are jaw-dropping as you enter the city via Interstate 37.
And while Corpus Christi is the "leading US crude oil export port and a major economic engine of Texas and the nation", this Texas Gulf Coast city is so much more than its petrochemical reputation.
Corpus Christi Has It All – Family Fun On The Texas Gulf Coast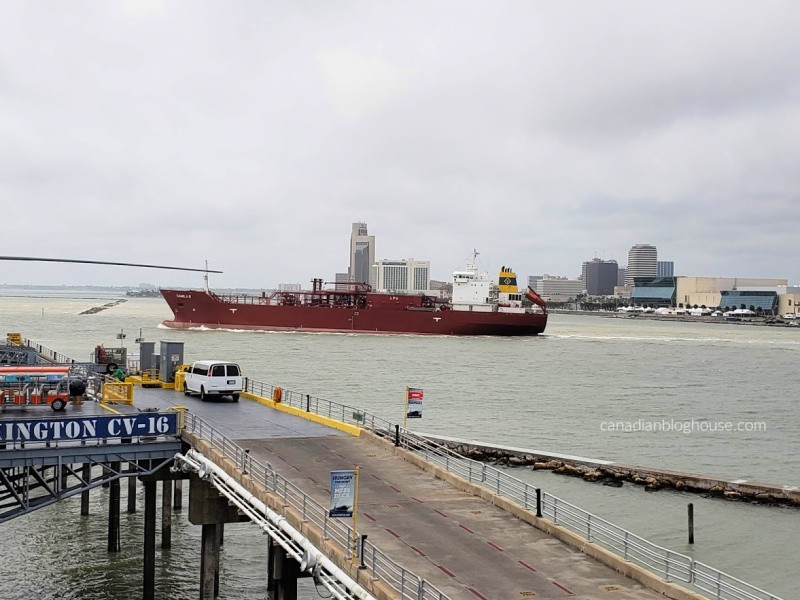 For us, Corpus Christi was a destination full of unforgettable surprises!
Our only complaint? Having to leave Corpus Christi after only 48 hours! We packed a whole lot into a short time but, we would have loved to have stayed a while longer!
Corpus Christi definitely deserves a spot on everyone's Texas bucket list!
If you only have 48 hours in Corpus Christi, be sure NOT to miss any of these Texas Gulf Coast experiences!
Where Your Bucket List Adventures Begin
---
Omni Corpus Christi Hotel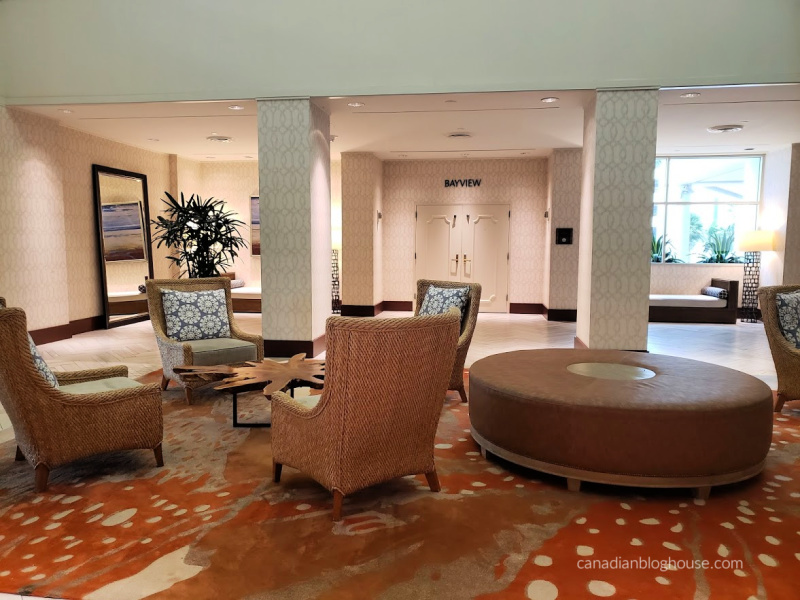 This is THE place to stay in Corpus Christi. This luxury hotel, situated downtown on the Corpus Christi waterfront, provides a beautiful view of Corpus Christi Bay.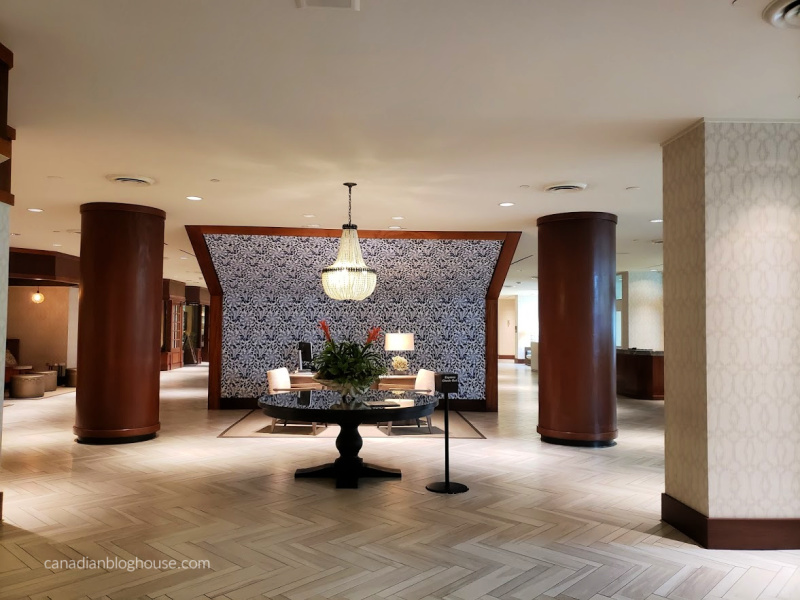 The Omni Corpus Christi Hotel welcomes guests with a very attractive lobby that includes several seating areas and places to relax.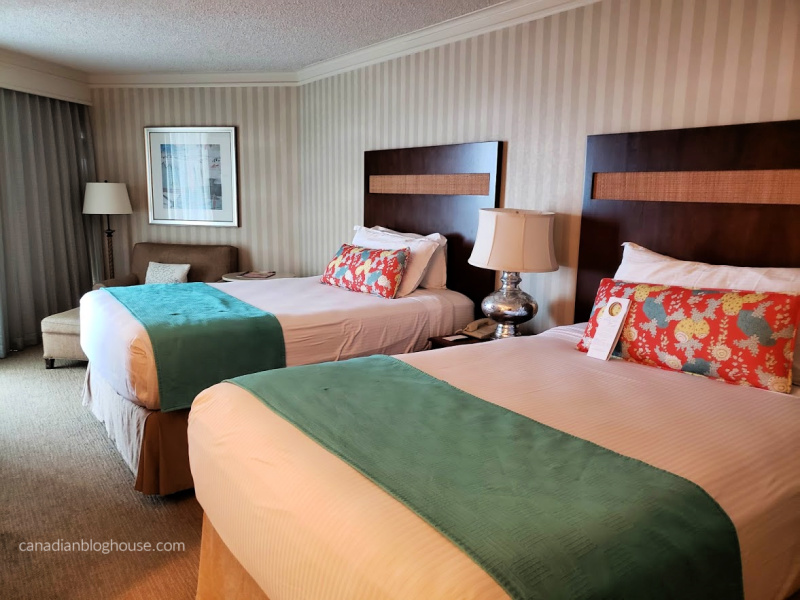 Our beautifully appointed room featured 2 very comfortable double beds, flat screen tv, desk, a lounge chair with ottoman, small fridge, Keurig machine, dimmer lighting, and a lovely balcony with a great view.
The food at the Omni Corpus Christi Hotel was superb! We enjoyed breakfast at the Glass Pavillion both mornings. Guests have a choice of selecting a breakfast from the menu or enjoying their buffet breakfast. I chose to experience both options during our visit.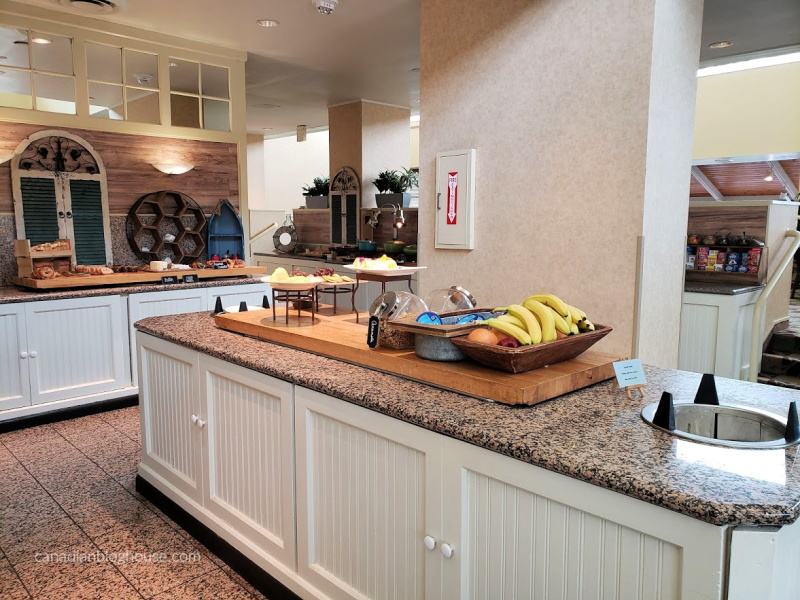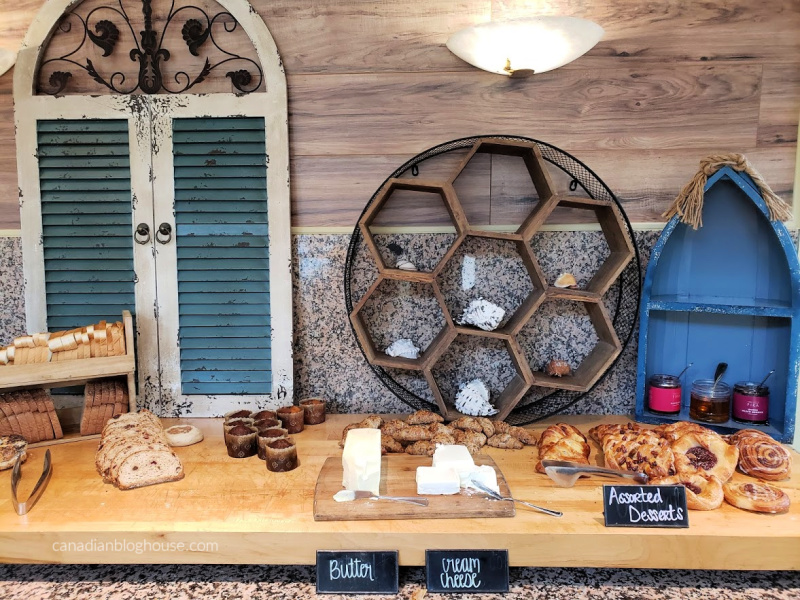 The buffet breakfast was excellent. Plenty of great options of both hot and cold items, That being said, we all enjoyed our breakfast menu choices so much that I would recommend selecting from the menu if you stay here.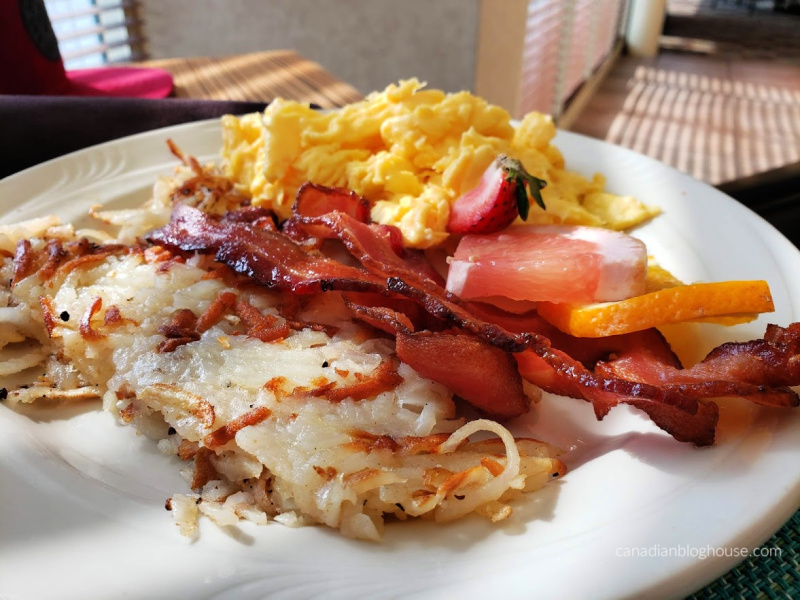 Their breakfast (shredded) hash browns are DELICIOUS, eggs were cooked to perfection, crispy toast, and mouth-watering bacon (tip: always ask for crispy bacon!). Plus…for coffee lovers, you've got to LOVE when a restaurant provides you with your very own coffee urn full of coffee!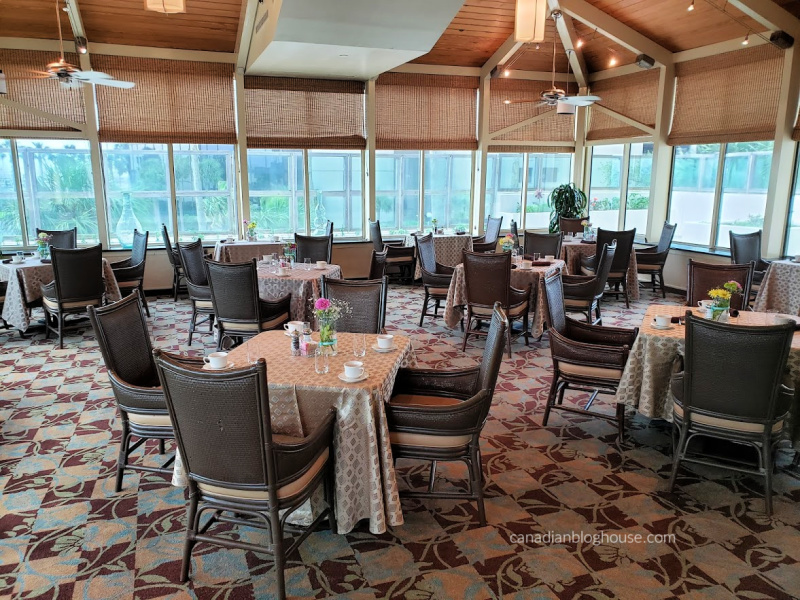 Whether you are a guest of the Omni Corpus Christi Hotel – or a Corpus Christi resident – don't miss a chance to enjoy a breakfast here. Not only is the food tasty, but the staff are also very attentive, and the view of Corpus Christi Bay is terrific! A lovely place to enjoy breakfast!
According to my nephew's friend who lives in Corpus Christi, the Republic of Texas Bar and Grill, located on the 20th floor of the Omni Corpus Christi Hotel, is a superb steakhouse. After this recommendation, we were very eager to enjoy a steak dinner at this popular restaurant, however, we realized that a dinner here was beyond our personal budget. No worries though! Thanks to the fabulous concierge at the Omni Corpus Christi Hotel, we discovered another local restaurant that you MUST try when spending time in Corpus Christi! (see below)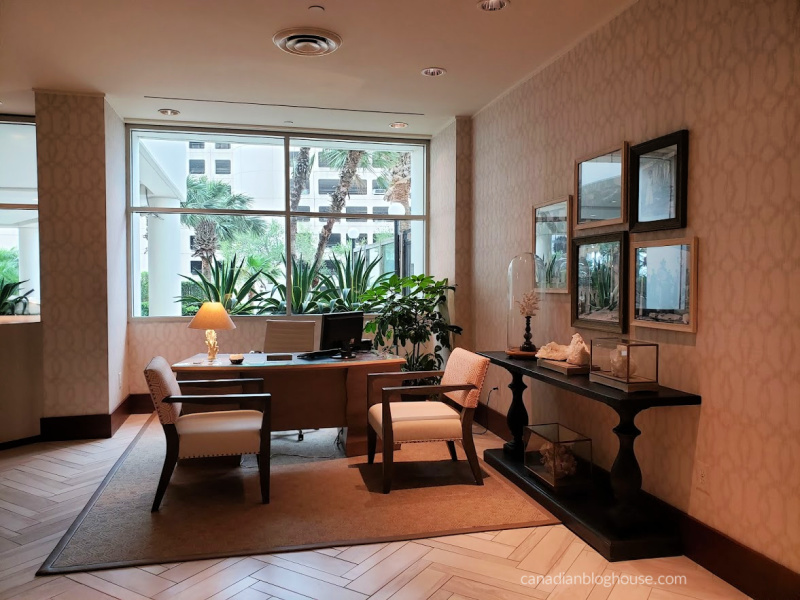 A few additional pieces of information for those thinking of staying at the Omni Corpus Christi Hotel:
This hotel is close to several major Corpus Christi attractions. The three attractions we visited were a very short drive from the hotel. You could walk, however, we would recommend driving as it may be too long of a walk for some. You'll find plenty of parking options onsite – or close – to the attractions.
For those visiting Corpus Christi over the next couple of years – please note that construction of the new Harbor Bridge is ongoing in the area. You will experience some detours on certain roads. Don't rely solely on your vehicle's GPS system. Our GPS system kept instructing us to drive on roads that were not accessible. Having a road map of this area of Corpus Christi would be helpful in case your GPS gets confused! You can also find great information about this bridge – slated to become the tallest point in South Texas and the longest cable stay bridge in the United States – on the Harbor Bridge website.
Parking with in/out privileges is $15/day
WiFi is $15/day. We had no issues with the WiFi signal and it worked very well for us during our stay.
great location close to a pharmacy, convenience store, gas station, restaurants, and more.
---
U&I Restaurant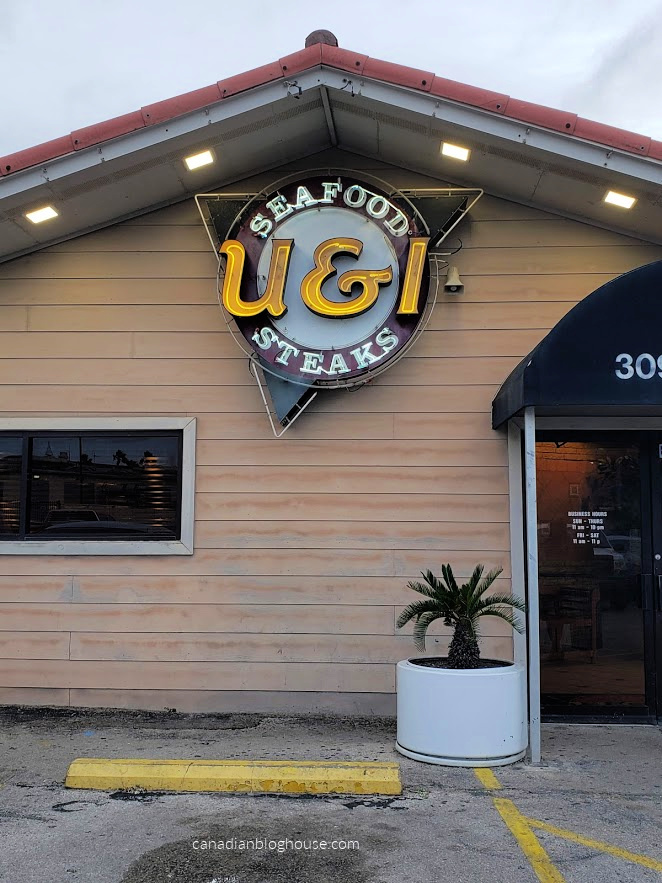 This restaurant is the perfect example of something mom always used to tell us – "never judge a book by its cover".
With a very non-descript exterior, Corpus Christi's U&I Restaurant would never have captured our attention if not for our hotel concierge – and the parking lot full of cars outside this very popular restaurant.
Many wise travel writers will tell you, go where the locals go to eat. That place in downtown Corpus Christi is U&I Restaurant.
U&I Restaurant is a long-time, family-run business with great food and friendly staff. We visited on a Monday night where we found almost every table full of guests.
So what should you order? We have a feeling that anything you order at U&I Restaurant will be tasty. Here's what we loved:
Super soft, homemade warm buns. Bet you can't just eat one!
Homemade Cheese and Beer Soup – made with Texas Shinerbock beer.
For salad lovers, you must try their signature "Green Goddess" dressing – a house specialty.
Catfish and Grilled Shrimp – if you've never tried catfish, this is a great place to enjoy some!
Ribeye and Filet Mignon Steak – tender and cooked to perfection with a fantastic crust that left us wondering "how do they do that?!".
Homemade fries – so tasty!
Have I got you convinced to give U&I a try yet?
---
U.S.S. Lexington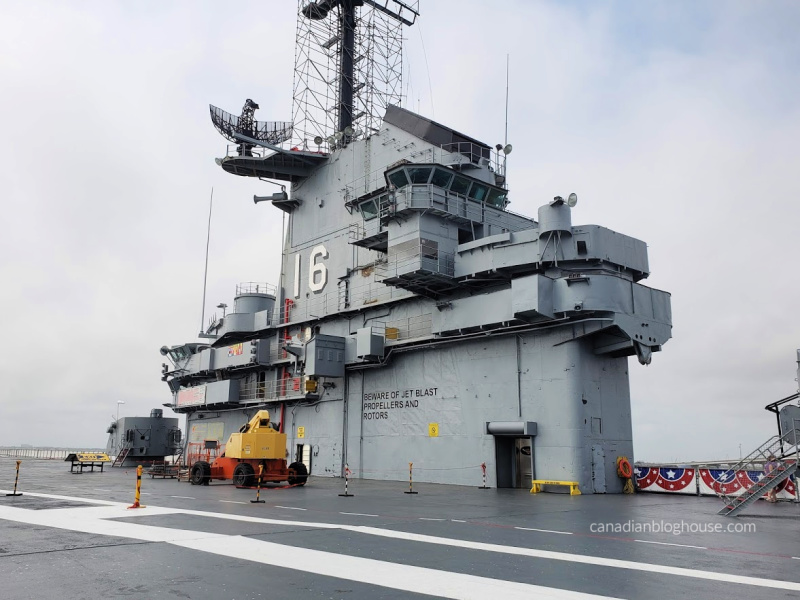 Whether you are a history buff, a military fanatic – or have no interest in visiting museums at all – this is one museum experience you do not want to miss!
The U.S.S. Lexington Aircraft Carrier Museum is a MUST-SEE museum when in Corpus Christi.
A little bit about this World War II aircraft carrier:
The U.S.S. Lexington Aircraft Carrier "set more records than any other Essex Class carrier in the history of naval aviation. The ship was the oldest working carrier in the United States Navy when decommissioned in 1991. During World War II, the carrier participated in nearly every major operation in the Pacific Theater and spent a total of 21 months in combat. Her planes destroyed 372 enemy aircraft in the air, and 475 more on the ground. She sank or destroyed 300,000 tons of enemy cargo and damaged an additional 600,000 tons. The ship's guns shot down 15 planes and assisted in downing five more."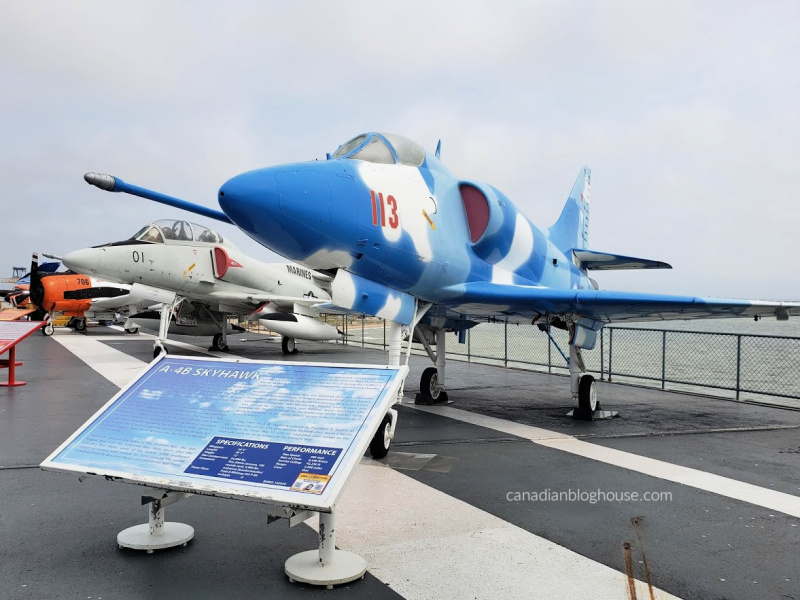 The most important piece of advice – plan for at least a 1/2 day at this very unique museum. Before we visited, I thought we would breeze through the exhibits in a couple of hours. Honestly, I thought I might become bored in this museum.
I was so wrong!
We spent the morning on the carrier and rushed through the exhibits only because we had to move on to our next destination attraction. I would have loved to have been able to spend more time browsing the collections of documents, mementos, photos, videos, and actual fighter jets and other war-time aircraft. Absolutely fascinating!
Not to mention…the once-in-a-lifetime chance to experience standing on the flight deck of this behemoth. It was incredible!
Stay tuned. I will be sharing more with you about this museum in a future article.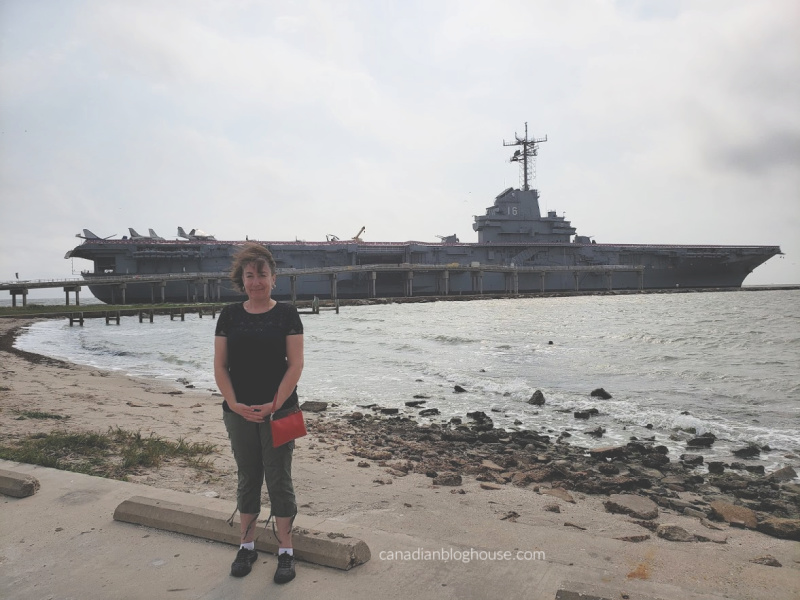 ---
Texas State Aquarium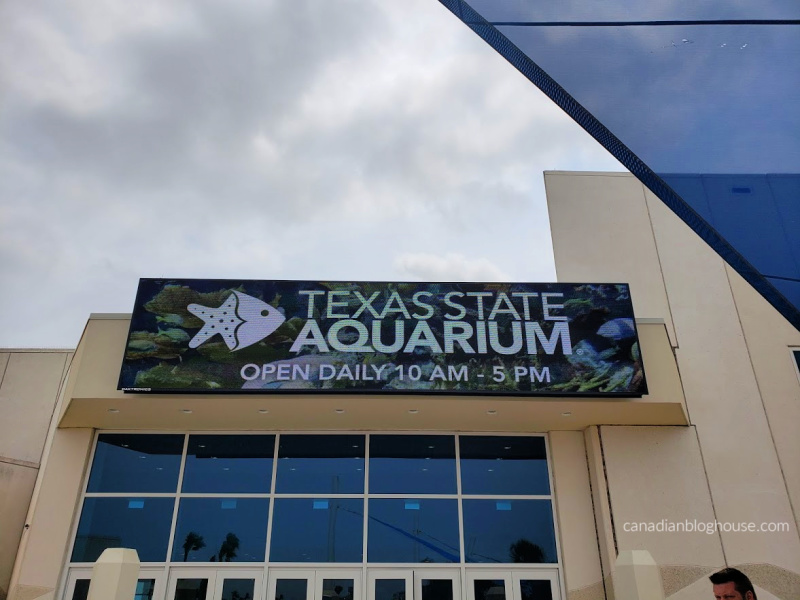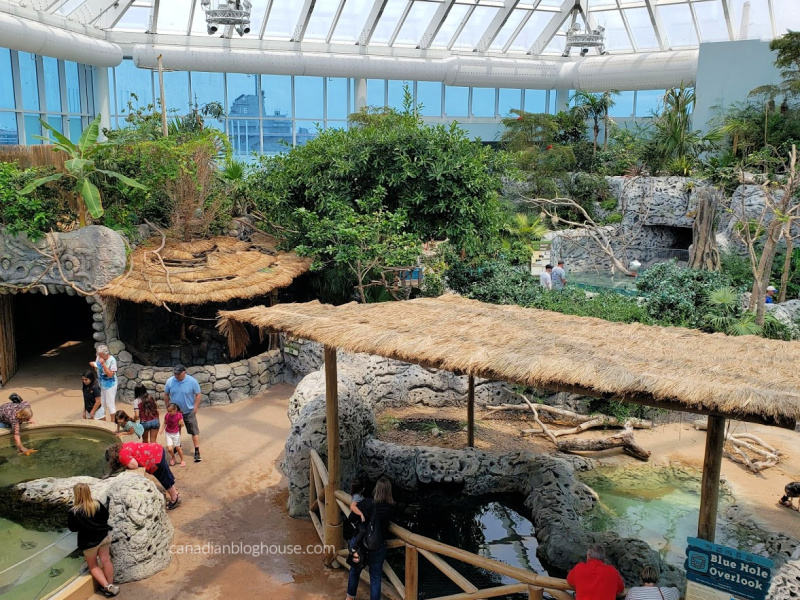 When you arrive inside this state-of-the-art aquarium and are greeted by this beauty, you know it's going to be a fun experience…
And just around the corner, you'll find this beautiful bird…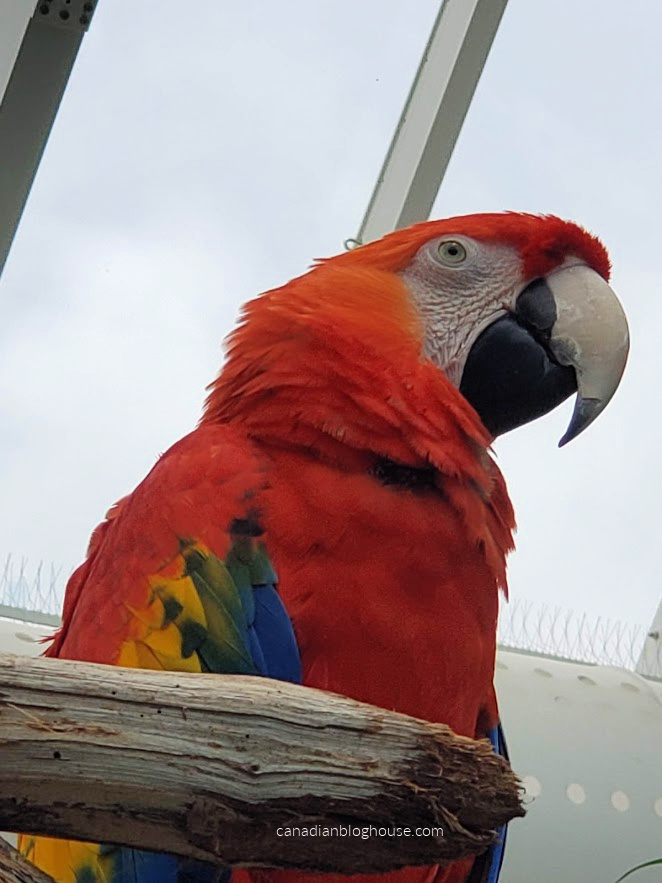 The Texas State Aquarium's mandate is:
Engaging people with animals
Inspiring appreciation for our seas
Supporting wildlife conservation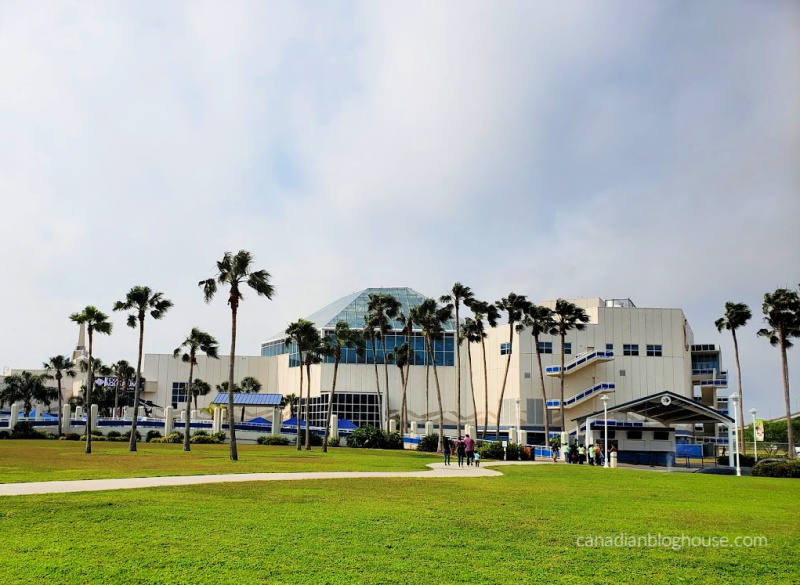 The Texas State Aquarium focuses on two distinct regions: the Gulf Coast and the Caribbean.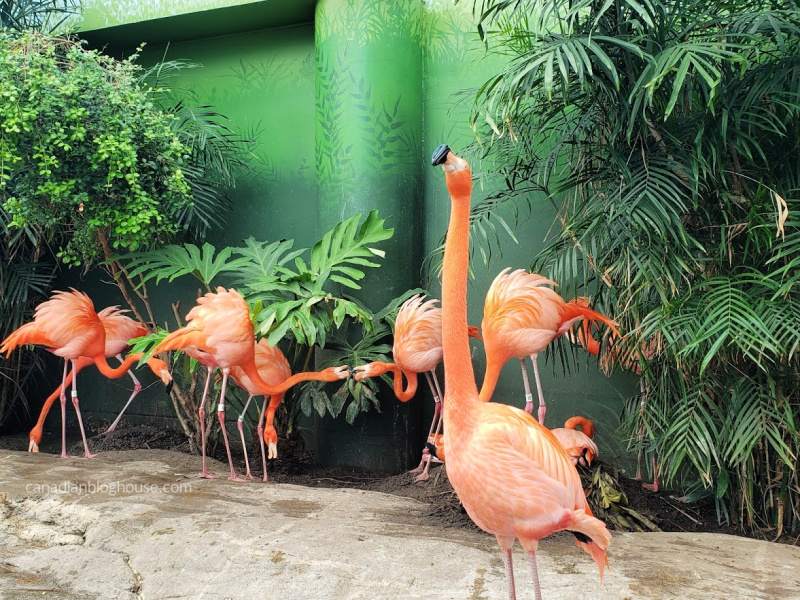 With beautiful overlooks, massive stunning tanks, touch tanks, a dolphin viewing area, and an abundance of fascinating land and sea creatures, the Texas State Aquarium is the perfect place to spend time with the whole family.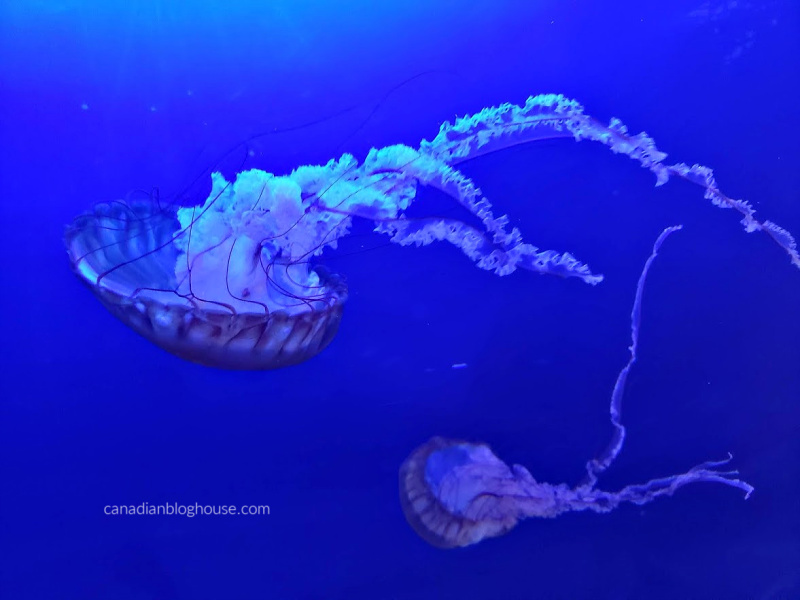 Be sure to head outside to the aquarium's outdoor area where you will find sea turtles, dolphins, otters – and an alligator.
While at the aquarium we ran into a very friendly gentleman who has worked there for many years. He was so full of knowledge, I would have loved to have spent more time chatting with him.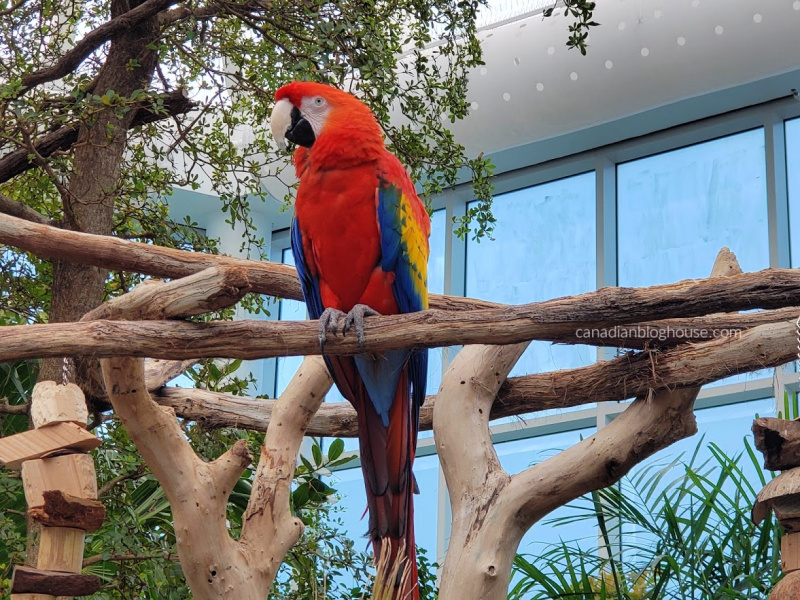 Here are just a couple of interesting facts he shared with us:
the Texas State Aquarium was built to withstand a Category 5 hurricane. In fact, the building is so well reinforced, that Corpus Christi police and firefighters set up their command posts from within the aquarium during hurricanes.
as the aquarium can withstand the strongest of hurricanes, all animals can remain in the building during a hurricane and do not need to be transferred to another facility further inland. The only exceptions? The dolphins and the alligator who are all transferred to a facility in San Antonio. The alligator is the hardest one to move. It can take up to 18 staff members to move this surly beast.
---
Mustang Island State Park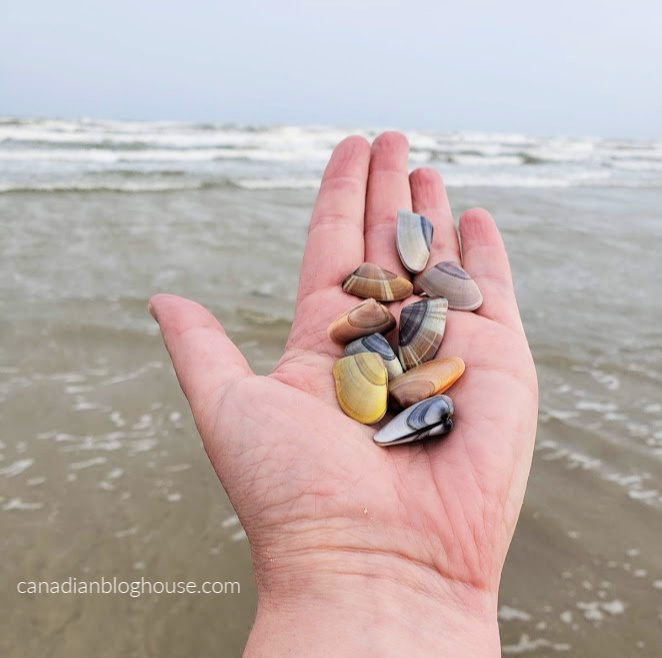 A visit to Corpus Christi, Texas is not complete without a drive across the causeway to Padre Island and Mustang Island State Park (an easy 30-minute drive from downtown Corpus Christi).
Corpus Christ is home to the largest remaining natural barrier island in the world – Padre Island.
We spent 2 glorious hours at Mustang Island State Park – alone! This state park was practically deserted on the day we visited, save for a half dozen people we encountered during our time there.
There's nothing better than the feeling of having miles of beach all to yourself!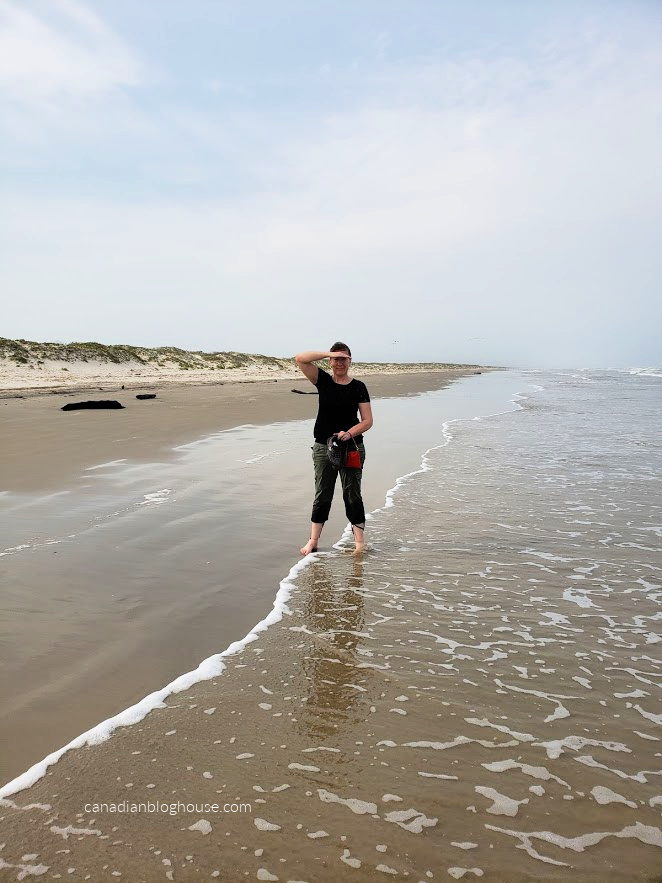 Don't kid yourselves. We happened to hit this popular beach at a very quiet time. We have no doubt that this must be a very busy area on weekends and holidays when residents (and visitors) flock to the beach.
Featuring beautiful sand dunes, rolling waves, fresh salty breezes, and sea birds (including pelicans), this is a great place for a long walk along the shore – or a swim for those that wish to venture into the ocean.
But be careful what you pick up…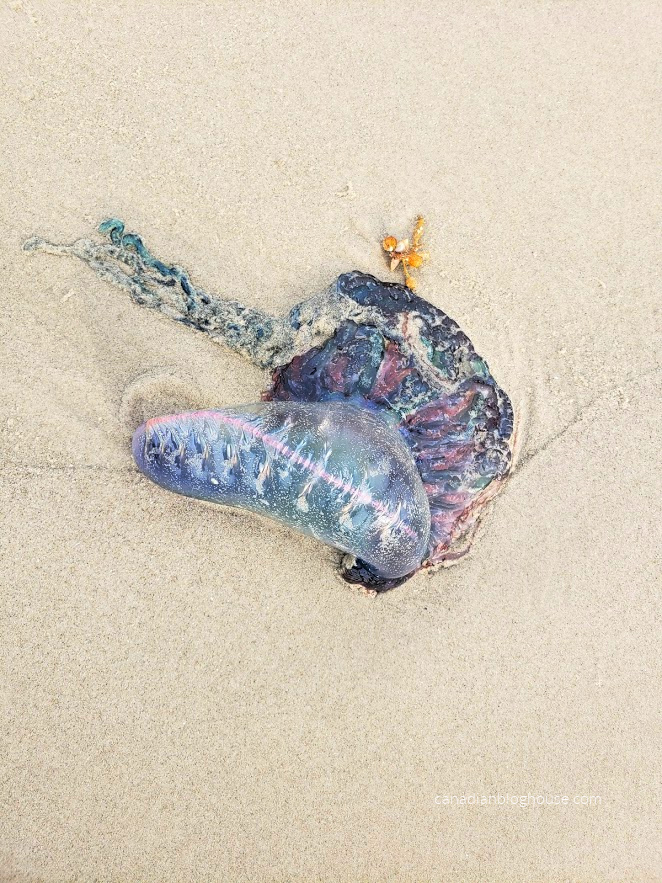 We spotted several of these beautiful "jellyfish" as we walked along the beach. My partner noticed this one appeared to still be alive, so he decided to pick it up and place it back in the ocean.
He was careful to pick up the "jellyfish" without touching the tentacles. Only later, when we googled this sea creature, did we find out that it was a Portuguese Man o' War – which is actually " a species of siphonophore, a group of animals that are closely related to jellyfish."
" Beachcombers be warned: The stalwart man o' war may still sting you even weeks after having washed ashore."
Whatever you do in Corpus Christi, don't miss the chance to spend a little time at this beautiful beach having some family fun on the Texas Gulf Coast!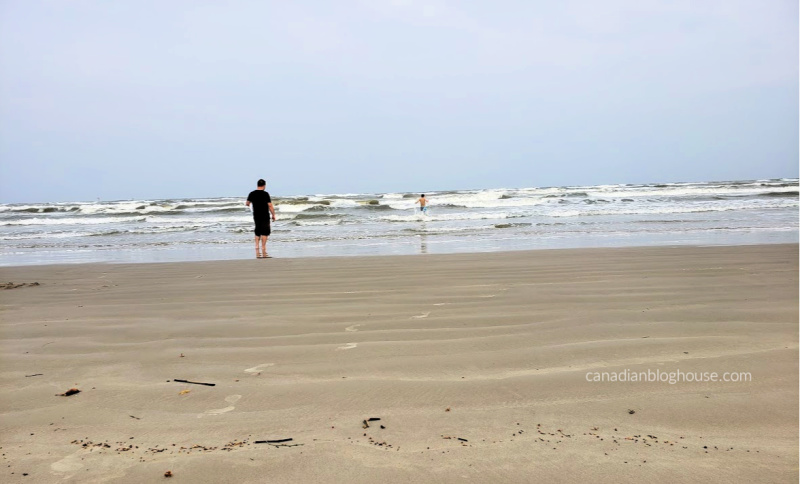 ---
Doc's Seafood And Steaks On Padre Island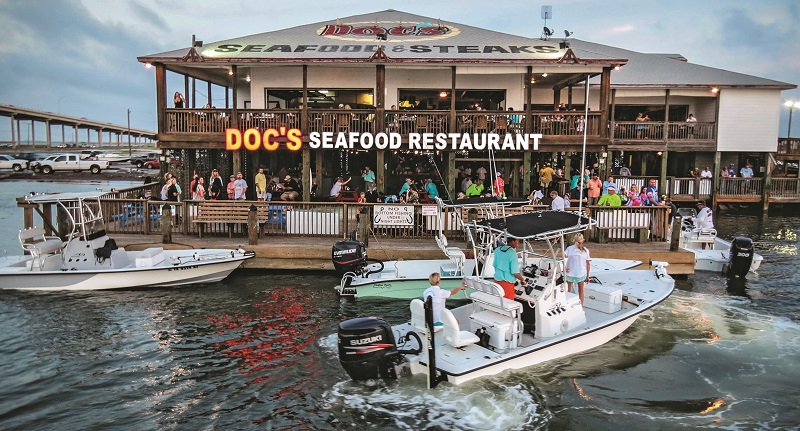 There's no better way to cap off a great day in Corpus Christi than by enjoying a scrumptious seafood dinner at an outdoor table, overlooking the Laguna Madre – at sunset.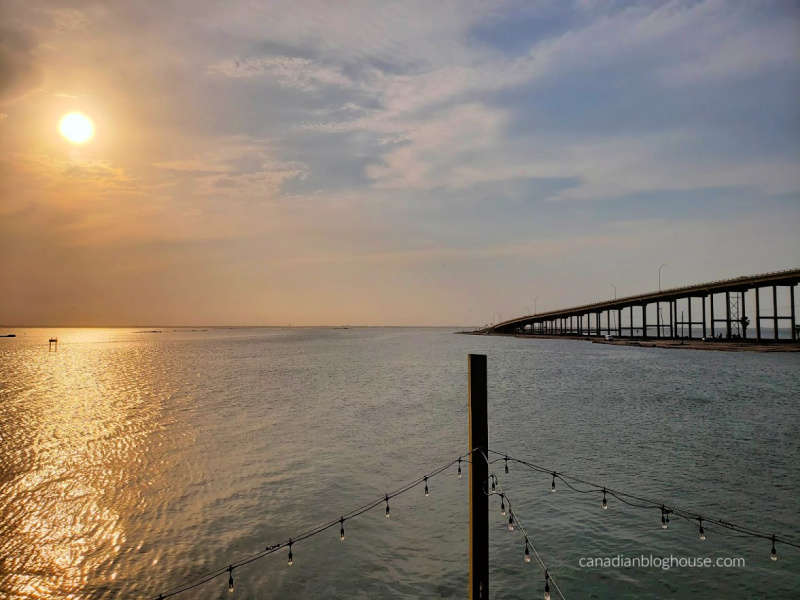 For us, that place was Doc's Seafood and Steaks on Padre Island.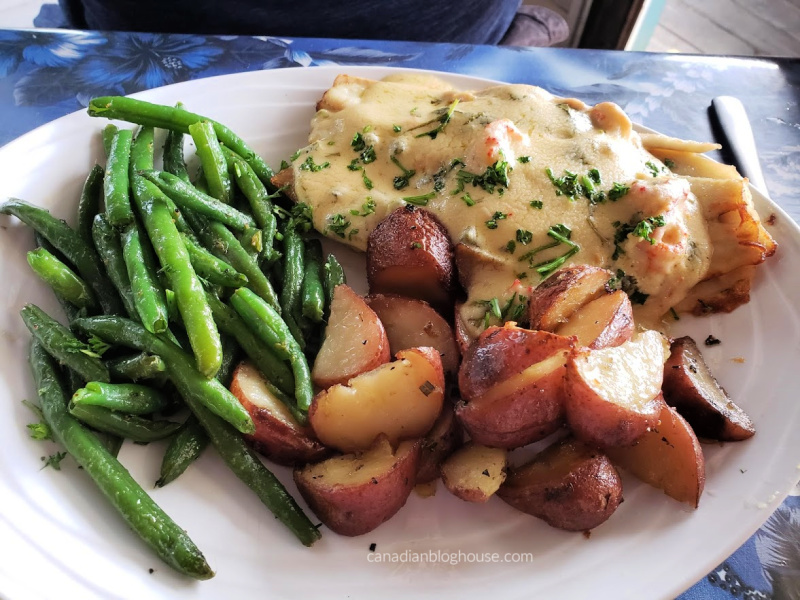 This award-winning restaurant has an extensive choice of delicious menu items to keep everyone happy.
Great food, a lively atmosphere featuring Jimmy Buffet-influenced music, island breezes, salt air, a beautiful view with a sunset, all combined to make our dinner at Doc's Seafood and Steaks a cherished Padre Island experience.
Fun fact: I tried Hush Puppies for the first time, at Doc's, and loved them!
---
The Art Museum Of South Texas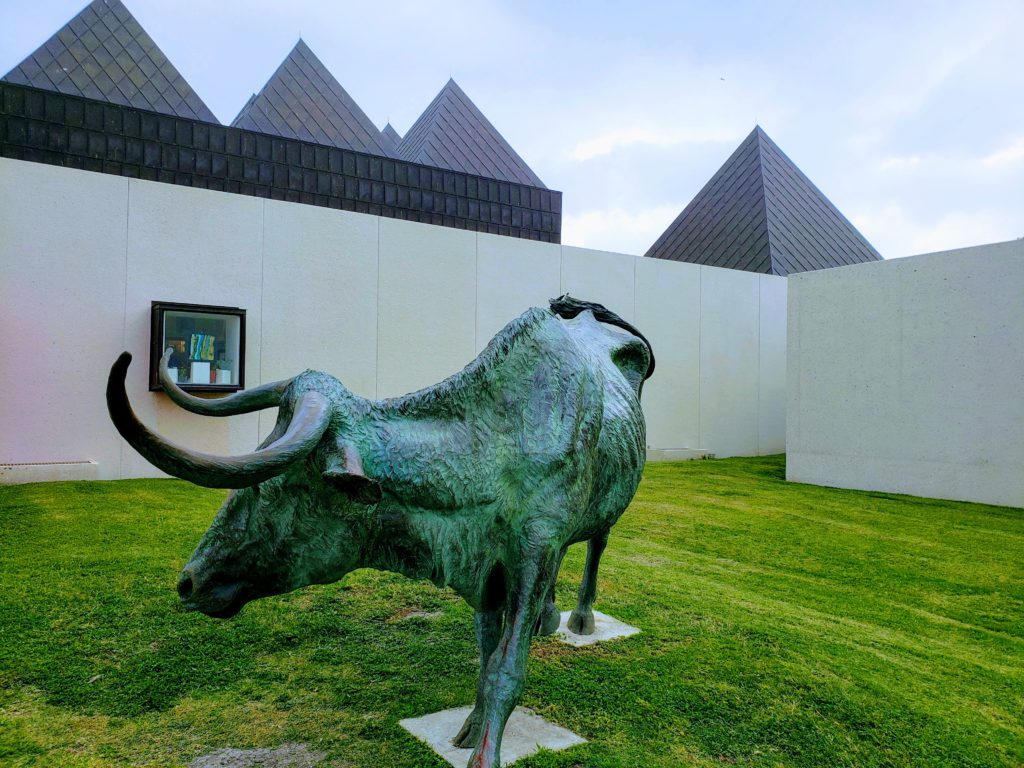 We learned many interesting things about Corpus Christi during our visit, including the fact that this city is home to the Art Museum of South Texas.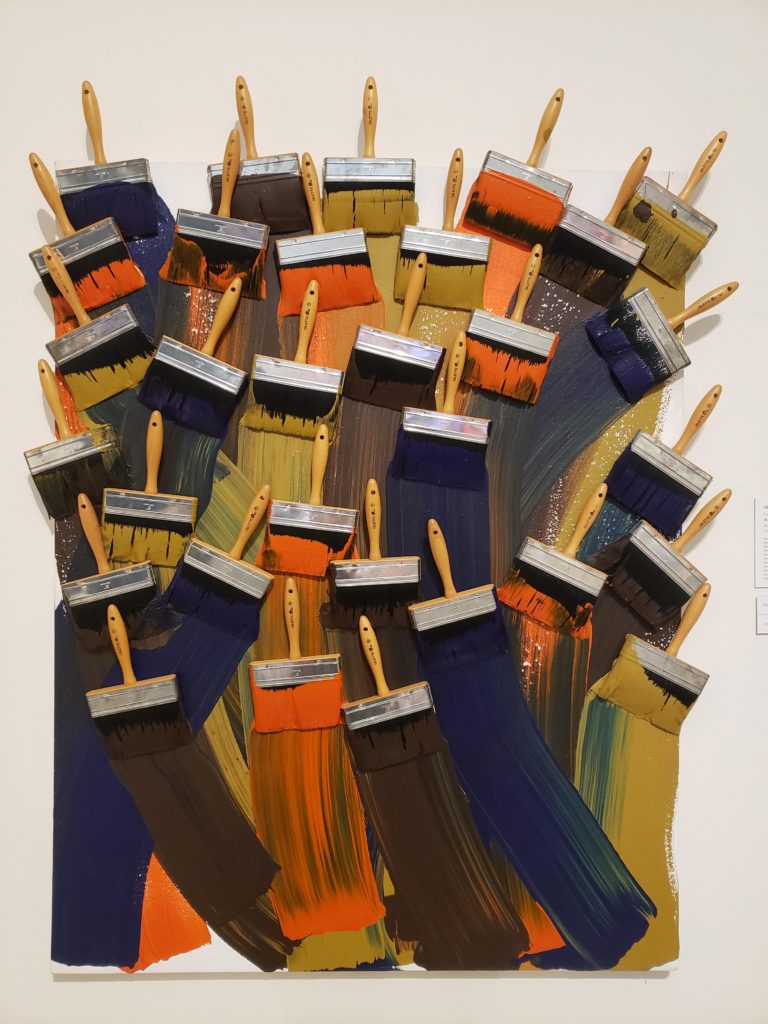 Art museums are not usually part of our list of attractions to visit while on vacation. That being said, we always seem to be pleasantly surprised when we are asked to visit museums like the Art Museum of South Texas.
During our visit here, this museum was featuring the exhibit ReTooled: Highlights from the Hechinger Collection which featured more than 40 paintings, sculptures, works on paper and photos. I found this exhibit particularly fascinating thanks to the eclectic and eye-catching pieces on display.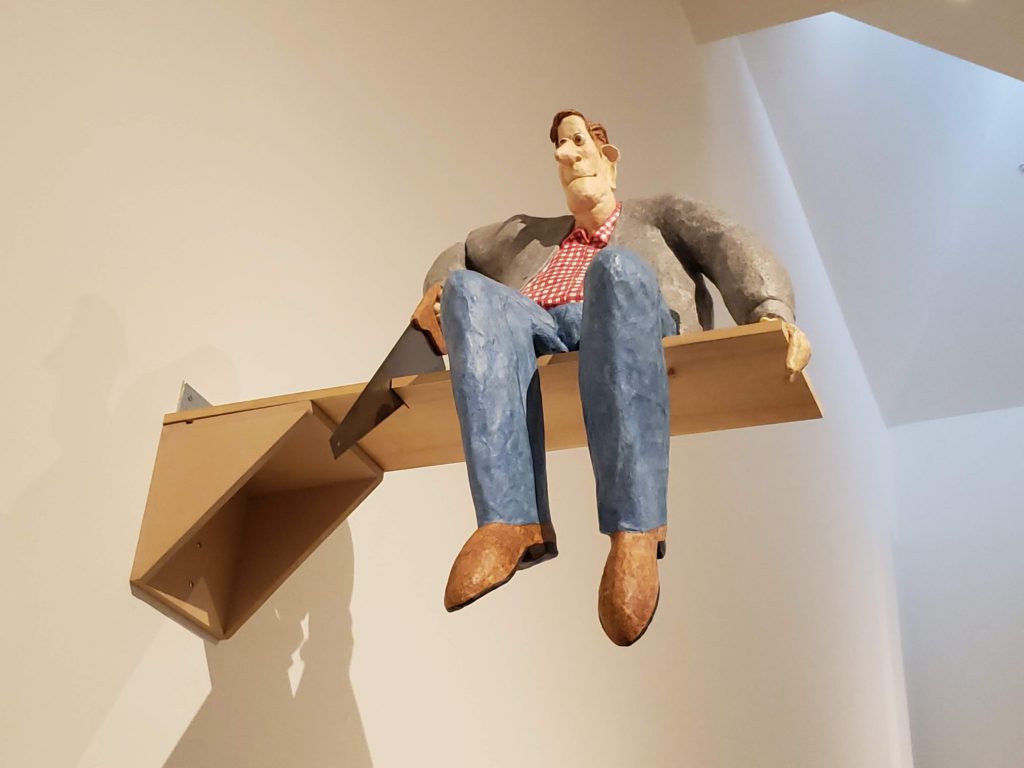 Permanent collections at this museum were equally as interesting. It's obvious that curators at this museum use their space well. Many gorgeous pieces of art are placed in visually-pleasing locations around the museum, including in front of windows with a beautiful view of Corpus Christi Bay.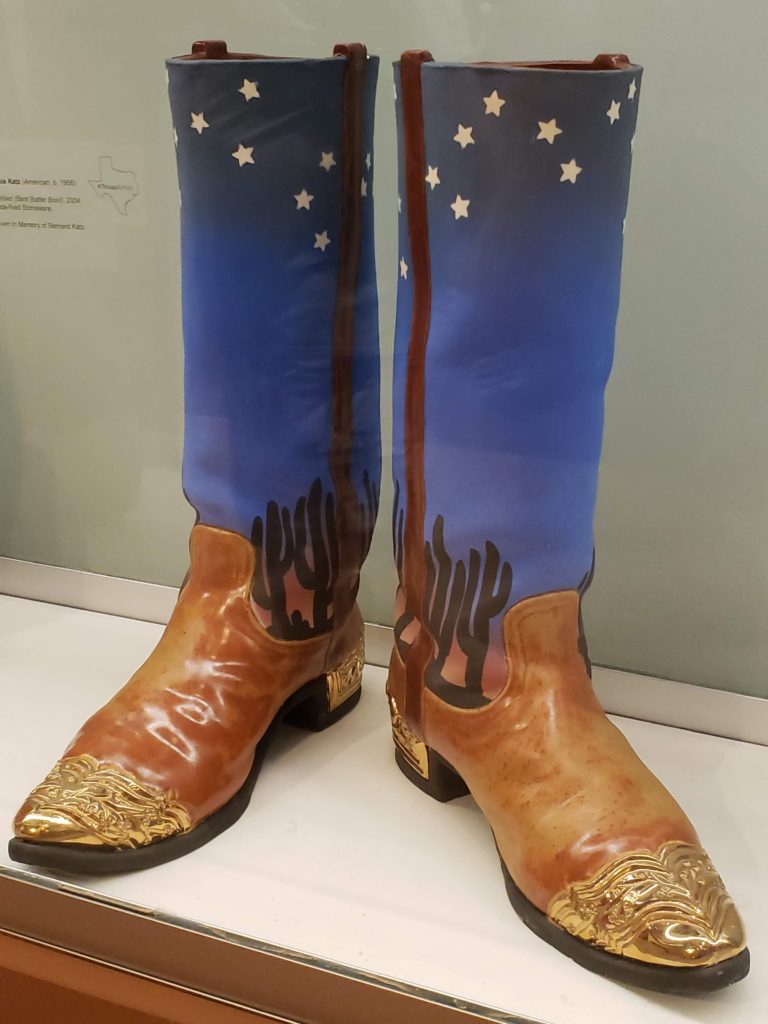 When in Corpus Christi, be sure to save some time to visit this museum, conveniently located close to both the U.S.S. Lexington and the Texas State Aquarium. We spent an hour browsing the collections, however, true art lovers could easily spend half a day at this great museum that showcases art in a variety of mediums.
---
Our 48 hours in Corpus Christi, Texas, seemed to wrap up way too quickly. We left feeling that there was so much more to see and do in this fabulous south Texas city.
Should you ever find yourself in southern Texas, be sure to include Corpus Christi in your travel plans for family fun on the Texas Gulf Coast!
Looking to see more family fun from Corpus Christi? Check out our Instagram stories highlights!
Have you ever been to Corpus Christi? Have you got any other great suggestions of what to see and do there? Share them in the comments below!