Saving money and clipping coupons just got a whole lot easier!
It has been 10 years since I became obsessed with clipping coupons, and matching them with store flyers to (sometimes) get products for free, or at the very least, get a terrific discount. At one point, I was keeping an accordion file full of coupons,  all organized by type of product and expiry date. While I did save a great deal of money doing this, it became so time-consuming – and cumbersome to haul around all the coupons – that I gave up on clipping coupons.
Ever since I gave up on serious couponing, I have been feeling especially guilty about the fact that I have literally been throwing away hundreds of dollars in savings by not using coupons at the grocery store.
Thank goodness the folks from Coupgon came along recentl, and ignited my passion for couponing again.
Coupgon is a mobile coupon app for iPhone and Android users that provides instant in-store savings. They are the first fully digital coupon app in Canada. Coupgon allows users to clip and redeem digital coupons right at the checkout.
Coupgon makes saving on the cost of your groceries super easy. They've partnered with some great Canadian retailers to offer Coupgon in over 800 locations across Canada – with more locations coming soon!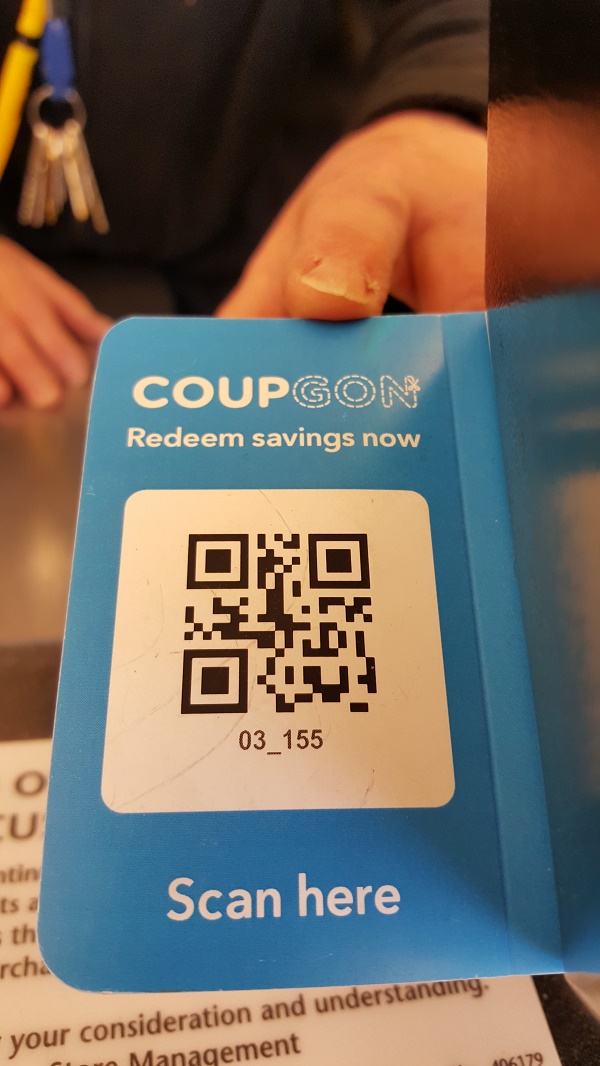 Why Use Coupgon?
Ease of Use: I always have my mobile phone with me, so it couldn't get easier than using my phone at the checkout for my coupon savings. I LOVE being able to save money without having to lug around a chunky coupon holder!
Instant Savings: For me, instant savings is a big thing. Paper coupon savings happen at the checkout, so why shouldn't digital coupons work the same way? With Coupgon you get instant savings. I previously used another digital coupon app, and although it was good, I always had to keep my receipt and submit a photo of it AFTER I returned home, using my iPad. While I had good intentions, sometimes those receipts would get lost, or I would forget about them, missing out on my coupon savings when I missed expiry dates. That app also required a minimum balance before I could cash in my savings. I never made it to my minimum, so in actual fact, never received any savings from that other app. That's why I love Coupgon – I get my savings before I even leave the store!
Availability: Already available at over 800 locations across Canada, Coupgon continues to grow and add retailers and locations. Many of Canada's favourite grocery retailers are proudly offering the Coupgon mobile app for coupons savings in their stores, such as, Longo's and Giant Tiger!
Environmentally Friendly: Coupgon's mobile app helps keep things a little "greener", giving users the chance to save money on their groceries without having to clip paper coupons, or print them out at home.
Produce! Meats! Dairy! And More! I've always been frustrated with the fact that, while you can usually find some great coupon savings for personal hygiene products and packaged foods, coupons savings are sparse when it comes to foods like produce, meats and dairy. Not anymore! The fact that Coupgon actually offers coupon savings on these types of food products is one of the best things about this mobile coupon app, in my opinion.
Always Up-To-Date: Let's face it, shopping for groceries is a weekly chore. We don't always buy the exact same groceries every time we shop, so why should the coupons savings always be the same. With Coupgon, coupon savings change weekly – updated every Thursday. So you will find new, fresh savings from Coupgon each week!
Great Savings On Popular Food Products: One peek at the coupons listed on the Coupgon site and you will see that they have a terrific selection of savings on popular food products that many Canadians purchase such as eggs, paper towel, yogurt, coffee, and meat.
We were able to give Coupgon a try for the first time yesterday, with a trip to Giant Tiger to purchase a few things we needed.
Signing up to Coupgon is super easy. In fact, so easy, I was left wondering if I had done it correctly.
Turns out, it's even easier to use Coupgon at the checkout!
Before leaving for the store, I made a list of food items I needed, and then compared my list to the coupons available this week on Coupgon. I was able to find coupons for 5 food items that I needed, including eggs, paper towel, crackers, cereal, and flour.
With these items in my shopping cart, we rolled up to the checkout and I opened up the Coupgon app on my phone. I was a little apprehensive as to how it was going to work. I was a little afraid of holding up the person behind me – especially if the cashier was not familiar with Coupgon.
Turns out my fears were unfounded. The cashier at Giant Tiger knew all about Coupgon, and assisted me in the process of redeeming my savings.
There really was nothing to it.
Open the app. Click on (or "clip") the coupons you wish to redeem from the Coupgon list. Click Redeem Now. Click Checkout. Follow the instructions on the app to scan the Coupgon code (located at the checkout) with your mobile phone. Let the cashier do the rest – deducting all your savings off your grocery bill.
Quick and easy!
Using Coupgon means:
No having to carry around a bulky coupon holder.
No fumbling with paper coupons.
No getting dirty looks by others in the line-up behind you while the cashier takes time to read the conditions and expiry date on paper coupons.
After only one use, I'm sold on Coupgon! Saving money on my groceries couldn't be easier! My only wish? Some of my favourite grocery retailers like, Metro, Loblaws, and Sobeys aren't offering Coupgon…yet.  I've got my fingers crossed that they will join forces with Coupgon one day soon!
To stay up-to-date on Coupgon news and promotions, be sure to follow Coupgon on Facebook!!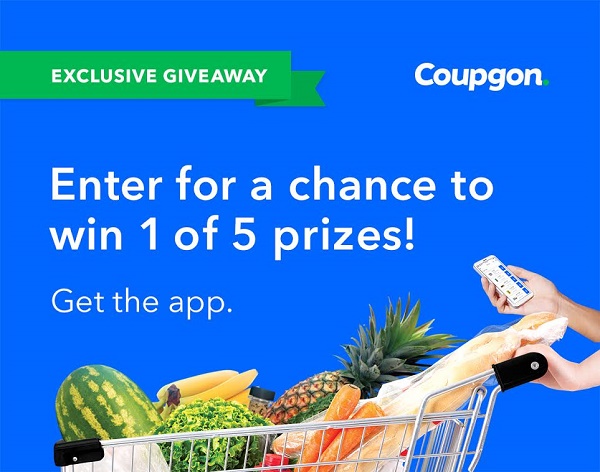 Our friends at Coupgon want to give Canadian Blog House readers the chance to try Coupgon for themselves! Coupgon is giving 5 lucky Canadian Blog House readers the chance to win 1 $10 credit each for Coupgon.
Here's how you can enter for your chance to WIN:
***Please note:  Coupgon app must be downloaded, and account created, in order for participant to win.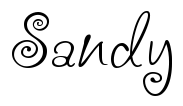 Disclosure: Canadian Blog House received compensation for this post. All opinions are our own.