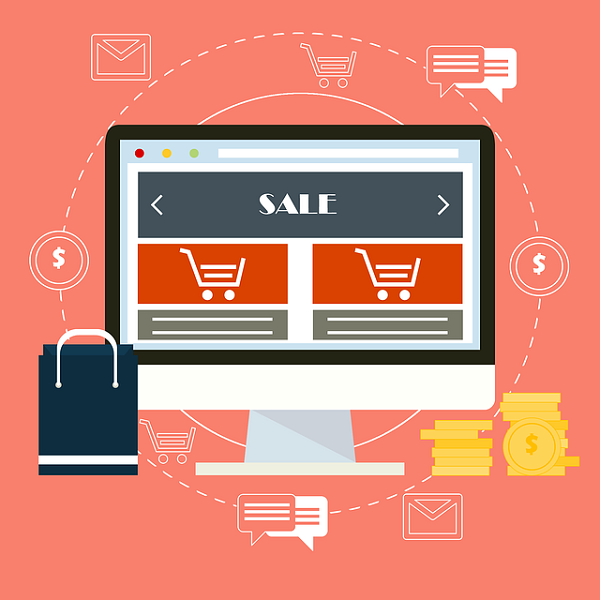 Dealspotr is a digital offers platform that has sponsored this post. All opinions are our own.
My very first glimpse into the world of online deals happened in 2006 when I discovered an online forum featuring deals, freebies, coupons, and contests.
I remember being so amazed by what I could find on this forum.
It wasn't long before I discovered something even better about this website.
I could earn rewards (gift cards) for contributing to the forum and posting deals, freebies, coupons and contests that I shared.
At the same time, I also discovered other benefits of belonging to this forum – online friends and the chance to be a part of a great online community.
Those were great times but, things have come a long ways since 2006.
Now there's Dealspotr!

Dealspotr is "the most advanced real-time deal sharing platform on the internet."
Similar to the deals forum I used to belong to, Dealspotr rewards their members for posting accurate deals, coupons, and promo codes.
From their website:
"Google is amazingly good at finding you the web page you want. Our goal with Dealspotr is to bring you that same experience, but for deals. There are tons of deals posted on the internet everyday, but they are disorganized, posted on thousands of sites, they expire quickly, have fine print and exclusions – the bottom line is it's hard to find the exact deal for something, when you want it.
With Dealspotr, we're tackling the ambitious goal of creating a complete and up-to-date database of all the best deals online, everyday. This means Dealspotr contains and organizes information about tens of thousands of new deals everyday, and we keep that information updated in real-time."
[bctt tweet="Share. Save. Earn. At Dealspotr. " username="CanBlogHouse"]
Dealspotr is a fast and reliable deals site that pays you to share deals. Think of them as the Wikipedia of deals, with a rewards system for editors. This popular deals site has 30,000 active contributors who have saved shoppers over $15 million in less than a year!
Since I already had experience with a similar type of online platform, I set out to try it for myself.
The other day I had spotted a great freebie for cat owners which I had posted in my Canadian Blog House social media feeds. I thought it would be perfect for Dealspotr.
It was for a Whiskas Perfect Portions Single free product coupon from Save.ca.
So, after signing up for Dealspotr and completing my profile (which was super easy!), I started to post the deal I had found: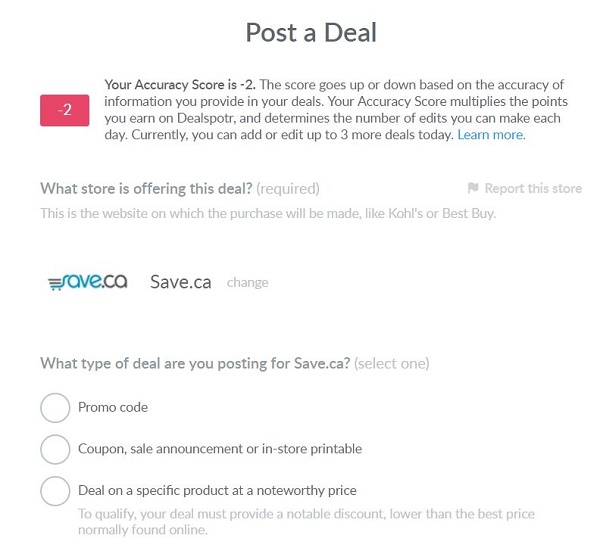 As I began to type in the store name, Save.ca, the name popped up on my screen. I selected it and then chose "coupon" as the type of deal I was posting.
Next, I entered a description of the deal I was posting, and included a direct link to the deal.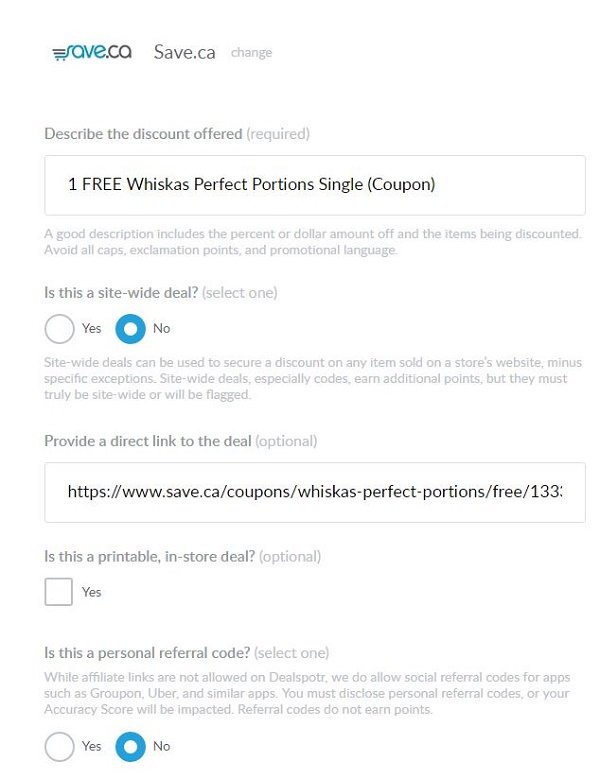 Both stores and products, that are available for posting on Dealspotr, automatically populate as you type their names. Here you can see what popped up when I typed in "Whiskas":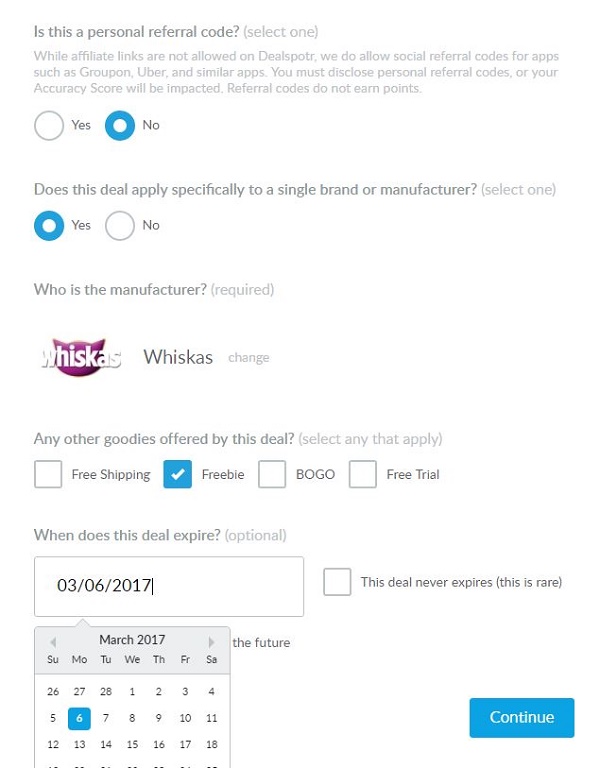 You will also note that this page allows you to input an expiry date. I particularly like this feature as, with the very first deals forum I was ever on, you didn't have this capability. Having an expiry date means that members won't waste time looking at deals that are no longer available.
Next in the deal posting process, is the addition of an image for your deal. In this case, I used a snip I had taken of the image from Save.ca.

Images are an important part of the posting process. Just like in blog posts and social media shares, images make what you are posting more appealing and eye-catching. Plus it helps to validate your deal on Dealspotr. So you definitely want to share an image with your deal – and it's easy to do so!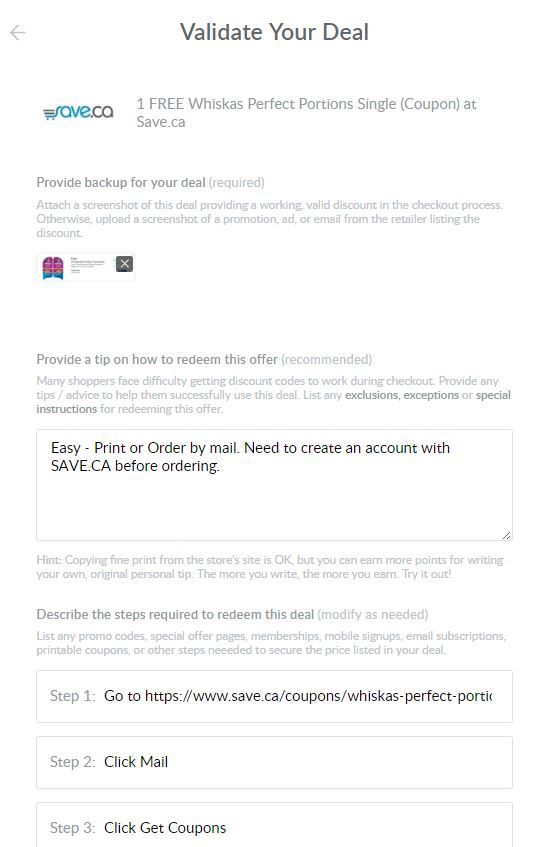 When posting a deal on Dealspotr, you want to make it as easy as possible for members to be able to use the deal you have posted. This means providing them with tips and steps on how to redeem the deal. Don't assume people will understand how to grab the deal – no matter how easy it may seem to you!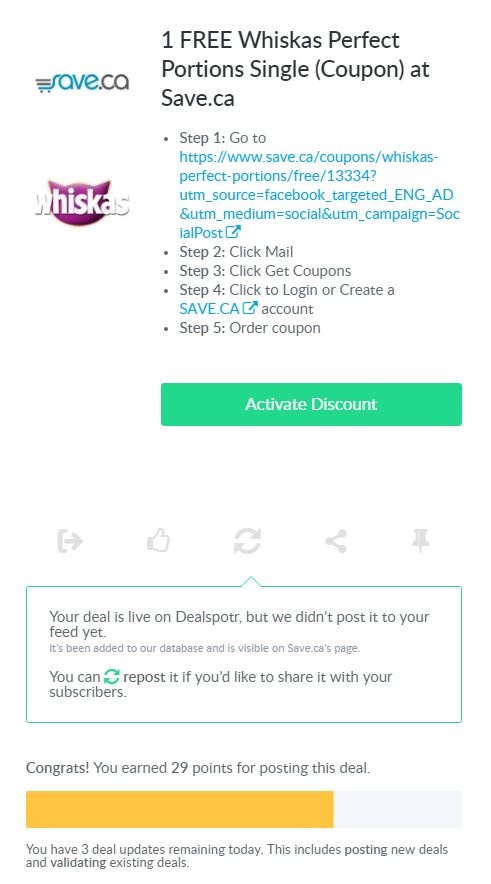 And that's it! You've completed your deal posting! A confirmation screen (like the one above) will show up so you can see what your deal looks like.
[bctt tweet="Dealspotr. Like Google for deals. Sign up to share, save & earn." username="CanBlogHouse "]
So, while I have mastered how to post a deal/freebie on Dealspotr, there is so much more to learn.
That's okay though. I sure like what I see so far!
---
The Pros:
Easy-to-use website
Great instructions and clear, easy to understand guidelines
Handy features – like "expiry date" on deals
Categories/Top Interests/Stores listed in side bar…makes for easy searching
Deal feed can be tailored to you and your interests
Win-win for those that love finding deals and sharing with others – you get rewarded with gift cards for doing what you love
Dealspotr blog has great articles with helpful tips
Referrals – get rewarded for referring! Earn 10% of the points generated by all your referrals over the lifetime of their accounts
Sharing your deal in your social media feeds is easy via the social sharing buttons on Dealspotr
The Cons:
In my opinion, more Canadian stores need to be listed. For example, the first two deals I went to share, for Loblaws and for Shoppers Drug Mart, I was not able to share, as I could not find either on the Dealspotr platform. ***On a positive note, I searched for (what I would call) an obscure company for another freebie I wanted to post. I was sure it was not going to be listed on Dealspotr – but it was!
Have not quite figured out points system yet. I do not understand how many points I earn for everything I do on Dealspotr, and cannot find the specifics for this. This may just be me not seeing it somewhere on the site.
After posting my first deal (NOT the Save.ca freebie illustrated in this post), I ended up with an Accuracy Score of -2. Not sure how this happened, as I thought my first post was accurate and detailed. I'm still trying to understand this. It may be that I haven't been active enough yet, and have not been looking at, or validating, other members' deals. My -2 Accuracy Score comes with a warning that my accuracy score is low and that if it falls below -20 I will no longer be able to validate and post deals. I understand the importance of making sure members post accurate and helpful deals, however, as a new member, this message makes me feel a bit bad when I am still trying to learn how the platform works.
---
Bottom line? I truly enjoyed using Dealspotr!
The deal and freebie lover in me could easily spend all kinds of time on this site. I love hunting for deals, sharing them with others, and getting rewarded for doing so.
Dealspotr is a great site for anyone who loves doing this as much as I do!
So here you go…courtesy of my first freebie posted on dealspotr…a coupon for a FREE Whiskas Perfect Portions Single!
Dealspotr makes it easy to find the info you need. Be sure to reference their FAQ section, and their extensive Deal Posting Guidelines, if you need assistance when setting up your account or posting deals.
Got some great deals you'd love to share and want to try Dealspotr for yourself?
Click the button and use code CANADIANBLOGHOUSE to receive $5 in free credit when you sign up for Dealspotr!