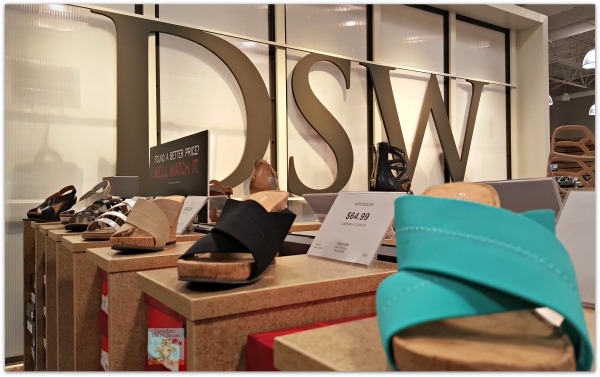 The Designer Shoe Warehouse (DSW) opened its doors in Ottawa yesterday, bringing to the nation's capital one of Canada's largest shoe stores. Filled with approximately 20,000 square feet of dress shoes, sandals, running shoes, flip-flops, boots, and every other imaginable type of footwear, the Designer Shoe Warehouse is sure to delight Ottawa's shoe lovers looking to slip into styles by their favourite designers – at great prices!
Brands featured at DSW include Nine West, Vince Camuto, BCBG, Cole Haan, Steve Madden, Nike, Converse, and more.
Ottawa is one of four cities in which DSW is opening new stores in March and April 2016. In addition to Ottawa, shoppers in Oakville, Regina, and Halifax can look forward to setting foot into Canada's newest footwear retailer.
I had the pleasure of being invited to media night at the Designer Shoe Warehouse in Ottawa's Train Yards by Blackbook Lifestyle. My friend, Christina, joined me. Christina, a bona-fide shoe lover, is someone who knows her shoes. I am just a little envious of her shoe collection. She has a fabulous collection, many of which come from her travels to Spain to visit family. Christina is a savvy shopper who is great at finding terrific deals on designer clothing and shoes. The perfect person to have by your side as you are browsing the HUGE selection of shoes at Designer Shoe Warehouse.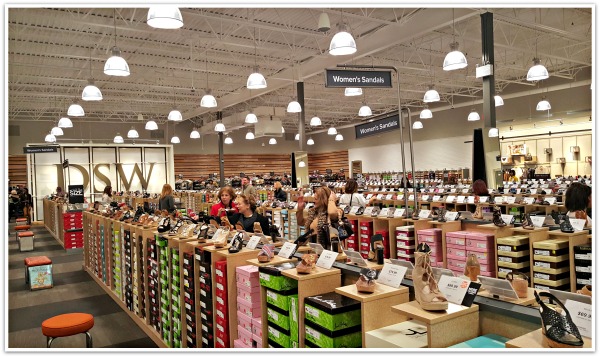 The Designer Shoe Warehouse at Ottawa's Train Yards is immense. Footwear as far as the eye can see!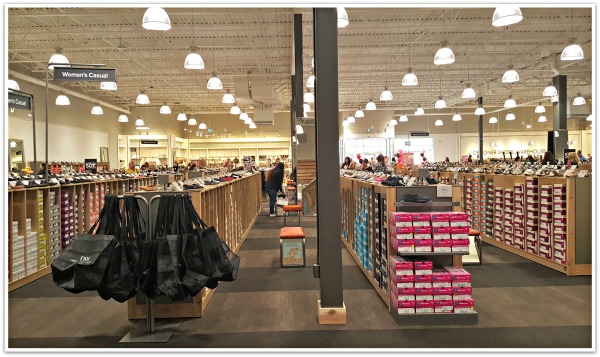 Designer Shoe Warehouse at the Ottawa Train Yards is well laid out with plenty of room to browse and try on shoes. With a store full of guests last night, it never felt crowded. In fact, the store is so large I had trouble trying to locate my friend Emily, from Best Of This Life, who was also there for the media event. Luckily she spotted me!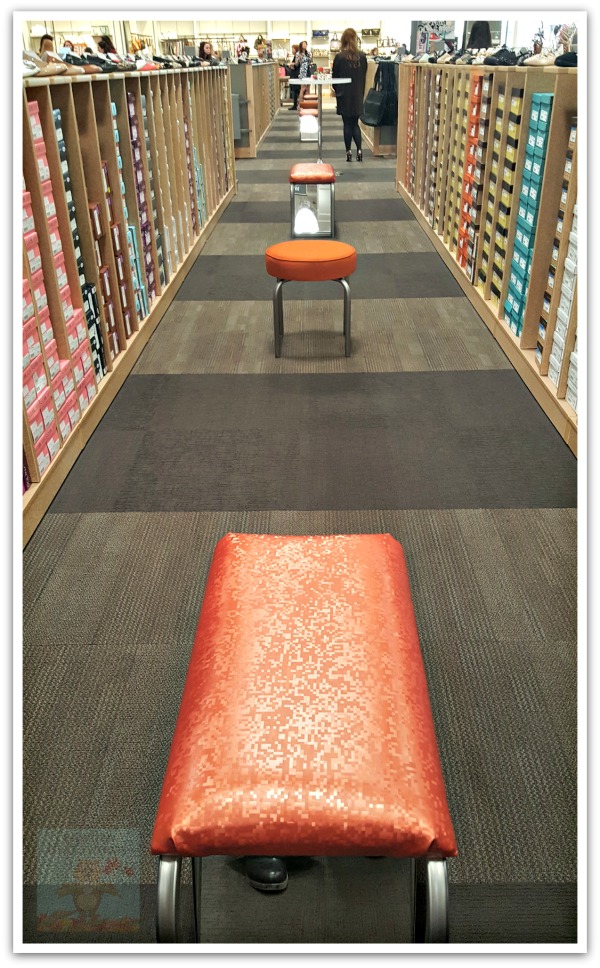 I always love to browse through the clearance section at stores, so one of the first areas I visited inside the Designer Shoe Warehouse was the section at the back of the store full of stylish shoes at deep discount prices.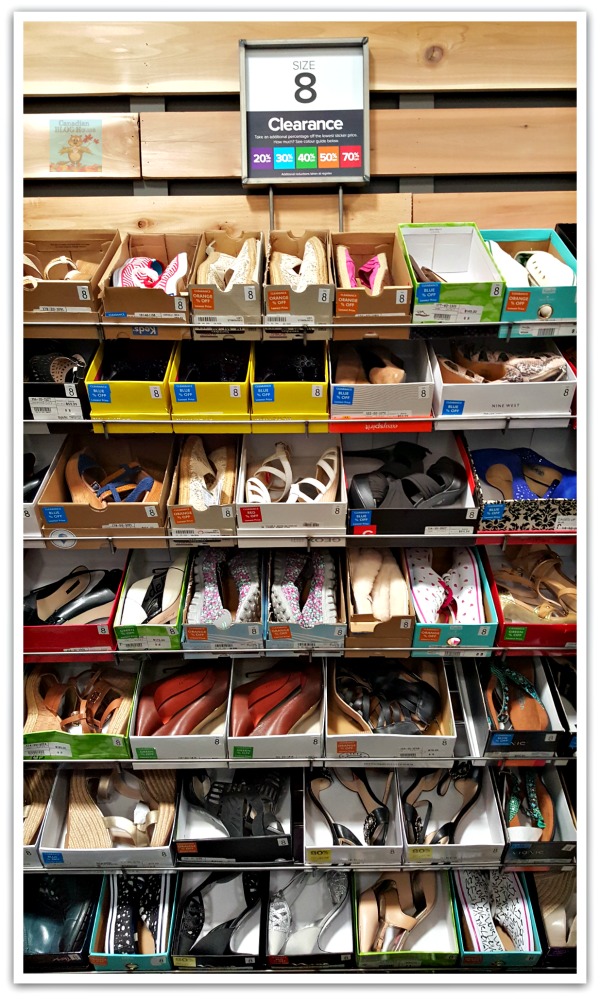 All clearance items were well labelled with prices and colour-coded stickers, making it easy to figure out what discount you would get on each pair of shoes. Notice the red labels? You get 70% off those shoes! What a deal! They had a great collection of clearance shoes. My only problem was, all the shoes I loved, were in Christina's size, not mine. Lucky her! Although I did find out, just before we left the store, that I should have asked if they had more of the shoes I liked in my size – as they have plenty of stock in the back!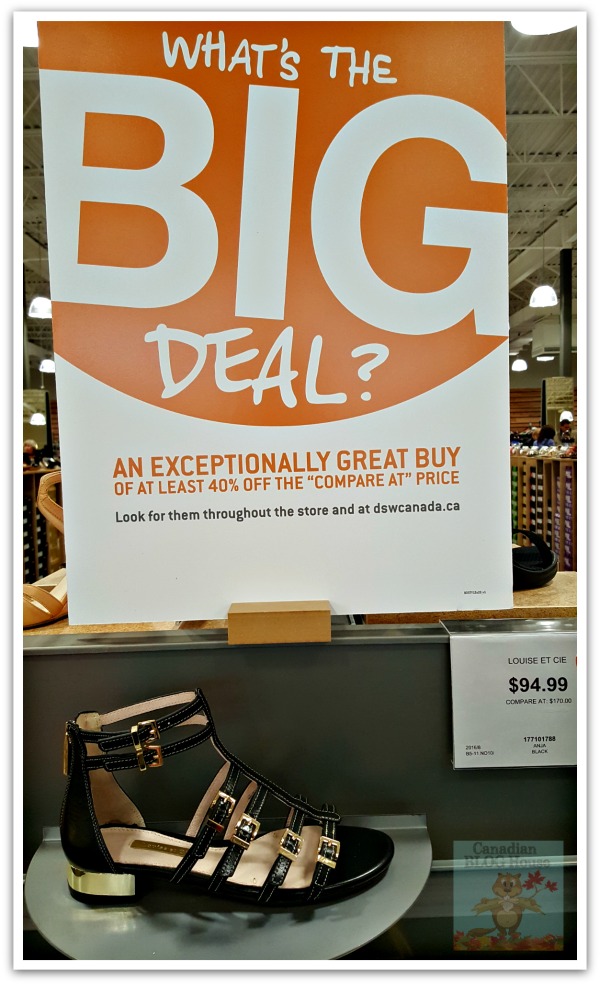 Speaking of deals, this display attracted our attention. Regardless of whether or not you like the style of this shoe, up close, it is one beautiful shoe. You can't tell by the photo but, this shoe was made with attention to quality. Gold trimming and hardware, soft leather, and amazing golden details on the bottom of the shoe. All of this for only $94.99. For a quality designer shoe, this is a steal!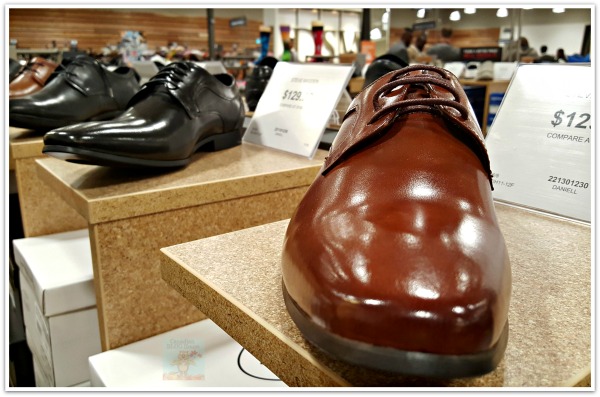 The Designer Shoe Warehouse at Ottawa Train Yards will keep both women – and men – outfitted in some of the most stylish shoes available.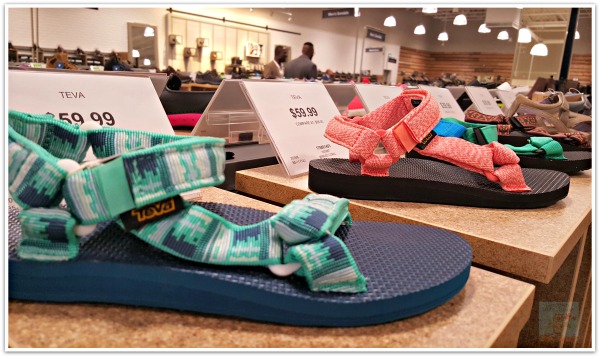 With summer fast approaching, you can be sure that DSW has a fantastic selection of dressy sandals, sporty sandals, summer dress shoes and flip-flops. I saw SO many styles of sandals that I would love to have this summer, like these TEVA sandals.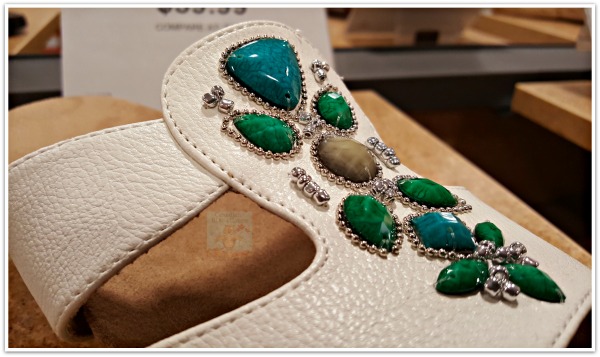 This was another pair of sandals I loved. Beautiful bead colours and design!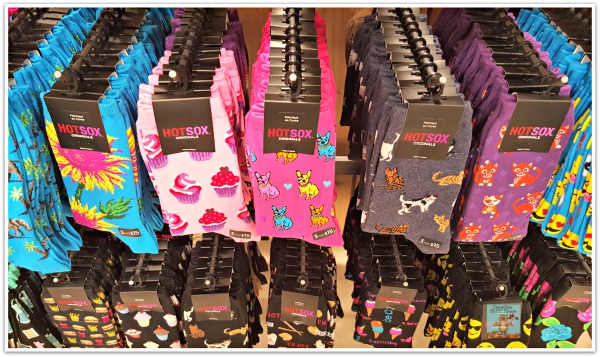 Love colourful, patterned socks? Designer Shoe Warehouse has a great selection of fun socks like these.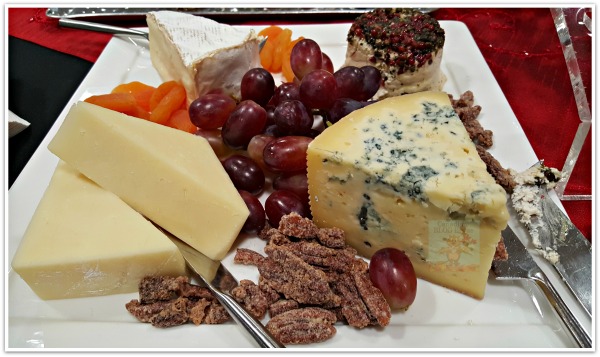 Cocktails, prepared by Ottawa's own Thyme & Again Creative Catering, were served during our evening at the Designer Shoe Warehouse. I've had the pleasure of experiencing their culinary delights a few times now. Thyme & Again supplied the fabulous dinner we had at the H&M Conscious Closet evening at Bayshore Shopping Centre. I've also tried their "take-out" chicken pot pie, quiche, and beef pie, all of which are scrumptious!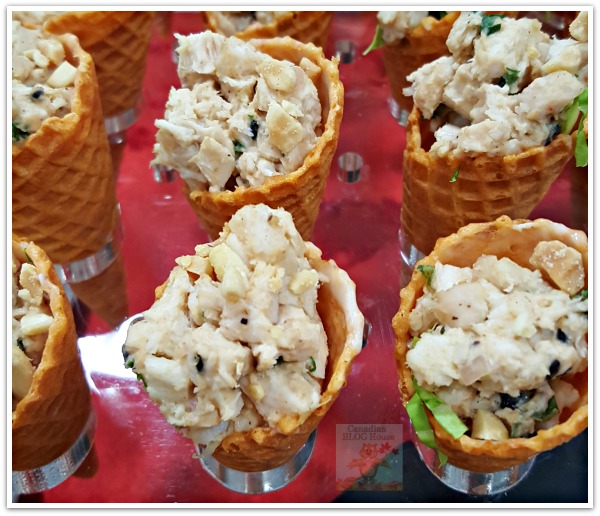 These little cocktail delights were my absolute favourite! Made with a peanut sauce, each bite was divine! I adore how they presented the filling in mini waffle cones!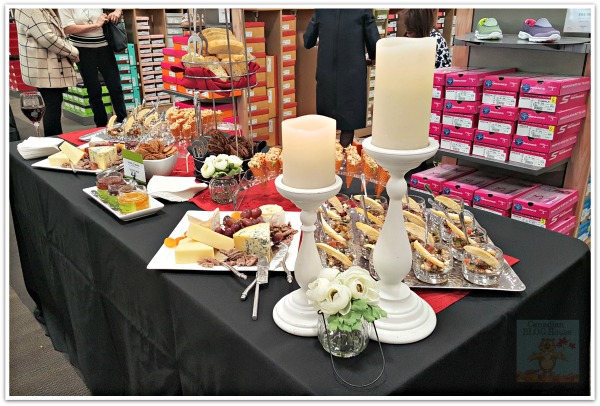 Two things I love – delicious food and shoes. Imagine if DSW served these goodies ever day in the store as you shopped. Just wishful thinking on my part!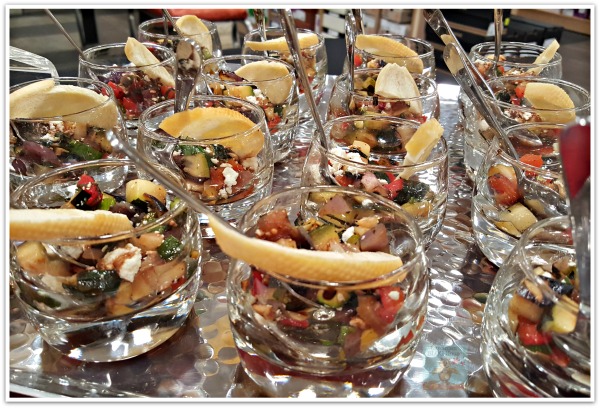 Not sure what was contained within these cute little glasses. Christina's guess was that is was a variety of ratatouille. I think she was probably correct. Whatever it was, it was another mouth-watering appetizer from Thyme & Again.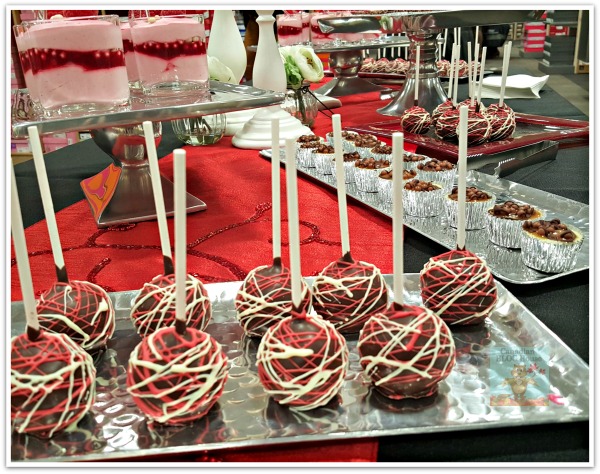 They had me at dessert! Yes, I am a huge sucker for dessert and anything sweet. So simply looking at this gorgeous display of desserts was eye candy to me. I particularly loved the raspberry mousse dessert you see in the top left corner of the photo.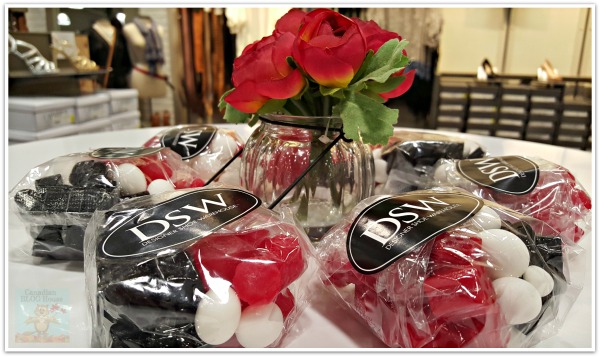 "DSW Designer Shoe Warehouse Canadian locations will offer shoe lovers extra rewards perks, including access to exclusive deals, offers and events. Canadians can sign up for The Shoe Lovers Rewards® Program to earn points for every dollar spent on any eligible product purchases at Town Shoes, The Shoe Company, Shoe Warehouse and DSW Designer Shoe Warehouse locations in Canada. For more details and to shop online visit www.dswcanada.ca and follow the journey on Facebook.com/DSWCanada and Instagram.com/dswcanada."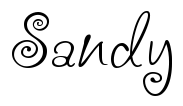 Disclosure: Thanks to James & Daniel of Blackbook Lifestyle for the invite to this evening with Designer Shoe Warehouse! All opinions are our own.