Have you and your little ones seen Disney Pixar's Monsters University yet?  I'm probably just about the only one who hasn't, so I'm looking forward to the release of Monsters University to Blu-Ray, DVD and On-Demand coming this fall on October 29th.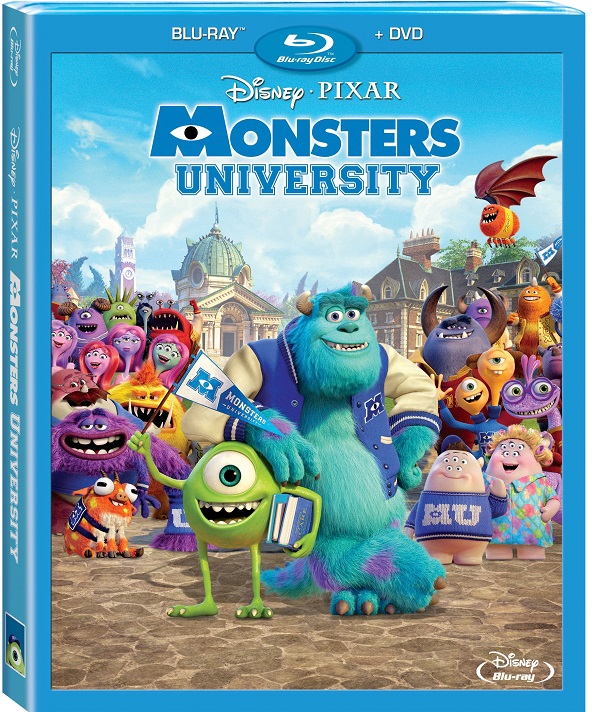 "After scaring up big laughs in theaters, the in-home release of "Monsters University" opens its doors to the movie in stunning high definition Blu-ray, and provides hours of all-new bonus material, in-depth behind the scenes features, deleted scenes, the animated theatrical short "The Blue Umbrella" and much more.  Directed by Dan Scanlon ("Cars," "Mater and the Ghostlight," "Tracy"), produced by Kori Rae ("Up," "The Incredibles," "Monsters, Inc."), and written by Dan Scanlon and Robert Baird & Dan Gerson ("Monsters, Inc."), "Monsters University" marks Pixar's 14th consecutive film to debut at number one at the box office.
Ever since college-bound Mike Wazowski (voice of Billy Crystal) was a little monster, he has dreamed of becoming a Scarer—and he knows better than anyone that the best Scarers come from Monsters University (MU). But during his first semester at MU, Mike's plans are derailed when he crosses paths with hotshot James P. Sullivan, "Sulley" (voice of John Goodman), a natural-born Scarer. The pair's out-of-control competitive spirit gets them both kicked out of the University's elite Scare Program. To make matters worse, they realize they will have to work together, along with an odd bunch of misfit monsters, if they ever hope to make things right. "Monsters University" bravely explores themes of self-discovery and the revelations that come with growing up.
Joining Crystal and Goodman as part of "Monsters University's" monstrously talented voice cast are Steve Buscemi (voice of Randy Boggs), Helen Mirren (voice of Dean Hardscrabble), Alfred Molina (voice of Professor Knight), Charlie Day (voice of Art), Sean P. Hayes (voice of Terri Perry), Dave Foley (voice of Terry Perry), Nathan Fillion (voice of Johnny Worthington) and Aubrey Plaza (voice of Claire Wheeler). Featuring a score from recent Rock and Roll Hall of Fame inductee and award-winning composer Randy Newman ("Monsters, Inc.," "Toy Story 3″), MU also includes music from Axwell and Sebastian Ingrosso of Swedish House Mafia."
I thoroughly enjoyed the first Monsters movie, Monsters Inc., back in 2001.  Really?  Was it that long ago? Yes it was. Yikes! Time flies! Not only is the animation fantastic in the Disney Pixar Monsters movies, but the cast is one of my favourites.  I'll be sure to keep October 29th highlighted on my calendar!
"Bonus Materials Overview for These Products:
Includes:
Campus Life – What's it like being on a production crew at Pixar? Get a look at a day in the life of the "Monsters University" crew through their own eyes.

Story School – This documentary examines the challenges of creating a prequel as well as themes that run through the story, and the change in focus from Sulley to Mike.  We'll also look at how gags are developed – from writing jokes to brainstorming a million ideas, only 5% of which actually end up in the movie.

Scare Games – At Pixar, we play hard while we work.  The same people who keep the film production moving – producers, managers, coordinators and artists – are also the ones who bring spirit and excitement to some of our extracurricular activities. We check out the MU production teams as they go head to head in the mostly playful Pixar Scare Games competitions.

Welcome to MU – Sets aren't just buildings, they are the worlds our characters live in and explore.  This look at the Monsters University campus and its development is told from the perspective of the artists who created each piece of the campus from the architecture to the ivy leaves.  .

Music Appreciation – Randy Newman's scores are a mainstay of Pixar films, and this documentary will give you a privileged look at his creative process.  We follow the "Monsters University" scoring process from spotting to writing and on to the scoring session. including special college-themed recording sessions.

Scare Tactics – Animators are actors who digitally bring the characters to life. In this look at how the MU animation team worked, you'll see their process of how they channeled their own monster-selves and created moments on screen that were really funny, really scary and also really serious, sometimes all at the same time.  

Color and Light – How can a single painting set the tone for an entire scene? We'll look at the creation of the colorscripts and how they were realized technically in the final film.  Along with the process, this piece explores the many layers of technical innovation required to produce such a naturalistic feel.

Paths to Pixar – MU Edition – When one door closes, sometimes another door opens – one with an even more exciting opportunity behind it. Members of the MU crew tell their own compelling backstories and share the challenges they overcame along their paths to Pixar.

Furry Monsters: A Technical Retrospective – Explore the difficulties in creating characters that are 20 years younger with tools that are 10 years more advanced in this contrasting look at the differing technical challenges that arose when making "Monsters, Inc.," and "Monsters University."

Deleted Scenes – Four separate scenes – "Rivalry," "Recon," "Movie Night," and "Drama Class" – are highlighted with an introduction from director Dan Scanlon.

"The Blue Umbrella" – This animated short film from Pixar Animation Studios, directed by Saschka Unseld and produced by Marc Greenberg, played in theaters in front of "Monsters University." "The Blue Umbrella" tells the story of an evening commute in which the rain starts to fall and the city comes alive to the sound of dripping rain pipes, whistling awnings and gurgling gutters. And in the midst, two umbrellas—one blue, one not—fall eternally in love.

Additional Bonus Features – Audio Commentary, Promo Picks, College Campaign, Theatrical Campaign, Set Flythroughs, Art Gallery and more!
Bonus Materials for These Products:
DVD
Includes:
Audio Commentary

"The Blue Umbrella"
 Feature Run Time: Approximately 103 minutes
Rating: Feature Film: "G" in U.S. and Canada
"The Blue Umbrella:" "G"
Additional Bonus Features Not Rated
Aspect Ratio: Blu-ray 3D and Blu-ray Feature Film = 1.78:1 1080p High Definition
Theatrical Short "The Blue Umbrella:" 2.39:1 1080p High Definition
DVD Feature Film = 1.78:1 – Enhanced for 16×9 Televisions
Audio: Blu-ray 3D Film = English 7.1 Dolby True HD Master Audio and DVS 2.0 Dolby Digital, French 7.1 Dolby Digital Plus, and Spanish 5.1 Dolby Digital
Blu-ray Feature Film = English 7.1 Dolby True HD Master and DVS 2.0 Dolby Digital, French and Spanish 5.1 Dolby Digital Language Tracks
DVD Feature Film = English 5.1 and DVS 2.0 Dolby Digital; Spanish (U.S. Only) and French (Canada Only) 5.1 Dolby Digital Language Tracks
Languages: Blu-ray 3D and Blu-ray Feature Film = English SDH, French and Spanish Subtitles
DVD Feature Film = English SDH; Spanish (U.S. Only) and French (Canada Only) Subtitles"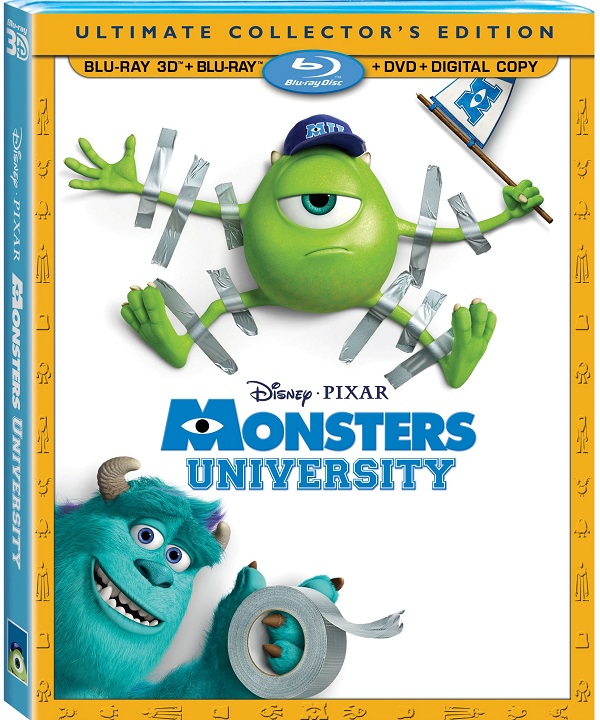 Disclosure:  Canadian Blog House did not receive compensation for this post.  All opinions are my own.