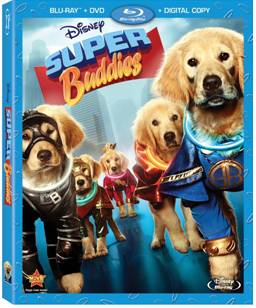 I've been a fan of all things Disney, ever since I was a little girl.  As a child, I spent each week anxiously awaiting the The Wonderful World Of Disney one hour program that would be televised at 6pm every Sunday night.  Anyone remember that?  I can even remember going to visit my cousins in another town, and all of us making sure we were finished supper before 6pm, just so we could sit down and watch our favourite show.  Back in those days (yes, I'm old!), we did not have anything remotely close to a PVR.  So if you weren't around a tv to watch your favourite show when it was televised, well, too bad for you – you missed it! Yes, I had to be in front of our tv every Sunday at 6pm AND I had to watch each and every commercial.  Did I care? Of course not…it was for DISNEY!!
Fast forward 40 (gulp!) years, and I still LOVE Disney.  Who doesn't? (Don't answer that question if you don't, lol).
Speaking of Disney, I was recently given the chance to review one of Disney's newest movies, "Super Buddies":
"Disney's beloved and adorable 'Buddies' are back in a hilarious all-new movie for the whole family — 'SUPER BUDDIES'debuts August 27, 2013, on Blu-ray™ Combo Pack and DVD.  An action-packed canine adventure, 'Super Buddies' stars the world's most adorable talking puppies – Rosebud, B-Dawg, Budderball, Buddha and Mudbud, as caped crusaders em'barking' on their biggest adventure ever.
An ordinary day at Fernfield Farms turns extraordinary when Budderball, Mudbud, B-Dawg, Buddha and Rosebud discover mysterious rings that grant them each a unique super power. Before you can say, "Buddies, assemble," the pups unleash their amazing abilities and race to the rescue when a shape-shifting bully from outer space threatens the planet. But can they succeed in kicking major tail without revealing their new secret identities?"
The three of us sat down to watch this latest canine adventure of the puppies from Disney's "Super Buddies" franchise last Saturday night.  Cuddled up on the couch in blankets, and with snacks at our finger tips, we started to watch our first Super Buddies movie.  Yes, I have to admit, this was our very first Super Buddies movie!
Our thoughts about Super Buddies? I have to be honest.  My boyfriend and I had a very hard time watching this movie.  X-man on the other hand…LOVED IT!
Yes, I'd have to say, Super Buddies is best suited to the young children this type of movie is targeted toward.  I truly had a difficult time staying put in my seat and watching the entire movie.  My boyfriend didn't budge off the couch either, but I heard some loud snoring sounds coming from his end of the couch at times, lol.
As for the only Disney Movie Critic who really matters here, X-Man, he loved Super Buddies so much, he had watched the movie 3 times by the time Monday morning rolled around.  The very cute puppies, silly antics, crazy language (words like "dude" "totally rad" and "perf for "perfect"), and the fact that the puppies "talk", kept X-man enthralled for the entire length of the movie.  You know a children's movie is a hit when a child will sit through the whole movie – numerous times!
As for my boyfriend and I, we did enjoy a few things about this movie.  We loved seeing John Ratzenburger (you know…Cliff Clavin from Cheers) in the role of "Gramps".  He was great.  Our Blu-Ray copy had outstanding quality, and this movie was full of very appealing, kid-friendly colours.  And of course…any movie that amuses X-Man to the extent Super Buddies did, gets two Mickey Mouse ears up in our opinion.
So, overall, not one of our favourite Disney movies of all time, but a definite hit with the kids…and a great movie to hide under the tree this Christmas :).

Disclosure:  Canadian Blog House received a copy of this Blu-Ray in exchange for a review.  All opinions are my own.