The Simpsons is the longest running American sitcom, and longest running American animated show, in television history.  Celebrating their 25th season this year, The Simpsons have been around longer than some of you who are reading this now.  That's incredible! DOH!
I still remember hearing about The Simpsons for the first time in 1989.  Hype was already starting to build around this crazy, yellow-bodied family, centered around the family troublemaker named Bart.  In the fall of 1989 I made a cross-border trip to a small town in New York State, happily coming home with my very own Simpsons t-shirt. You couldn't find Simpsons merchandise in Canada at that time, so I was pretty excited to find that t-shirt.  I was already in love with the Simpsons…and I hadn't even seen one episode yet!
I'm still a fan of the show to this day, although I don't watch it like I used to.  So I was happy when the great folks at 20th Century Fox Home Entertainment contacted me to offer you, my readers, the chance to win their brand new release….The Simpsons: The 16TH Season…on Blu-Ray
Hold onto your donuts! Season 16 of the "The Simpsons" — the longest-running scripted show in television history — includes all 21 hilarious episodes, tons of meticulously slapped together special features, plus a veritable who's who (woo-hoo!) of celebrity guest voices, including Fantasia Barrino, Jason Bateman, Gary Busey, James Caan, Stephen Hawking, Eric Idle, Jane Kaczmarek, Lucy Liu, Liam Neeson, Amy Poehler, Ray Romano and plenty more!
Special Features:
• Greetings, Junior Scienteers!
• Sketch Galleries
• Special Language Feature (Pranksta Rap)
• Living in the Moment
• Animation Showcase – Future Drama ACT 1
• Bonus Episode  – Holidays of Future Past
• Deleted Scenes
• Audio Commentaries on all Episodes
• Easter Eggs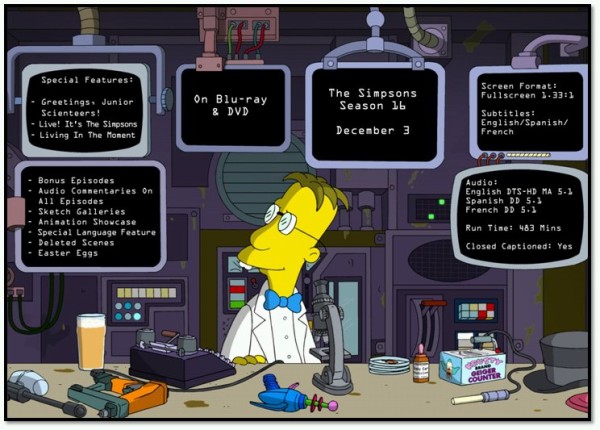 So all you Simpsons fans, Canadian Blog House is giving away one copy of The Simpsons: The 16th Season on Blu-Ray.  Here's how you can enter to WIN!!!

DISCLOSURE: CANADIAN BLOG HOUSE DID NOT RECEIVE COMPENSATION FOR THIS POST.  ALL OPINIONS ARE MY OWN.