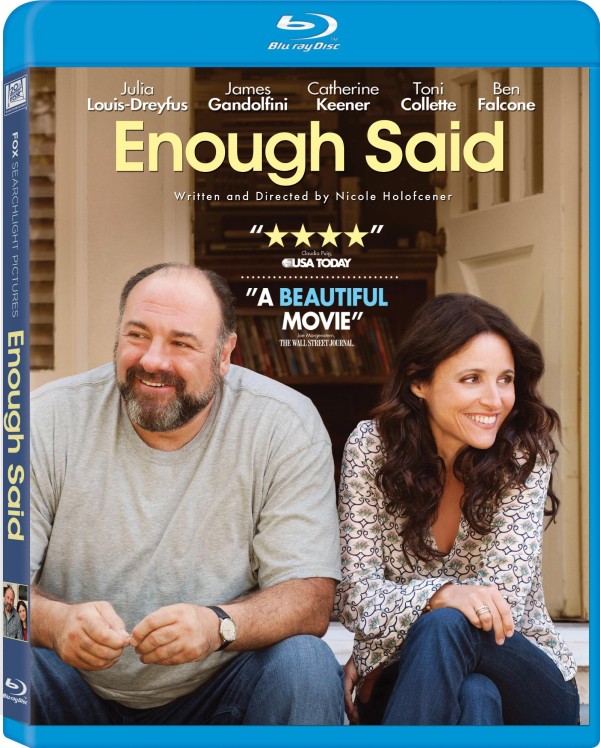 Hands up.  How many of you were sad when you heard about the passing of James Gandolfini a few months ago?  I'm raising my hand high because I was a big fan of James in The Sopranos.  For fans of James Gandolfini wanting one more "fix" of their beloved actor, 20th Century Fox Home Entertainment is releasing James' last performance on the big screen, Enough Said, available January 14th on Blu-Ray and DVD.
In this heart-warming comedy divorced mom Eva (Louis-Dreyfus) may be falling for Albert (Gandolfini), a sweet, funny, like-minded divorcé. But as their relationship blossoms, Eva befriends Marianne (Keener), who's always complaining about her ex-husband. When Eva realizes that Albert is the target of Marianne's rants, she begins to question her own perceptions about first impressions and second chances. 
This movie stars another one of my faves, Julia Louis-Dreyfus.  I'm a long-time fan of Julia's, right back to her days on Saturday Night Live.  I must admit though, my fave Julia role would have to be "Elaine" from Seinfeld.  Julia has had many memorable roles over the years.  Remember these?
Elaine Benes – Seinfeld – old flame and now good friend of Jerry—is possibly Julia's most famous role. Favorite moment: Elaine's nickname becomes "Nip", after she accidentally shows a nipple on a Christmas card, created by Kramer. Mortified at first, Elaine later crops the wardrobe malfunction off of the photograph and uses it for her health club ID. How resourceful!
Leslie – Deconstructing Harry – marks Julia's second time working with writer-director, Woody Allen. Allen plays a writer, and Julia brings to life one of the fictional characters from his work.  Favorite moment: Julia's character and another of Harry's fictional characters are caught in an intimate moment by a blind woman who enters the room unexpectedly. Hilarity ensues when the couple continue to misbehave while the blind women obliviously engages them in conversation.
Maggie Lizer – Arrested Development – Maggie Lizer, or Maggie "lies her ass off," is an Orange County attorney and brief love interest of the show's main character Michael Bluth. Lizer manages to give lawyers an even worse reputation, as she uses every trick in the book to gain sympathy from the judge and juries on her case.
Favorite moment: Being led to believe that she is blind, we later find out that Lizer has only been pretending to not be able to see to help her cheat on her bar exam—and get free pizza.
Selina Meyer- Veep – With grand ambitions and passions like passions environmental conservation, job creation and Senate reform, Meyer is a politician we want to root for. If only it wasn't for her incompetent staff and political red tape waiting to thwart even her most humble ambitions…
Favorite moment: Selena suddenly comes down with a stomach virus during a photo op at a local frozen yogurt shop. Her intestinal troubles cause a hasty retreat back to the limo, proving even the Vice President isn't immune to an embarrassing moment.
Eva – Enough Said – As divorced single parent Eva, we get to see Julia in a role that not only displays the comedic chops that we know and love, but also the softer, more dramatic side of her acting range. Eva's courtship with fellow divorcée Albert (James Gandolfini) is a modern love story, full of nuances, real moments and—of course—more than a few laughs.  Favorite moment: Awkward! Eva overhears her new best friend talking on the phone with her ex-husband—who also happens to be Eva's new boyfriend.
The great folks at 20th Century Fox Home Entertainment want to give one lucky Canadian Blog House reader the chance to win their own copy of Enough Said.  Here's how you can enter to win!
 
Disclosure:  Canadian Blog House was not compensated for this post.  All opinions are my own.