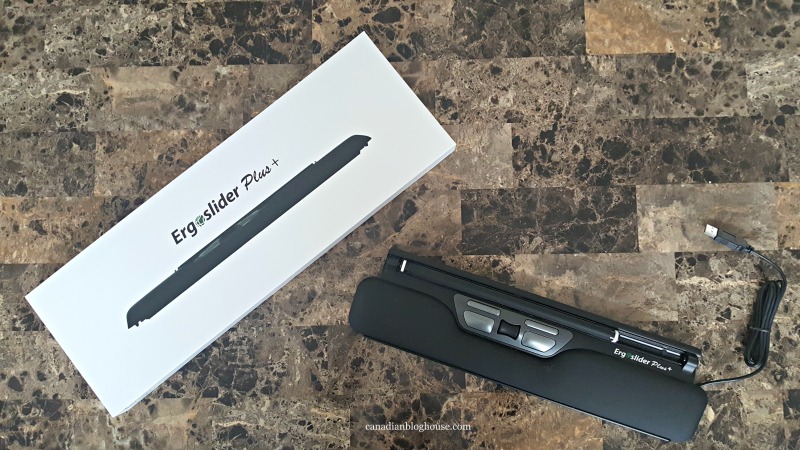 Canadian Blog House received an Ergoslider Plus Mouse from Fersgo in order to bring you this review. All opinions are our own.
Eek! There's a new mouse in the house…and he's ergonomic!
That's right, we've brought an Ergoslider Plus ergonomic mouse into the house, and this is one mouse we won't be trying to get rid of.
The Ergoslider Plus Ergonomic Mouse
The Ergoslider Plus is a unique ergonomic mouse designed to help people that suffer shoulder or wrist pain during computer use as a result of repetitive actions and movement.
How do you compute? What I mean by that is, what do you use for your day-to-day work computer, either at home, or at the office?
A desktop computer? A laptop?
And what do you use to help your technology do its job?
A computer mouse? A touchpad?
Personally, I'm a laptop fan. I love my laptop. Give me a laptop with a touchpad, and I'm away to the races.
My partner, on the other hand, HATES laptops, and touchpads, with a passion.
Yes, hate is a strong word, and I use it on purpose here.
The "steam" I see coming from his ears every time he attempts to use my laptop, could heat the room.
For a productive work experience, he requires a desktop computer…and a mouse.
It's all about the mouse.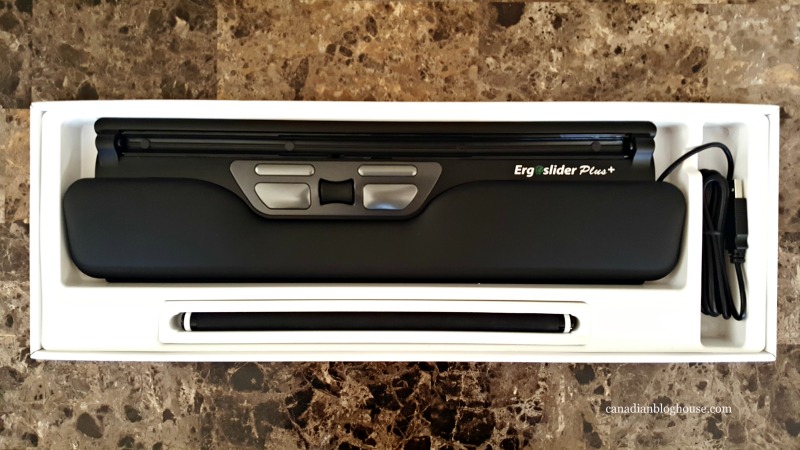 So when Fersgo, the makers of the Ergoslider Plus came calling, he happily opened the door and welcomed their ergonomic mouse into the house.
The Ergoslider Plus mouse is no ordinary mouse.
It's in a class of its own.
"Fersgo Is About Ergonomic Comfort. We Aim To Be Innovative, To Help Create A Safer Ergonomic Environment To Work."
We both spent time testing the Fersgo Ergoslider.
I was anxious to see what each of us thought about this mouse. The fact that we've both got very different ideas on what works for us, in terms of a positive computer user experience, made me wonder if we would both like this ergonomic mouse.
We both did.

What we love about the Ergoslider Plus:
Set up of this mouse could not be easier. Remove the ergonomic mouse from the box, place the mouse in front of laptop/desktop, plug Ergoslider Plus into USB port, and your laptop/computer will automatically install the device. That's how it worked for us.
The Ergoslider Plus is a VERY responsive mouse. The cursor glides around the screen with incredible ease. All buttons are easy to click, and function well.
It's ergonomic! The comfortable gel pad provides great wrist support, helping to alleviate strain. It helps prevent "mousing fatigue". Yes, that's a thing.
The centralized cursor control position helps to keep your body better aligned. You are not reaching off to the side to handle your mouse.
Built with a sleek design, the Ergoslider Plus is a great fit for right-handed, or left-handed, people.
If you need to work with two computer screens like my partner does, the Ergoslider Plus mouse handles this task well.
We love how the ergonomic mouse fits conveniently in front of the keyboard, leaving more room for other items at the side of your computer or laptop.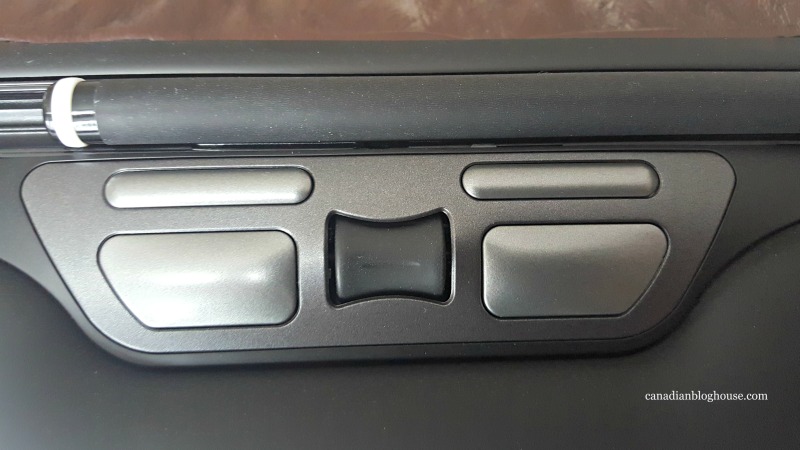 This ergonomic mouse is a high-quality mouse that does its job as advertised.
Personally, I found it worked so well, and was so comfortable for my wrist, that I disliked having to move my hand off the mouse in order to type on my keyboard!
Things To Keep In Mind
There was nothing we did not like about the Ergoslider Plus, however, there are a few things to keep in mind when using this ergonomic mouse.
Whether you already use a mouse, or you use a touchpad on your laptop,  the Ergoslider Plus will take some getting used to.
As someone who is used to using one finger to control my laptop cursor, and two fingers to scroll, I found that the very responsive precision roller bar works best if you use the weight of four fingers for rolling and clicking on the roller bar.
Using four fingers on the precision roller bar made a big difference for me. This provided me with excellent control over the cursor, something I did not have when using only one or two fingers.
Bottom line: You will need some time to get used to the feel of this ergonomic mouse, and your hand placement. Once you do, using the precision roller bar and buttons will become automatic.
For anyone concerned about posture, repetitive strain injuries, or simply a more comfortable user experience, the Fersgo Ergoslider ergonomic mouse makes a great addition to any home or business office space.
The Fersgo Ergoslider ergonomic mouse retails for $224.00 CDN and can be purchased at Amazon.ca.
For more information, please be sure to visit the Fersgo Ergoslider website.
What is your computer set-up like? Are you a laptop fan like me, or is it all about the desktop for you? Do you suffer from repetitive strain injuries?