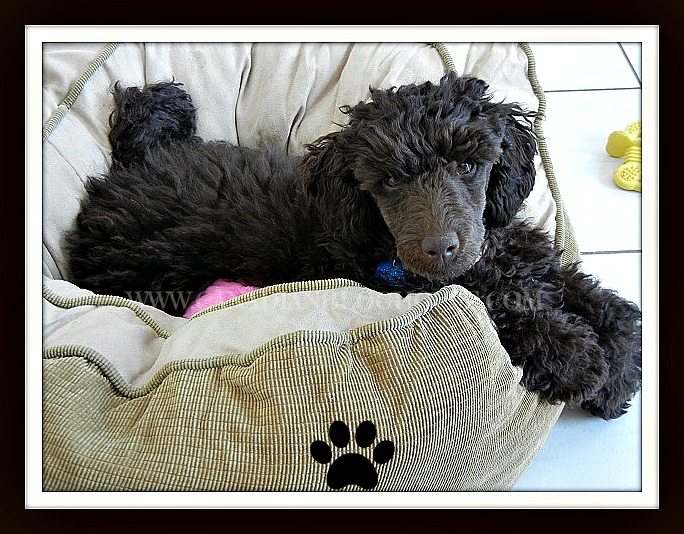 People warned me.  They did.  When we made the decision last fall to get a puppy, everyone was telling me that having a puppy is very much like having a child.  I heard things like "Oh boy…you'll be busy!" and "Your life is going to change".  All I could think of was, they can't be serious.  Raising a puppy is MUCH different than raising a child.
I was WRONG.  They were RIGHT.
Having a puppy around the house is VERY much like having a child.  Here's what I've discovered in the 5 months we've had Bella:
You WILL be woken up at night by a crying puppy.

You WILL be woken up at the crack of dawn by an excited puppy who is all ready to play.
Your day WILL revolve around your puppy – feedings, playtime, walks, training, numerous excursions to the backyard to help them "do their business", and constantly eyeballing them in your attempt to keep them out of trouble.
You WILL spend a small fortune on "general maintenance" vet bills, including vaccinations and spaying/neutering, and set up including bowls, food, bedding, crate, toys and treats.
You WILL invest heavily in cleaning products.  Your floors WILL be mopped/swiffered/vacuumed more than you ever imagined.
You WILL lose clothing and shoes to rips, tears and stains of all kinds.
You WILL succumb to buying all kinds of treats and toys for your puppy.  Trust me.  Your puppy, like your kid, WILL be spoiled.
You WILL step in bodily fluids.  It WILL happen.  Probably more than once.
You WILL have to clean up these bodily fluids – often at the most inopportune times.
You WILL lose personal and household effects to some kind of destructive behaviour.
You WILL be interrupted constantly.  You WILL play with your puppy no matter what task you are in the middle of.  Your puppy WILL make sure of that.
You WILL repeat yourself.  You WILL repeat yourself.  The listening skills of your puppy are about as non-existent as your kid's listening skills.
You WILL get excited when your puppy finds their little voice and barks for the first time.  There WILL be times later when you WILL want to slap yourself for ever encouraging your puppy to make a sound.
Your puppy WILL get into everything they shouldn't get into.  Your puppy has absolutely 

no

 understanding of things that are bad for her/him.  The dirtier, the smellier…the better!
Your mouth WILL come into contact with a mouth and paws that have touched/eaten things you don't even want to imagine.
You WILL be so proud of your extremely smart puppy for learning all kinds of awesome tricks on command.  You WILL also be shocked when your puppy never seems to be able to be smart enough to "sit and stay" on command.
You WILL put your puppy into just about as many "time outs" as your kid.
You WILL delight in finding your puppy's first baby tooth on the floor.  You WILL delight even more in the fact that the Tooth Fairy doesn't have to fund puppy teeth.
I should have listened to everyone that told me so. I could literally write about dozens of similarities between puppies and kids, but I think you get my point loud and clear.
Despite all the hard work and effort it takes to raise a puppy, would we trade her in? NEVER! Bella  is an amazing puppy who provides us with an abundance of love, loyalty and fun. A puppy's unconditional love is something everyone should get to experience. We cannot imagine our life without her.