Ever seen a snake when you first wake up in the morning?  Of course I'm talking about the scaly, green slit-eyed, forked-tongued variety!  Well I have…bright and early last Thursday morning.  No, we don't own a Green Tree Python.  We own the new Smithsonian "Everything You Need To Know About Snakes And Other Scaly Reptiles" book from DK Books.
I had just crawled out of bed when X-man cornered me.  "Can we read about snakes again?"  Arrrrgh…at 6:30am? Really?  Well, I'm a sucker for his cute little eyes, plus with the way he asked me – I caved.  So we curled up on the couch and started reading our new DK book about snakes.  As I turned to the first page, I forgot about the scary beast that was coiled up on the book just waiting for me to look at him.  There I was, half asleep.  My poor brain was trying to determine if the snake with the huge fangs was real or just a figment of my imagination.  My brain did not compute fast enough and I jumped and shrieked – much to the delight of X-man. You see, the quality of the photos in our Smithsonian book about snakes is so good, the snakes and other reptiles look lifelike.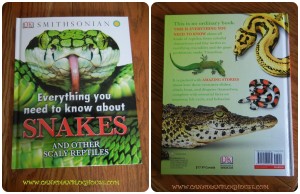 Everything You Need To Know About Snakes is chalk full of amazing pictures, diagrams, closeups and all kinds of fun and interesting facts about snakes and other scaly reptiles.  I must admit, I learned a lot from this book myself.
Did you know?…
every year up to 125,000 people die from snakebites around the world (another reason I love Canada since we only have 2 types of venomous snakes here).

if you see a snake with milky blue eyes it is just a few days away from shedding it's outer skin.
No matter how squeamish you may be about snakes and other scaly reptiles, you won't be able to look away.  It's a fascinating book for adults and kids alike.  Be sure to click on my photos for a more detailed look!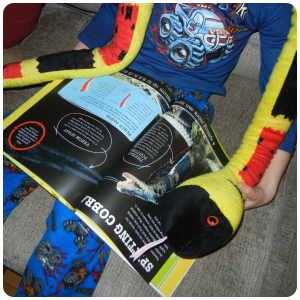 X-man's favourite pages in our new book?  He loved the page called "Hide and Seek".  It's full of pictures of snakes camouflaged in their natural environment and it was X-man's job to find the snakes – he found them all!  His other favourite page?  The Python vs. the Alligator "Struggle in the Swamp".  X-man had fun trying to decide who would be the victor in a swamp fight.  His bet is on the Python.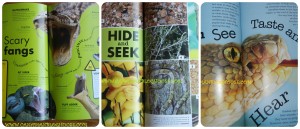 In celebration of Earth Day 2013, coming up on April 22nd, DK Books has a fantastic selection of interesting and informative books for sale that highlight our earth and the creatures who inhabit it.  You can check them out here DK BOOKS EARTH DAY.
Best of all?  DK Books has generously offered up a copy of Everything You Need To Know About Snakes and Other Scaly Reptiles (a $17.99 value – on sale for $12.59!) for one lucky Canadian Blog House member.
Do you dare enter?
CONTEST IS OVER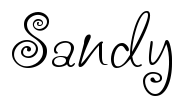 ***Disclosure: I received this book in exchange for a review.  All opinions expressed are my own.  No other compensation was received by Canadian Blog House.