Fairmont Le Chateau Montebello has been on my travel bucket list for many years now.  This beautiful resort has been the subject of numerous conversations I have had with friends and family who have been lucky enough to visit this famous Fairmont resort.  Nestled in the small town of Montebello, Quebec, Fairmont Le Chateau Montebello is a little piece of country paradise, less than an hour's drive from downtown Ottawa, on the Ottawa River.
The massive cedar Fairmont Le Chateau Montebello was constructed in 1930 by a team led by Swiss-American, Hubert Saddlemire, and was completed in just four months.  If you've ever been to this resort, you will understand that this was an incredible feat for such a huge construction project in 1930.  In fact, construction of the Seigniory Club,  as it was known back then, "captured the popular imagination of the time, inspiring newspaper features across North America, and attracting crowds of onlookers."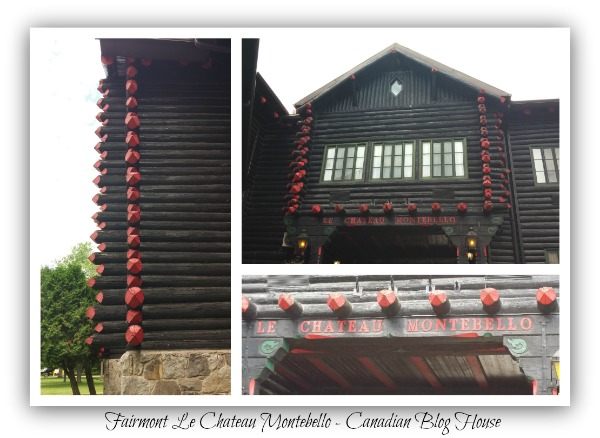 Great Canadian history is all around you as you walk the halls of Fairmont Le Chateau Montebello.  Walls are covered in fascinating photos of everything from the construction of the resort, to sporting events that have been held there, to all the famous leaders of the world who have stayed at Fairmont Le Chateau Montebello during meetings like the G7 Summit (the first G7 Summit held in Canada).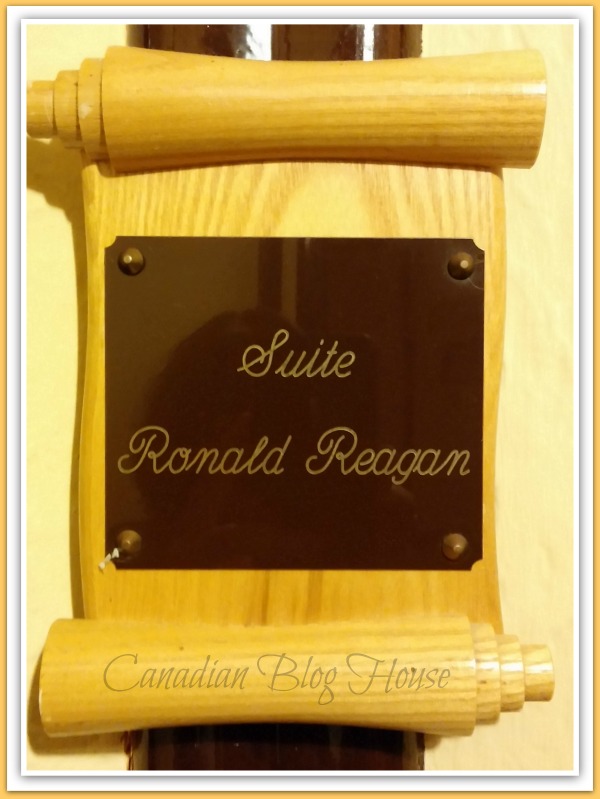 Speaking of this G7 Summit, upon our arrival at Fairmont Le Chateau Montebello, we were excited to learn that our room for the next two days was the exact same room United States President Ronald Reagan stayed in during the summit. Now known as Suite Ronald Reagan, it was neat to think about the fact that Ronnie and Nancy had once stayed in this very same room as us! If it was good enough for the President, it was good enough for us! I wonder what they thought of the room when they stayed there. Wouldn't it be fun to read their review?
Before we checked in to our suite, I had the pleasure of being greeted by Monte, the Fairmont Le Chateau Montebello dog, at the front office.  That's right, select Fairmont Hotels (including in Montebello) are home to resident dogs known as Canine Ambassadors.  Being the huge dog lover that I am, I love this added touch. You can't help but smile when you watch Monte (looking handsome in his bandana!)  greeting all the happy guests. Monte is an extremely friendly, calm and gentle dog, who will hang around with anyone willing to give him some hugs. Already missing my own two furry companions, Monte was a welcome sight for me.  Monte is more than willing to go for a walk with you should you wish to have a companion while walking around the grounds of Fairmont Le Chateau Montebello.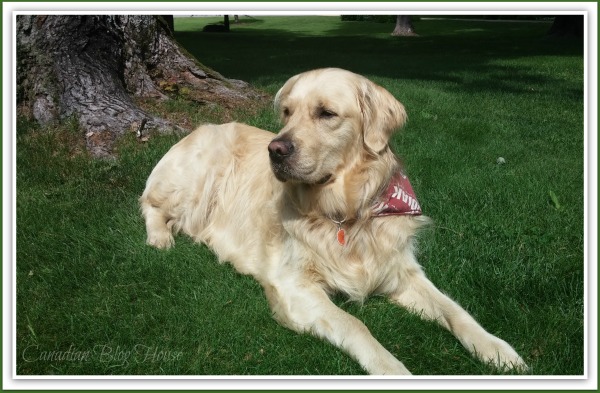 We arrived on an unseasonably cool July afternoon, so upon entering our cozy, rustic suite, we had no desire to do anything right away except enjoy our surroundings.  We were greeted with the sight of these delicious Canadian maple treats as soon as we walked through the door: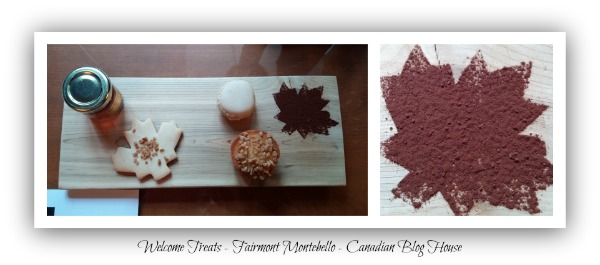 How long do you think that board of treats lasted before being eaten? That's right! About 5 minutes.  Who can resist maple goodies?  I just loved the maple leaf made out of chocolate powder!  This was a lovely added touch to our arrival at Fairmont Le Chateau Montebello.  I also loved the personalized note…and the "Canadiana" lamp on the desk!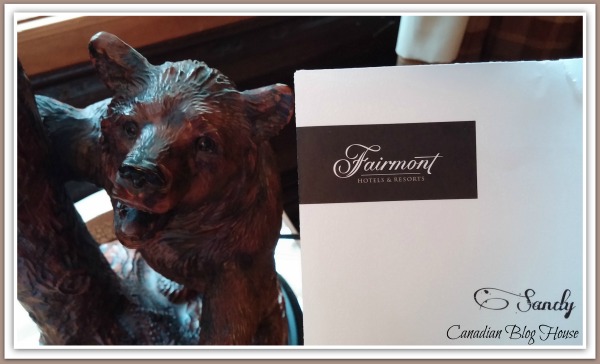 Fairmont Resorts have kept the "look" of Le Chateau Montebello authentic right from the outside, in. Our suite was everything you'd expect a beautiful room in a Canadian log house to look like.  All the outer walls of our room were made from cedar logs,  We loved this as it complimented the rustic feel of the whole resort. While the look was rustic, the amenities were the same as you would expect in any modern hotel room: king bed, large flat screen tv, access to WiFi, Keurig Coffee Maker, mini fridge, hair dryer, iron and even some cozy hotel bath robes.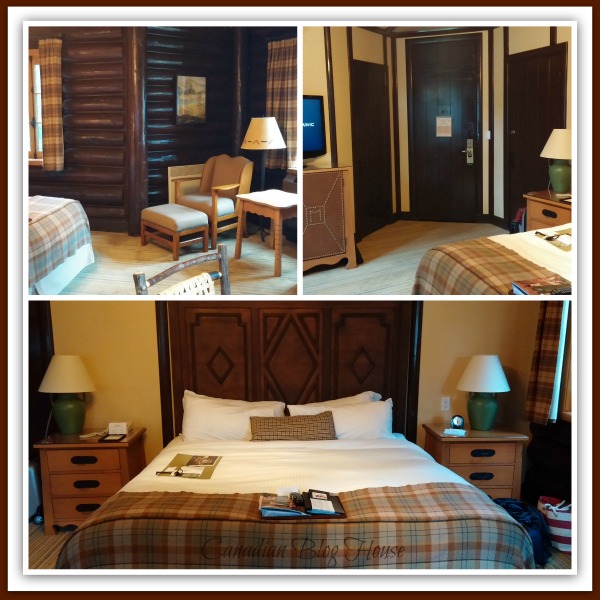 Since the weather wasn't great during our first evening, we decided to spend it indoors and enjoy the resort itself.  We ordered room service, then decided to take a stroll around. One of my favourite things about the inside lobby is the spectacular stone fireplace that runs from floor to ceiling in the centre of the lobby.  It is truly magnificent. Staff at the hotel confirmed for me that they burn wood fires in this great fireplace during the colder months.  Judging by the size and the beauty of this fireplace, it must be pretty spectacular (and cozy) to sit in front of it while a fire is burning.  We also loved the abundance of seating areas around the vast lobby and in all the little nooks and crannies throughout the building.  You will never lack for a place to sit here!  From cozy tables for two, to larger tables for groups of friends, all the tables and chairs are unique.  For instance, we found a table for two that had an actual chess board for a table top, so if you had the urge, you could literally start playing a game of chess at your table.  For those who love comfort, there were plenty of comfy couches around to sink into.  We grabbed a drink from the bar and settled in for a half hour of rest and relaxation.  It was wonderful!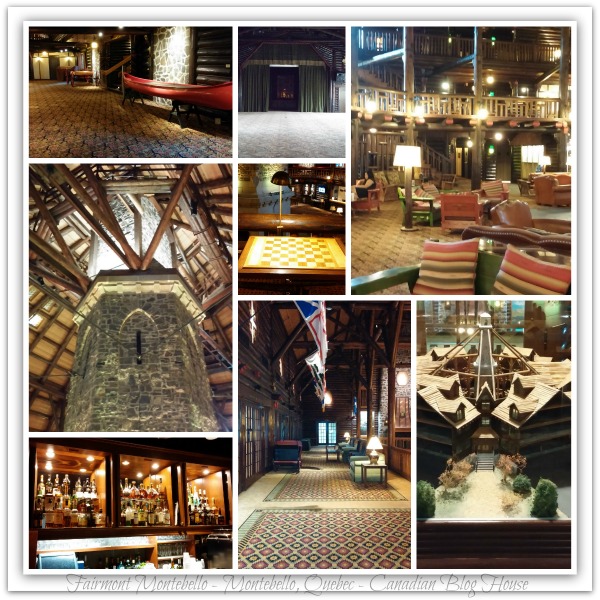 After a great night's sleep (the bed was super comfy!), we spent the morning wandering around the main street, Notre Dame, in Montebello, checking out a few local shops, and then stopping for some mango ice cream and amazing chocolate at Chocomotive.  Arriving back at Fairmont Le Chateau Montebello, the sun started to come out so we decided it was a great time to go for a hike on the beautiful trails around the resort.  The pathways take you up into a hardwood forest, across gentle streams, through large patches of beautiful ferns, and down along the tranquil Ottawa River waterfront.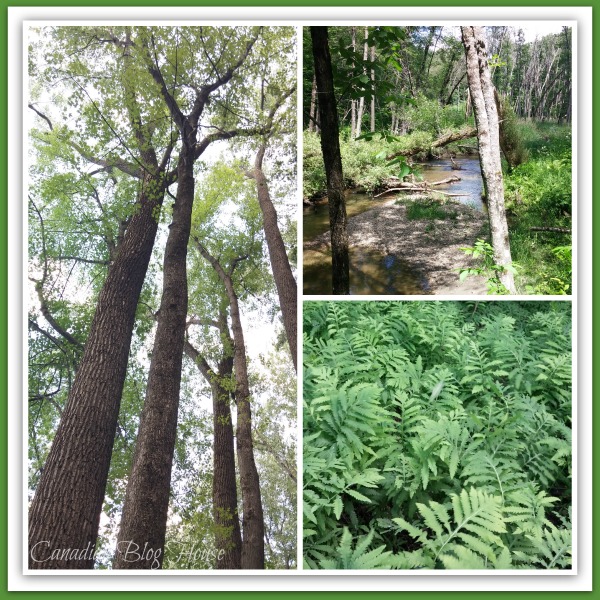 Speaking of the Ottawa River waterfront, the views of the river from the lawns of the Fairmont Le Chateau Montebello are lovely.  Located in the foothills of the Laurentian Mountains, this landscape of rolling hills, lush forests and gently moving water, is a nature lovers paradise.  Park benches found along the shoreline provide a peaceful place for visitors to sit and enjoy the views.  Even the view from behind, of the Fairmont Le Chateau Montebello, is a beautiful sight.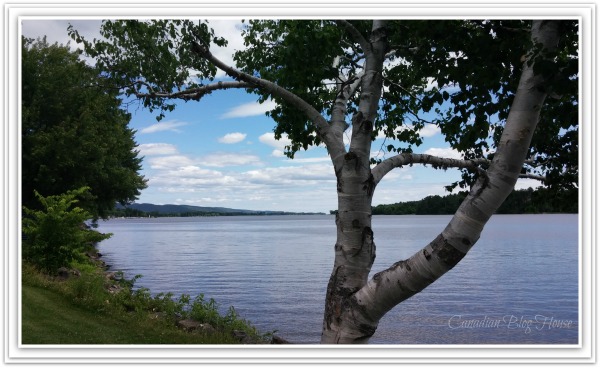 That afternoon, when the sun came out, so did my bathing suit.  Fairmont Le Chateau Montebello has a large, gorgeous outdoor pool that is nestled between the resort and the river. The pool is surrounded by an abundance of lounge chairs, on both the lawn and the deck,  that also come with an attached umbrella for those wishing to have more shade than sun.  There is plenty of room for many sunbathers and swimmers.  A hut in the pool area provides guests with towels for poolside use. The pool appeared to be heated while we were there judging by the warm temperature of the water even after the cool weather the day before.  A lifeguard was also present while I was at the pool.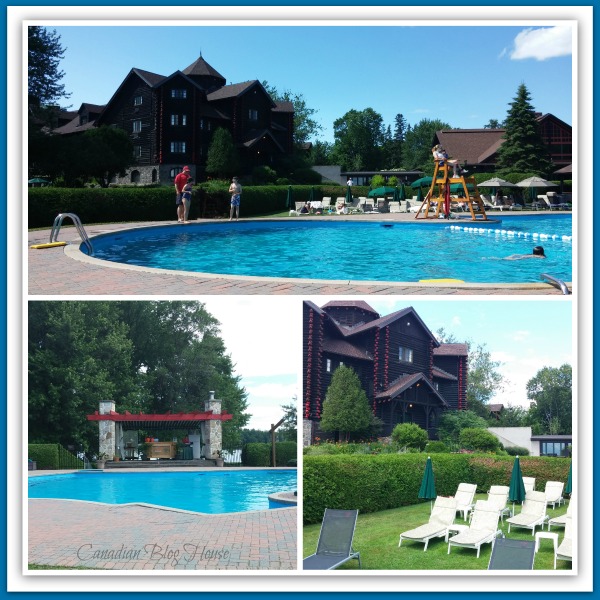 Before visiting Fairmont Le Chateau Montebello, I had many people tell me that we should NOT miss trying out their famous BBQ dinner and Buffet Breakfast.  We weren't able to do the Buffet Breakfast, but we were sure happy we made it to the BBQ dinner.  Served outside on the patio, facing the Ottawa River, the BBQ dinner is a feast for hungry visitors. Best advice, bring a good appetite! While the menu can vary depending on when you visit, we are certain that, no matter what they serve on a given night, you will leave feeling very satisfied. First up was the salad bar. Full of all kinds of lettuce options, fresh veggies and delicious toppings and dressings, we could have easily filled up on all this goodness and walked away happy.  Of course, that did not happen.  You know we just had to try a bit of everything at the buffet!
During our visit, we had the option of enjoying a number of delicious meats including steak, lamb chops and BBQ'd pork. There were jumbo cocktail shrimps, various pastas, deviled eggs, blue potatoes (love the colour!), vegetables, and a variety of scrumptious breads. Then there was the Crispy Pork Belly.
Crispy. Mouth-watering. Sinful. Divine.
Definitely not diet-friendly, but an absolute must-try BBQ menu item.  Go ahead…cheat a little on that diet.  They are worth it!
As for the desserts, let's just say our healthy eating lifestyle went further down the drain once we hit the dessert table.  It was a dessert lover's dream.  Ever had Sugar Pie? It's one of my favourite Quebec specialties, and this version was delicious.  The chocolate mousse literally melted in my mouth, and the caramel, whipped cream, chocolate pudding dessert (I'm certain there is a fancier name for it!) slipped down nicely into the only remaining cracks in my stomach.
That's it! We were stuffed! Not even room for a coffee.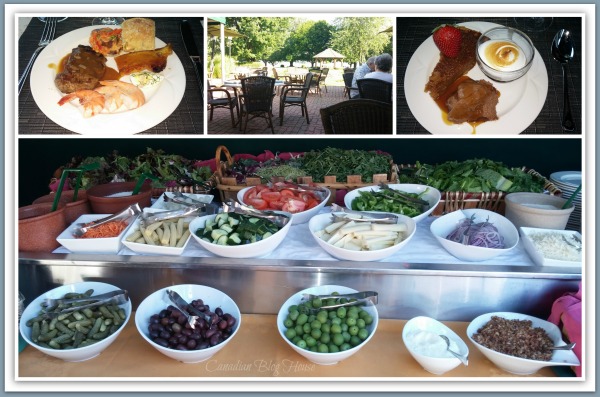 We spent our time at Fairmont Le Chateau Montebello enjoying simple and relaxing things like a hike in the woods, sunbathing by the pool and enjoying time at the waterfront.  While we weren't there to participate in all kinds of activities, this resort has over 40 different activities for couples and families to enjoy. There's something for everyone, from horseback riding and golf, to Canada's only Off-Road Land Rover Driving Experience, tennis, fishing, and ATV rentals.
If you go, be sure to spend some time checking out all the different areas of the vast property around the resort. We stumbled upon a number of horses, roosters, a bunny and even a small pig.  We also discovered a whole other set of buildings that house the huge indoor pool, the spa, and indoor tennis courts.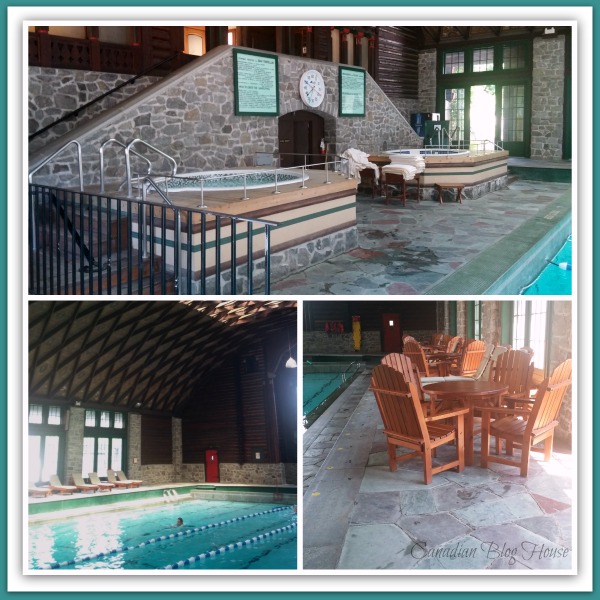 We thoroughly enjoyed our stay at this resort.  Our biggest piece of advice would be to keep in mind that the Fairmont Le Chateau Montebello is marketed as a luxury resort.  In our opinion, this relates not only to the beautiful grounds, accommodations and amenities, but also to the price of meals.  For example, our BBQ dinner alone cost us $56 each, plus the cost of our alcohol.  While there are some great free activities to do, such as croquet, horseshoes, nature walk, volleyball, basketball and the pools and hot tubs, many of the fun activities at the resort have a fee attached to them.  Just keep this in mind and plan your budget accordingly.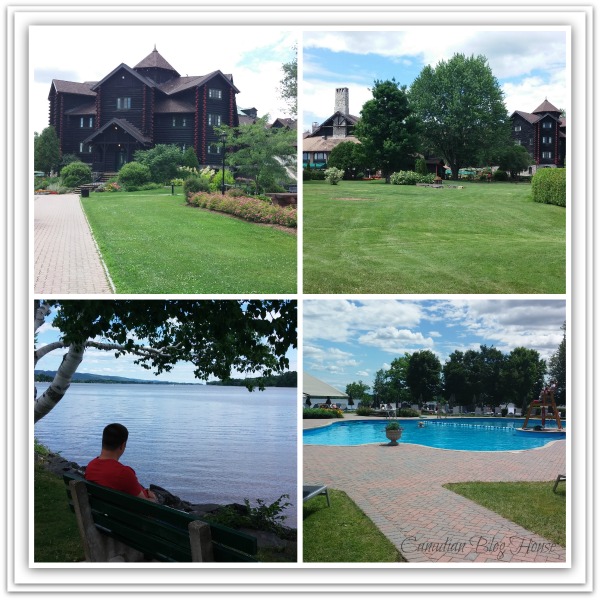 Fairmont Le Chateau Montebello is a beautiful, rustic resort and a great place to "get away from it all".  If you are a couple looking for a weekend retreat, or a family who loves the countryside but wants to be close enough to Ottawa-Gatineau to enjoy some of Canada's top tourist attractions, a stay at this resort may just be what you are looking for.
Although we had a great time at Fairmont Le Chateau Montebello, the best part of our trip was coming home to a dog who missed me so much all she wanted to do was cuddle up on the couch and sleep.  We had a wonderful snooze.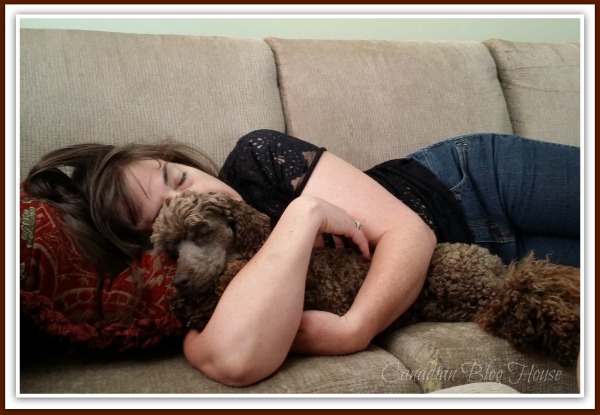 The great folks at Fairmont Le Chateau Montebello want one lucky Canadian Blog House reader to come enjoy some culinary delights of their own!  Come enter for a chance to WIN a Sunday Brunch For 2 at Fairmont Le Chateau Montebello in their main dining room "Aux Chantignoles" (value $94 ).  This gift certificate is valid until JULY 1, 2015  – so you have plenty of time to plan a visit to the Chateau. Please be sure to read the official rules for this giveaway on the Rafflecopter form. Here's how you can enter for a chance to WIN:
**GIVEAWAY CLOSED***
Disclosure:  Canadian Blog House received a complimentary stay at this resort in exchange for this review.  All opinions are our own.  
WIN A Scrumptious Culinary Experience for 2 at @ChatMontebello from @CanBlogHouse #momentsLCM http://t.co/UGMQwtCb15 pic.twitter.com/cEUK4cQGF0

— Canadian Blog House (@CanBlogHouse) July 14, 2014