February is such a great month, isn't it? So much to celebrate! There's Valentine's Day, Family Day (in most provinces!), Ground Hog Day, and (next year) Leap Year!
Now I know we are all a little tired of the winter we've been having this year, so most of us can't wait to see the end of this February, but there really are some great ways to enjoy the bitter cold and snow…by staying indoors and snacking on some KINDER surprises!
Valentine's Day was pretty low-key for us. After all, we had barely recovered from Christmas and X-Man's birthday.  Plus he had eaten his fair share of chocolate in the last couple of months. Remember the giant KINDER egg (etc) that X-Man had been sent from the folks at KINDER before Christmas? That spoiled him. Who wants the small KINDER surprise eggs when you can get the giant ones? So while visiting a local drug store one day in late January, X-Man spotted a giant KINDER egg on sale and just had to have it. He bought it with some of his own money, and promptly went home and devoured the egg in a couple of sittings.
So for Valentine's Day we settled for a little bit of chocolate, which included this: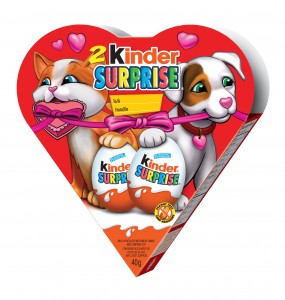 X-Man was happy with the fact that this package held 2 KINDER surprises…and even happier that the surprises included these!

Being the car fanatic he is, X-Man is always hoping his KINDER surprises contain something with wheels. Luckily this one did! Twice over! You better believe X-Man was happy with this Valentine's KINDER Surprise!
Sadly, I did not see these special KINDER Surprise eggs at my local stores until after Valentine's Day. Have you seen them? They are the Disney Fairies and Transformers Heart Trains shown here: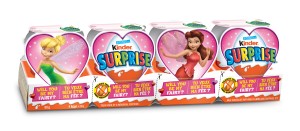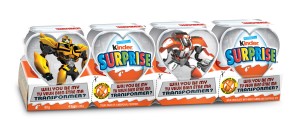 It's hard to believe but, March is just around the corner…and so is March Break! KINDER Canada has some great activities lined up for your kids including bringing back #KinderPlayWednesday. Every Wednesday on the KINDER Canada Facebook page you will find fun games to help give busy parents ideas on how to engage and play with their kids.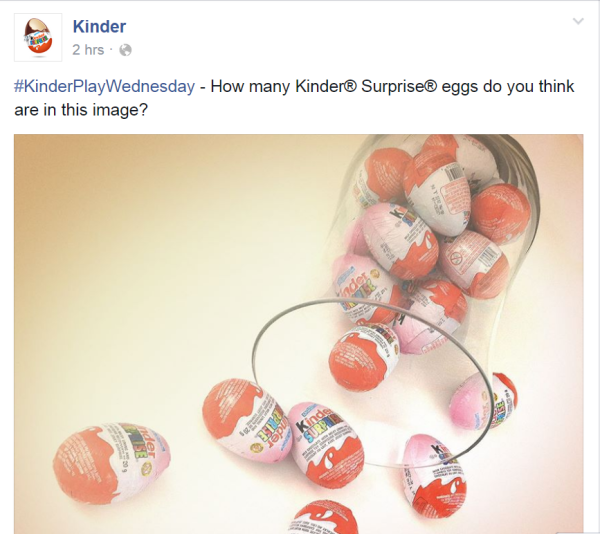 This example actually comes from the KINDER Canada Facebook page today! What kid doesn't like to play this kind of guessing game? Take a guess and you can check back later for the answer.  But then again…you can figure the correct answer out, can't you? Of course you can!
Are you on Instagram? Then be sure to follow KINDER Canada's Instagram page! Why? Because KINDER Canada would LOVE to see your KINDER-themed pictures! Tag them with the @KinderCanada Instagram handle and your KINDER-themed pictures may just get re-grammed on the KINDER CANADA Instagram page!
How did you celebrate Valentine's Day and/or Family Day with your kids? Did your celebrations include KINDER? I'd love to hear about them!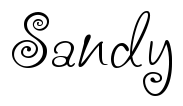 Disclosure: Canadian Blog House received special perks for being part of the KINDER Canada #KinderMom program. All opinions are our own.