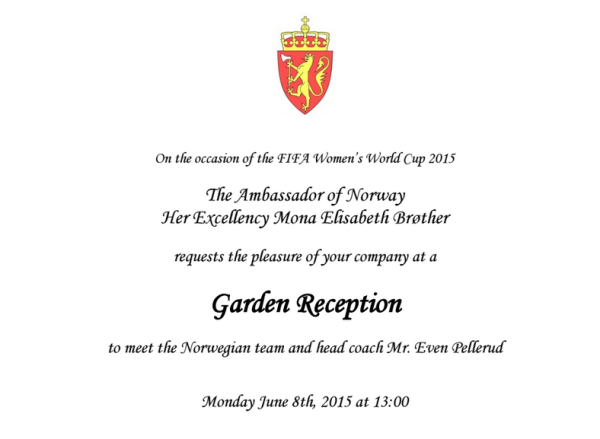 Crichton Lodge, the official residence of the Norwegian Ambassador to Canada, was the setting of a garden party honouring the 2015 FIFA Women's World Cup Norwegian Women's Team and their head coach, Mr. Even Pellerud.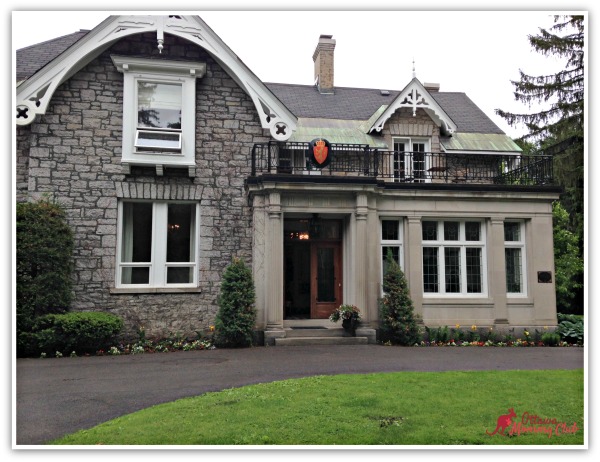 Crichton Lodge – Rockcliffe Park – Ottawa, Ontario
Steeped in history, Crichton Lodge is a grand old building known as the oldest home in Ottawa's Rockcliffe Park. Previously owned by a number of prominent Ottawa residents, Crichton Lodge was acquired by the Norwegian government in 1949.
I was thrilled to be invited to this garden party honouring the Norwegian Women's National Football Team. I felt very lucky as I know many Canadian soccer/sports fans who would love the chance to rub cleats with some of Norway's finest athletes.
I attended the garden party with my friend Lyne, from the Ottawa Mommy Club. We were greeted at the door by Norway's Ambassador to Canada, Mona Elisabeth Brøther, who very graciously welcomed us into her home. Inclement weather forced the Ambassador to move the garden party indoors. This was likely not an ideal scenario for Her Excellency, or her staff, but it was a great opportunity for guests to see parts of this magnificent home.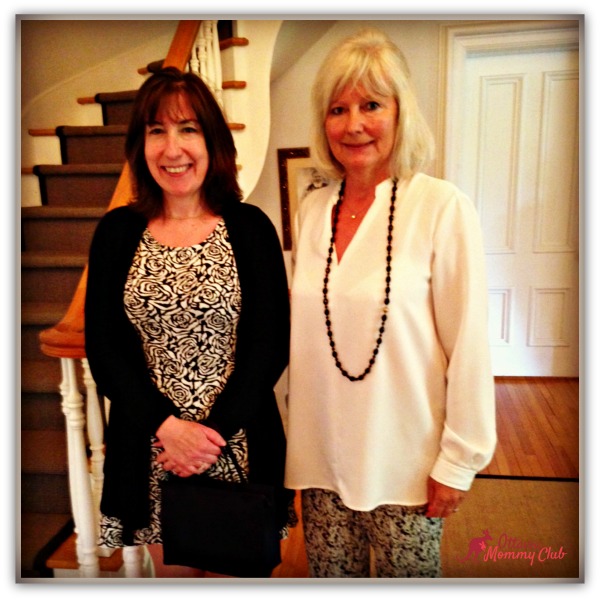 Sandy and Her Excellency, Mona Elisabeth Brøther, Ambassador of Norway
We were escorted into what was likely once a very large living room on the first floor of the embassy. It is here where we mingled and chatted with other members of the local media, and awaited the arrival of Team Norway and Head Coach Pellerud .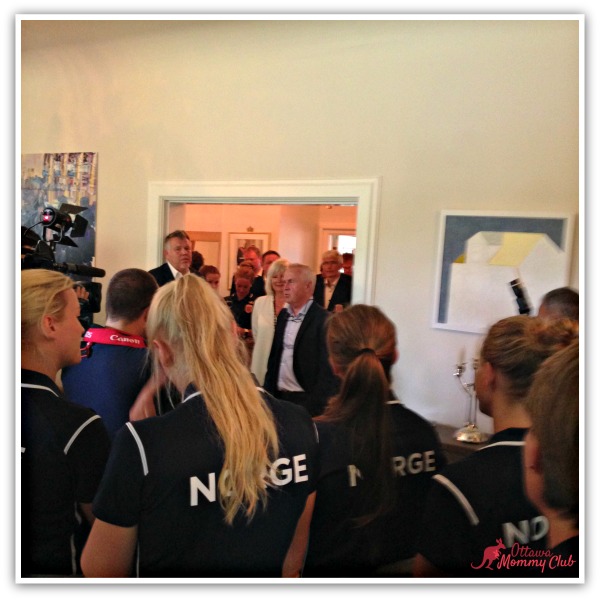 Head Coach of Norway Women's National Football Team, Even Pellerud
The room soon became filled to capacity once Team Norway had arrived. Coach Pellerud delighted the crowd with a short speech, and the enthusiasm amongst his players was evident. After all, Team Norway had just beaten Team Thailand 4-0 in Sunday's game at Ottawa's Lansdowne Stadium . For those not familiar with Coach Pellerud, he is a legendary coach with 5 FIFA Women's World Cup Championships under his belt. Canadian soccer fans are likely familiar with Coach Pellerud, and his time coaching the Canadian women's team at the FIFA Women's World Cup in 2003 and 2007.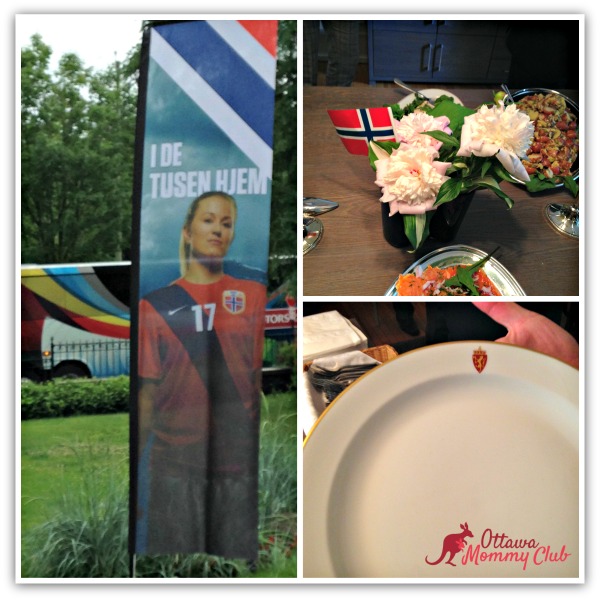 A delicious luncheon was served, and we were treated to a spread of smoked salmon, salmon mousse, breads, potato salad, garden salad, and even some hamburgers and hot dogs. After all, this was supposed to be a garden party!  Servers also brought around a lovely selection of wines, beers and juices to wash everything down. I loved the plates that the food was served on – complete with the Norwegian emblem!
To the delight of the crowd, the rain cleared as lunch was being served, and this allowed us all to wander out to the gardens at Crichton Lodge.  While mingling, Lyne and I discovered that both the German Ambassador to Canada, and the Thailand Ambassador to Canada, were in attendance at the garden party there to show their support for their Norwegian counterparts. We also got to spend some time chatting with local Ottawa Councillor for Innes Ward 2, Jody Mitic, an Amazing Race alumni.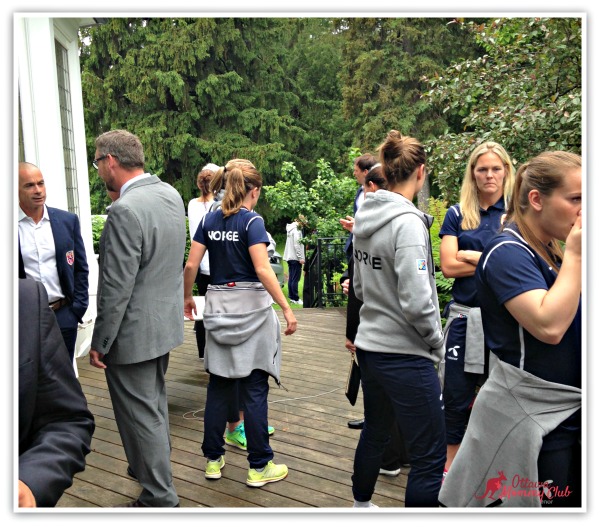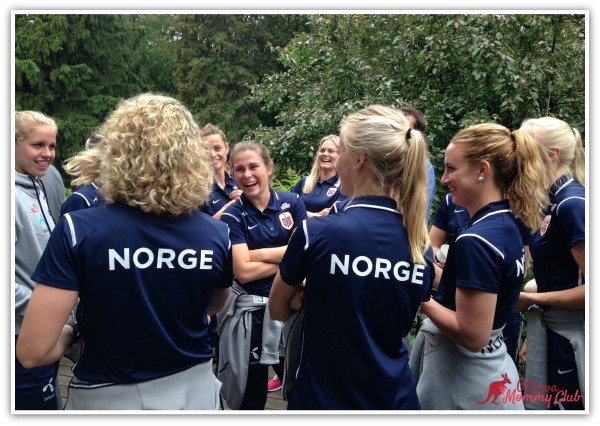 I must say, being one of very few female brunettes in attendance at the garden party, I felt a little out of sorts. Of course I'm kidding but, I definitely did feel outnumbered by all the blonde beauties that you can see in the photo above!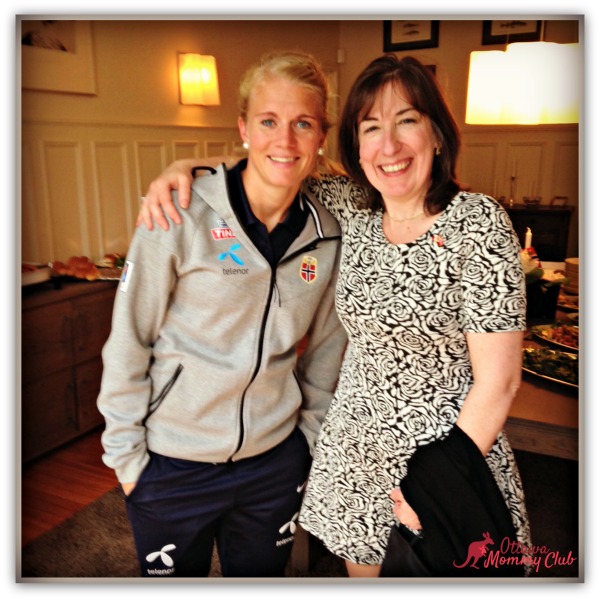 Solveig Gulbrandsen & Sandy – Norwegian Embassy – Ottawa, Ontario
One of my favourite moments at the Norwegian Embassy garden party was getting the chance to interview Solveig Gulbrandsen, the 34-year-old Midfielder for Team Norway. Looking much younger than her 34 years, Gulbrandsen is a mother of two children, and one of the oldest members of Team Norway.
Speaking of her children, during our interview with Solveig, she told Lyne and I that she is so thankful to be able to bring her children with her on her journey to Canada to play in the FIFA World Cup Championships (something that not all World Cup teams allow). It is very important for her to have her family with her. Without them close by on her almost 2-week stay in Canada, it would be very difficult to focus on her sport, and playing the best that she can. Gulbrandsen said that her husband has also joined her on this trip, and he's busy looking after their children while mom concentrates on helping lead Norway to the next big win!
Solveig spoke with us about her reputation for retiring. I believe Solveig told us this is another comeback for her after "officially" retiring from professional soccer three times. The game just keeps pulling her back in. In fact, I asked Gulbrandsen what she loves to do in her spare time away from soccer. Her response? Soccer. The sport really is her life, and when she's not playing it, she's either practicing, coaching the game, or watching 9-year-old soccer prodigy, Theodor, out on the football field (as European soccer fans call it). Soccer is in Theodor's blood, not only from his mother, but also his grandfather, Terje Gulbrandsen, a former Norway footballer.
Will Solveig Gulbrandsen be back in 2019 for the next FIFA Women's World Cup in France? Seeing the twinkle in her eye yesterday, my guess is yes!
For all things FIFA Women's World Cup, be sure to check out the latest news and scores on the FIFA website and follow FIFA on Twitter @FIFAWWC.
A big thank you to Her Excellency, Mona Elisabeth Brøther, for hosting such a wonderful garden party, and to Coach Pellerud, and the lovely ladies of Team Norway, for sharing a few hours of their busy day with us. Another big thank you to my friend Lyne for sharing some of her photos with me after I mistakenly left my camera in the car.
A little part of this proud Canadian is secretly hoping that these Norwegian ladies win the World Cup. But shhhh….don't tell Team Canada!