I've been listening to music ever since I was 4-5 years old.  My siblings are ten and eleven years older than me, so when I was in Kindergarten they were already teenagers listening to the hits of the day.  Anyone remember K-tel's 22 Explosive Hits record? (Yes, record…as in vinyl!).  My siblings had that record and I loved it.  I would play it over and over on my sister's portable record player that resembled a suitcase.  When I think back, I'm not too sure my siblings were thrilled that I was so into their music.  I'm sure I was responsible for many a scratch in their record collection!
As a teenager, I was head over heels in love with Duran Duran (anyone remember them?).  I admit it…my room was plastered with their pictures, I had every album they ever released. I bought every magazine with their faces on the cover, and couldn't get enough of them on Much Music.  I was absolutely convinced that I was going to marry John Taylor one day!
Today my musical tastes are much more varied.  I love everything from the classic rock of the 1970's, to the synthesized music of the 80's, to the grunge music of the 90's.  Hate to admit it but, I even like some of my parents' music (Neil Diamond/Tom Jones).
I always love discovering new music. I was recently followed on Twitter and tweeted by the guys from Final State, a Quebec City-based band (Yay! I'm a huge fan of Canadian talent!), asking me to take a listen to their new single "Make Up Your Mind".  I admit I had never heard of them until now. So I took a listen.
Wow! I have to say I LOVE this song.  I've probably played it about 15 times since they sent me the link.  Are any of you One Direction fans? These guys remind me quite a bit of that band. "Make Up Your Mind" is a very catchy tune – it will have you tapping your feet…or if you are like me, getting up on your feet and dancing!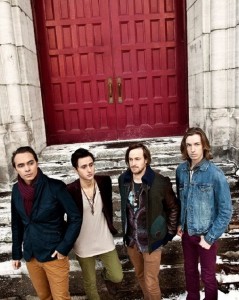 Here's a little bit about them from their Facebook Page:
"Final State is a pop/rock feel-good band from Quebec City formed with four passionate musicians. The quartet met in high school and they started off playing in basements, churches, even in parks; simply anywhere the band could.
At young age the band had the chance to tape their first self-titled album (Final State) and make a video for the single "All I Want". The song brought them a lot of opportunities such as being #1 at MusiquePlus for four weeks in a row, an award for "Best Video" in 2011 and for "Best Pop Song" in 2012 at the eWorld Music Awards (Hollywood,CA). Final State have produced themselves in over 80 shows so far; including a 40 shows high-school-tour and the opening act for major bands/artists such as Down With Webster and Tyler Ward. The band is now recording their second album which will be available early 2013″
Some pretty exciting things are happening for Final State right now.  They just returned from the SXSW Music Festival in Austin, Texas AND they have made the Billboard Canadian Hot 100.  Check out this article from Canadian Music Blog:
FINAL STATE – CANADIAN MUSIC BLOG
I have a feeling these guys are going places! Their music is great…and it doesn't hurt that they are 4 handsome young men from Canada!
You can purchase "Make Up Your Mind" on iTunes  BUY IT NOW
Be sure to follow them on Twitter @Final_State , like them on Facebook FINAL STATE  and check out their video for "Make Up Your Mind" on YouTube: