Let's face it, we all love free things, don't we?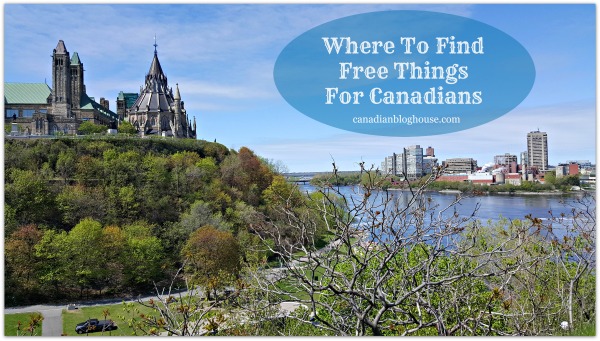 There's no denying this fact after witnessing the recent Parks Canada giveaway. It was so popular with Canadians, the Parks Canada website crashed due to the influx of visitors scrambling to scoop up one of their free 2017 Parks Canada Discovery Pass.
I'll never forget the first time I found out that one could actually obtain free things on the internet – or information about how to get free things when you shop at a retail store, or visit attractions.
I had a subscription to Homemaker's Magazine (remember that magazine, my fellow Canadians?), and one issue featured an article about online forums where you could find free things. I decided to join one of those forums, became addicted to ordering freebies, and went on to become involved in the online contesting world, entering (and winning) many online contests. This path eventually lead to the creation of Canadian Blog House.
Freebies have come and gone over the years, and many free things are time-limited offers, however, there are some freebies that always seem to be available.
Because we all love to get something for free, I decided to compile a list of these free things for Canadians from Vancouver to Prince Edward Island, and all points in between! You will note that I have highlighted some specific attractions such as museums in Ottawa. Please use this list as a guide to help you think of businesses or attractions near you, that may offer similar freebies.
Please be sure to check back from time-to-time. I will be updating this list on a regular basis.
WHERE TO FIND FREE THINGS FOR CANADIANS
---
Anniversary or Birthday Greetings – Celebrate that special occasion by receiving a greeting from the Prime Minister, the Queen, or the Governor General. Certain provincial politicians may also provide greetings. Check websites in your local area.
Bank of Canada Museum – Free admission to a Canadian museum that showcases a fascinating look at our money.
Best Buy Baby Samplers Club – If selected, you will get products to test in exchange for a review. Must be parents-to-be or parents of a baby under the age of 2.
Bring Back The Bees (Cheerios) – Free Sunflower seeds.
Brewery Tours – Did you know that many breweries offer free brewery tours? For example, Beau's Brewery offers a free 20 minute tour, in English or French, and the best part…free samples! Check online to see if you can find a free brewery tour near you.
BzzAgent – Join BzzAgent to get share-worthy products and create like-worthy social media posts about your experiences.
Canada Post – Every Christmas, Canada Post delivers letters from Canadian kids to Santa at the North Pole. Then they make sure your child gets a free letter back from Santa.
Canadian Aviation and Space Museum – Free admission daily between 4-5PM, Veterans (plus complimentary parking for Veterans).
Canadian Agriculture and Food Museum – Free admission daily between 4-5PM.
Canadian Educational & Promotional Items – Posters/pins/temporary tattoos
Canadian Flag – Complimentary promotional material (flags/pins/posters) for Flag Day.
Canadian Flag & Canadian Pins – Your MP may provide you with a free Canadian flag and/or pin upon request. This link is an example of what is provided to Burlington, Ontario residents from their MP.
Canadian Flag – Waiting list for free flag that has been flown on Parliament Hill (don't hold your breath for this one!).
Canadian Museum of History – Free admission Thursday evenings, holidays, attendants with disabled persons, Aboriginal persons.
Canadian Museum of Nature – Free admission Thursday evenings, Canada Day, attendants with disabled persons.
Canadian War Museum – Free admission Thursday evenings, Canada Day,. Remembrance Day, attendants with disabled persons. Also free to past and present Canadian military personnel, and to selected Commonwealth military personnel (including up to 2 accompanying family members).
Chapman's Ice Cream – The great folks at Chapman's offer Canadians a $4.00 off coupon good for any of their products, once per year. If you watch for a sale on Chapman's ice cream at your local grocery store, combine the sale with this coupon, you could end up with a free carton of your favourite flavour. Plus, every year Chapman's issues a free calendar for Canadians. You can order it from their website. To get the coupon, simply fill out their contact form and request one. Don't forget to tell them how much you love their ice cream because…who doesn't love a compliment?!
Chevrolet Power of Play Coach's Kit – Available at the start of hockey season, Peewee coaches can sign up their team and receive this amazing free kit that includes a premium coaches hockey bag and more.
Cineplex Access 2 Program – This program "allows persons with a disability to receive either free admission or a significant discount for their support person at member movie theatres and attractions across Canada."
City Of Toronto Lapel Pins –  The City provides up to 100 pins per year to Toronto organizations that are participating in exchanges, national or international events or tournaments representing the City of Toronto.
Cultural Access Pass – For new Canadians, this pass allows free admission to more than 1,200 Canadian cultural attractions and discounts on travel.
Dinner on your Birthday – Here's a great list from the FoodNetwork detailing how to get a free dinner or dessert on your birthday. Be sure to also check with your favourite local restaurants. There are many others across Canada that offer a free birthday meal.
Energy Saving Kit – Check with your local energy provider to see if they offer a free energy-saving kit like this one offered from BC Hydro.
Enfamil Family Beginnings – New moms or dads can get up to $160 in coupons and free samples from Enfamil.  You can also get a free sample of Enfagrow A+ here.
EpiPen  Waistpack – Free Epipen waistpack (need EpiPen lot number) – 2 per household.
Fire Station Tours – Did you know you can take the kids and tour your local fire station? Many fire stations, like the fire stations in Toronto, offer free tours. Of course, there are rules you must follow, and you must be prepared to leave, even if in mid-tour an emergency call comes in.
Free Money – Unclaimed Balances – I caught your attention with this one, didn't I? Have you ever forgotten about a balance you had in an old bank account? Ha! I know I've never done that. However, many people have. I once found money for a neighbour of mine that he didn't know he had.
Gofobo – Free advance screenings of movies and events.
Government Mail Free Of Postage – Government Mail Free of Postage allows for mail to be sent to and from certain individuals free of postage provided that both the sender and receiver are in Canada.
Look Good Feel Better – Free workshops for women with cancer.
Love Canadian Milk – Free Love Canadian Milk sticker.
Magazines – Free Trial Issues – Wanting to try a magazine but unsure if you actually want to subscribe to it? You can often order a free trial issue of a magazine without providing any credit card info, like this one for HGTV Magazine. Just be sure to write "Please Cancel" on your first bill once you have received your free trial issue, and mail it back to them, if you don't wish to subscribe. Sometimes you can find a better trial offer, like this one from People Magazine – 4 Free Issues!
Merrit Group Travel – Free travel for group leaders who put together a group trip of 10 people or more.
MomResource.ca – Free product samples for Canadian moms (and maybe dads?!).
MOO Business Cards – Free large sample pack
Moose Tracks Nation Sticker Or Magnet – Receive a members-only official MTX Nation sticker or magnet by mail.
National Gallery of Canada – Free admission Thursdays 5-8PM, holidays.
Nestle Baby – New moms and dads can join this club and receive up to $130 in free gifts – which may even include a nice Nestle diaper bag.
News Media Canada – Free "proud advertiser" stickers for Canadian newspapers.
Ontario Family Fishing Events – A province-wide opportunity for Canadian residents to fish Ontario waters without the otherwise mandatory fishing version outdoors card. The Ontario Government designates two periods throughout the year as license-free.
Operation Red Nose – Free rides home during the holiday season and on New Years' Eve in select areas across Canada. Don't drink and drive – call Operation Red Nose.
Parliament Hill – Free tour of Centre Block at Parliament Hill.
P&G Brand Sampler – This site offers coupons for P&G products and will often feature free samples of their products.
Queen Elizabeth & Duke of Edinburgh – Order a free image of these members of the Royal Family. Scroll to the bottom for email address.
SampleSource – Free product samples.
Sanitary Products – You can order free samples of Poise, Tena, and Depend Underwear.
Save.ca – This site frequently posts free product coupons for some of your favourite grocery items.
Scholarships Canada –  A website that lists all relevant scholarships and bursaries available for students in Canada.
Starbucks Canada – Join Starbucks Rewards to earn free drinks and food, get free refills, pay and order with your phone, and more.
Supreme Court of Canada – Free guided tours.
Tim Hortons Free Skate – Check their website to find a free skate event near you.
Tims Rewards – Free coffee, tea, or baked good for every 7 purchases at Tim Hortons. Free reward just for signing up for the Tims Rewards App.
Topsy Farm – Bring the family to watch sheep shearing in action (only cost is $9 ferry ride over to Amherst Island).
Websaver – This is another coupon site that often offers coupons for free products.
WelcomePack Canada – Free Welcome Pack gift box for newcomers to Canada (ONT & MB)
Wi-Fi – Wondering where to find free Wi-Fi in Canada (or around the world for that matter)? Check out Wi-Fi Space.
YMCA/YWCA – Toronto's YMCA offers a free 2 week trial of their facilities. Some other YMCA/YWCA's offer the same. In fact, many gyms and athletic facilities offer free trials, such as GoodLife Fitness.
Yoga – Participate in one of the largest free outdoor yoga classes every Wednesday at noon on Parliament Hill in Ottawa during the summer. Lululemon also offers free yoga at locations across Canada.
7-Eleven – Free drink or snack when you register for their 7Rewards program.
Know of any great ideas of where to find freebies (that don't expire)? Let us know! Comment below and we'll add them to our list!