I was recently invited by Ford Canada to a special reception prior to the opening of the 2015 Ottawa Gatineau International Auto Show. Unfortunately I was unable to attend this exciting event, but my friend Shannon, from Shannon's View From Here, kindly agreed to step in for me and attend on my behalf, along with her husband. Looks like they had a great evening of food, friends…and fun figuring out which Ford vehicle they would love to add to their family!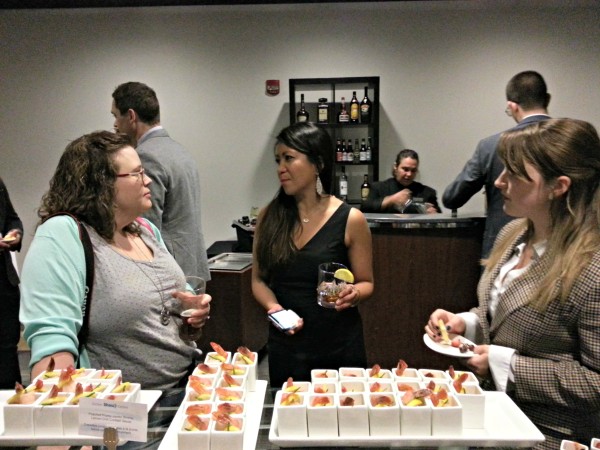 Lots Of Space AND The Cool Factor
Ford was a gracious host to a group of bloggers at the Ottawa Gatineau International Auto Show. We were invited to learn more about what is new at Ford for 2015. Whenever we meet anyone that works with Ford my husband inquires about the return of the Ford Bronco.  After much reassurance from the Ford engineering team that there is NO plans to bring back the Ford Bronco we were ready to see the shiny new cars.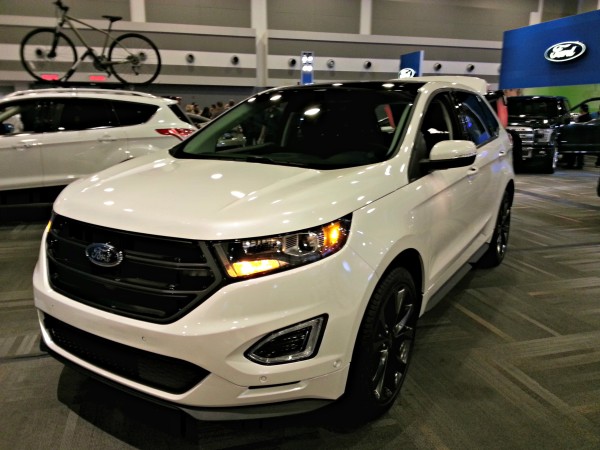 Ford Edge Sport caught our eye at the Ottawa Gatineau International Auto Show
I do believe that the short list for my next vehicle purchase will include the Ford Edge Sport. There is a lot to love about this car and it had my husband and me saying "WOW!" more than once. It is funny how your "want list" on a new car changes through different stages of life. For my family right now we are all about hockey. Hubby coaches two teams and our daughters play. Did I mention that the youngest is a goalie? So that means that we need space… BUT we want to keep the cool factor as well. That is where the Edge comes in.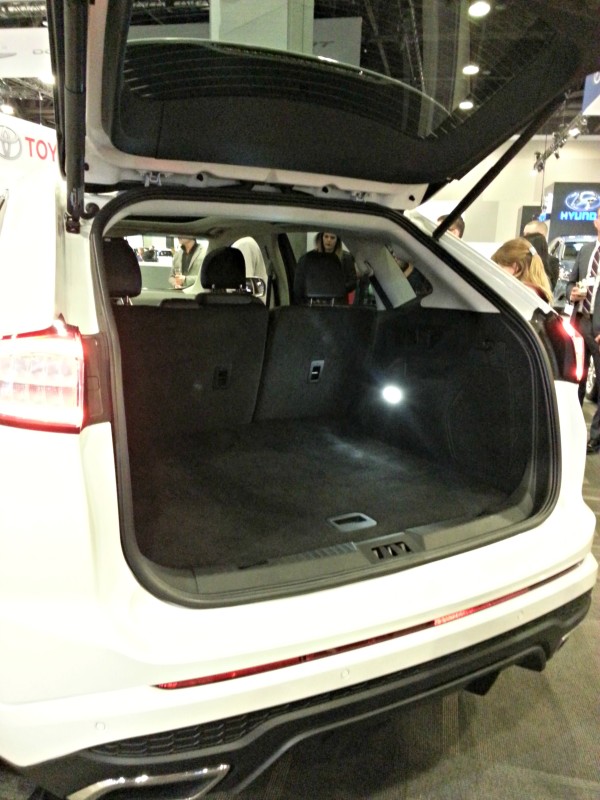 Ford Edge Sport Boasts Loads of Cargo Space for Hockey Gear!
There is a lot of room in the back of this vehicle! There is also the added bonus of a 60/40 split back seat for you know… goalie pads! Other smart features include foot-activated hands-free power lift gate, adaptive cruise control and collision warning that uses radar to detect moving vehicles directly ahead and changes the cruising speed if necessary and active park assist! There are so many other conveniences that would make this a hockey mom… or dad very happy. Another added bonus is that this baby is Canadian built! I give this Ford Edge Sport a 5 hockey bag rating!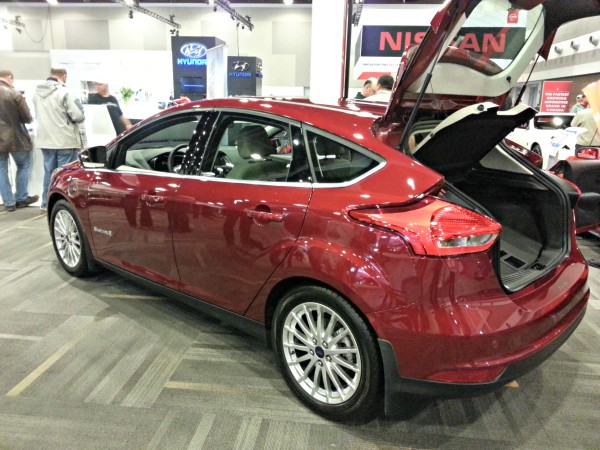 The Electric Ford Focus is the Greenest in the Focus family.
The Ford Focus family includes the sedan, hatchback and electric. A nice thing about the pricing on the Ford Focus is that there is no price difference between the sedan and hatchback. The hatchback would be this hockey momma's choice for obvious reasons. The sedan does have ample space BUT I need space for two hockey players gear, and one is a goalie.
The greenest member of the Ford Focus family is the electric Focus. The first thing I noticed about the electric vehicle was that it did not look like an electric vehicle. Sitting in the driver seat felt like any other car. I spoke briefly with a gentleman who said he drove a Ford Focus electric car while on vacation in Hawaii and he said he was thoroughly impressed. The zip in the drive made him forget he was driving an electric vehicle. The only drawback for some drivers would be the cargo space or lack thereof. Making up for the cargo space is the knowledge that everything from the seat you are sitting on, to the door that you open, is made of recycled materials.
I couldn't write a Ford post without a Henry Ford quote!
"Anyone who stops learning is old, whether at twenty or eighty. Anyone who keeps learning stays young."
-Henry Ford
If you want to learn more about Ford take a peek at their website.  http://www.ford.ca/
BIO: Shannon's View from Here helps busy families by providing helpful honest advice on everything from travel to meal planning. Travel destination reviews and travel advice are from Shannon's experiences of working for Canada's preferred airline for many years.  Get advice for family friendly travel from an insider.   Only crafts that have been tried and tested by Shannons young busy family will make it onto the blog.  Recipes that passed the test of being quick to prepare and pleasing to all family members will be showcased on Shannon's View from Here.  If you are looking for ideas from all aspects of family life, you may be able to find it at Shannon's View from Here.