Sometimes a product comes along that just makes life so much easier. Like the Garant Scratch-Free Snow Brush.
I wish someone had invented a snow brush like this a LONG time ago!
"Garant, a leading Canadian manufacturer of construction, lawn, garden and snow removal products, introduces the first-of-its-kind, scratch-free snow brush and scraper. The scratch-free brush features EVA (ethylene-vinyl acetate) foam, a material commonly used for car wash brushes, rather than bristles which can break down during winter, or worse, cause unsightly damage to the paint."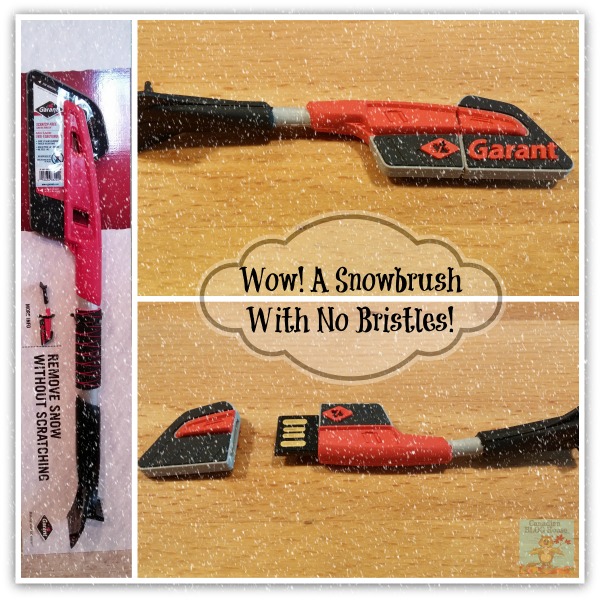 Hands up! How many of you HATE using a snow brush with bristles on your car in winter, especially on a brand new car? I've got my hand held high. Hate may be a harsh word but, that's truly how I feel about running snow brush bristles over the paint on my car. I cringe just thinking about that.  It's not that I can see actual damage to the paint on my car, but I know it's happening – minute little scratches that, over time, in my opinion, can have an effect on the integrity of the paint.
I no longer have to worry about bristles and the potential damage they can cause to my car, now that I own a Garant Scratch-Free Snow Brush – one of the newest and, what I think is, the most innovative snow brush on the market.
When I received my Garant Scratch-Free Snow Brush last week, I was certain I would have to wait awhile before actually being able to test out this product.  I was wrong! Old Man Winter blew in with a vengeance this week, here in the Nation's Capital, and I could not have been happier to have "my new best friend" all ready to get to work on that nasty (yet beautiful) snow.
After only one round of using my Garant Scratch-Free Snow Brush, here are my pros and cons of this bristle-less snow brush:
PROS:
Number one pro has to be the absence of bristles. I LOVE how this brush uses EVA foam instead.
The light-weight aluminum handle is easy for me to hold. That's a big plus for me.
Great grip that is situated in the middle of the brush. It gives me better control while brushing.
Strong, flexible, EVA foam that effortlessly glides over my car's surface, removing snow easily – without harming the surface of my car.
No snow gets stuck to the brush. I repeat – no snow gets stuck to the brush! Unlike with "bristled" brushes, the Garant Scratch-Free Snow Brush does not allow for the build up of snow that can make other snow brushes heavy and difficult to use. Another thing I LOVE about this snow brush.
It's freeze resistant. Wet foam DOES NOT freeze up into a hard strips of foam.
The Garant Scratch-Free Snow Brush head is contoured easily get into small spaces like around the mirror, wipers, and the wiper well.
It comes in 2 different sizes – 28-inch and 36-inch lengths. Great for larger vehicles where a longer "reach" is required.
A dual-function scraper. One edge has teeth for breaking up ice, and the other edge is straight, great for clearing ice and snow away.
As an added little bonus, my Garant Scratch-Free Snow Brush came with an adorable mini Garant USB snow brush attached (you can see it attached to the box in the above photo). Who doesn't like an additional bit of "storage" space – especially in the shape of something so cute!
Garant is a CANADIAN company! You've got to love that! No one knows our winters like a Canadian company does. I LOVE that this snow brush is Canadian-made!
CONS:
My one and only concern about the Garant Scratch-Free Snow Brush WAS the durability of the EVA foam. This was before I tested the snow brush on my car.  After using the Garant Scratch-Free Snow Brush to clear off my entire car, including some pretty harsh digging in the wiper wells and front grate, there were NO visible scrapes, nicks, cuts, gashes or tears in the EVA foam. I am convinced that this brush will hold up to rigorous use for many winters to come!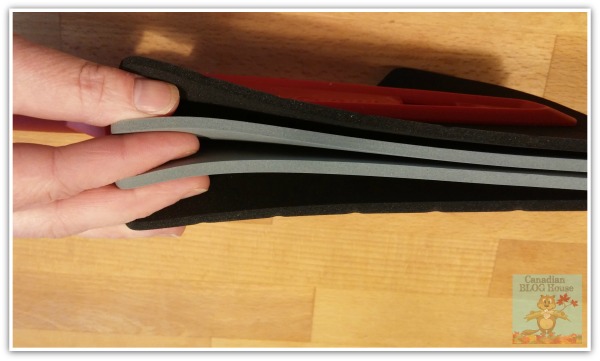 At Garant's testing facility "The EVA foam material was subject to extensive testing to ensure safety to fragile surfaces such as exterior auto paint. The product development team conducted side-by-side tests with a traditional bristle brush whereby each implement was used to scrape a painted metal sheet 10,000 times. The EVA material yielded a smooth, unmarred finish compared to the bristle brush, which showed noticeable permanent scratches."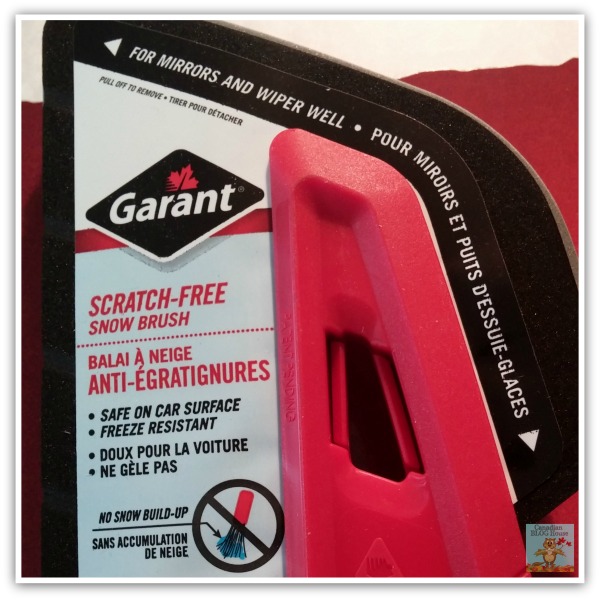 While I would have loved to have given you a personal demonstration of me using my Garant Scratch-Free Snow Brush, it was just too darn snowy, windy, cold, and dark for me to get out my camera and attempt to film a demonstration at the time.  Instead, check out this great video that shows you how well the Garant Scratch-Free Snow Brush works:
You can find a Garant Scratch-Free Snow Brush at Canadian Tire stores across Canada. They would make a great gift for anyone who battles cleaning snow off their car in winter (isn't that everyone?). It may just be their favourite present under the tree this year!
You can find out more information about all the great outdoor tools Garant offers by visiting the Garant Facebook page or the Garant website.
Our friends at Garant want to make one Canadian Blog House reader very happy this holiday season by giving away a Garant Scratch-Free Snow Brush. Here's all you have to do for a chance to WIN:
***GIVEAWAY ENDED***