Can you believe it? It's Back-to-School time already! Where did the summer go?
Back-to-School seems to be a time of year that we either love…or hate. Maybe you are through with trying to keep the kids entertained. Maybe you have long since run out of all those great ideas for summer fun that you had lined up in June. Or, maybe you are clinging to the last days of summer, dreading the first day of school when you have to send the kids on their way…while you cling to a wet tissue.
Well, no matter which way you look at back-to-school time, there's one Canadian retailer who can help get you through it all. Whether it's shopping for all your back-to-school needs such as backpacks, paper, pens and pencils, a back-to-school wardrobe, school lunch supplies…or even a box of tissues for mom, Giant Tiger has you covered!

If you've never done your back-to-school shopping at Giant Tiger – now is the time to start! You can get all this for just $65! What a grrreat deal!

An Emma and Chloe backpack, the essentials like pens, pencils, pencil crayons, paper and notebooks, reusable containers and even a new laundry basket. Don't forget treats like Great Value Chocolate Chip Cookies and coffee! All these great items (and more!) help to make this Giant Tiger back-to-school basket the "must-have" care basket of the season for students!
Giant Tiger makes it so easy to shop for all your back-to-school needs. Be sure to check out Giant Tiger's Back to School lookbooks and flyers for inspiration to shop and motivation to win!
WIN? Yes WIN!
To make the 2015 back-to-school experience even more exciting, Giant Tiger is hosting a back-to-school "back at it" contest, featuring weekly grand prizes of $1,000 in Giant Tiger gift cards!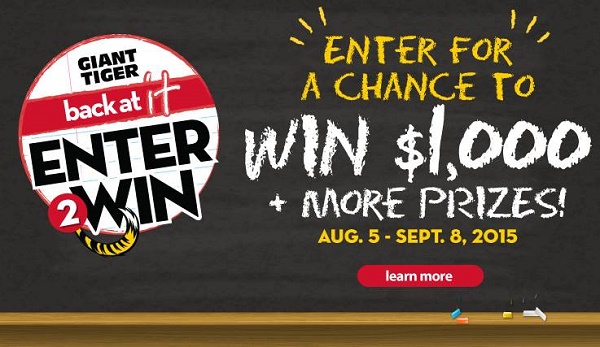 Wow! Imagine that shopping spree at Giant Tiger! That's a lot of back-to-school care baskets! So be sure to enter for your chance to WIN!
But wait…I've got even more exciting back-to-school news for you!
Come join Giant Tiger, Ottawa Mommy Club, A Motherhood Experience, and Canadian Blog House on Wednesday August 26th for the Giant Tiger #GTBack2School Twitter Party!
From 8-9PM ET, we will be celebrating back-to-school, Giant Tiger style! If you've ever attended a Giant Tiger twitter party with us, you know that means FUN! Remember the GT Onesies party? Who could forget that?!
So join us for the #GTBack2School Twitter Party and you could win some pretty terrific prizes:
o   Grand prize: $150 back to school shopping spree + back to school essential basket ($50 value)
o   Secondary Prizes: 6 x $50 Giant Tiger gift cards
o   Bonus price: Giant Value back to school recipe and lunch essential basket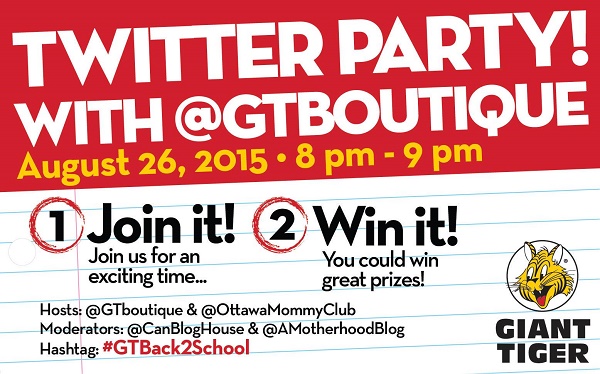 For a chance to win at the Giant Tiger twitter party, please RSVP below, follow @GTboutique, and mention the hashtag #GTBack2School.
By RSVPing you agree that you are 18 years of age or older. Anyone can participate in the Twitter Party; however to win a prize you must be a Canadian resident, excluding Quebec residents for the Grand Prize. For the complete Official Twitter Party Rules, please click here! To learn how to participate in a Twitter Party, check out this page!
Twitter parties can be very fast paced and hard to keep up with. You can use this Twubs link to help you keep better track of the party: http://twubs.com/GTBack2School
Please RSVP by adding your Twitter handle to the linky below, so you will be eligible for all the wonderful prizes. And of course, you must participate in the twitter party as well.
Enter your Twitter Handle (eg. @CanBlogHouse) in the Name field and your Twitter URL (eg. https://twitter.com/CanBlogHouse) in the URL Field.
See you there, Canada!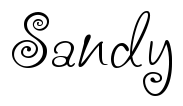 Disclosure: Canadian Blog House received special perks in exchange for this post. All opinions are our own.