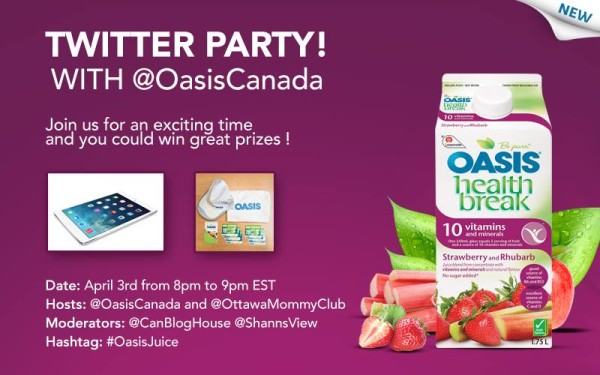 Come check out all the JUICY details of the FUN and EXCITING Twitter Party that Oasis Canada will be hosting this Thursday April 3rd from 8-9PM EDT!!
Oasis Canada will be celebrating their latest addition to their Health Break line of juices – Strawberry and Rhubarb Juice!
I bet your mouths are watering already! Mine sure is.  I love the delicious combination of strawberry and rhubarb.  This flavour sensation reminds me of the amazing strawberry rhubarb pies my mum used to make every summer.  So I don't know about you but, I can't wait to have my first taste of the brand new Oasis Health Break Strawberry and Rhubarb Juice!
The sweetness of strawberries combined with the slight tartness of rhubarb offers a great juice combination that will make your taste buds smile. In addition, it's made with 100% juice and contains no added sugar or preservatives. The Strawberry and Rhubarb juice also contains 10 vitamins and minerals.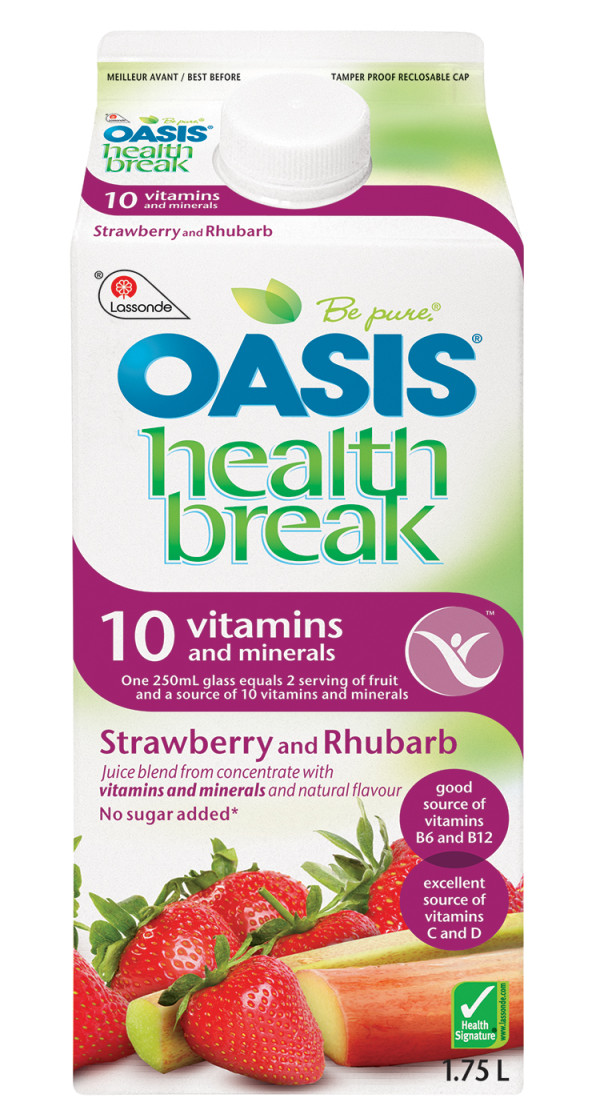 Of course, for those of you who love prizes, this Twitter party has you covered! One lucky winner, chosen at random, will walk away with a brand new 16 GB iPad Mini!! Three other lucky Oasis Canada Twitter Party guests will win 1 of 3 Oasis Canada Prize Packs, including coupons, and great Oasis branded promotional items.
I'll be moderating the Oasis Canada Twitter Party along with Shannon from Shannon's View From Here.  Your hosts for the party will be Oasis Canada, and Lyne from the Ottawa Mommy Club.
So be sure to RSVP for the Oasis Canada Twitter Party, get all juiced up with your favourite Oasis Juice by your side, and join us for a FUN hour of JUICY Chat!
Don't forget to follow the hosts and moderators on Twitter…and use Hashtag #OasisJuice .
I can't wait to see you there!!