Where did the Summer of 2014 go? Some kids, like X-Man went back to school this week.  The rest will be heading back to the classroom next week.  Time to open up the books and brush up on the reading, writing and arithmetic skills!!
Did you know that DK Canada Books have an amazing collection of books that can help you help your kids have fun while improving their math skills, writing skills, language skills and more?  Take a quick peek at their Back To School Boutique and you'll know what I mean.
X-Man has just started Grade 3 this year and it won't be long before he will be bringing home all kinds of homework night after night.  Maybe it's just me but, I don't even remember having homework in Grade 3 like they do now.  I also don't remember some of the work being as advanced as it seems to be these days. Especially the math.
Good thing we have some of these great DK Canada Books to help us out with X-Man's math skills: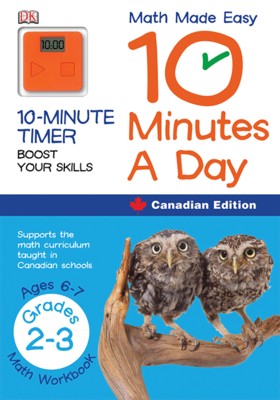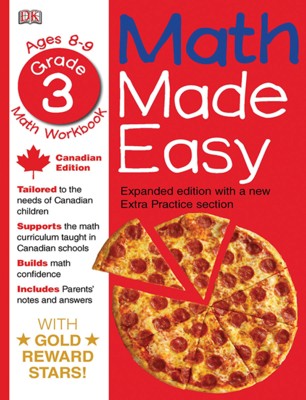 Written for kids aged 6-7 (Grade 3), Math Made Easy – 10 Minutes A Day comes complete with a built-in 10-minute timer designed to challenge your child to complete specific math tasks all within a 10 minute time frame. Colourful illustrations, easy-to-read font, and well laid out, the Math Made Easy – 10 Minutes A Day book is "b

ased on one of the best and most effective learning strategies – little and often, each title in this series tests a range of skills and knowledge in the areas of number, shape, data-handling, measurement, and probability."
The Math Made Easy – Expanded Edition is a larger book, written for kids aged 8-9 (Grade 3) and is full of great practice exercises presented in a fun and easy-to-read format.  I must admit, flipping through this book had me scratching my head a bit.  Was I doing math like this in Grade 3? I don't remember it being this advanced! Maybe this kids today are just smarter 🙂  This book covers concepts like fractions, perimeters of squares and rectangles, logic problems, congruency, multiplication, division, and so much more.  This book even comes with a progress chart with gold stars, so you and your child can track your child's successes.  Can't quite figure out one of the answers? No worries, Math Made Easy – Expanded Edition comes with all the answers printed at the back of the book.  This book looks to be a wonderful practice book, and one I'm sure we will use from start to finish this year.
These colourful Canadian Edition math workbooks both support the math curriculum being taught in Canadian schools. For parents wanting something extra to help their kids practice their math skills, these DK Canada Books would make a great addition to after-school learning resources.
Back to school time isn't just for the young ones.  Even adults need to work to keep their brains sharp.  That's why I love this book from DK Canada:

With "more than 200 exercises strategies, and tips to boost your memory", Max Your Memory is a fascinating book that starts off explaining how the brain works.  It examines what memory is, if it's automatic or not, where memory is stored in the brain, and why we forget. Max Your Memory is filled with all kinds of interesting facts about memory:
How do special moments stick in your head?

How does visualization boost memory?

Why do you never forget how to ride a bike?

Why can't you get that song out of your head?
After trying just a few (so far) of the brain exercises contained in this book, I can definitely understand how some of these techniques can help someone improve their memory. The techniques work!
Ever wonder why your memory is so rich and vivid in details about New Years' Eve 2000, your wedding day, or a tragic event such as the September 11th terrorist attacks? You can thank your "Flashbulb Memory" for that. This is a "precise, concrete, and long-lasting memory of the context surrounding a special event."  These types of memories stick in our heads because they are "emotional" memories and because they tend to be retold over and over again.  Do you remember what you were doing on New Years' Eve 2000? I sure do! I missed a big party with friends because I was so sick with a cold.  I spent my "new Millennium" New Years' Eve all alone – sick on the couch watching Dick Clark ring in the new year.  What about September 11th?  I can visualize every minute of the moments after I found out about the first plane hitting the first tower. I know where I was, what I was doing, who I was with, what we did when we found out. These memories are as clear for me as the day they happened, and probably always will be.  Those are some of my Flashbulb memories.
DK Canada wants to help your kids get back to school, ready to head to the top of the class – and you to keep your brain sharp!  One lucky Canadian Blog House reader will win THEIR CHOICE of 2 books from the "Back To School/Making Math Fun Boutique" AND a copy of "Max Your Memory".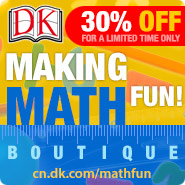 Here's how you can enter for your chance to WIN:
Disclosure:  Canadian Blog House was provided with these books in exchange for this review.  All opinions are our own.