Calypso Waterpark, located in Limoges, Ontario, just east of Ottawa, and only 75 minutes from Montreal, is Canada's biggest theme waterpark which boasts North America's highest free-standing waterslide tower, features over 35 waterslides, and more than 100 water games. Opening 4 years ago in June 2010, Calypso Waterpark, provides hours of wet summer fun for the whole family.  Adventurous types will delight in the excitement of waterslide rides like Adrenaline, Vertigo, and the rides from atop Summit Tower.  For those who prefer to keep their feet firmly planted in shallow water, you can enjoy the easy-going, relaxing, and fun Jungle Run.  If you wish to add just a little more excitement to your day, try the brand new Kongo Expedition, Calypso's brand new river ride.  For little ones, there is no end of fun in one of the many splash pads and activity zones for kids.
We were invited to visit Calypso Waterpark a couple of weeks ago and we couldn't wait to get our feet wet and jump into some fun!

Our first stop was the Calypso Wave pool.  Called Canada's largest wave pool, this truly is a wave pool you need to see to believe.  Situated on an acre of land, this giant wave pool can accommodate 2,000 people at one time. During our visit it was busy, but I'm pretty sure there weren't 2,000 of us in the wave pool at one time (thank goodness!).  I think it goes without saying that big waves are made in this pool.  By big, I really mean GIANT.  You want "Great Lakes" or ocean-sized waves? You'll find them at the Calypso Wave Pool.  These giant waves are what makes this wave pool so fabulous!  We love this wave pool so much, I just had to try to take a video to show you a bit of what it's like to be part of the action:
As you can see, the waves can get pretty high, especially out in the middle.  The waves come fast and furious, and they are unrelenting.  An adult can easily get thrown off their feet in those waves.  It happened to me.  For those that dare, standing out in the middle of the waves can make for some extreme fun. I tried it and it was a blast!  For those watching young kids, or for those who are unsure of themselves, I definitely recommend staying in shallow water.  Stay within your comfort zone. I tried watching X-Man from the middle of the pool and quickly found that it was impossible for me.  I spent more time being swept off my feet than being able to stand up and watch for his safety.  If you watch the video, you can see how you can easily lose track of someone when the waves crash over their head.
That brings me to the topic of safety, and something that has been making unwanted headlines for Calypso Waterpark the past couple of seasons.  Many of you may have heard that Calypso is facing numerous lawsuits stemming from incidents at the park where patrons have been hurt using the waterslides and the wave pool. While I don't wish to get into particulars (any Google search will tell you) I will say that, from our experience, it appears that Calypso takes things very seriously when it comes to customer safety.  Posted at the gate to every ride are explicit safety rules, instructions, and ride restrictions.  You can't help but notice them: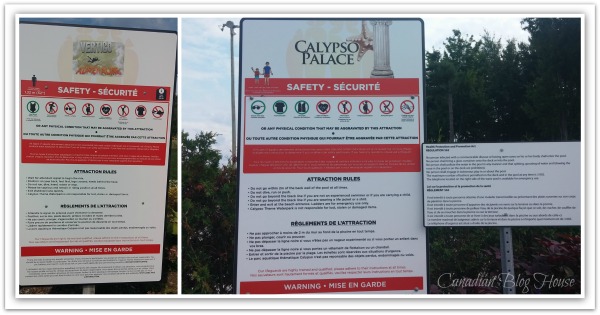 Other safety features we noticed at Calypso Waterpark were the huge number of lifeguards we spotted around the park.  The day we were there we counted 8 lifeguards surrounding the wave pool alone.  All were positioned up high, giving them a good view of the entire pool.  I also made note of the rides that had "stop lights" which tell a rider when it is safe to push themselves down a slide.  On the day we were there, these stop lights appeared to be working well.  We followed all safety rules and instructions during our time at the park and had a great fun-filled day.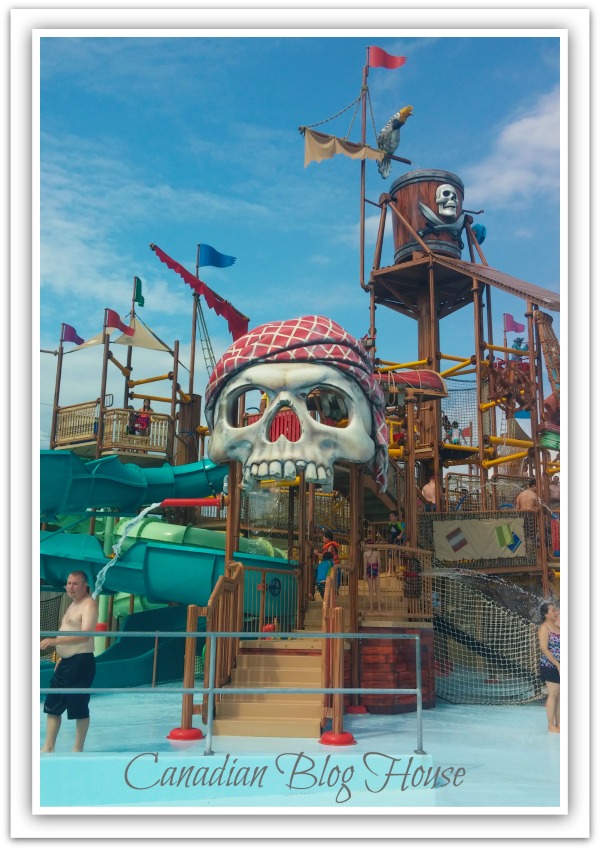 After the wave pool, X-Man insisted on heading over to the pirate splash pad and play area.  This is a very popular spot for kids of all ages.  Here you can climb on things, slide down small waterslides, cross swinging bridges, and best of all, stand still while a HUGE bucket of water gets dumped over your entire body.  Not my cup of tea, but I loved watching all the kids jump up and down and scream with delight every time the water was released.  You can see it in action: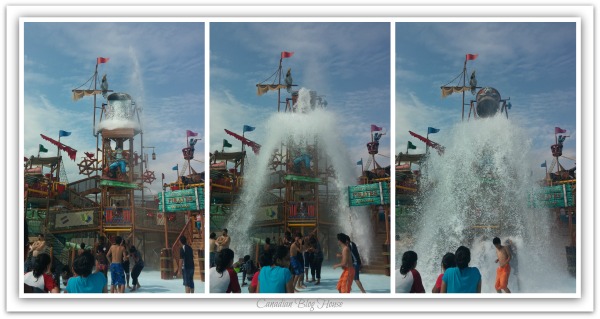 I guarantee you, this one area alone will delight the kids, and could easily keep them busy for a few hours of your day.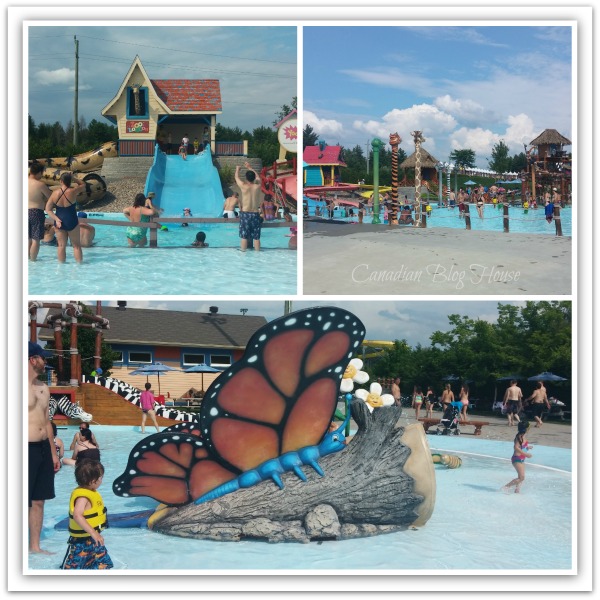 Next we made our way to another splash pad area for kids.  X-Man had a great time sliding down the kids' slides and playing with all the creatures found in the wading pool. The water in the kids' splash pad areas is fairly warm, and is highly chlorinated (for obvious reasons!).
We decided to venture on to the Jungle Run for our next adventure.  This meandering river winds its way around, providing riders with a strong, yet gentle, current that moves everyone along for a lazy ride.  Swim boards are provided, and while some adults don't wish to use them, it is highly recommended that you do. The boards just give everyone that little bit of extra security as you float along the river.  Height restrictions are in place on this ride.  The very first time we ever brought X-Man to Calypso Waterpark he was too short to be able to ride without wearing a personal flotation device. The Jungle Run requires smaller riders to wear a personal flotation device and, if needed, you can rent them at the entrance to the park.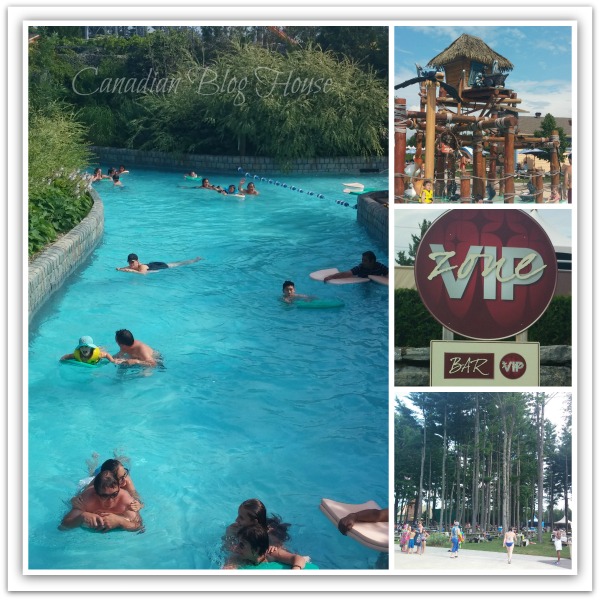 Calypso Waterpark's newest ride is the Kongo Expedition.  Similar to the Jungle Run, Kongo Expedition offers a little more excitement as you ride this river on your own inner tube.  You will ride through darkened caves, raging waterfalls, meet jungle creatures, get sprayed from all angles, and maybe even get caught up in a swirling pool of waves.  Kongo Expedition is a ton of fun – but be warned – you WILL get soaked from head to toe! You can't avoid the water on this ride!  We loved Kongo Expedition but we do have one warning.  If you are taking your child on this ride, either make sure they (and you) are comfortable with getting separated from each other (and meeting back up along the way or at the end), or place your child in the inner tube with you before you start the ride.  During our ride we got separated from X-Man who was riding by himself. He was fine, and we did catch up with him part way down the river, but he became terrified when he got separated from us.  Kongo Expedition has a strong current (especially in certain areas), and no matter how hard you try to hold on to another inner tube, sometimes you just can't.  If you do get separated from your child, don't panic.  There are numerous lifeguards placed along the entire expedition route, carefully watching for any guests who may need them. Sadly, I forgot to take some photos at this ride….so you'll just have to come see it for yourself!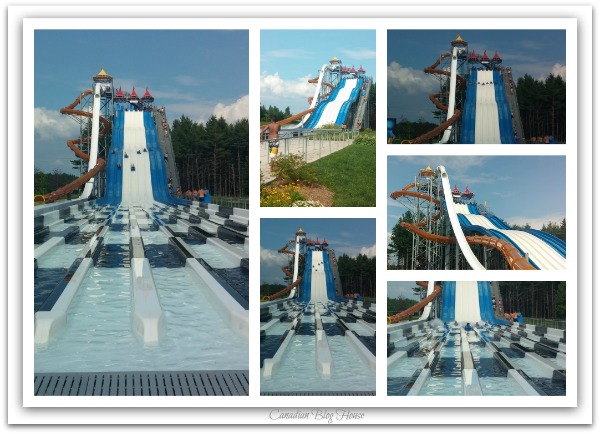 During my first ever visit to Calypso Waterpark in 2011, I mustered up the courage to climb the stairs of this behemoth and launch myself down two of the 3 waterslides you see in our photos.  The multi-lane waterslide in the middle is known as Fast Track.  Here you lay down on your stomach on a mat, lying head first, and launch yourself down the track racing against 7 other riders.  I admit I was terrified the first time I tried it.  The thought of sliding head first down something like that was quite terrifying, however, once I tried it, I wanted to head right back up and do it again.  It was that fun!  Instead, I climbed back up the stairs and decided to try that orange tube slide you see in our photos.  Called Adrenaline, this waterslide was equally as terrifying, but equally as fun (once I convinced my body to climb into that orange tunnel!!).  The one I did NOT try, because frankly, I chickened out, is called Vertigo.  As someone who really does suffer from Vertigo, this ride was just a little too much for me. Check out this Vertigo rider I caught in action.  I get Vertigo just looking at her!!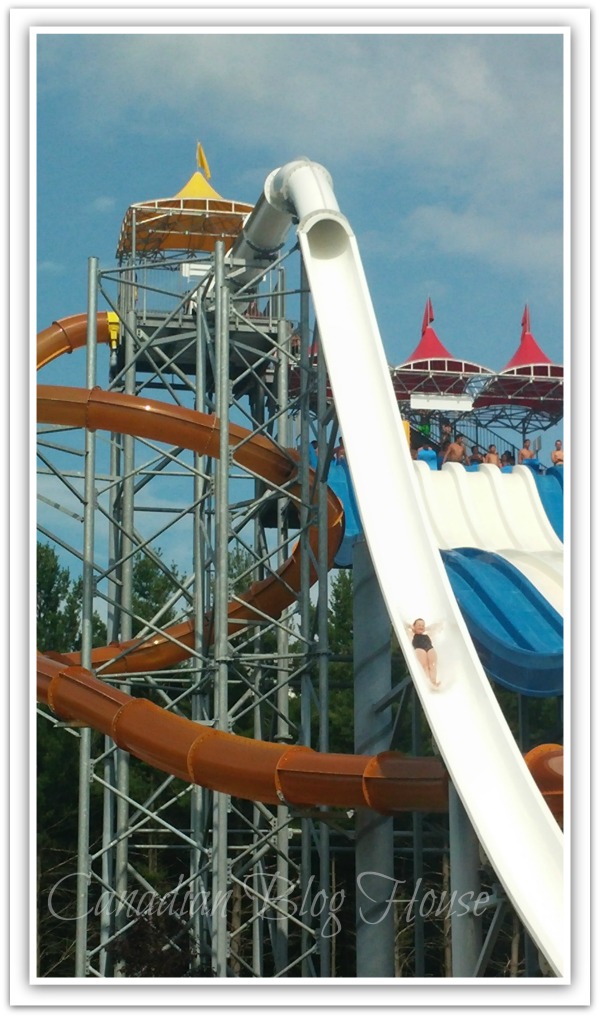 The Boomerang is one of our favourite waterslides at Calypso Waterpark.  This ride features a large inner tube that can fit up to 6 people for a wild ride over the edge, ending with a boomerang up the side of a wall and back down.  The scariest part of this ride is when you are approaching the edge you cannot see anything but empty space before you drop over the side.  Never mind that when you hop into the tube, no matter where you sit, you just never know whether you will end up going forwards or…gak!…backwards over the edge.  Somehow I always seem to end up heading backwards, lol.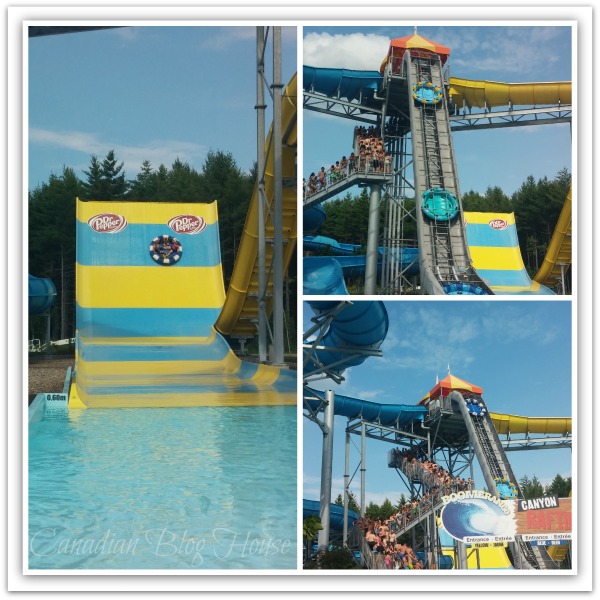 Located not far from the Boomerang is the king of all waterslides at this park – Summit Tower.  Four different slides are found at Summit Tower: Blue Rocket, Orange Bobsleigh, Stroboscope and Toboggan Alley.  The Summit Tower area also showcases Aqualoops and Family Twisters.  Family Twisters are great for kids or adults who want a gentler ride on a waterslide without extreme heights.  We did not get around to riding on any of these slides when we visited, except for the Family Twisters. The line ups at Family Twisters weren't too long, so we were able to enjoy a number of quick rides on these slides.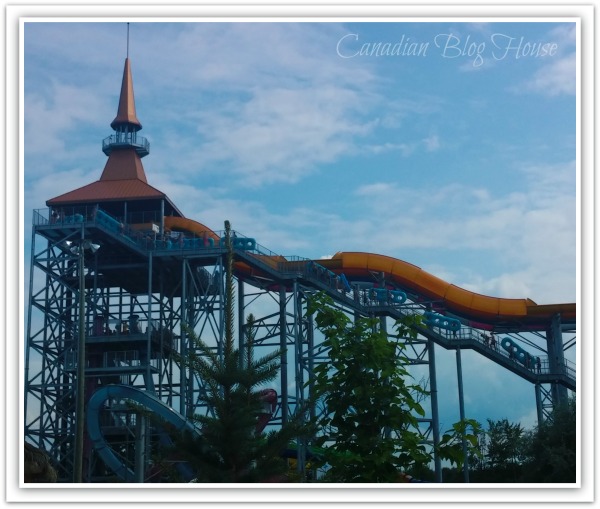 We LOVED our day at Calypso Waterpark, and already have plans to go back again before summer ends.  We feel exceptionally lucky to live in a city so close to one of Canada's greatest Waterparks.  If you have kids, or are a big kid at heart, we highly recommend you plan a visit to Calypso Waterpark.  It's truly a place of fun for the whole family!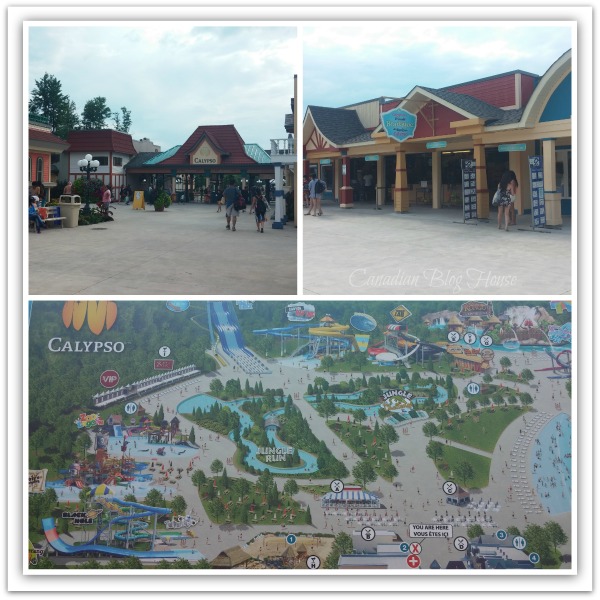 To help you plan your day at Calypso Waterpark, here are a few tips that we came up with after our day at the park:
CANADIAN BLOG HOUSE'S TOP TIPS FOR FUN IN THE SUN AT CALYPSO WATERPARK:
Pack a picnic lunch and non-alcoholic drinks in your cooler and bring it into the park with you.  In our opinion, food at the park is rather expensive…and not terribly good.  If you like hot dogs, fries, pogos, pizza, etc., maybe you'll love it, but even these items, which we tried, were not terribly satisfying to us.
Find a picnic table and leave your cooler and towels on it.  Calypso Waterpark has plenty of picnic benches for guests in shade and in sun.  We had no problem finding ourselves one, and had wished we had brought our own cooler.  Many guests leave their coolers, towels, and bags unattended at their picnic table.  As long as you don't leave money, tech devices or valuables there, you shouldn't have to worry about your stuff.  We felt perfectly safe leaving ours at a picnic table.
If you bring valuables into the park like your mobile phone, camera, jewelry, wallet, etc., you can rent a locker for $5 (plus a $5 deposit that you get back when you return your key) at the Calypso Waterpark gift shop at the entrance to the park.  We did this and found it to be very easy and convenient.
Calypso Waterpark is a huge park full of plenty of room for visitors to wander around.  This means that you will do a lot of walking during your visit to the park. We recommend wearing flip flops or sandals as you walk around the park.  Most of the time you will be walking on rough concrete. Surfaces are made rough for the purpose of keeping people safe from slipping on wet surfaces.  This is great for those who like the idea of scrapping that rough skin off the bottom of their summer feet, but footwear will help keep those feet happy over a long day of walking. Need to take your footwear off to hop on a waterslide? No worries, you can place them, and your sunglasses, in a cubby hole located at the entrance to each slide.

There are plenty of washrooms at Calypso Waterpark, and we had no trouble finding an empty stall.  Water fountains can be found around washroom areas, and are great for keeping everyone hydrated in the hot sunshine.

Calypso Waterpark is kept exceptionally clean and well maintained.  We commented to each other how many times we saw a worker cleaning up tables, emptying garbage cans and sweeping up debris from pathways around the park.  To say that we found the park to be immaculate would not be an overstatement.  That being said, we still recommend wearing footwear in the locker and bathroom areas as the floors tend to stay wet from all the guests coming and going in wet bathing suits.

Getting to Calypso Waterpark is exceptionally easy via Highway 417.  The park is just a short drive off Exit 79.  When we visited, the normal road leading into Calypso Waterpark was under construction but, the park has detour signs that were easy to follow, giving us another way into the park.  There is ample parking and it costs only $8 per car for the day.

The wave pool at Calypso Waterpark features dozens of comfortable lounge chairs for those who wish to soak up some sun and relax while other family members "get their ride on". It's a great place to take a load off your feet for a few minutes or a few hours.
For acrophobes like me, many of Calypso's slides may strike fear in you simply because of their height.  If you dare climb the stairs like I did, it's helpful to have a friend or a family member close who will allow you to hang on to them for extra support as you climb.  Making it to the top for a super fun ride is well worth it, but I won't lie, the climb up can be terrifying for someone like me.  Also, keep in mind that, when the park is busy, there may be wait times for the slides…and you may be stuck waiting in a very high place.

Don't forget your sunscreen! We can't emphasize this point enough.  When you are at Calypso Waterpark you are surrounded by water.  Water reflects the hot summer sun, and this combination can cause severe sunburn in a short period of time if skin is not protected.  We saw so many pink bodies wandering around the park the day we were there.  What a night some of them must have had!

Leave your insecurities at the park entrance.  Calypso Waterpark is THE place to slip on that bathing suit and wander around having fun – not worrying about what you look like in your bathing suit.  You will see every size and shape of body in a bathing suit at Calypso Waterpark…and nobody really cares if you haven't lost that 20lbs you said you'd lose after Christmas.

Use common sense when visiting Calypso Waterpark.  Keep in mind things like surfaces can be slippery when wet, no horsing around on the slides or during the river rides, and know your own personal limits.  If you have a medical condition that could be made worse by getting on a slide, don't do it.  If you can barely climb 2 flights of stairs in your own house, but think you can climb all the way to the top of Summit Tower, think again.  Use common sense!!

Read the ride rules before you get on a ride! They are posted there to help guests make sure their ride is a safe one!

Worried it might rain? No worries! Calypso Waterpark only shuts down during thunderstorms.  If it is just raining, and it's still warm out, this can be one of the best times to visit the park.  Rain drives the crowds away, leaving you will a park full of rides and no line ups! Hey…you're already wet, right?
A big thank you to the folks at Calypso Waterpark for hosting us for a fun-filled day!!
Have YOU been to Calypso Waterpark?  What is your favourite slide? I'd love to hear about your Calypso Waterpark experience!